Cinnamon Pull Apart Muffins
The Starving Chef is supported by Hungry People like you. When you make a purchase through an affiliate link on my site, I may earn a little bit of cash on the side (at no extra cost to you) to help keep my kitchen running. Read our disclosures here.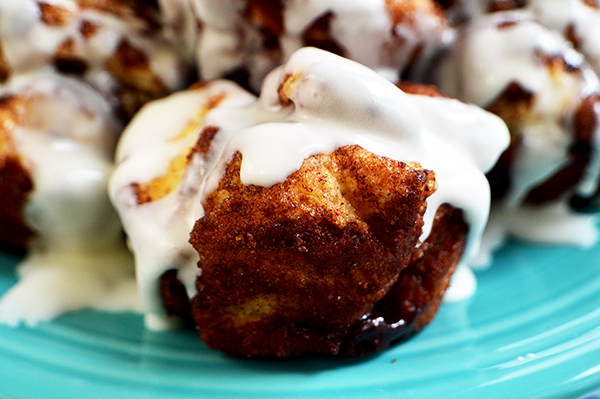 I fiend for cinnamon rolls sometimes. Something about their ooey-gooey cinnamon-rolly goodness just really gets me going! And thanks to the awesome invention of canned dough, I can make myself some cinnamon bites in just a few minutes, whenever I please. I've made cinnamon pull apart bread before, from scratch, while I was in college. It was one of the first ever recipes I attempted to make while still in school that I actually managed to blog about after. This round, I wanted to make the cooking part much faster, so I opted to use canned biscuits as my dough, but feel free to make that part from scratch if you'd like.
For the muffins, all you'll need is brown and white sugar, cinnamon, and butter. Cut the biscuits into quarters. Pro Tip: Use scissors to cut the dough faster than cutting with a knife!
Then just pour on the melted butter and toss until all the dough is coated. Toss in the sugars and cinnamon and use your hands to stir the dough until coated completely.
Place the cinnamon sugar covered dough into greased muffin tins and then bake at 350 F for 15-20 minutes. The muffins should be puffed up and golden brown when ready. While the muffins are baking whisk together the icing ingredients until creamy.
Let the muffins cool for a few minutes, but while they are still warm, pour the sugar glaze over the tops of the muffins.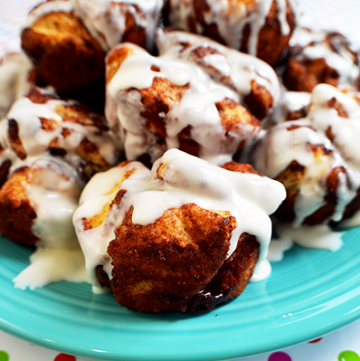 Cinnamon Pull Apart Muffins
Crazy easy pull apart cinnamon roll muffins!
Instructions
Preheat the oven to 350 F. Open the canned dough and cut the biscuits into quarters and place into a medium sized bowl.

Melt the butter and pour over the dough. Use your hands to toss the dough in the butter until it is completely covered.

Add the brown and white sugars to the bowl and stir until it begins to coat the dough. Add the cinnamon to the bowl and combined until the dough is coated.

Grease a muffin tin with butter or spray oil. Arrange three pieces of dough in each hole. Bake for 15-20 minutes or until the muffins are golden brown and have puffed up.

While the muffins are baking, whisk together the heavy cream and powdered sugar until a thick icing forms.

Remove the muffins from the oven and let cool in the tin for about five minutes. Tip the muffins out onto a cooling rack or plate. Pour the icing over the tops of the muffins while still warm.

Serve warm or room temperature. Enjoy!
Video