Compound Butters in Five Easy Combos
The Starving Chef is supported by Hungry People like you. When you make a purchase through an affiliate link on my site, I may earn a little bit of cash on the side (at no extra cost to you) to help keep my kitchen running. Read our disclosures here.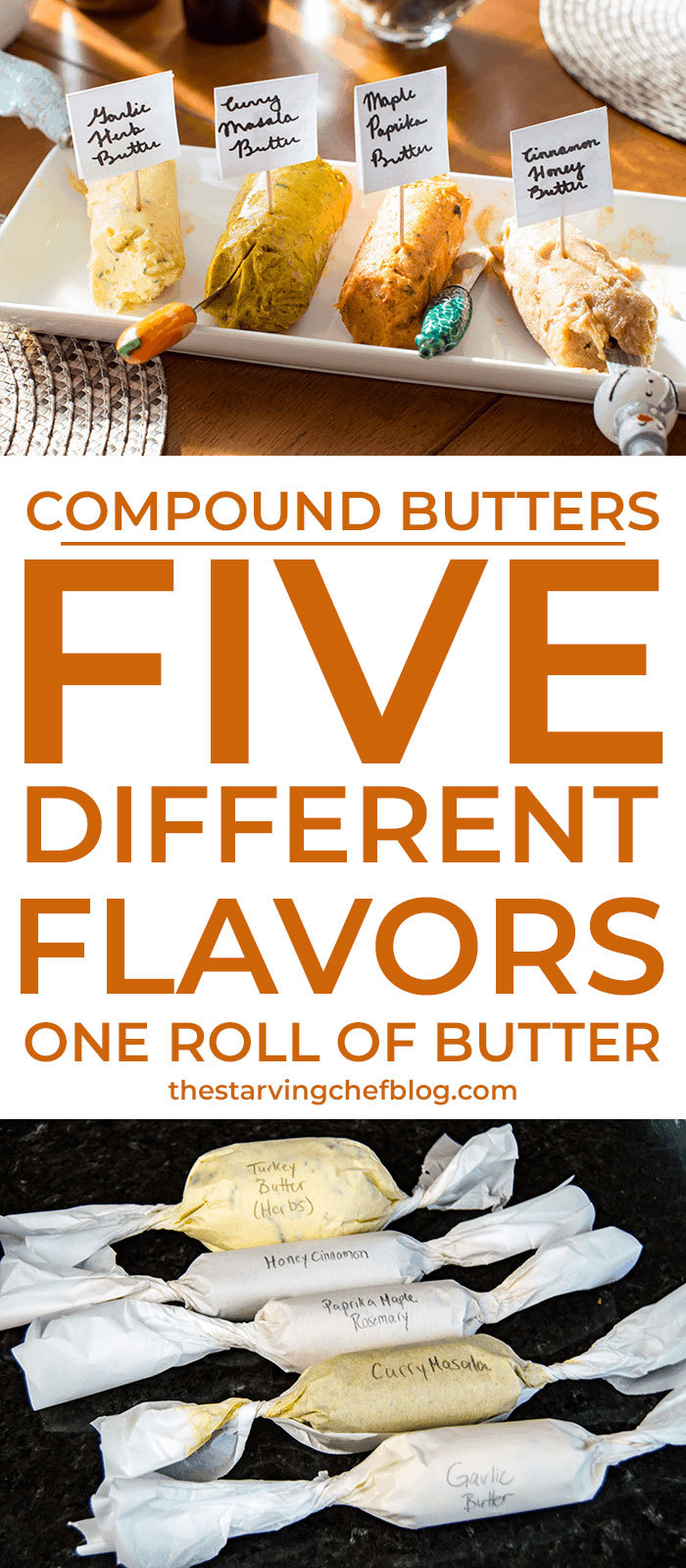 My favorite part about the holidays might literally be the bread and butter.
Seriously, what holiday goes by without some good buttered buns? This year, I'm totally into compound butters, which is just a fancy way of saying flavored butter. The other difference is the type of butter used is generally an Amish, hand-rolled variety. Step aside Country Crock, rolled compound butter is a BIG DEAL this holiday season. Here are some of my favorite flavor combinations:
Herb Butter
This butter I use on my turkey (or chicken) because it has subtle flavors from fresh herbs like thyme and oregano – with just a dash of garlic powder and pepper, it brings a full-bodied flavor to any kind of bird.
Of course, you can also use it for your rolls!
Maple Paprika
Probably my favorite of all my compound butters – it has a sweet and tangy taste that is complimented with fresh thyme and rosemary.
It's perfect on sweet rolls because it adds just enough spice from the paprika to really emphasize the sweetness of the butter!
Curry Masala
I'm a huge fan of ethnic cuisines like Indian. I take a lot of inspiration from Indian flavors, especially flavors like curry.
With a combination of hot yellow curry, garam masala and marjoram, this unusual butter disappeared off my table before I could even say what I was thankful for!
Traditional Garlic
What I love about garlic butter is that it can be used for pretty much – EVERYTHING!
From buttering buns to cooking, garlic butter is the most versatile of all my compound butters. I even found myself hiding this one so I could use it again for my own cooking later!
Honey Cinnamon
For those who like to eat dessert first, honey cinnamon compound butter is made just for them.
While most people enjoy the savory side of the holidays, I am HERE for the sweets – so much so that I like to slather sweet stuff on my savory stuff.
---
At the end of the day, I took a log of butter and transformed it into 5 very different kinds of butter – and honestly, that's all I've ever dreamed of! Now gimme a hunk of bread so I can get to eating!
NOTE: I used a five pound roll of butter that I separated into two pounds for my turkey and then split the rest between four flavors of butter. Each smaller roll was about a 1/2 pound of butter and the following recipes will follow as such.
Compound Butters in Five Easy Combos
My favorite part about the holidays might literally be the bread and butter.
Ingredients
Instructions
For all combinations – first bring the butter to room temperature. Separate into pats as desired then mix in your ingredients. To store, roll in parchment paper and twist the ends tightly. Serve chilled or room temperature. Freeze to use at a later date.