Copycat Cranachan from the Leaky Cauldron
The Starving Chef is supported by Hungry People like you. When you make a purchase through an affiliate link on my site, I may earn a little bit of cash on the side (at no extra cost to you) to help keep my kitchen running. Read our disclosures here.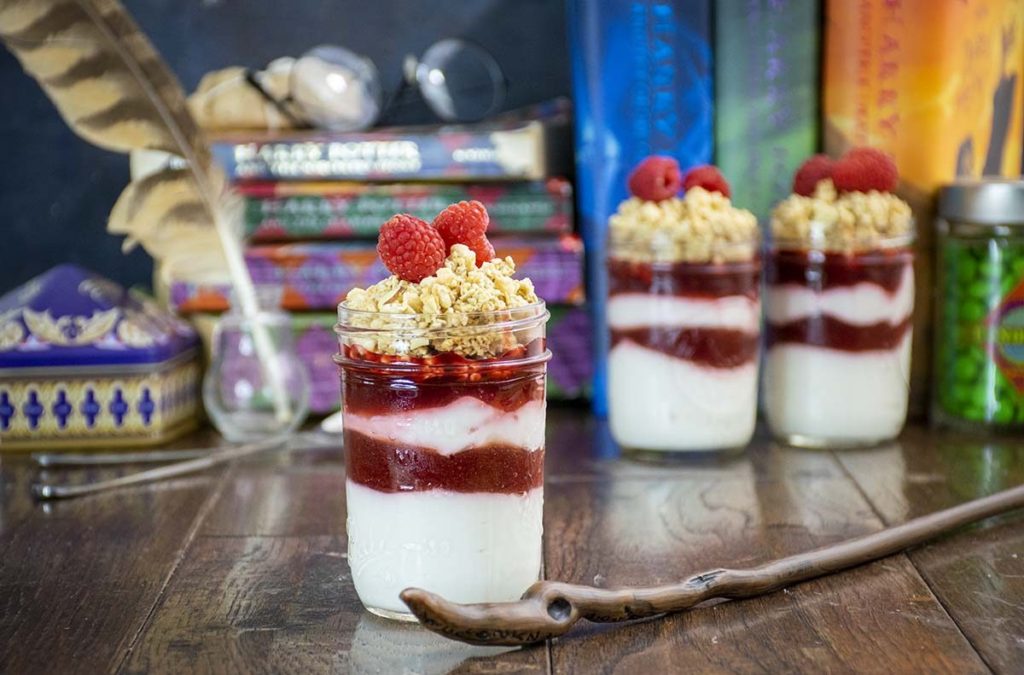 What's up, Hungry Muggles!
It's Harry Potter Week here in the Starving Chef's kitchen! Every year during the last week of July, I transfigure my kitchen into Hogwarts to make magical meals based on the books, movies and real life Harry Potter desinations.
At least once a year I try to Apparate to the Wizarding World of Harry Potter at Universal Studios, Orlando so that I can dine on delicious dishes at the Leaky Cauldron, explore Hogsmeade and grab a drink from the Three Broomsticks.
The last time I was at the Leaky Cauldron in Diagon Alley, I got scotch eggs and beet salad (copycat recipe coming soon!) – but the dessert was something that stuck with me if for only it's most unusual name: CRANACHAN.
In real life, this dessert originates from Scotland, complete with whiskey soaked oaks and fresh June raspberries. And seeing that Hogwarts is allegedly located in the north of Scotland, it makes sense that this dish would have definitely made an appearance in the Great Hall.
But as an American, the closest thing I could equate the word cranachan to would be parfait – because that is basically what it is at the end of the day.
Muggle Ingredients for MAGICAL Cranachan
While witches and wizards have their own magical tricks to make this tasty dessert, here's how muggles can make cranachan with ingredients that can be commonly found at any grocery.
fresh raspberries – for a simple coulis made with a splash of whiskey, plus a few extra for popping on top
vanilla yogurt – for best results, use a thick Greek yogurt
granola – feel free to use your favorite, but for the most authentic flavors, I used a vanilla almond flavored granola
whiskey – for muggles of age, do Hagrid proud and use a "Scotch whisky" if one is available
The cranachan at Universal Studios does have to appeal to a wide audience when it comes to taste – so I presume that whiskey is left out of the process. For my recreation, I decided to keep the textures true to the cranachan you will find at the Leaky Cauldron but added a splash of whiskey to the raspberries for a little bit of *magical* flavor.
You can sub out the whiskey for a splash of apple cider vinegar instead – use just enough to get a nice zing to it.
Harry Potter week continues! Don't forget to check back every day until July 31st for more magical recipes.
What Harry Potter recipe are you most excited to see? Let me know down in the comments below!
Copycat Cranachan from the Leaky Cauldron
This easy recreation of cranachan from the Leaky Cauldron in Diagon Alley is worthy for any witch or wizard.
Ingredients
6

oz

fresh raspberries

+ more for topping

½

cup

sugar

¼

cup

whiskey

or can sub apple cider vinegar

2

cups

Greek vanilla yogurt

1

cup

vanilla almond granola
Instructions
In a sauce pan over medium-high heat, add the raspberries, sugar and whiskey. Heat until the raspberries pop easily. Reduce the heat to medium and continue to simmer for 15-20 minutes until the liquid volume is halved and thickened.

Strain the raspberries through a fine mesh strainer. Use the back of a spatula to press all of the liquid though. Discard the seeds and chill raspberry sauce for at least one hour.

Prepare the serving glasses with a layer of vanilla yogurt. Alternate the raspberry sauce with layers of vanilla yogurt in each glass. If you are serving right away, add layers of granola between layers of sauce and yogurt. If you are not serving immediately, wait to add the granola last on top. Save room at the top of each glass for granola and fresh raspberries. Serve chilled and enjoy!