Copycat Mr. Beast Burgers (ENTIRE MENU!)
The Starving Chef is supported by Hungry People like you. When you make a purchase through an affiliate link on my site, I may earn a little bit of cash on the side (at no extra cost to you) to help keep my kitchen running. Read our disclosures here.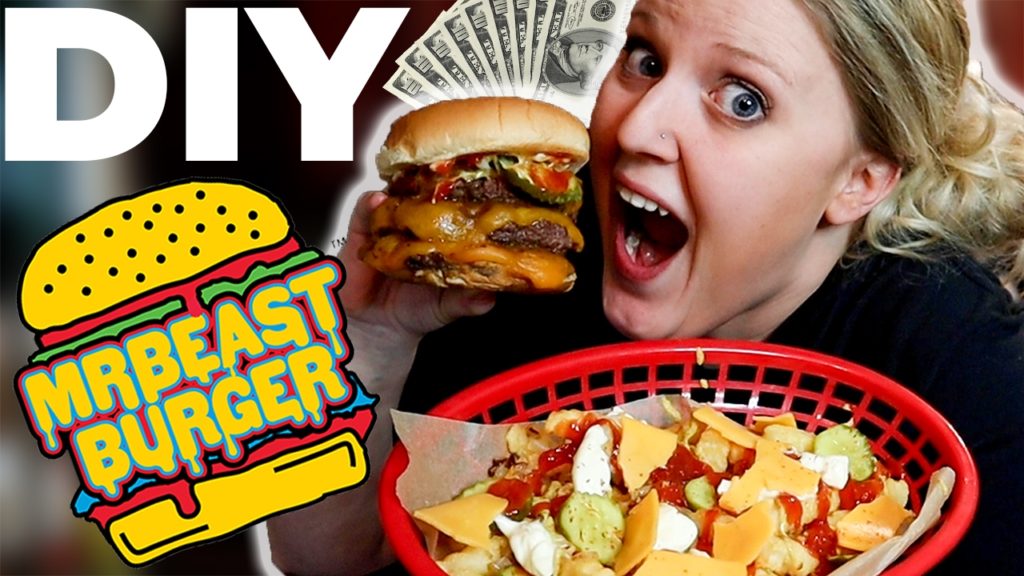 Recently, one of the biggest YouTubers on the internet opened up an ENTIRELY FREE restaurant – and then PAID PEOPLE to eat at it!
If you recognize that I am talking about MrBeast, then you either are up on internet culture or have childern who will not stop talking about wanting to grab a MrBeast Burger (and maybe $100). Or you're me. I don't have kids – but I certainly would not stop asking my husband when we could order some MrBeast Burgers.
Literally the entire concept behind the restaurant was that MrBeast pays YOU to eat there – you just don't know how much. This man handed out hundreds of thousands of dollars to the thousands of people who showed up after seeing his locally posted billboard.
https://www.youtube.com/embed/dg2Ag3e8W-Q
MrBeast even surprised one lucky fan with a brand new car after hers was side swiped while she was waiting in line. They helped fill up waning gas tanks for cars waiting hours. And continued serving their completely free menu well into the evening
After the raging success of his first brick and mortar drive thru, MrBeast announced he would be opening up 300 virtual MrBeast Burger restaurants around the country that would only be serviced through delivery apps – and you would actually have to pay for your food this time.

Unfortunately for us, MrBeast Burgers are only available on DoorDash and the closest MrBeast Burgers was out of range at over thirty minutes away. But as luck would have it, one of our closest friends only lived five minutes away – so I exploited his address for deilvery (don't worry, I bought him some lunch too.)
In fact, I ordered every item on the menu because I was so excited.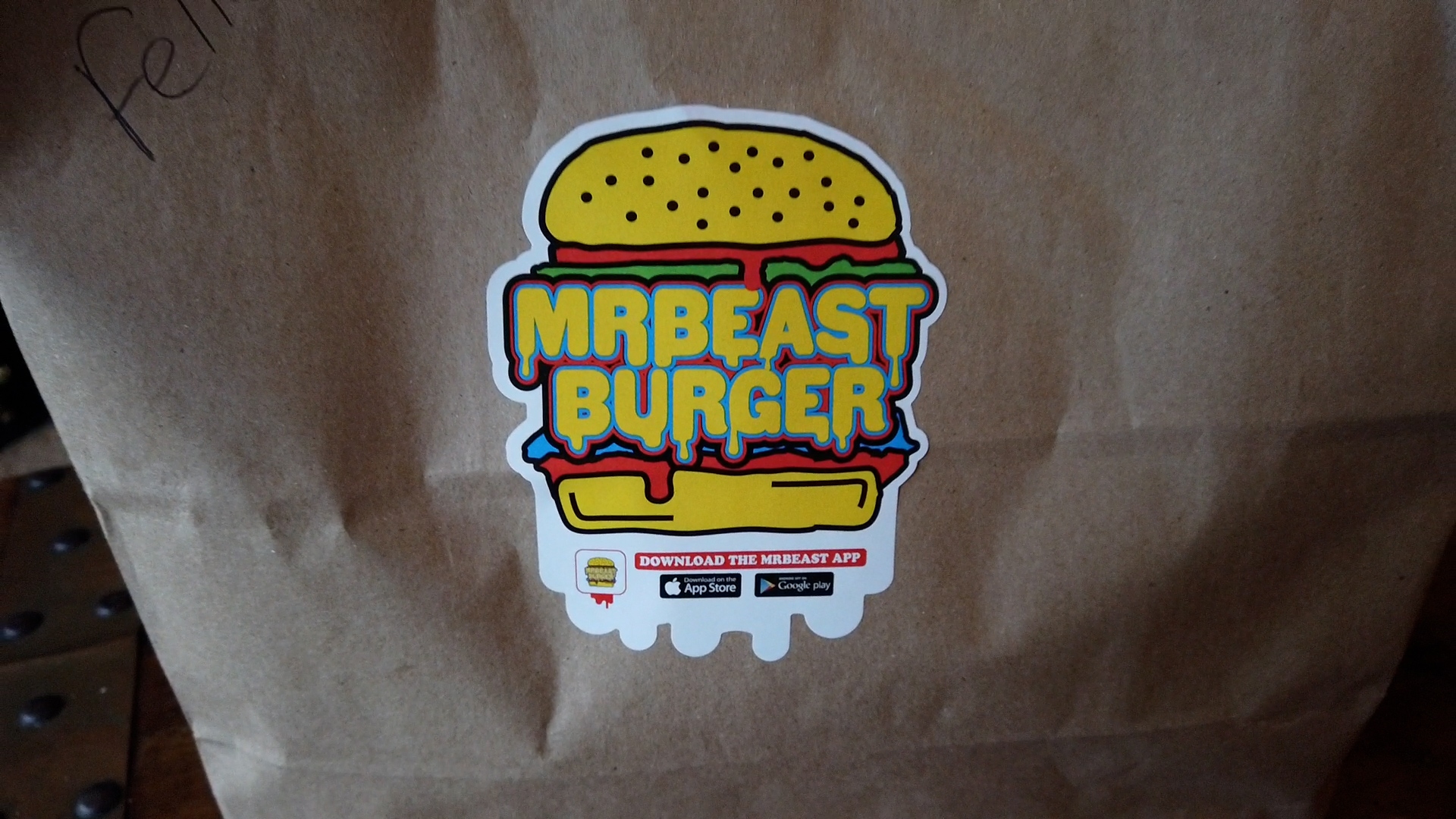 In addition to the Beast Style Burger there are two other burger styles on the menu: the Chris Style and the Chandler Style.
They came wraped in paper foil with some pretty cool stickers on them! I'm not sure if it was just our order, but presentation was definitely lacking – even for a fast food joint. but nevertheless, I pressed on unwrapping my bag of goodies.
I also made sure to get an order of the seasoned fries – though our order came a little bit smashed into one big fry mass.
There's also Beast Style Fries, which come in a box and are loaded with classic burger condiments.
And of course, I had to get a couple Beast Style Burgers! With a name like that, you would expect them to be loaded with toppings! I couldn't wait to dig in.
You can also get two different kinds of chicken tender sandwiches – one regular and one Nashville hot style.
The Nashville Hot sauce actually was pleasantly spicy and sweet – definitely hotter than some sandwiches I've had that claim to be "authentic Nashville Hot Chicken."
Not saying MrBeast's is authentic by any means, but it lays claim to a spicier sauce than most.
Here's How I Recreated the ENTIRE MrBeast Burger Menu:
Check out what you need to make your own copycat version of the MrBeast menu at home.
Beast Style Burger
First up is the Beast Style Burger, which according to the online menu has "smashed crispy beef patties with house seasoning, sharp American cheese, pickles, diced white onion, mayo, ketchup and brown mustard on a soft roll."
It can be made into a DOUBLE or TRIPLE patty sandwich!
Here's what you need:
ground beef
sharp cheddar cheese
sweet hamburger buns (I used a sweet Haiwaiian variety)
dill pickle slices
diced sweet onion
mayo, ketchup, brown mustard
Smash the burgers on a griddle until they are starting to crisp around the edges. Aim for a thin patty for best results. MrBeast Burgers (and most fast food burger places in general) serve their burgers well-done, which is an advantage that thin smash burgers offer as they cook quickly.
In the menu description it says "house seasoning" – and after rewatching the video, I believe this seasoning now to be some kind of Cajun spice blend. My burgers, however, only use salt and pepper as the bare minimum of what I guessed to be "house seasoning." Feel free to season your patties in whatever way you like best.
The Beast Style burger is loaded up with diced onions, pickle slices, ketchup, mayonnaise and brown mustard. Of course, I just HAD to do a triple patty version of this burger.
The Chandler Style Burger
The Chandler Style Burger is just double cheeseburger – no toppings. Not quite my style but okay – whatever floats your boat.
Again, this burger came extra smashed but still tasted… like a plain cheeseburger. All you need for this burger are two smash patties and American cheese.
While the Chandler Style might be plain on its own, well cooked burgers can be dressed up to your liking (we definitely added our own condiments after I finished filming!).
The Chris Style
For the Chris Style, we're looking at an extra smashed double burger with American cheese, bacon and crinkle fries.
Unfortunately the burger we received legit only had three crinkle fries on it so it was somewhat of a disappointment.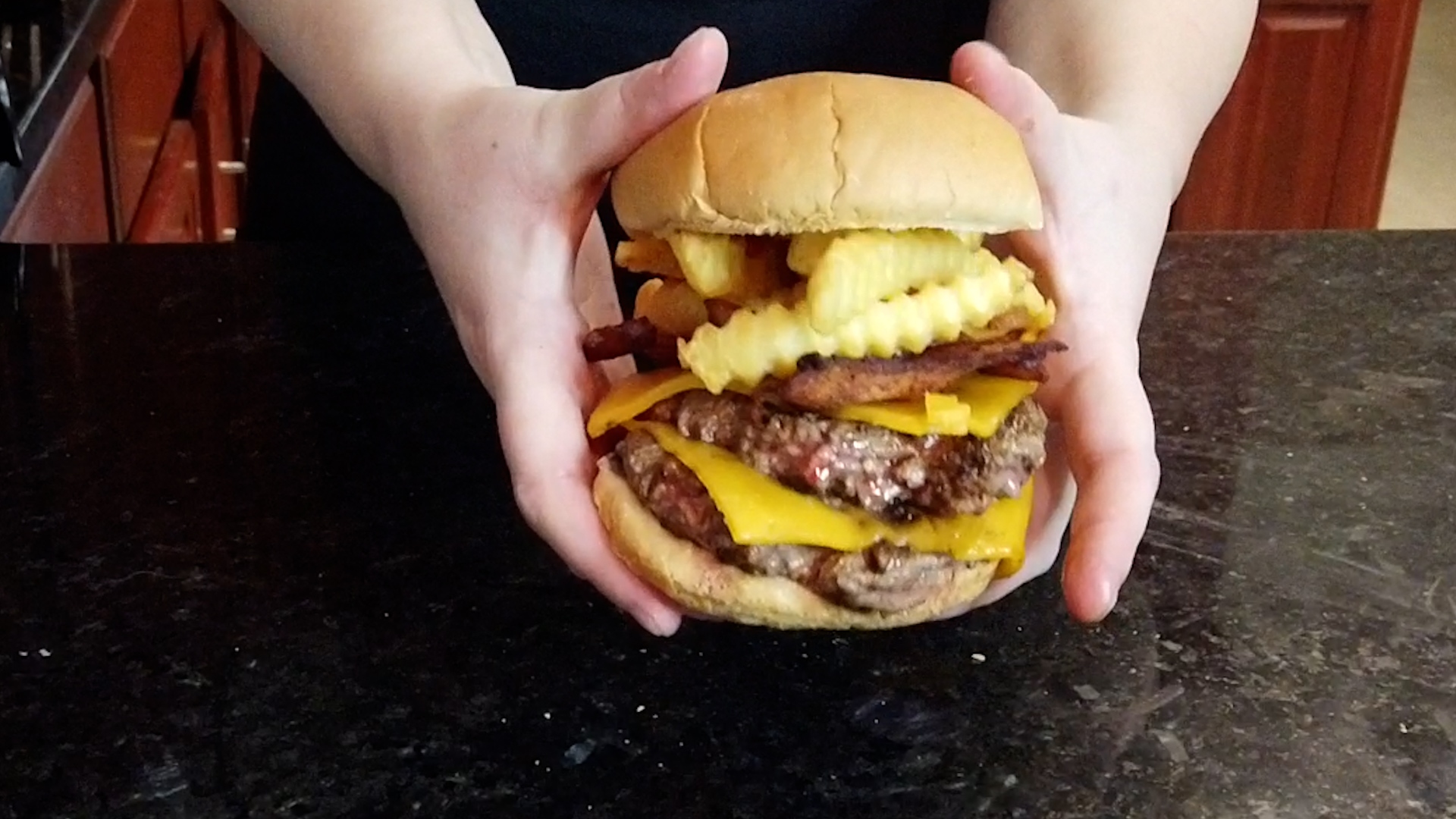 I made up for the lack of fries on our original order by quadrupling the number of crinkle fries loaded on top.
The Chicken Sandwich
The chicken sandwiches consist of two crispy chicken tenders, shredded lettuce, mayo and a big ol' pickle – just your basic chicken sandwich minus the patty.
From appearances only, they certainly looked a little less smashed than the burgers. And the pickle was actually MASSIVE – and I love me a good pickle.
The downside is that this is two chicken tenders rather than a patty, making eating it more complicated than it would be just having one slab of chicken.
It's easy enough to replicate at home, however.
Here's What You Need:
chicken tenders
sweet hamburger bun or roll
shredded lettuce
mayonnaise
big ol' pickle slices
The difference between the two chicken sandwiches is that the Nashville Hot style has a sweet and spicy sauce on top – and if you didn't know, I'm straight up addicted to Nashville Hot sauce.
For the Nashville Hot Sauce:
ghee or butter
cayenne pepper
brown sugar (to taste)
honey (to make it sticky!)
smoked paprika
garlic powder
salt & pepper
I can't wait to put this sauce on everything!
Fry-YAY!
The fries that came with our original meal were very smashed and basically clumped up into one giant fry, so I was excited to remake them for myself at home.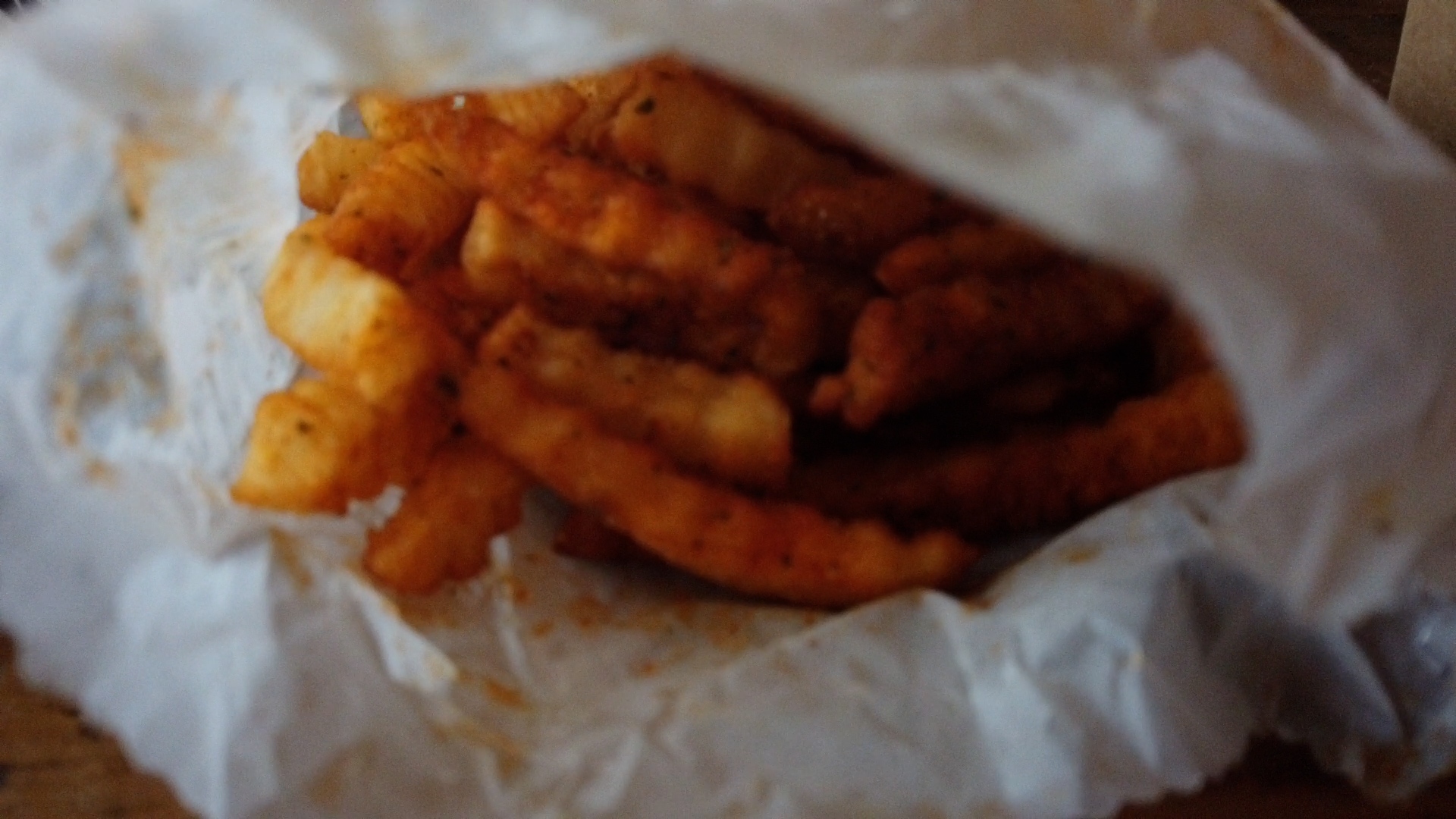 Despite how crushed our fries were, they were still pretty tasty. According to their website, the fries are seasoned with cayenne, garlic, paprika, sugar and a hint of lime.
Here's What You Need for Seasoned Crinkle Fries:
cooked crinkle fries – still HOT!
brown paper bag – for shaking it up!
cayenne pepper
garlic powder
paprika
sugar
Tajin – for a hint of lime!
Tajin is my favorite seasoning of all time. It goes on pretty much everything – and adds a little bit of zing to these fries!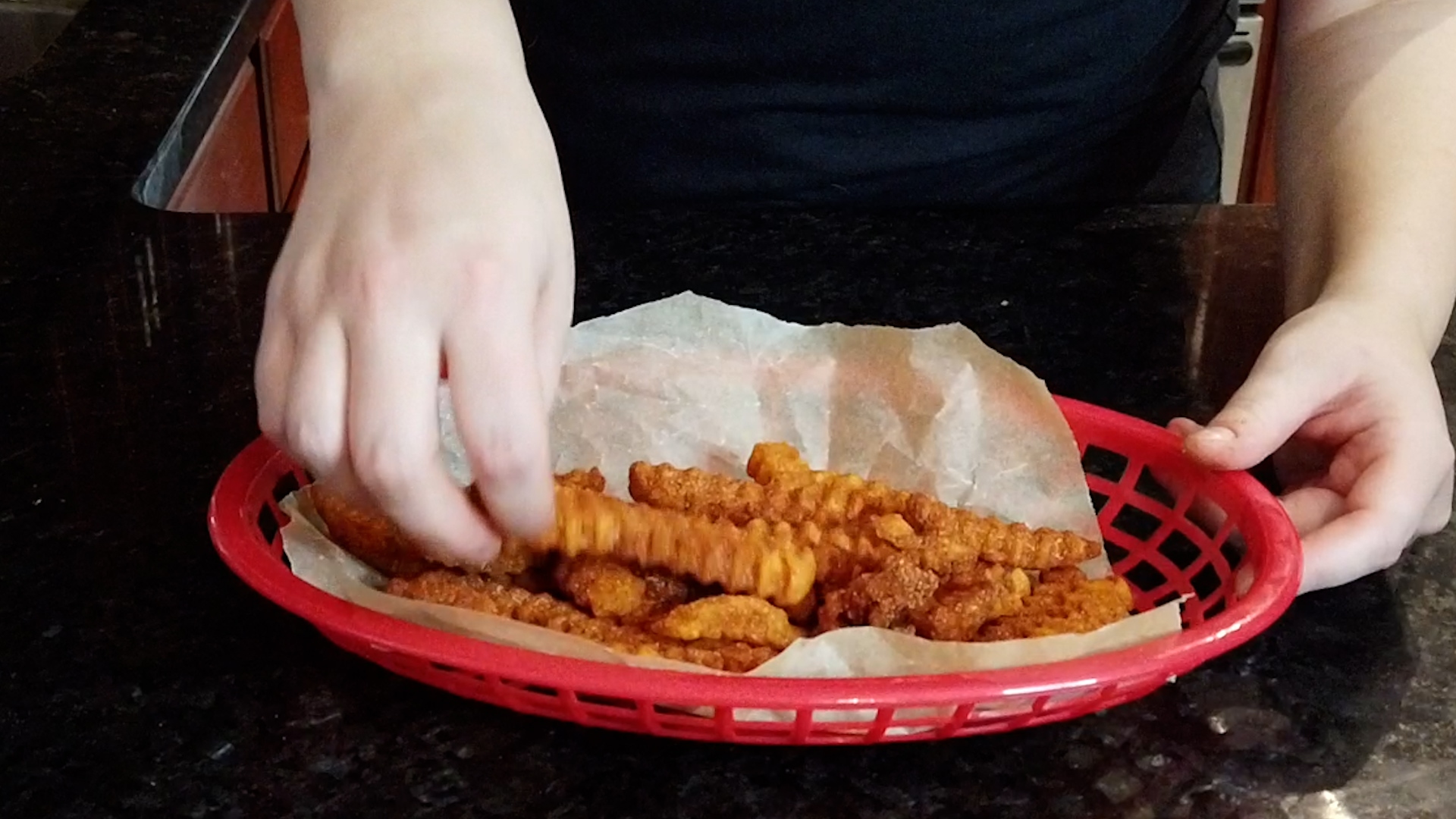 I recommend using at least half of a bag of crinkle fries to really get the right distribution of seasonings to fries ratio.
Beast Style Fries
Beast Style fries take combine all of your favorite burger toppings loaded on top of crinkle fries. According to the website your fries are loaded with caramelized onions, American cheese, pickles mayo ketchup and mustard.
I'm pretty sure we only got half of those things on our loaded fries we got delivered, so might as well make them as described on the menu in our own kitchen.
I love any kind of loaded fries – while these didn't have any 'special' ingredients, they are a good way to use up your condiments on burger night!
Let's Talk About THAT Grilled Cheese…
While I didn't order Karl's grilled cheese for myself, the concept was easy enough to recreate at home. All you need is a burger bun and some cheese.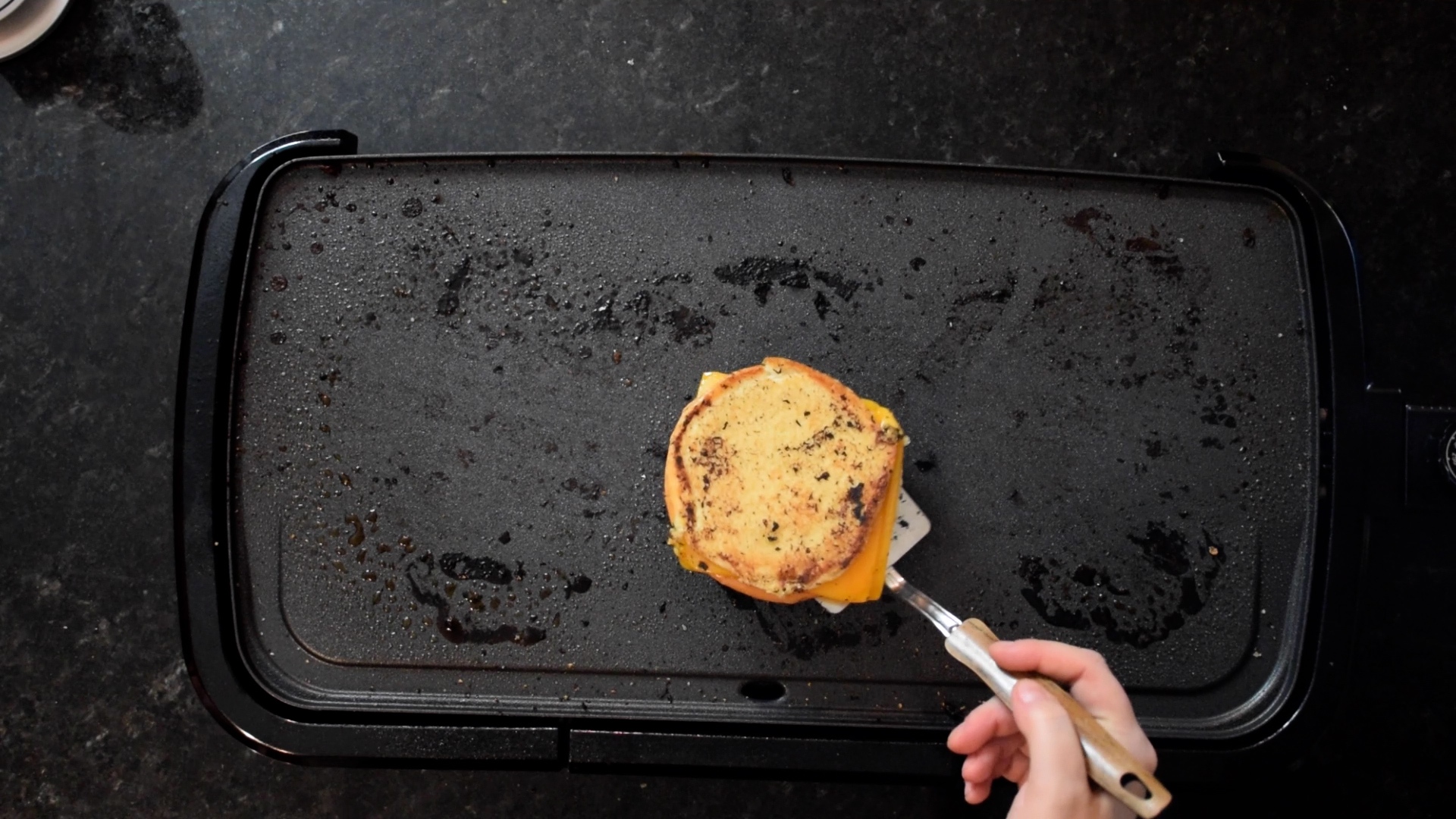 All you have to do is invert the bun and sear it until the cheese is melty – just like a regular grilled cheese.
Watch my video to see how I rank each item on the menu versus the DIY versions I made at home!
If you have a MrBeast Burger within delivery range, I do actually recommend trying it out. While it's not anything spectacular, it's something different to try! Plus, even if you don't have a virtual kitchen near you, the menu is easy enough to recreate at home for your YouTube loving family.
While you're here, don't forget to SUBSCRIBE to my channel too!

NOTE: The ingredients below are listed per single sandwich. Double or multiply as needed!
Copycat Mr. Beast Burgers (ENTIRE MENU!)
I went to MrBeast's restaurant – and then I made the entire MrBeast Burger menu at home!
Ingredients
BEAST STYLE BURGER (TRIPLE):
3

quarter pound

beef patties

1

slice

American cheese

2-3

sliced

pickles

1

tablespoon

ketchup

1

tablespoon

mayonnaise

1

tablespoon

brown mustard

1

hamburger bun
CHANDLER STYLE:
2

quarter pound

beef patties

1

slice

American cheese
CHRIS STYLE:
2

quarter pound

beef patties

4

slices

crispy bacon

5-10

crinkle cut fries

1

hamburger bun
KARL'S GRILLED CHEESE:
1

hamburger bun

1

slice

American cheese
CHICKEN SANDWICH:
2

chicken tenders

1

tablespoon

mayonnaise

¼

cup

shredded lettuce

2-3

sliced

pickles

1

hamburger bun

1

tablespoon

Nashville hot sauce

recipe follows
BEAST STYLE FRIES:
2

cups

seasoned crinkle fries

5-10

sliced

pickles

2-3

tablespoons

caramelized onions

3

tablespoons

ketchup

2

tablespoons

mayonnaise

2

tablespoons

brown mustard

1

slice

American cheese
Instructions
For the burgers: use a hot griddle to smash the beef patties to a quarter inch thin – the thinner, the better. Cook until well done, about 3-4 minutes per side. (OR alternatively, cook to your preference.) Assemble with ingredients to create your desired burger!

For the chicken sandwiches: cook the chicken tenders according to the instructions on the packaging. Combine the ingredients for the Nashville hot sauce, as desired. Assemble the chicken sandwiches with their recommended toppings.

For the seasoned fries: combine the seasonings in a large brown paper bag. Cook the fries according to the instructions on the bag. While still hot, transfer the crispy fries to the brown bag. Shake until coated with the seasonings. Assemble with the recommended toppings for Beast Style fries!

For the grilled cheese: invert the hamburger bun and place the cheese between the two slices. Sear on the griddle on both sides until browned and the cheese is melted – about 1-2 minutes per side.
Video
Notes
NOTE: Ingredients listed are PER BURGER