Copycat Puking Pastilles
The Starving Chef is supported by Hungry People like you. When you make a purchase through an affiliate link on my site, I may earn a little bit of cash on the side (at no extra cost to you) to help keep my kitchen running. Read our disclosures here.
Hold on to your broomsticks, Hungry People.
Harry Potter week continues here in the Starving Chef's kitchen! This week we are tackling the mischievous treats concocted by Ron Weasley's older twin brothers: Fred and George.
Thoughout the books and movies, Fred and George are known for their highjinks at Hogwarts. One of their very first creations were Skiving Snackboxes – mysterious treat boxes that contained treats that would give the consumer an ailment; something strong enough for one to be excused from class but not make them seriously ill.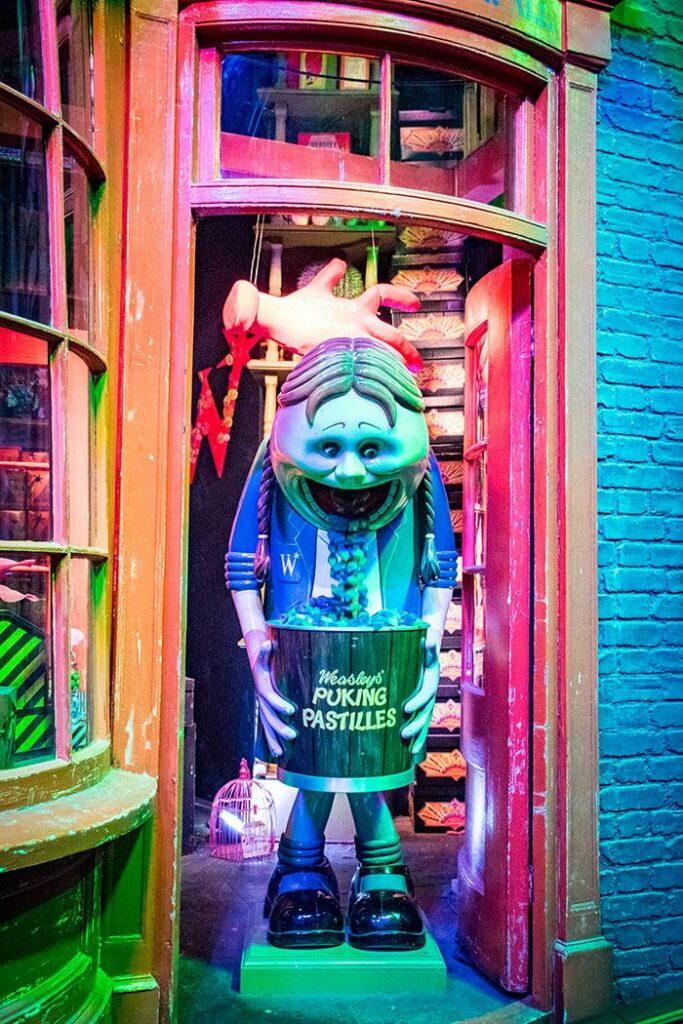 One side of the candy would induce the illness and then once excused from class, the second half would cure the consumer leaving them to do what they pleased with their new found free time.
One such treat that always piqued my interest – regardless of how gross it sounded – was a puking pastille. Created by Fred and George Weasley as a prank treat that could get you out of class, puking pastilles were later sold as a treat at their Weasley's Wizard Wheezes location in Diagon Alley.
You can actually buy these candies in real life at Universal Studios' Wizarding World! I kept a few candies to recreate – so while they were a bit faded in color, you still get the idea of what they would have looked like.
But Why Are They ROUND?
Well… to put it simply… It's very difficult to find a triangle mold that is this shape in the Muggle world.
While the triangle candies from Universal are certainly mass produced and likely use something like an injection mold to create the shape and dual color tones, I wanted to make that my candies could in fact be recreated at home by Muggles.
So instead, I used a smaller set of round molds that came with my set of round molds I got to make the fainting fancies! Plus if you want, you can easily press two halves of the candies together while they are still warm to create a two-toned effect.
Or you can leave them in separate halves (which honestly makes them a bit easier to consume!).
I was able to find a single triangle shape mold on Amazon that had other jewel shapes included on the hard plastic mold. Unfortunately, this made it difficult to quickly remove and press the candies together while they were still warm, like you can easily do with the silicone molds.
Another downside to getting the jewel shaped mold was that there were only four slots for making the candies, meaning it would have taken considerably longer to create the candies – and again, I want to make these as easy as I can for you Muggles!
So if you ever happen to find a triangle / diamond shaped mold that is a simlar size or can make more than just a couple candies at a time, let me know down in the comments so I can recreate this recipe!
The REAL MAGIC is in the Ingredients
If you have never played with isomalt before, this recipe will give you a chance to test out a new ingredient in a a magical way!
isomalt – it's less sweet than regular sugar but reacts in a similar way to create hard candies quickly
white food gel – to make the candies opaque, gel can be used to enhance the color you want the candies to be!
green & purple food gel – aka the colors you want the candies to be
candy flavoring extracts – I picked green apple for one side and watermelon for the other! But you can pick whatever flavoring that is your preference
Copycat Puking Pastilles
Hard candies inspired by the puking pastilles found at Universal Studios' Wizarding World!
Ingredients
4

tablespoons

water

1

cup

isomalt

⅛

teaspoon

lemon extract

or your flavor of choice

⅛

teaspoon

watermelon extract

or your flavor of choice

⅛

teaspoon

green gel food coloring

⅛

teaspoon

purple gel food coloring

¼

teaspoon

white gel food coloring
Instructions
Lightly grease a round or jewel mold. Wipe clean and just leave a bit of oil residue.

In a pot over high heat, stir together the isomalt and water. It will be white at first and clumpy. Continue to stir until it begins to simmer. It will begin to melt and turn clear as it boils. Then let it simmer until it reaches a temperature of 320°F and is clear.

While the isomalt is coming to a boil, prepare two measuring cups with spouts. One with each flavor and color of food gel. Both bowls will get a drop of white food coloring.

Quickly pour the isomalt in equal distribution between each prepped measuring cup. Stir the isomalt in each cup until the food coloring is mixed in completely. Be sure to scrape the sides and bottom to ensure you got all clumps of food coloring mixed in.

Pour the syrup into the molds, filling each cavity about 3/4 full. Let the candies cool at room temperature for 20-30 minutes.

If you plan to combine the colors, when the candies are cool enough to handle but still tacky, flip half of the candies out on to the separate color so that half of the candy is still in the mold.

Transfer the candies to the fridge to finish cooling, about 30 minutes. Tap the candies out of the molds.

Store in an airtight container for up to a week. Serve to unsuspecting first years and enjoy while skiving off class!