Crispy-Top Cornbread Stuffing Casserole
The Starving Chef is supported by Hungry People like you. When you make a purchase through an affiliate link on my site, I may earn a little bit of cash on the side (at no extra cost to you) to help keep my kitchen running. Read our disclosures here.
When the holidays roll around, the last thing you want is to be stuck in the kitchen while the rest of the fam celebrates and has a jolly ol' time. Well, not this year! I'm all about keeping it simple in the kitchen so I can maximize time spent with family and friends – that's why casseroles, like the one for cornbread stuffing, are lifesavers for any big event or holiday!
Simplify and Save with Cornbread Stuffing Casserole
What's awesome about this casserole is that it combines a simple homemade cornbread with store-bought stuffing, saving you time and money. I adore making my cornbread from scratch, but even using premade cornbread will work wonders in creating an authentic homemade flair for your stuffing.
Here's What You Need:
For Cornbread:
Cornmeal: Provides a rustic texture and distinct corn flavor to the bread.
Flour: Adds structure and helps bind the cornbread.
Milk: Adds moisture and richness to the cornbread.
Melted butter: Enhances flavor and tenderizes the cornbread.
Baking powder: A leavening agent that helps the cornbread rise.
Baking soda: Helps with rising and balances acidity.
Whisked eggs: Adds moisture and helps bind the ingredients.
Brown sugar: Adds a subtle sweetness and depth to the cornbread.
For Stuffing:
Crumbled cornbread: Forms the base and imparts a hearty corn flavor.
Sourdough bread cubes: Adds varied texture and structure to the stuffing.
Chopped celery: Brings a refreshing crunch and mild flavor.
Chopped onion: Provides aromatic essence and layers of taste.
Chopped sage leaves: Infuses earthy, herbal notes into the stuffing.
Chicken broth: Moistens and flavors the stuffing, creating a cohesive dish.
Butter slices: Introduces richness and a golden, crispy top.
Salt & pepper: Elevates overall flavor and seasoning balance.
Let's Cook!
Begin by making a simple cornbread then once it's cooked and cooled, crumble it with your hands to form small to medium sized chunks of cornbread. Take about 1-2 cups of the store-bought stuffing bread cubes and stir them into the cornbread chunks.
In a skillet over medium high heat, melt the butter then add the celery, onions, and chopped sage. Sauté until the onions and celery are tender, or about 10 minutes.
In a separate bowl, whisk the eggs then pour the eggs into the bowl with the breading. Stir the eggs into the breading until all of the cubes are covered with some egg. Then remove the onions, celery and sage from the stove and fold it into the stuffing.
Spread the stuffing into a baking dish then pour the entirety of the chicken broth over the stuffing from corner to corner, making sure that there are no dry spots in the stuffing.
Dot the top of the stuffing with butter, then pop into the oven and bake for 20-25 minutes or until the top is browning and crispy. If you arm yourself with a couple of these casserole-esque side dishes (and even main courses!) you'll spread holiday cheer just by not being stuck in the kitchen!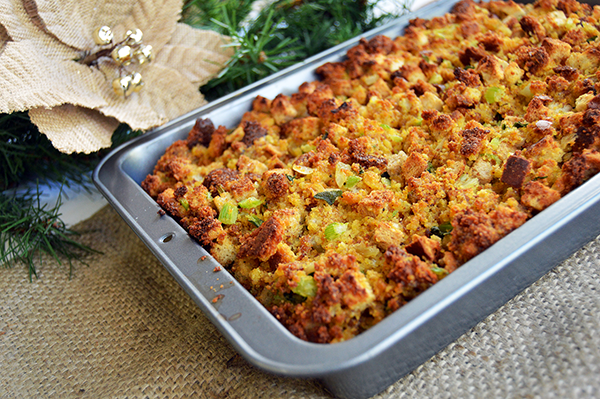 Additional Tips and Tricks:
Perfect Pairing: Mix cornbread with sourdough for a delightful texture blend.
Sautee Sensation: Sauté celery, onions, and sage in butter for enhanced aroma and flavor.
Customize to Taste: Add nuts or dried fruit for a unique twist on your stuffing.
Moisture Mastery: Adjust chicken broth for your preferred stuffing moistness level.
Crispy Delight: Broil the top briefly after baking for extra crunch and color.
Make Ahead: Prepare stuffing in advance, then bake on the day of serving for convenience.
Leftover Magic: Transform extra stuffing into breakfast hash or savory croutons.
Gluten-Free Option: Use gluten-free flour and bread for a celiac-friendly version.
Veggie Variations: Incorporate sautéed mushrooms or bell peppers for added depth of flavor.
Herb Haven: Experiment with fresh herbs like thyme or rosemary to elevate taste.
Texture Play: Add toasted nuts or seeds for an enjoyable crunch surprise.
Savory Sweetness: Enhance sweetness with dried cranberries or apricots for balance.
Layering Love: Alternate cornbread and sourdough layers for a visually appealing stuffing.
Elevate with Gravy: Serve with savory gravy to take your casserole to the next level.
And there you have it, Hungry People!
Now armed with a scrumptious cornbread stuffing casserole recipe, you're all set to create a memorable holiday feast that'll have everyone coming back for seconds. Get ready to savor every bite and enjoy the warmth of sharing good food with loved ones.
Happy cooking, and may your kitchen be filled with delicious aromas and laughter!
Cornbread Stuffing Casserole
Create a delectable cornbread stuffing casserole, combining homemade cornbread with savory stuffing for a holiday delight.
Ingredients
FOR STUFFING:
4

cups

corn bread

crumbled

2

cups

sourdough bread cubes

½

cup

celery

chopped

½

cup

onion

chopped

4

tablespoons

sage leaves

chopped

2

cups

chicken broth

+ more as needed

8

tablespoons

butter

cut into slices

salt & pepper

to taste
Instructions
If making the cornbread from scratch, preheat the oven to 425°F, then combine all of the ingredients for the cornbread. Stir until a smooth batter forms, then pour it into a greased baking dish. Bake for 20-25 minutes or until the cornbread is golden brown on top and a toothpick comes out clean when inserted in the center. Cool the cornbread completely, then crumble it into small to medium-sized cubes.

In a large pan over medium-high heat, melt two tablespoons of butter and add the celery, onion, and sage. Cook until tender, about 10 minutes.

Combine the bread cubes with the cornbread in a large bowl. Fold in the cooked onion and celery mixture. Season with salt and pepper.

Pour the stuffing into a casserole pan and spread it out evenly. Pour the broth over the stuffing from corner to corner to ensure the entire stuffing mix is saturated with broth.

Cook the stuffing at 425°F for 20-25 minutes or until the top has browned and turned crispy. Serve right away and enjoy with family and friends!