Crayfish Chowder from The Witcher III
The Starving Chef is supported by Hungry People like you. When you make a purchase through an affiliate link on my site, I may earn a little bit of cash on the side (at no extra cost to you) to help keep my kitchen running. Read our disclosures here.
Toss a coin to your Witcher because today we're making crayfish chowder that will make you go:
MMMMM!
This recipe is pulled directly from the the Witcher III Blood and Wine expansion pack. Obscure reference?
Maybe.
But I still made my fiancé play through a couple dozen hours of storyline just so he could get a few shots of this recipe from the source itself.
This crayfish dish can be found at the Cockatrice Inn located between the Corvo Bianco vineyard and the Dun Tynne castle in Toussaint.
This is the fabled crayfish chowder recipe, which gives pretty specific instructions on how it should be made.
While I think the inn keeper is on to something with crayfish, I don't think Geralt was too far off suggesting substituting white fish for crayfish, especially in a soupy chowder such as this one. We certainly had no shortage of crayfish in the real world, meaning I could make this recipe as close to the game's suggested method as possible.
With crayfish aplenty, lets hope we see this recipe on the next season of the Witcher.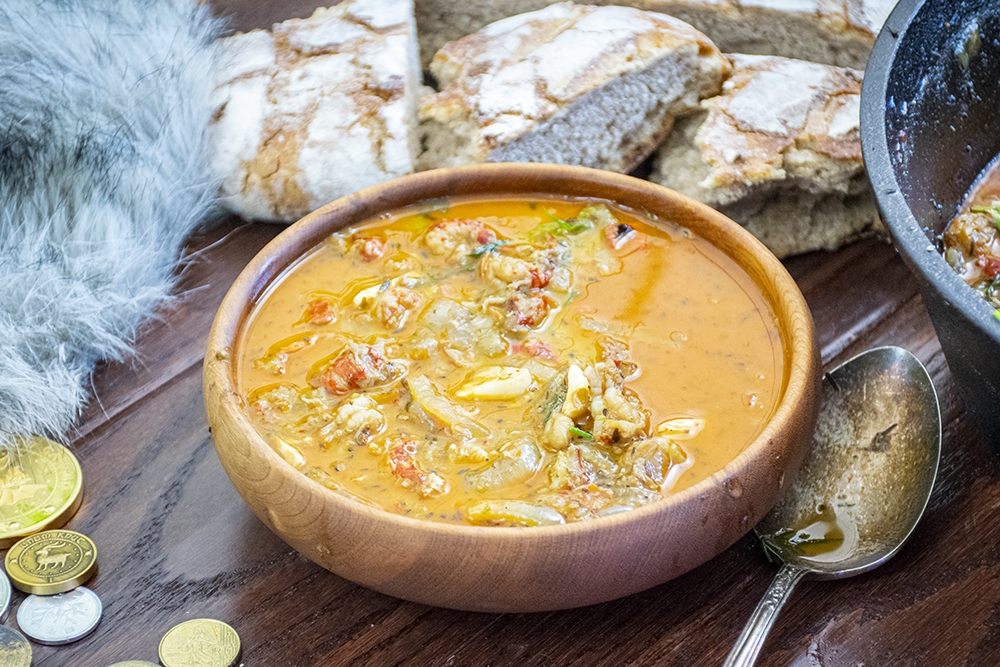 We'll start with a batch of fresh caught crayfish – well freshly caught, frozen and thawed crayfish.
Surprisingly, whole crayfish were pretty easy to find at the store, with these coming from our modern world's version of a blue and white starred general store.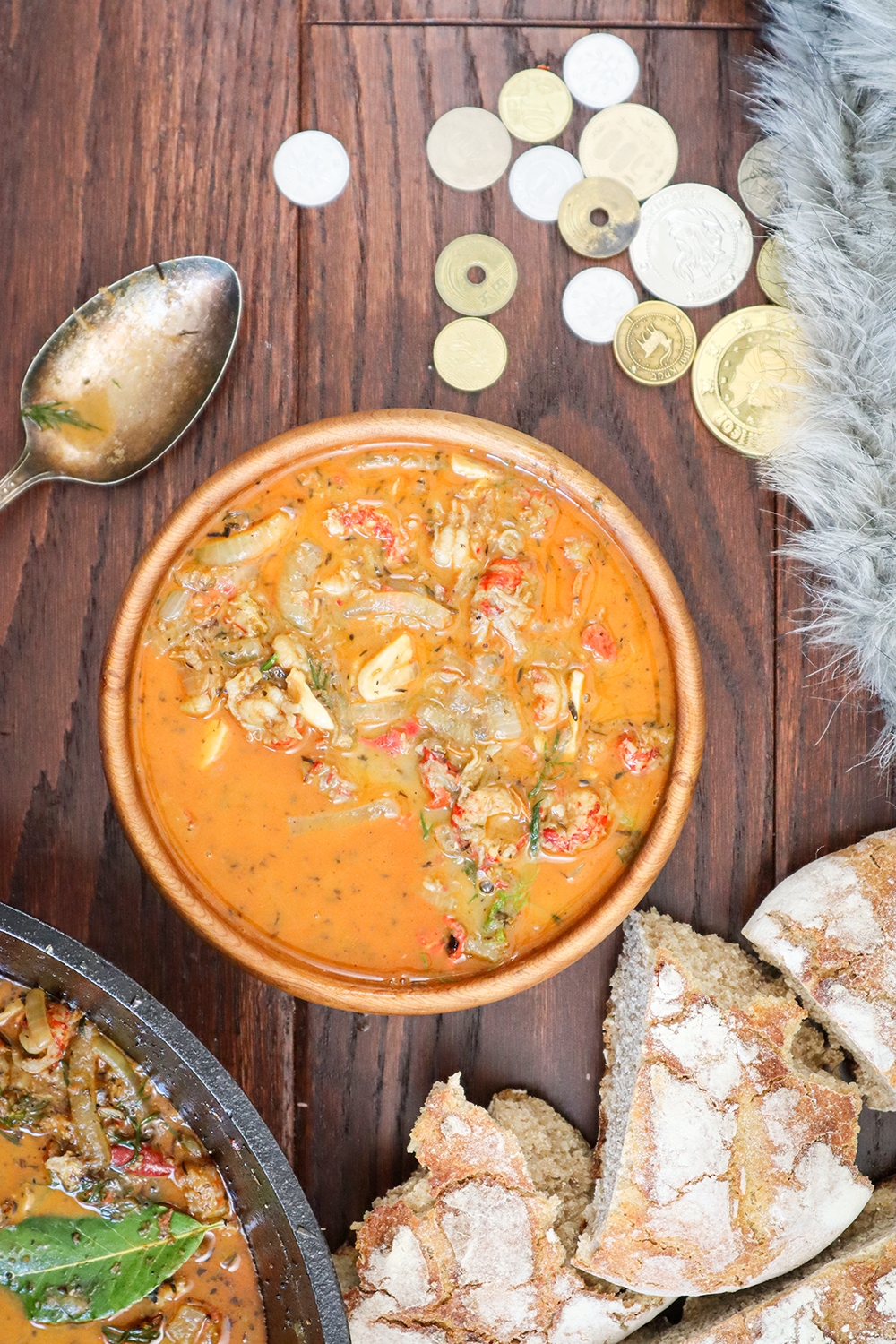 The recipe from the game calls for the heads and pincers to be ground up into a paste that will add flavor the chowder – though honestly, I felt like this step could be entirely optional, especially if you don't have a stone mortar handy or some useful magic spells to finely grind the shells into a paste.
Many real life cultures eat shellfish meat, shell and all, but if you aren't accustom to this cooking technique, feel free to skip this step.
A famed dish at the cockatrice inn, this crayfish chowder is a certain delicacy for all who pass through.
Renown by travelers and knights alike, after dining upon it you'll definitely give it a solid:
MMMMM.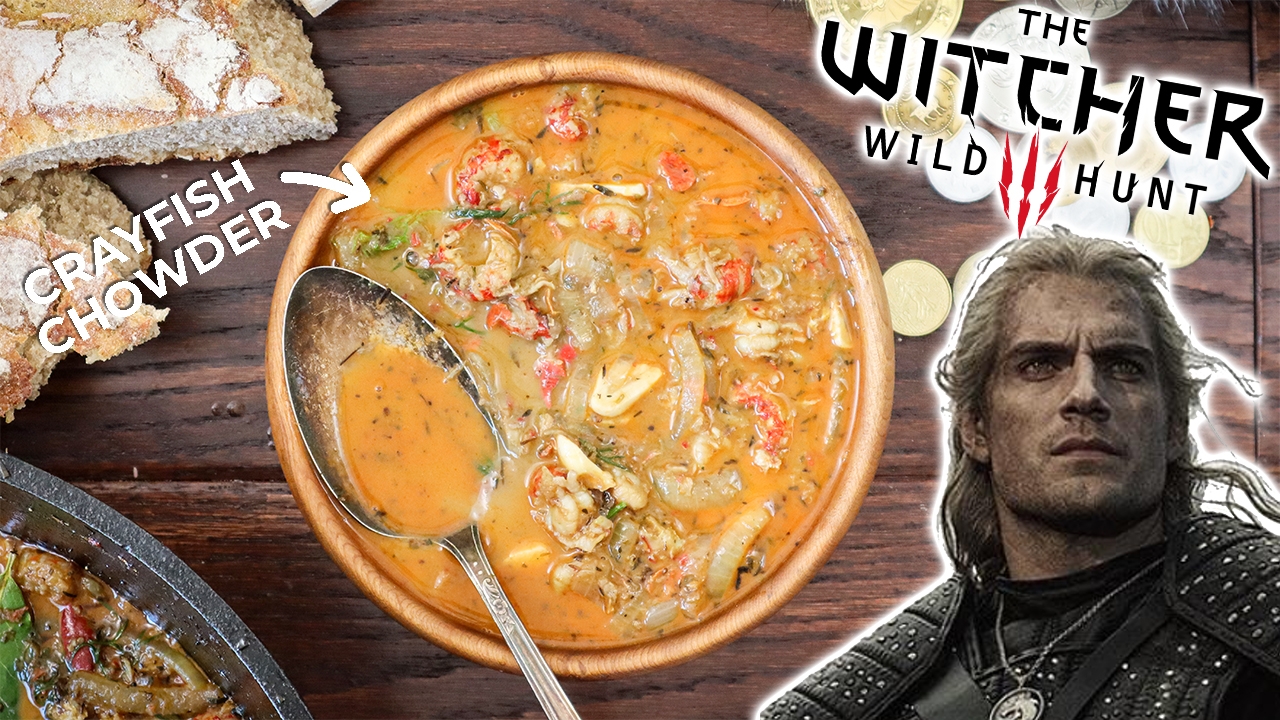 Crayfish Chowder from The Witcher III
This is the fabled crayfish chowder recipe, which gives pretty specific instructions on how it should be made.
Ingredients
16

oz

crayfish

boiled, separate tailmeat, reserve shells

4

tablespoons

butter

+ more as needed

½

cup

onion

sliced

10

cloves

garlic

roughly chopped

2

tablespoons

thyme

1

cup

fresh dill

¼

cup

muscadet

or dry white wine

1

bay leaf

2

cups

chicken broth

can sub seafood stock

½

cup

heavy cream
Instructions
Boil the crayfish for 5-10 minutes until bright red. Remove the head and pincers and reserve. Remove the tail meat from the tail and set aside.

In a stone mortar and pestle, grind the heads and pincers into a fine paste. (OPTIONAL: Skip this step if you don't have a mortar and pestle and discard the heads and pincers.)

In a large cast iron dutch oven, melt two tablespoons of butter until frothy. Add the chopped onion and saute until tender, about 10 minutes – then add the roughly chopped garlic and thyme and saute until fragrant, about another 5 minutes.

Add the shellfish paste and stir until. Cook until softened, another 5-10 minutes. Then add the crayfish tails to the pot. Season with salt and pepper, to taste.

Deglaze the pot with a splash of dry white wine. Scrape up the browning bits. Then add the bay leaves and chicken broth. Bring the stew to a simmer.

Add half of the fresh chopped dill and stir. Season with salt and pepper to taste.

Thicken the chowder with the remaining butter and heavy cream. Add the remaining dill and remove from the heat. Give it one final seasoning of salt and pepper, to taste. Serve with crusty bread and TOSS A COIN TO YOUR WITCHER, O VALLEY OF PLENTY!
Video