Caribbean Cruise Food Tour | Foodie Adventures
The Starving Chef is supported by Hungry People like you. When you make a purchase through an affiliate link on my site, I may earn a little bit of cash on the side (at no extra cost to you) to help keep my kitchen running. Read our disclosures here.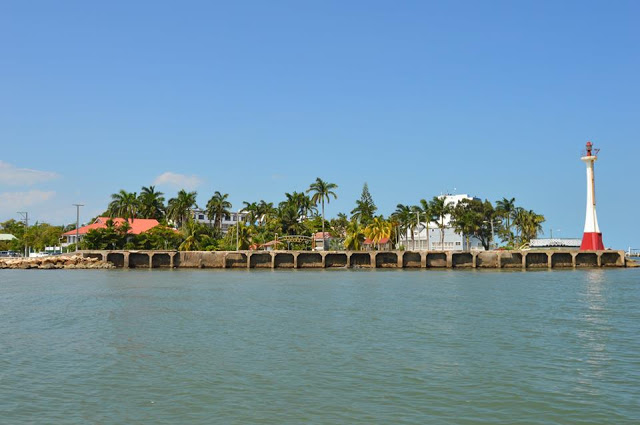 It's been a whirlwind couple of weeks in the Starving Chef's household but fear not, I have a pretty good excuse for being absent from the blogosphere the past few weeks: we went on a Caribbean cruise! I've never traveled outside of the United States (well except for that one time I went to Canada, but I could see America the entire time…at Niagara Falls) so I was particularly excited to see a small new chunk of the world. We sailed away on the Carnival Valor and visited Cozumel, Mexico; Caye Caulker, Belize; Roatan, Honduras; and Costa Maya, Mexico. While on our excursions, we got to experience some amazing cuisines, all familiar in their names, but incredibly different from the tastes that I've become accustomed to.
Most of our meals were eaten on the boat, but we stayed away from the buffet as much as we could and opted to eat dinner at one of the many on board restaurants. Plus it was all inclusive, so there was really nothing to stop us from eating salmon eggs Benedict in the morning and escargot and lobster every night. Every meal we ate was delicious, but I definitely found myself looking forward to dinner each evening after an exhausting excursion.
The first port on our trip was Cozumel, Mexico, where we disembarked from our huge ship to promptly board a much smaller one bound for the mainland. Nick and I took a 45 minute bus ride further inland to Riviera Maya, Mexico, home to a large Mayan sinkhole and cave system filled with crystal clear water.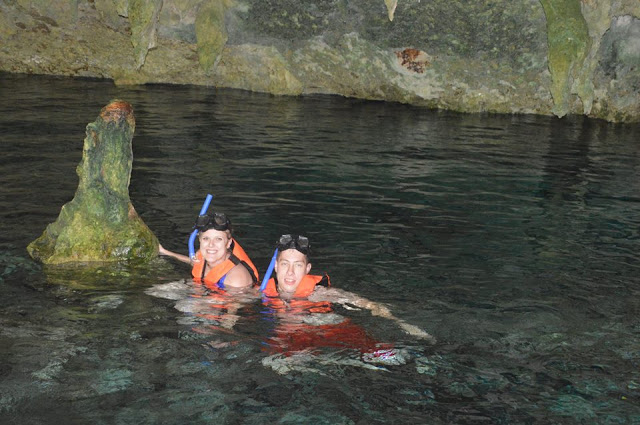 After swimming through two large cave systems, we took the bus to Akumal, Mexico, or turtle cove, which is a favorite stop for green sea turtles to grab a quick snack.
Here's a quick video I made of our excursion, if you want to see our swim from my perspective. We saw nearly a dozen different turtles and snorkeled over reefs filled with colorful fish – it was an absolutely incredible experience!


After a busy day of swimming through caves and alongside sea turtles, our guide took us to a beach-side bar where we were met with a full taco buffet with ceviche and margaritas. If there was one thing that every excursion did well, it was the free booze that came along with the trip!
The cheese was like a soft curd – like a strained cottage cheese. Their sauces were no joke either; I smoothered my tacos in what I mistakenly thought was a mild verde salsa…turned out, it was probably the spiciest thing I've EVER tasted. I guess I've learned my lesson on putting strange spices on foods in a new country…
Regardless of my naive food tasting skills, the meal was still totally delicious – and gave me plenty of new ideas for a Mexican inspired dish such as ceviche (recipe coming soon!). I even picked up some exxxtra picante habanro sauce so I can truly re-experience my spicy ignorance.
After our meal, Nick and I strolled along the beach until it was time for the guides to take us back to the pier, where we headed back to port to reboard the Valor. Our entire group was exhausted from a long, hot, and exciting day – but little did we know our trip was about to get so much better.
The next morning after arriving in Belize, we boarded a small boat and took an hour long boat ride to a tiny island called Caye Caulker, but I only remembered the name as the locals called it "Go Slow Island." There our guides took us out to a shallow reef where we were greeted by dozens of sting rays, a shark or two, and lots of scary barracuda. I filmed some of this excursion, while trying not to drown, step on a sting ray, or let the waves knock me into the reef, which turned out to be mostly covered in poisonous coral and sea urchins. Fun, fun…


After our swim in the reef, and with all of our limbs intact, we stayed for an hour or so on the island, which was so small you could walk from one side to the other in just a few minutes.
We ate at an ocean side bar where I enjoyed a lobster kabob, that was likely made from a lobster pulled fresh out of the reef we had just explored. The garlic bread was what stood out to me during this meal – it was almost like a garlic french toast. Something that I plan on trying for myself in the near future!
Back on the boat, we treated ourselves to another five-star meal, where I enjoyed orange duck – a first to add to my flavor palette. It tasted like a weird, fleshy SPAM. I made that sound delicious, didn't I?
Naturally, while on the open seas, I wanted to eat as much seafood as I could, especially since super fresh seafood is so hard to come by up here in cold Ohio.
We didn't get to actually experience any new foods during our time in Roatan, but I DID make myself a new monkey friend. We spent most of our time in Roatan visiting a monkey sanctuary, which is home to a couple dozen Capuchin monkeys, rainbow macaws, toucans, and hundreds of iguanas. The next morning we found ourselves in Costa Maya, and frankly, we were exhausted. We opted to not go on any excursions so we could spend the last day doing literally nothing on a beach.
Well, nothing but drinking strawberry daiquiris. After a few solid hours of sun tanning, I was hungry enough to decipher a menu written entirely in Spanish – which was an experience in itself.
Using my basic, two years of high school and a quarter of college Spanish knowledge, I decided to try some tacos de jicama which turned out to be exactly that, but definitely not what I was expecting. The beer battered shrimp was served on extremely thin slices of jicama, instead of tortillas, and topped with a mango sauce, pico de gallo, and chipotle mayonnaise. After getting a few odd looks from people as I took pictures of my lunch on a bump on a log on a beach by the sea, I finally just had to explain: "I'm a food blogger, this is completely normal." Our final night on the ship, Nick and I decided to treat ourselves and went on a little date to the fanciest restaurant on board the Valor – Scarlet's.
There we had the finest dinner I have ever eaten, starting with chef's complimentary corn chowder and roe.
My second course was a steaming bowl of baked french onion soup, which was extremely hot temperature wise, but still absolutely amazing. Nick's second course was escargot and clam chowder, which he tried to bring out his inner food blogger by taking the below picture for me.
Don't quit your day job, babe. Keeping with the seafood theme of the week, my third course was a simple crab cake served on a bed of corn salsa.
After taking a few food photography tips from me, Nick tried again to document his lobster bisque, and actually did a fairly good job this time around. I'm not a huge fan of lobster bisque, but I did sneak a few bites of his, and the fresh lobster definitely makes the biggest difference.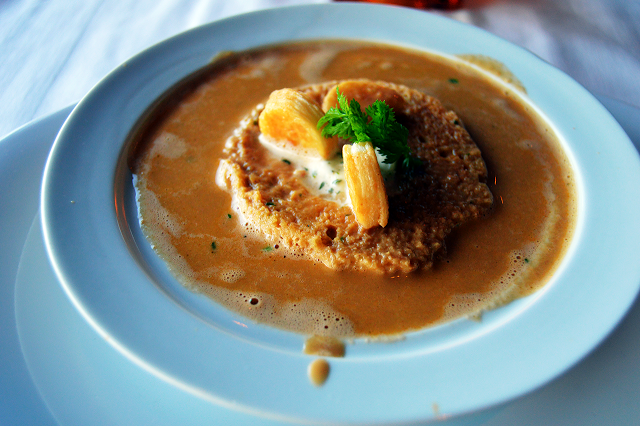 Nick's main course that night was lobster ravioli, topped with shrimp, and a Bearnaise sauce.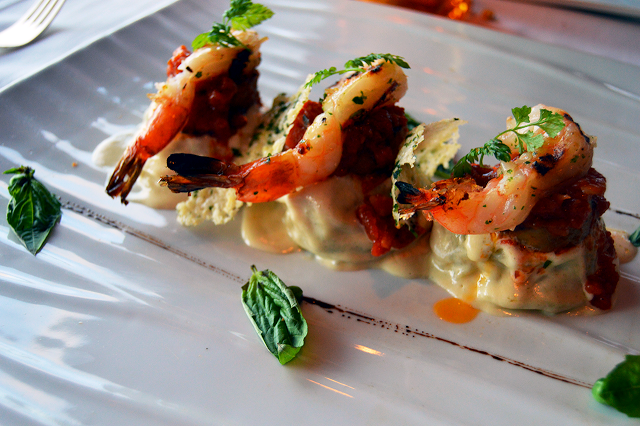 I wanted the best of both worlds to transition back to the coastless Ohio foods, so I decided on filet mignon and lobster tail, NBD. The filet was so tender it nearly melted in my mouth.
Our first annual 'friend-cruise' was all-in-all a huge success. We got to experience so many new things, from cave diving to snorkeling with sharks, eating the spiciest of foods, meeting the most unusual people…I can't wait for our next adventure!