Savory Goat Cheese and Cucumber Party Snacks
The Starving Chef is supported by Hungry People like you. When you make a purchase through an affiliate link on my site, I may earn a little bit of cash on the side (at no extra cost to you) to help keep my kitchen running. Read our disclosures here.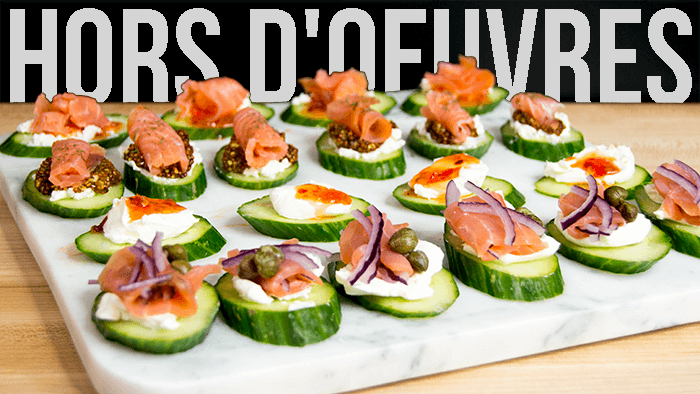 What's up, Hungry People?
Looking for a simple dish that screams sophisticated without all the hassle? Well, you're in for a treat. Let me share with you the recipe that became the star of our holiday parties – and yes, it's as easy as slicing cucumbers. You got it, I'm talking about those sleek cucumber slices topped with a smear of goat cheese, a hint of whole grain mustard, and a sliver of smoked salmon.
I whipped this up for my fam, and guess what? The cucumber version was a smash for the calorie counters, but the crackers? Oh, they didn't stand a chance.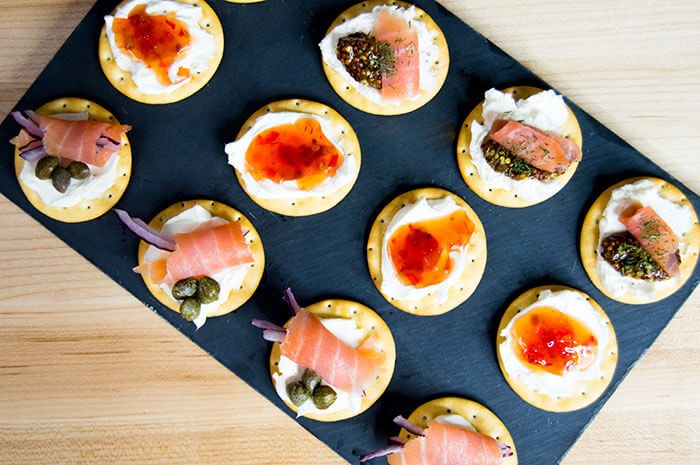 Cream Cheese or Goat Cheese? That's the Question
Can't find goat cheese or just not feeling it? Swap it with cream cheese, and nobody will judge you – we're all friends here. I took this alternative up a notch to make my twist on the classic New York lox bagel – on a cracker, no less! Picture red onions, briny capers, all coming together for that New York deli vibe. And for those spice enthusiasts, a salmon-free version comes to life with a dollop of hot ginger chili sauce. Talk about a flavor party, right?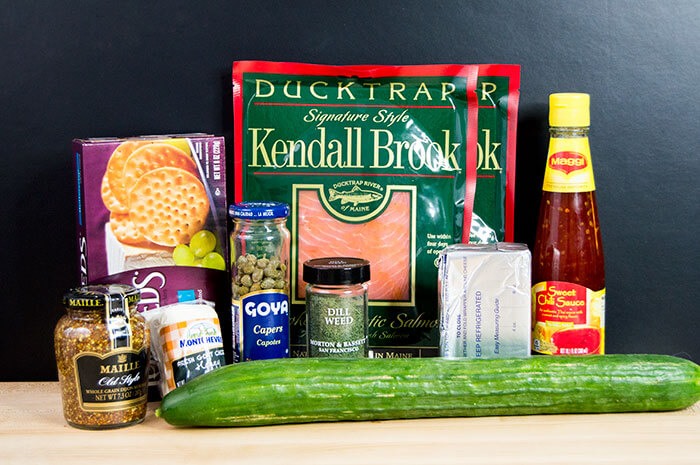 Here's What You Need
Gravlax: Cured salmon that adds a luxurious, rich, and salty flavor to the bites.
Butter Crackers: Provides a crisp, buttery base for toppings; choose full-flavored, sturdy ones.
English Cucumber: Adds a fresh, crunchy texture; a healthier alternative to crackers.
Cream Cheese: Offers a creamy texture and tangy taste; serves as a flavor carrier.
Goat Cheese: Brings a tart and earthy flavor; its creaminess contrasts with crisp cucumber.
Whole Grain Mustard: Adds a piquant kick and depth with its grainy texture.
Capers: Introduce a burst of salty, briny flavor to complement the salmon.
Sweet Thai Chili Sauce: Gives a balance of sweetness and mild spice; a vibrant flavor boost.
Dill: Its feathery fronds contribute a delicate, aromatic touch to the appetizer.
Red Onion: Provides sharpness and crunch, balancing out the richer ingredients.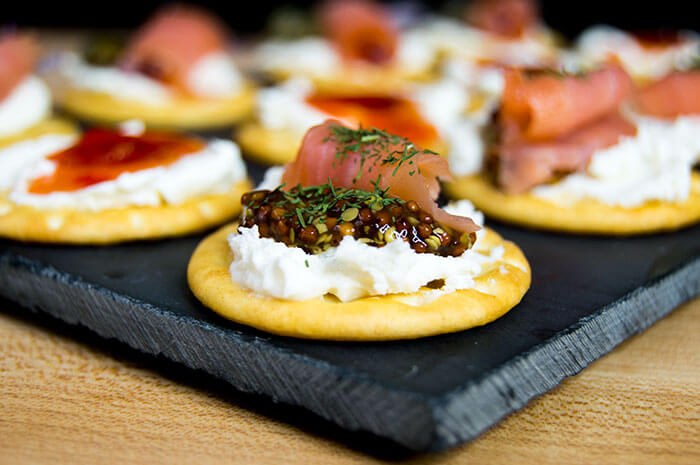 Let's Cook!
Time to play with your food – I mean, who said cooking wasn't fun? Grab your gravlax or smoked salmon, honey-infused goat cheese, a blob of cream cheese, a spoonful of whole grain mustard, capers, and sweet Thai chili sauce. And don't forget the dill – it's not just for pickles, folks.
Pro tip: Go for a buttery cracker for that ultimate indulgence. Or, if you're on Team Health, snag an English cucumber. It's the perfect crispy vessel for our no-guilt joyride.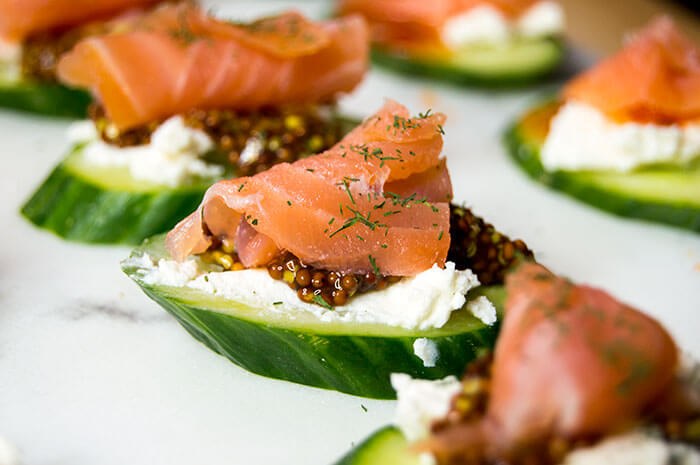 The Crown Jewels of Hors D'oeuvres
My hors d'oeuvre of choice was a buttery cracker boldly facing off with goat cheese, a swipe of whole grain mustard, topped with lush gravlax salmon. But let's not ignore its crunchy cousin – the cucumber base with the same topping. It's a close race for the top spot in my book.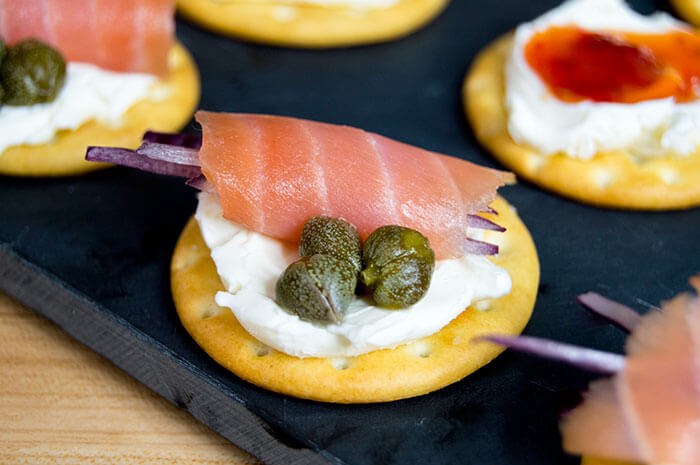 The Showstopper
And then came the show-stealer – the New York lox bagel-inspired cracker. Picture it: cream cheese foundation, a layer of gravlax, topped with thinly-sliced red onions, and a sprinkle of capers for that briny kick.
I've got to confess, my affair with capers is relatively new, sparked by a New York-style bagel shop we used to live by. Those little pearls are like bursts of flavor that make your taste buds sing the Hallelujah chorus.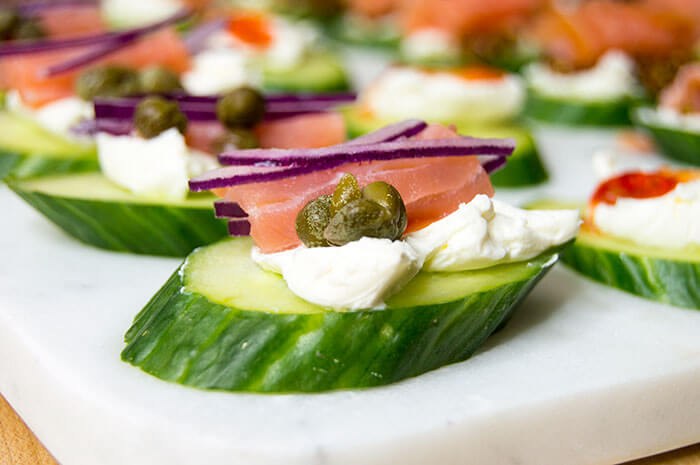 For the 'It's Raw' Skeptics
Now, onto the controversial topic of gravlax and lox being "raw" – I get the apprehension. Some folks look at smoked salmon and think it's sushi's second cousin. For those pals, I've got a gateway hors d'oeuvre: the cream cheese and sweet Thai chili sauce cracker. It's the diplomat of the spread, uniting the 'I'll try anything' foodies with the 'cooked only, please' brigade.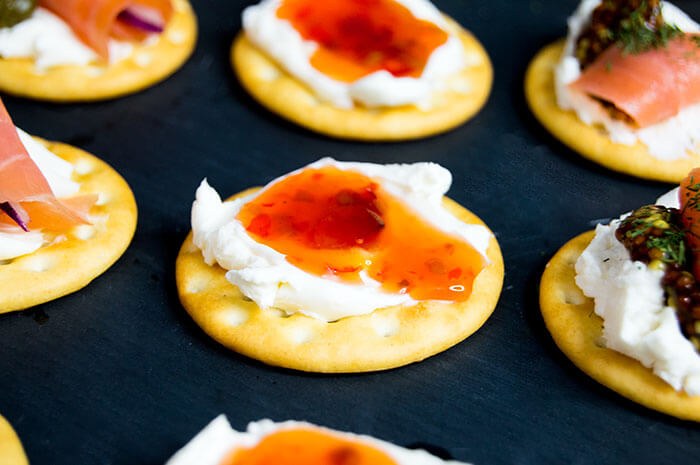 The sweet Thai chili sauce also cozies up to the salmon so well, I just had to make an ensemble featuring them. Yes, sometimes I'm the lone wolf devouring this combo, but let me live a little, will ya?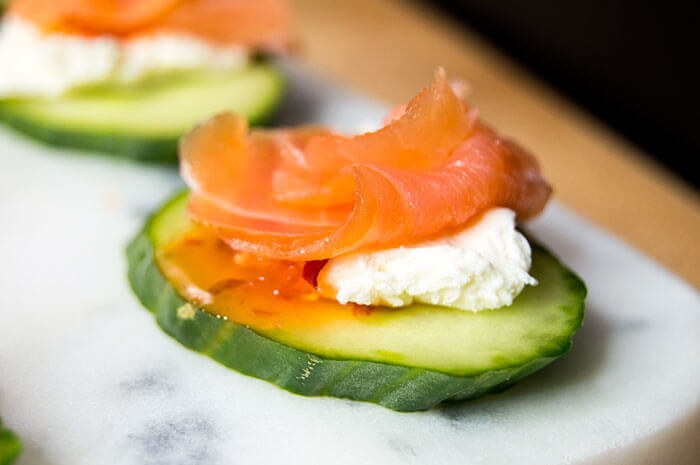 Easy-Peasy Fancy Hors D'oeuvres
Here's the deal: these hors d'oeuvres look as refined as they taste and assembling them is a breeze. After all, we know the truth – the less time you spend playing kitchen connoisseur and the more time you're out there schmoozing, the happier you'll be. So stack them up, pour yourself a drink, and let the good times roll.
Tips for Cucumber & Goat Cheese Hors D'oeuvres
Choosing Cucumbers: Opt for English cucumbers which have thinner skins and fewer seeds for a neater bite.
Spreading Cheese: For a smoother spread, ensure your goat cheese and cream cheese are at room temperature before starting.
Rolling Gravlax: To make the gravlax easier to handle and more visually appealing, roll or fold it neatly atop the cracker.
Slicing Onions Thinly: Use a mandoline for uniformly thin onion slices that add flavor without overwhelming the hors d'oeuvres.
Layering Mustard: Apply a sparing amount of whole grain mustard; its strong flavor should not overpower the goat cheese and gravlax.
Using Capers: Drain and pat dry your capers to prevent making your crackers soggy and to ensure the perfect pop of saltiness.
Garnishing with Dill: Chop the dill just before garnishing to keep its flavor fresh and vibrant.
Customizing Heat: Adjust the amount of sweet Thai chili sauce to suit your heat preference—start small and add as you go.
Troubleshooting Sogginess: If your crackers become soggy quickly, assemble them in batches to maintain their crispness throughout the event.
As you grab your final bite of these cucumber & goat cheese hors d'oeuvres, let's just revel for a moment in the sheer genius of simple, fresh ingredients coming together to party on a plate. I can almost hear the crunch of cucumber, the creamy tang of cheese, and that zesty little kick of mustard as you munch away.
Whether you've got a crowd that's all about the health life or you're just trying to sneak in some class to your party spread, these appetizers are your new best friends. And remember, the kitchen is your stage, these ingredients are your cast, and you're the director—make each bite a blockbuster hit. Keep it fresh, keep it fancy, and most of all, keep feeding those Hungry People. Enjoy!
Cucumber & Goat Cheese Hors D'oeuvres
Savor these easy cucumber & goat cheese bites with salmon, capers, and a mustard twist for a quick fancy snack.
Ingredients
2

packages

gravlax

1

box

butter crackers

1

English cucumber

4

oz

cream cheese

room temperature

¼

cup

whole grain mustard

2

oz

goat cheese

4

tablespoons

capers

3

tablespoons

sweet Thai chili sauce

1

tablespoon

dill

4

tablespoons

red onion

thinly sliced
Instructions
Slice the cucumber at a 45-degree angle to create 1/4-inch thick slices. Arrange the crackers and cucumber slices on separate plates. Cut the gravlax into 1×1 inch strips.

Spread about 1/2 teaspoon of goat cheese on half of the crackers and cucumber slices. Spread about 1/2 teaspoon of cream cheese on the remaining half.

For the New York Bagel version, on crackers and cucumber slices with cream cheese, add two to three capers and a few slices of red onion.

For the Sweet Thai Chili option, on the crackers and cucumbers with cream cheese, drizzle 1/4 teaspoon of sweet Thai chili sauce. To half of these, add a piece of gravlax, leaving the other half plain for a fish-free option.

For the Whole Grain Mustard & Goat Cheese combo, on the crackers and cucumber slices with goat cheese, spread 1/4 teaspoon of whole grain mustard. Top with a rolled piece of gravlax and sprinkle on dill to taste.