Curried Carrot Soup Using Root, Stem, and Leaf (NO WASTE!)
The Starving Chef is supported by Hungry People like you. When you make a purchase through an affiliate link on my site, I may earn a little bit of cash on the side (at no extra cost to you) to help keep my kitchen running. Read our disclosures here.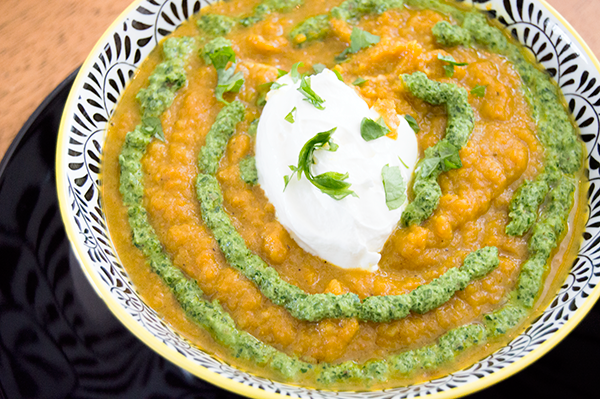 What's Up, Hungry People!
Ah, the Midwest weather; one day it's spring, and the next it feels like winter made an unexpected comeback tour. No worries, though, because today we're making a curried carrot soup that's as warm as a cozy blanket on a snowy day. And guess what? We're using every part of our veggies—root, stem, and leaves—because why waste when you can taste?
Root-to-Stem Goodness
Yep, you read that right. We're using carrots, parsley root, and onion knobs in their full glory. No bits go to waste here! In fact, we're going to jazz it up with a pesto swirl made from their very own leaves and stems. Talk about full-circle cooking!
Spice It Up!
But that's not all. This soup is more than just a pretty face; it packs a spicy punch perfect for combating that unpredictable Midwest weather. Think of it as your internal heating system when the thermostat goes on the fritz!
Here's What You Need
Carrots with Leaves: The star of the show, carrots bring a sweet, earthy flavor.
Parsley Root with Leaves: Not just a garnish! Adds depth and a hint of herbaceousness.
Onion Knobs with Leaves: For that essential aromatic base and a slightly pungent kick.
Curry Powder: Because we want layers of spice, not just heat.
Cayenne Pepper: This will give it that snap of heat that's sure to wake you up.
Garam Masala: To add complexity and a well-rounded spiciness.
Ginger Powder: For a touch of warmth and a zesty twist.
Olive Oil: To smooth out our pesto and help it blend well.
Almonds: They bring in texture and a bit of nutty goodness.
Chicken Broth: Our liquid base that ties everything together.
Sour Cream: For creaminess and a tangy counterpoint to the spices.
Butter: To sauté our veggies to perfection.
Salt & Pepper: For that final seasoning tweak.
Let's Cook!
Prep Those Veggies: First up, wash and remove the stems and leaves from your parsley root and carrots. Also, chop those onion knobs' greens. Peel 'em and chop 'em all into roughly 1-inch pieces.
The Sauté Shuffle: Melt two tablespoons of butter in a saucepan. Toss in those prepped veggies and let them sauté until they're just turning tender, about 10 minutes. Then pour in your chicken broth.
Blitz Time: Once it's all nice and tender, transfer the soup to a food processor. Pulse away until you achieve that silky, smooth consistency.
Spice Lane: Return the soup to the pan. Stir in the curry powder, cayenne pepper, garam masala, and ginger powder. Let it simmer on medium-low heat for around 20 minutes, stirring occasionally so nothing sticks or burns.
Leafy Pesto: While your soup is doing its thing, get those leaves and stems into the food processor. Add some olive oil and almonds, pulse until smooth, and then introduce your sour cream to the mix.
Finishing Touches: Serve it up with a swirl of that homemade pesto and a dollop of sour cream on top.
Extra Tips & Troubleshooting
Avoid Overcooking the Veggies: Keep an eye on your sautéing vegetables. Overcooking them could result in a mushy texture. Aim for just tender—remember, they'll continue to cook in the broth!
Blending Woes: If your food processor struggles to get a smooth consistency, add a bit more broth during the blending. It'll make the job easier without affecting the flavor too much.
Getting the Right Heat: Cayenne can be a trickster. If you're sensitive to spice, start with half the recommended amount and taste test before adding more.
Sour Cream Substitutes: If you're out of sour cream, Greek yogurt can be a fantastic alternative for that creamy, tangy kick.
Non-Stick Pan for the Win: Use a non-stick pan if you have one. It'll help ensure that your veggies sauté evenly without sticking to the bottom.
Storing Leftover Pesto: Got extra pesto? Store it in an airtight container in the fridge. It pairs well with pasta or as a sandwich spread. Just make sure to use it within a week.
Serving Size: This recipe is great for a small get-together but can be easily doubled for larger crowds. Just make sure to adjust the spices accordingly to maintain the balance of flavors.
And just like that, you're all set to brave any unexpected cold snaps with a bowl of this curried carrot soup that's as resourceful as it is comforting. From maximizing your veggies to getting the spices just right, this recipe is your new go-to for cozy, flavor-packed meals. Until our next cooking adventure, stay warm and well-fed, Hungry People! Enjoy!
Curried Carrot Soup
Warm up with this curried carrot soup, a spicy and hearty dish that makes the most of your root veggies by using them from top to bottom.
Instructions
Wash and remove the stems and leaves from the parsley root and carrots. Chop the greens from the tops of the onion knobs. Peel the carrots and parsley root. Chop all into approximately 1-inch pieces.

Melt two tablespoons of butter in a saucepan. Add the chopped carrots, parsley root, and onions to the pan. Sauté until just turning tender, about 10 minutes. Then add two cups of chicken broth.

Bring to a rolling simmer for 10 minutes. Transfer the soup to a food processor and pulse until the soup has reached a smooth consistency.

Pour the soup back into the pan. Add the curry powder, cayenne pepper, garam masala, and ginger powder. Simmer over a medium-low temperature for 20 minutes, stirring occasionally.

While the soup simmers, make the pesto by placing the the parsley and carrot leaves into the food processor along with the onion greens. Drizzle in the olive oil and toss in the almonds. Pulse until smooth, then add the sour cream and pulse until combined.

Serve the soup with a spiral of pesto and a dollop of sour cream. Enjoy!