Dehydrated Cinnamon Sweet Potato Chips
The Starving Chef is supported by Hungry People like you. When you make a purchase through an affiliate link on my site, I may earn a little bit of cash on the side (at no extra cost to you) to help keep my kitchen running. Read our disclosures here.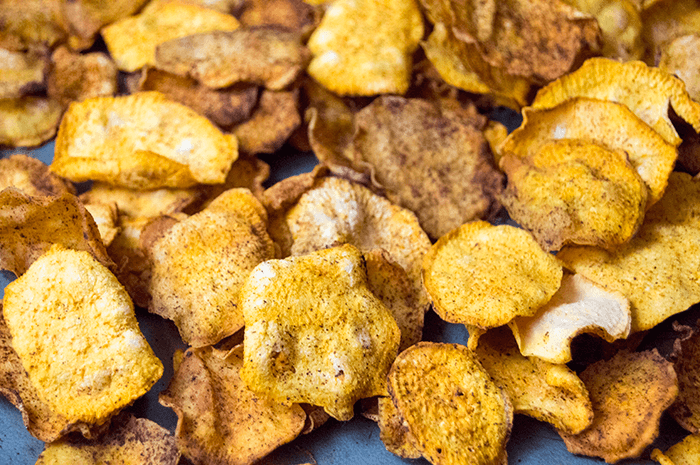 I recently bought a dehydrator and now I'm on the hunt to dry anything and everything! First recipe: sweet potato chips!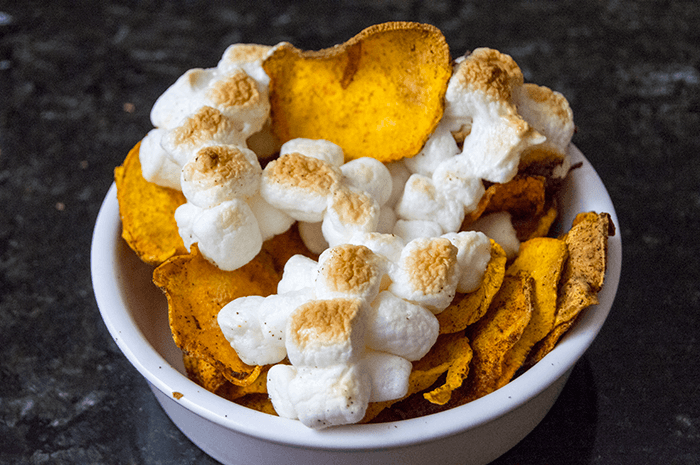 I dehydrated the chips for about 36 hours until they were nice and crispy. And then because my sweet tooth flared up, I served them nacho style with toasted mini marshmallows. Minus the marshmallows, however, these potato chips are a super healthy snack perfect for munching on all afternoon, guilt free.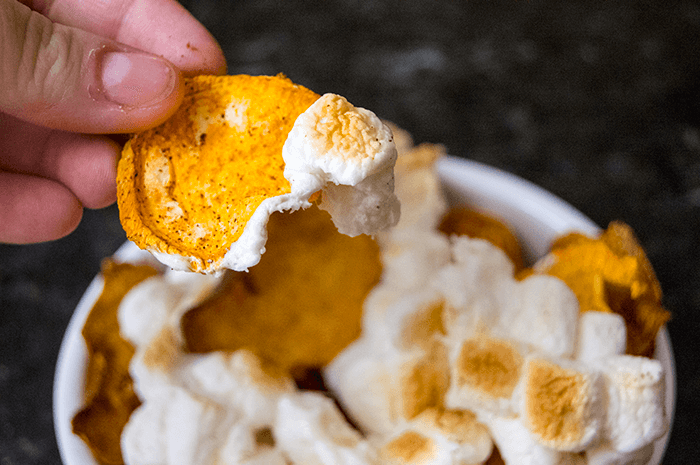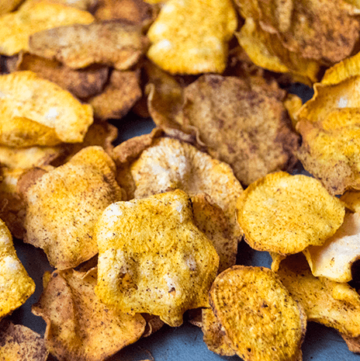 Dehydrated Cinnamon Sweet Potato Chips
These sweet potato chips are served nacho-style with marshmallows on top!
Instructions
Wash and peel the sweet potatoes. Use a mandolin to slice the sweet potatoes as thin as you can, or about 1/16th inches thick.

Place the slices in a large bowl and drizzle with vegetable oil. Add the cinnamon and brown sugar and use your hands to gently toss and separate the sweet potato slices until all slices are evenly covered. Season with sea salt.

Arrange the slices on the vents of a dehydrator in a single layer. Place the dehydrator on high heat and dry for 36-48 hours, testing the chips every 3 hours after hitting the 24 hour mark. Sweet potato chips are meant to be a little chewy and should *snap* when broken in half. (Half of mine were ready at the 36-38 hour point and the rest were ready at about the 40 hour point.)

Optional: To further crisp the chips, place in a single layer on a baking sheet and cook at 400 F for 5-10 minutes. Sprinkle with mini marshmallows and cook until the marshmallows have browned. Serve warm and enjoy!