Direwolf Bread | Game of Thrones Inspired Recipes
The Starving Chef is supported by Hungry People like you. When you make a purchase through an affiliate link on my site, I may earn a little bit of cash on the side (at no extra cost to you) to help keep my kitchen running. Read our disclosures here.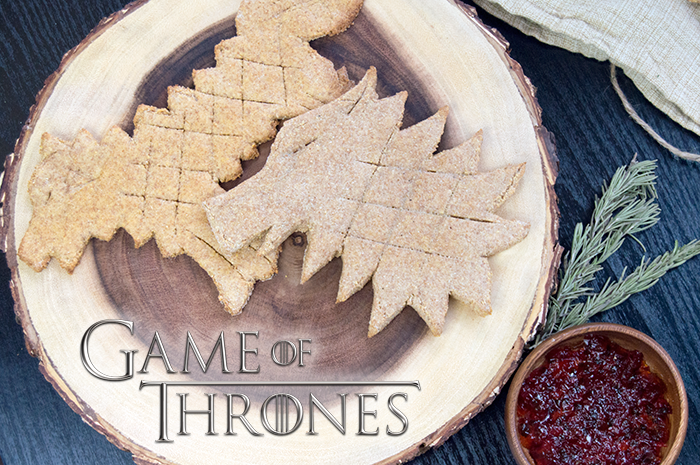 Game of Thrones week continues here in the Starving Chef's kitchen – tonight we return to the Inn at the Crossroads to visit Hot Pie and dine on some of his famous direwolf bread.
Hot Pie was hired by the inn keep after baking the most delicious bread the keep had ever tasted. When we first leave Hot Pie, he hands Arya a loaf of bread baked in the shape of a direwolf. As you can see, his first attempt wasn't exactly pretty (or shaped much like a direwolf).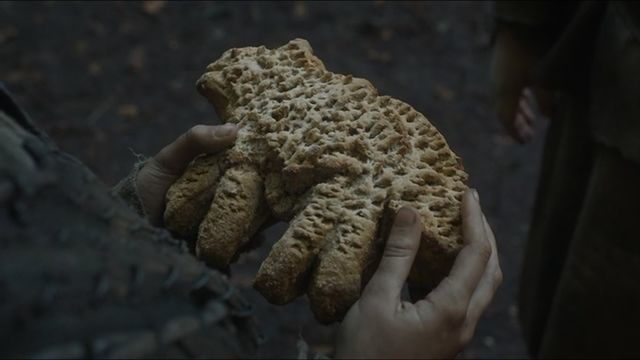 Don't worry if your first attempt doesn't work out, just tweak the recipe and try again! By the next time we see Hot Pie, his technique has vastly improved too, so I suppose practice really does make perfect. I'd like to think that they wrote songs about Hot Pie and all of the delicious things travelers ate while passing through.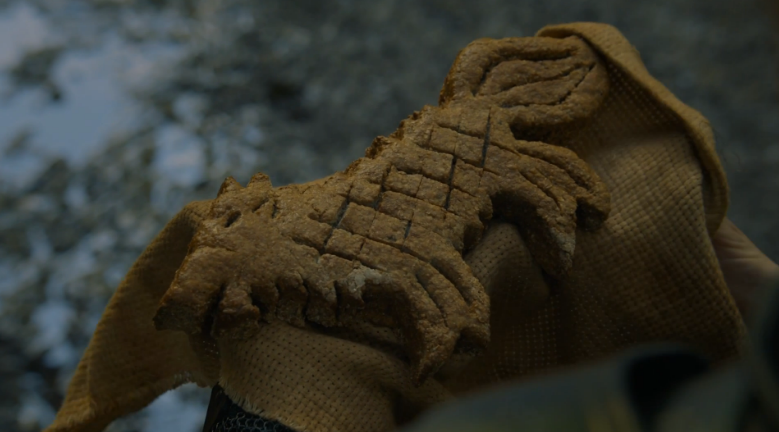 I already have a considerable amount of practice when it comes to baking bread, but I was still prepared for my first attempt to come out like the first time Hot Pie cooked it. I was pleasantly surprised to find that turned out way better than I had anticipated. I definitely would be proud to serve this bread to anyone House Stark.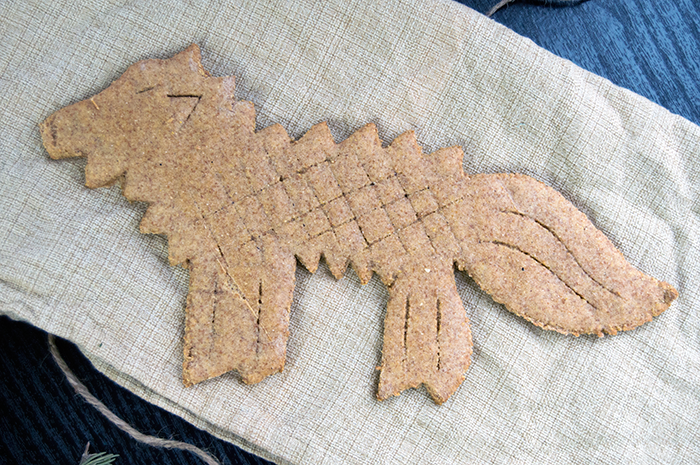 The key to perfect bread that doesn't puff up but is still soft throughout is using wheat flour and corn meal combination that will help keep the bread from rising too much.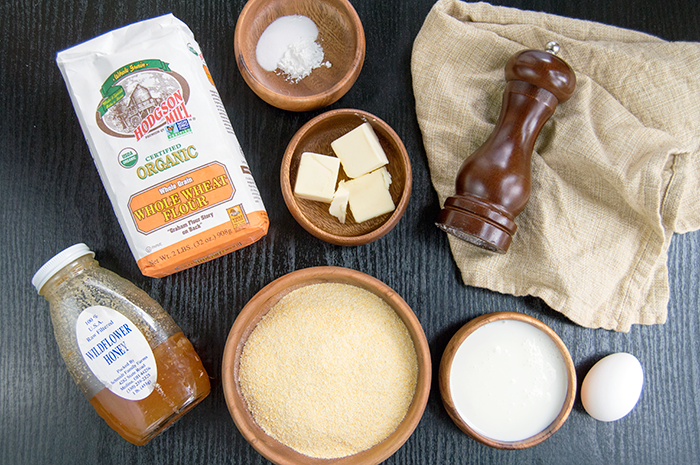 Begin by making a crumbly mix from the butter, wheat flour, corn meal, and honey, then add the baking soda and baking powder. If you want a sweeter bread, add one tablespoon of sugar, otherwise, add about a teaspoon of salt to the crumbly dough.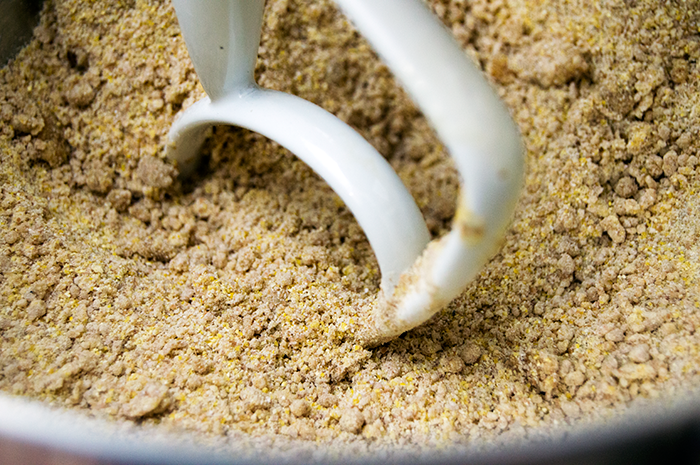 Slowly pour in the butter milk until a thick but smooth dough forms. It should roll into a ball easily without sticking to your hands, but also should not be so dry that it's falling apart. I let my dough chill for about an hour before rolling it out, but that part is optional.
Roll the dough out to be about a quarter to half inch thick. If the dough is cold, it's a little bit easier to handle and cut into your desired shapes. There's a handy template for cutting the wolf shape, but I free-handed my direwolf shapes.
Whisk together the egg and water then brush onto the bread.
Bake the bread for about 20 minutes at 350 F or until it has puffed up slightly and has turned golden brown. Here's my first and second attempts: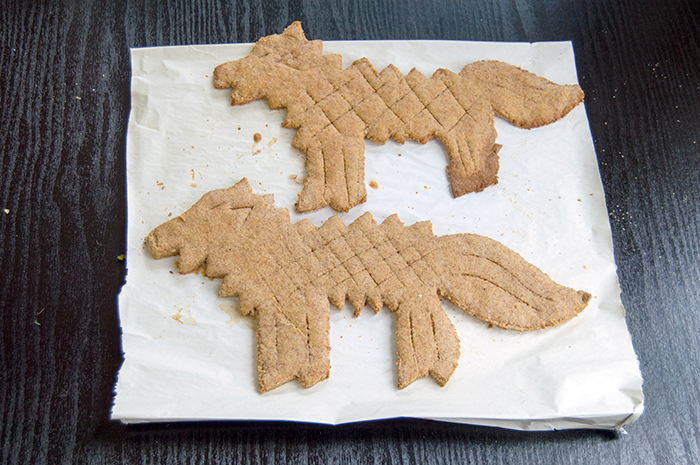 If anything, I rolled my first direwolf too thin (definitely less than a quarter of an inch thick). The next round I rolled it about a half inch thick and it yielded much better results. I used the remaining dough to free-hand the Stark House sigil.
I served my bread brushed with rosemary infused butter and spicy pepper jelly – even if Winter is Coming, I can still kick up the heat. And not even the White Walkers can stop me.
Direwolf Bread | Game of Thrones Inspired Recipes
Tonight we return to the Inn at the Crossroads to visit Hot Pie and dine on some of his famous direwolf bread
Ingredients
3 ½

cups

wheat flour

2

cups

corn meal

¾

cup

buttermilk

3

tablespoons

butter

melted

6

tablespoons

honey

1

teaspoon

baking powder

1

teaspoon

baking soda

1

egg + 3 tablespoons water

whisked for egg wash

1

teaspoon

salt

2

tablespoons

sugar

optional, to taste

pepper jelly

for serving
Instructions
Preheat the oven to 350 F. Using a bowl attached to a stand mixer (or by hand), combine the wheat flour, corn meal, melted butter, honey, baking soda, baking powder, and salt until a crumbly dough forms.

Slowly pour in the buttermilk until a thick dough forms. The dough should form a smooth ball and won't be sticky to the touch, but also not so dry it crumbles apart.

Optional: Roll the dough into a ball, cover with plastic wrap, and chill for about one hour. Colder dough will be easier to cut into your desired shape.

Roll the dough out onto a surface dusted with flour. Use a rolling pin to flatten the dough to about a half inch thick. Cut the dough into the shape of a direwolf. Use a knife to slice gently into the dough to make an eye, ears, and a crisscross pattern down the body.

Arrange the bread on a baking sheet lined with parchment paper. Brush the breads with the egg wash (or one tablespoon of melted butter) for a shiny finish. Bake for 25-30 minutes, or until the breads have browned and risen slightly. Don't overcook the bread or it will become crumbly and cracker-like.

Serve bread warm to hungry travelers, keep an eye out for Sansa, and enjoy!