Easter Bunny Bait Popcorn
The Starving Chef is supported by Hungry People like you. When you make a purchase through an affiliate link on my site, I may earn a little bit of cash on the side (at no extra cost to you) to help keep my kitchen running. Read our disclosures here.
Easter may have the best assortment of treats. I mean, you not only have all the different kinds of chocolates and candies that rival the supply of holidays like Valentine's Day and Halloween; but also, a wide range of recipes from dinners like roast lamb and desserts like carrot cake too. With Easter quickly approaching, I settled on a nice mix between candies and "cooking" – Easter bunny popcorn!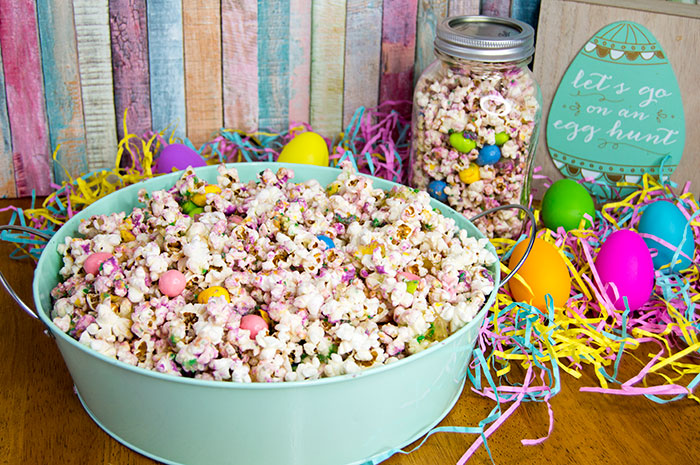 Decorated with mini peanut butter eggs and colorful candy melts, my favorite place to hide this Easter egg caramel corn was in my mouth.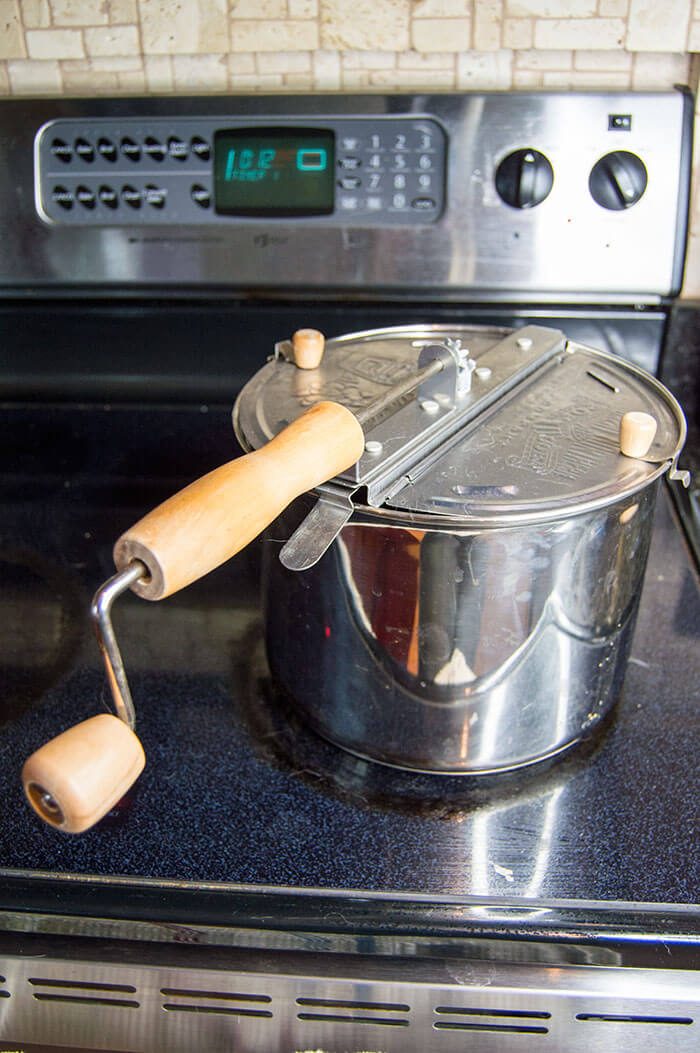 Now, this recipe can easily be made with salt-free, pre-bagged popcorn that you make in your microwave. However, if you're anything like me and randomly have a Whirlypop kettle corn maker, you're set to take this recipe to a whole new level. Either method will work and result in something tasty, but if you can make the popcorn on your stove top instead of your microwave, you'll understand why one version is infinitely better – and probably never make microwave popcorn again.
The hardest part about making stove top popcorn is correctly guessimating exactly how much popcorn you'll actually end up with. The back of the box of kernels said 1/4 cup for a single serving. So by that logic, I dumped in a cup because I intended to share the popcorn with friends and coworkers.
This is about when I learned that popcorn, like pasta, multiplies magically in the pot so you always end up with roughly ten times more than what you intended.
And turns out, one cup of popcorn kernels is about SIXTEEN CUPS of POPPED popcorn. Baker beware – that's A LOT. The below pic represents one tray of the two trays of popcorn I had now in my possession.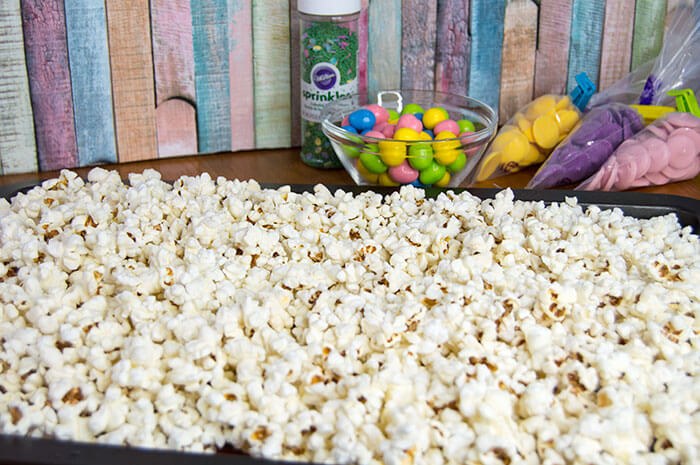 Whether you make your popcorn fresh or in the microwave, it is definitely easiest to keep the popcorn warm for the next step by popping it into the oven on a low temp (think 200°F) while prepping the sugar.
For the perfect caramel corn, it's important to get the sugar right between a "soft ball" and "hard ball" at about 250°F – if the sugar is cooler, it makes the popcorn soggy after a few days. Any harder and you might as well be making jawbreakers.
While waiting for the sugar to reach the ideal temperature, scatter the peanut butter eggs through the warmed popcorn. Melt the candy melts and drizzle them on top, turning the popcorn as you go to make sure every piece gets at least close to some colored melted candy.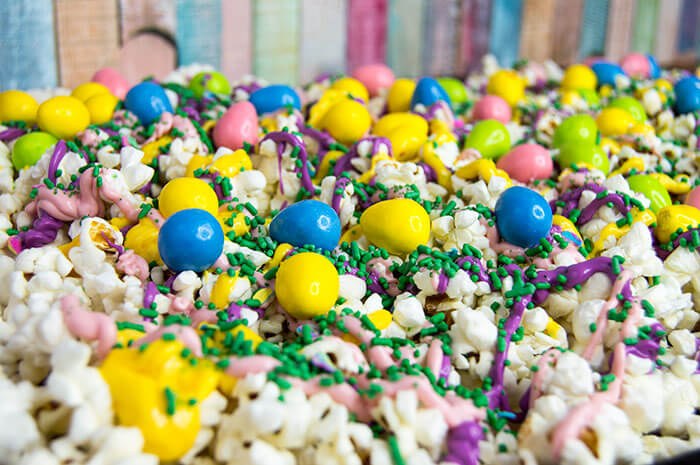 You can either keep it on the baking sheets, move to a parchment paper-lined table or large mixing bowls (or do it in a bowl in quick batches). It's best to keep the popcorn in a single layer to prevent it from clumping up.
Quickly, and carefully, drizzle the melted sugar over the popcorn and candies. Don't put too much in one place and try to keep the thickness consistent so most of the popcorn gets a bit of sugar on it.
LET IT COOL. You want the sugar to be cool enough that it's not piping hot – it IS MELTED LAVA SUGAR after all – but also not too long that it cools and starts to harden before you can sufficiently mix in the eggs and sprinkles. I coated my hands with coconut oil after letting the sugar cool for about ten minutes. The coconut oil works to protect your hands from the heat, so be sure to oil up frequently. If it's still too hot for you to handle, use a wooden spoon instead of your hands, but take care to be gentle and not crumble the popcorn as you work!
The final result is a colorful, candy covered, caramel coated popcorn – perfect for any Easter Bunny to deliver on Easter Sunday!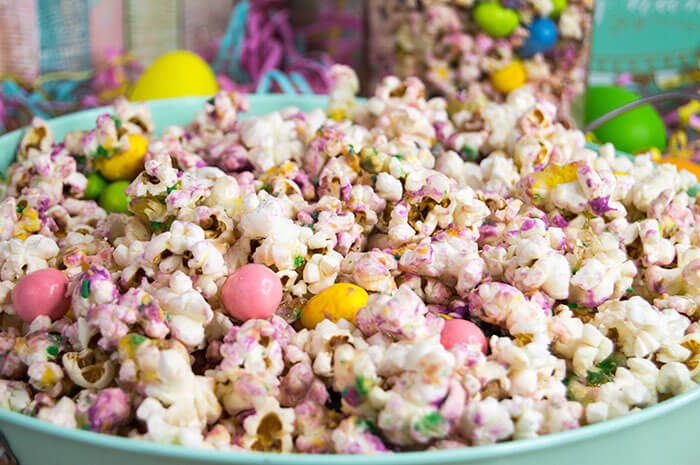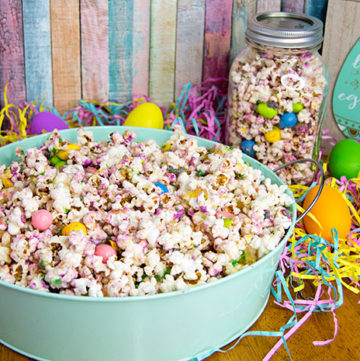 Easter Bunny Bait Popcorn
Lure the Easter Bunny to your home with bunny munchies! Homemade caramel corn with melty peanut butter eggs mixed in – POPcorn? More like HOPcorn!
Ingredients
½

cup

popcorn kernels

or 4 bags salt-free microwave popcorn

6

tablespoons

vegetable oil

1

cup

sugar

¼

cup

corn syrup

1

cup

water

1

bag

mini peanut butter eggs

¼

cup

Easter sprinkles

¼

cup

candy melts

pink, yellow, purple, assorted etc.

1

cup

coconut oil

for greasing fingers/spoons
Instructions
Preheat the oven to 200°F. In a large popcorn kettle pot over medium high heat, add a layer of oil and a single layer of popcorn kernels. Heat, undisturbed, until popping begins. Use the crank to stir the popcorn for 3-5 minutes, until all of the kernels have popped. (OR if microwaving – follow instructions on the bag.) Spread the popcorn onto baking sheets lined with parchment paper or silicone mats and keep warm in the oven.

Prepare the sugar by combining the sugar, corn syrup, and water. Stir until the sugar is mostly dissolved. Use a candy thermometer to bring the sugar to 250°F (should read between a "soft" and "hard" ball candy). Stir only occasionally, if the sugar starts to caramelize and brown.

Remove the popcorn from the oven. Either keep the popcorn on the baking sheets or transfer to another large, parchment paper lined, heat resistant surface. Spread the candies and sprinkles across the popcorn. Melt the candy melts and drizzle the desired colors over the popcorn.

Quickly and carefully pour the sugar over the popcorn in an even stream. Drizzle back and forth so that most of the exposed popcorn is touched with the melted sugar. Let cool for several minutes – long enough the sugar is cool enough to handle but still hot enough to stick to other pieces.

Cover your hands with coconut oil or shortening (OR use a large wooden spoon or spatula covered in shortening). Working from the bottom, fold the popcorn over so the unexposed layer is on top. BE CAREFUL – THE MELTED SUGAR IS VERY HOT. DO NOT DIRECTLY TOUCH SUGAR WITH HANDS. Repeat as necessary. Gently split and divide any clumps of popcorn as you work to distribute the candy melts and melted sugar evenly.

Let the popcorn cool in a single layer for about an hour. Hide fresh peanut butter eggs and other Easter candies throughout the cooled popcorn. Split the popcorn into individual servings for sharing! Happy Easter!