Easter-Ready Angel Food Cake Pops with Hazelnut Filling
The Starving Chef is supported by Hungry People like you. When you make a purchase through an affiliate link on my site, I may earn a little bit of cash on the side (at no extra cost to you) to help keep my kitchen running. Read our disclosures here.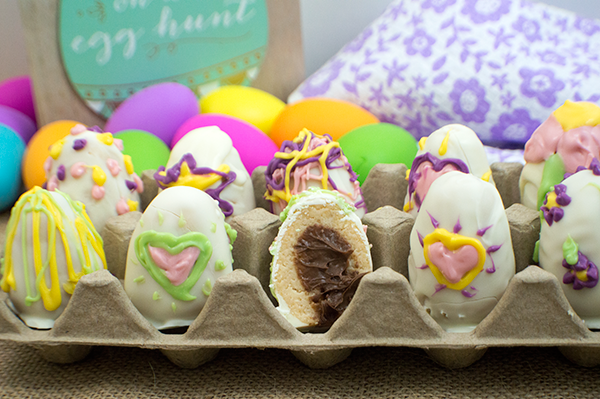 What's Up, Hungry People!
When your coworker waltzes into the office, angel food cake in tow, and asks, "Maybe you can make something with this?" your only acceptable answer is, "OF COURSE!" Especially when Easter is just around the corner. I swear, I have a knack for whipping up cake pops for every holiday. So why would Easter be the exception?
Crafting these egg-shaped wonders is like doing a little magic trick with cake. To make these lovely Easter egg angel food cake pops, all you need is your go-to cake—angel food or otherwise, a dollop of cream cheese, and some candy melts in an array of pastel colors for that festive flair.
But hey, if you want to level up your cake pop game, you can fill these goodies with Nutella. Just grab a piping bag with a pointed tip, and you're all set to inject a burst of hazelnut goodness into your cake pops.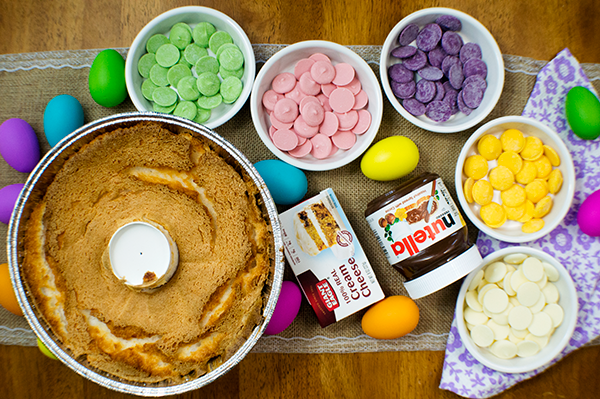 Here's What You Need
Angel Food Cake: The base for the cake pops; its light and fluffy texture makes it ideal for molding into shapes.
Cream Cheese: Adds richness and helps bind the crumbled cake together into a formable, sticky dough.
White Candy Melts: Acts as the outer coating for the cake pops, providing a smooth and visually appealing finish.
Vegetable Shortening: Mixed with the candy melts to improve the texture and make the coating easier to work with.
Various Colors of Candy Melts: Used for decorative purposes; adds a splash of color and an extra layer of flavor.
Now, you're not just making any ol' cake pop; you're making egg-shaped cake pops that'll be the talk of your Easter gathering. Go ahead and show off those piping and molding skills; after all, it's a holiday!
Let's Cook!
Preheat your oven to 350°F if you're making your cake from scratch. Otherwise, get that leftover cake and start crumbling it into a bowl. Mix in some cream cheese to give it that extra oomph and hold everything together. Melt your candy melts in a double boiler or microwave, and then get ready to do some serious dipping.
Dip, Decorate, Devour!
Here's the fun part. Dip each cake pop into the melted candy melts and let your creative juices flow as you decorate each one. Think zigzags, polka dots, or even a sprinkle of edible glitter. Just make sure to let them dry before you dive in!
Tips for Perfect Egg Cake Pops
Choose the Right Cake: While angel food cake is light and fluffy, denser cakes like pound cake can also work well for cake pops. It's all about personal preference!
Room Temperature Cream Cheese: Make sure the cream cheese is at room temperature for easier mixing and a smoother texture.
Microwave in Intervals: When melting candy melts, microwave them in 15-second intervals and stir in between to avoid overheating and clumping.
Use a Double Boiler: If you're not a fan of microwaving, you can also melt the candy melts using a double boiler for more controlled melting.
Test Filling First: Before filling all the cake pops, test the amount of chocolate hazelnut spread on one or two. This way, you can avoid overfilling.
Cool Completely: Allow the white candy coating to completely harden before applying colored decorations. If the base layer is too soft, the decorations may not adhere well.
Storing Tips: Store any leftover cake pops in an airtight container in the fridge for up to 5 days. They can also be frozen for up to a month.
Too Sticky or Too Dry: If your cake mixture is too sticky, consider adding a bit more crumbled cake. If it's too dry, a touch more cream cheese can help.
Customize Decorations: Feel free to get creative with the decorations—sprinkles, edible glitter, or even tiny candy pieces can add extra flair.
Serving Suggestions: If you're planning to serve these at a party, consider displaying them on a cake pop stand or sticking them into a foam block for a visually appealing presentation.
Alright, Hungry People, that's how you take a humble angel food cake and transform it into show-stopping Easter egg angel food cake pops! From the rich, gooey chocolate hazelnut centers to the eye-popping candy melt decorations, these treats are sure to bring smiles to your Easter gathering. Just remember, the key to nailing this recipe lies in the details—so don't skip out on the tips and tricks. Now go ahead, gather those ingredients and let's make this Easter a little sweeter. Enjoy!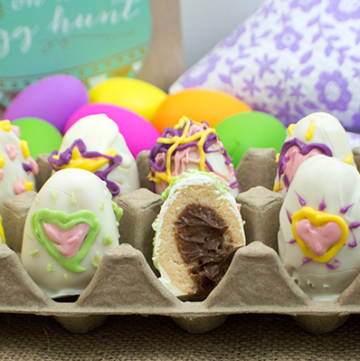 Easter Egg Angel Food Cake Pops
Turn leftover angel food cake into festive, egg-shaped cake pops filled with chocolate hazelnut spread and adorned with colorful candy melts.
Instructions
Shred the angel food cake into very small pieces. Use a hand mixer to combine the shredded cake with the room temperature cream cheese until a crumbly, sticky dough forms.

Form the sticky dough into egg shapes and chill them for 10 minutes.

While the pops are chilling, fill a piping bag fitted with a tip with your choice of chocolate hazelnut spread for filling.

Use the piping tip to pierce the bottom of each egg-shaped dough and squeeze in the chocolate hazelnut spread until the dough starts to swell around the middle. Chill the filled eggs for another 10 minutes.

Melt one tablespoon of vegetable shortening with 1 cup of white candy melts in a microwave-safe bowl for 45 seconds. Stir until fully combined.

Roll each egg in the melted white candy melts until completely coated. Chill until the white coating has hardened.

Fill piping bags with the various colors of candy melts and microwave until melted. Pipe decorations and designs onto the eggs and chill until the candy coating has hardened.

Serve at room temperature. Store leftovers in the fridge for up to 3 days. Have a happy Easter!
Video