Easy Easter Blondies with Candy Melt Drizzle
The Starving Chef is supported by Hungry People like you. When you make a purchase through an affiliate link on my site, I may earn a little bit of cash on the side (at no extra cost to you) to help keep my kitchen running. Read our disclosures here.
What's Up Hungry People
As Easter is just around the corner, I've been whipping up some holiday-themed goodies. My boyfriend Nick sprung a last-minute request on me to make some treats for his colleagues. We're talking 7 PM the night before! Yikes! But don't sweat it; when time is of the essence, simplicity is the key. Lucky for me, my pantry is like a treasure trove of baking essentials, and—get this—I even had candy melts in pastel shades perfect for Easter.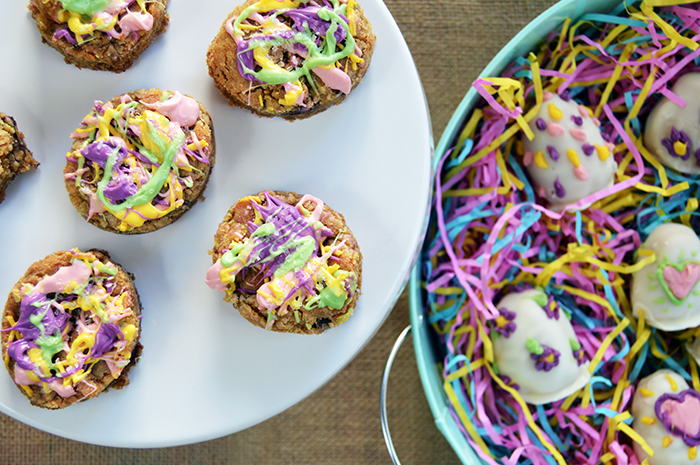 A Blondie Newbie
I'll admit, blondies and I are not old friends. To be honest, I can't even remember the last time I sank my teeth into one. These treats land somewhere between a traditional brownie and a chocolate chip cookie in terms of texture.
Why They're Called Blondies
What's in a name, you ask? Unlike their cocoa-rich brownie cousins, blondies sport a lighter hue. There's no cocoa powder here to darken their day! Instead, they flaunt their golden tones thanks to a combo of brown sugar, chocolate chips, and a splash of vanilla.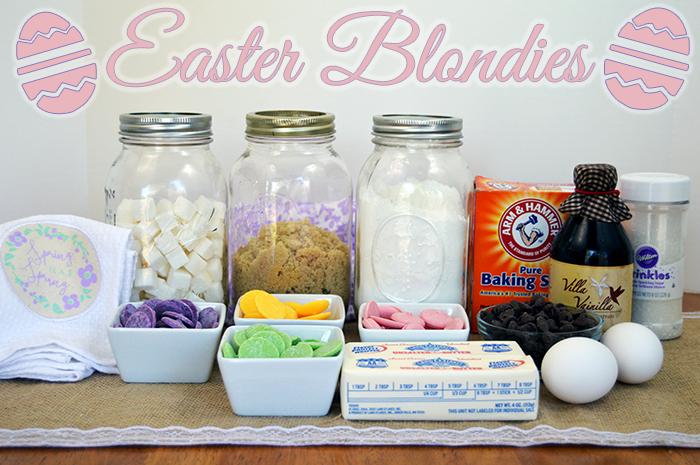 Here's What You Need
Brown Sugar: Provides moisture and a deep, caramel-like sweetness to the blondies.
Butter: Adds richness and helps in achieving that crumbly, tender texture we all love.
Flour: The main structural element, it gives the blondies their shape and substance.
Sugar: Additional sweetener that balances out the richness of the brown sugar.
Eggs: Act as a binding agent, keeping all the ingredients together, and contribute to moisture.
Vanilla Extract: Offers a subtle aromatic touch, elevating the flavors of other ingredients.
Chocolate Chips: Provides bursts of chocolatey goodness within the blondies.
Assorted Colored Candy Melts: Used for decorating, adding both color and a slightly different texture on top.
Salt: Enhances other flavors and balances out the sweetness in the dough.
Baking Soda: Acts as a leavening agent, making the blondies rise and become fluffy.
Let's Cook!
I busted out my trusty stand mixer for this one, mainly because mixing by hand would take ages—and let's be honest, who has the time? If you have an electric mixer, I highly recommend it for blending the butter and sugar. Your arms will thank you later.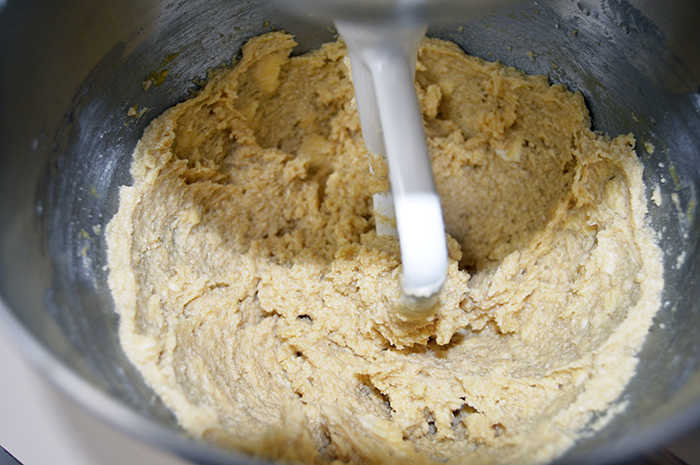 After you've creamed the butter and sugar, it's time to bring in the eggs—drop 'em in one at a time. Then toss in the chocolate chips and flour to seal the deal. Your dough should be a hybrid of brownie batter and cookie dough. We're talking easy-to-spread but not overly runny. Got it? Great!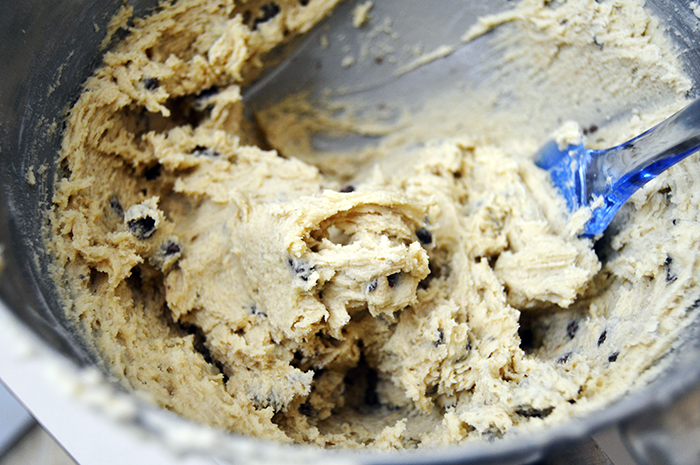 Layering it On
Lubricate a glass baking dish with some good ol' grease, and then spread that dough nice and even across the bottom. No bumps, no lumps!
Decorating Time
So, if you're like me and running on a tight schedule—or it's creeping up on 9 PM and you're basically a zombie—it's totally fine to go minimal on the decor. I jazzed mine up with quick swirls and lines. I even broke out my egg-shaped cookie cutter for a bit of thematic flair. But hey, if you want to keep them plain, they'll still be a hit, trust me.
Tips for Perfect East Blondies
Room Temperature Butter: If you forgot to take the butter out ahead of time, cut it into small pieces to speed up the softening process.
Check for Freshness: Make sure your baking soda is fresh. An old leavening agent can lead to flat blondies.
Sifting Dry Ingredients: For an extra fluffy texture, sift your flour before mixing. This aerates the flour, making the blondies lighter.
Don't Overmix: After adding flour, mix until just combined. Overmixing can make your blondies tough.
Uniform Thickness: When spreading the dough in the pan, aim for a uniform thickness. This ensures even baking.
Toothpick Test: Insert a toothpick into the center to check for doneness. It should come out clean or with a few crumbs, but not wet.
Cool Completely for Shapes: If you plan on using cookie cutters, allow the blondies to cool completely. This makes for cleaner cuts.
Melting Candy Melts: Microwave in 30-second intervals, stirring between each, to avoid burning the candy melts for the drizzle.
Storage Tips: Store in an airtight container to keep them fresh. They also freeze well for up to three months.
Substitution Alert: If you're out of brown sugar, you can use white sugar and a tablespoon of molasses as a substitute.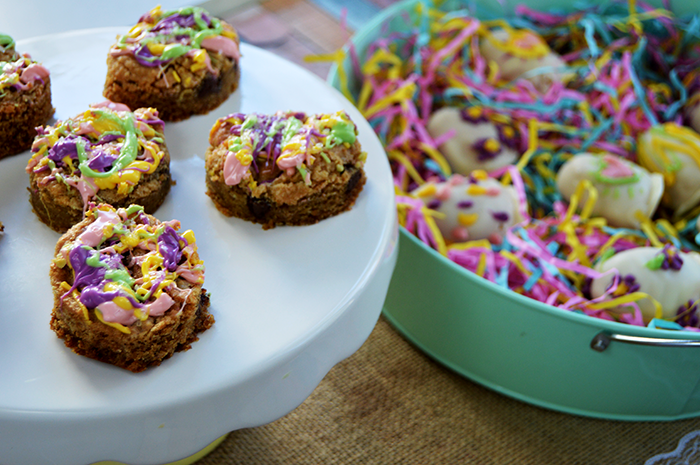 Alright, Hungry People, we've tackled the ins and outs of crafting the perfect Easter Egg Blondies—from the roles of each ingredient to tips that can make or break your baking game. Now, all that's left is to get in that kitchen and make some blondie magic happen! Trust me, your Easter spread is about to get a whole lot sweeter.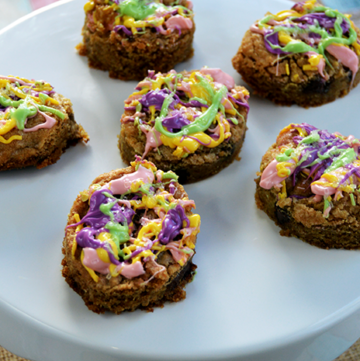 Easter Egg Blondies
Make Easter extra special with these easy-to-bake blondies that combine the best of brownies and chocolate chip cookies, complete with colorful candy melt drizzles.
Instructions
Preheat the oven to 375°F. Grease a 9×13 glass baking dish. If you don't have a glass dish, use a standard brownie pan and preheat the oven to 350°F.

Using a stand mixer, beat together the brown sugar, white sugar, butter, and eggs, adding the eggs one at a time.

In a separate bowl, whisk together the flour, salt, and baking soda. Gradually add these dry ingredients to the creamed sugar and butter mixture. Mix until a sticky dough forms. Continue adding the rest of the flour until fully combined.

Spread the dough along the bottom of the greased glass baking dish. Aim for a thickness of about a half-inch to one inch, and make sure it's evenly spread.

Bake the blondies for 25-30 minutes or until they turn golden brown and start to crack on the top. Remove them from the oven and let them cool.

If decorating, drizzle the assorted colored candy melts across the top of the blondies. If you're cutting them into shapes, wait until they've completely cooled. Remove sections from the pan and cut into your desired shapes.

Serve warm or at room temperature. Have a wonderful Easter!