Easter Egg Nests
The Starving Chef is supported by Hungry People like you. When you make a purchase through an affiliate link on my site, I may earn a little bit of cash on the side (at no extra cost to you) to help keep my kitchen running. Read our disclosures here.

It's officially "spring" here in Akron, Ohio, although you wouldn't know it with the occasional snowflakes still falling from the sky. But hey, we take what we can get, right?
The temperature has managed to crawl up to a delightful 60 degrees for a few hours a week, and despite the lingering cold, the birds have started to build their nests and serenade us with their cheerful chirping, even well into dusk.
And that is what partially inspired this recipe. That and Easter is in a week.
Speaking of Easter, I've got a pretty neat recipe to share with you today that's inspired by the bustling bird activity and the impending holiday.
Inspiration can come from anywhere.
Here's What You Need:
These Easter Egg Nests are not only super easy to make but also require just four simple ingredients.
Chow Mein Noodles: Adds crunch and texture to the nests.
Mini Marshmallows: Melts to create a sticky, sweet binder for the nests.
Butter: Provides richness and flavor to the marshmallow mixture.
Egg-shaped M&Ms, Jelly Beans, or Malt Balls: Serves as the "eggs" nestled in the center of each nest.
Vanilla (totally optional): Enhances the flavor of the marshmallow mixture, if desired.
Let's Hop On In!
To get started, you'll want to prepare a double boiler. However, if you're feeling a tad lazy (we've all been there), you can simply open your microwave and use that instead. No judgment here!
In your trusty double boiler or microwave, melt together the butter, marshmallows, and a dash of vanilla extract. The heavenly aroma that fills your kitchen will make you wish you could dive right into the pot.
Once everything is melted and gloriously gooey, gently stir in the chow mein noodles, adding about a 1/4 cup at a time. This step requires a bit of patience and a soft touch to ensure that each noodle gets coated in the luscious marshmallow mixture. It's like performing a delicate dance in the kitchen.
Now, here's a tip I learned from experience: grease a wooden spoon with a little bit of cooking spray before folding in the chow mein noodles. This will prevent the mixture from sticking to the spoon, making your life a whole lot easier. We're all about saving time and effort here!
Once everything is well combined, it's time to shape these delectable treats. Plop spoonfuls of the marshmallow-y chow mein noodle mixture onto a parchment-lined cookie sheet. At this point, they might remind you of the classic "haystacks" that were popular when I was a child.
The nostalgia is real!
But wait, we're not done yet. Give the nests a few minutes to cool and set before you get your hands involved.
Ah, here comes another pro-tip: coat your hands in a little bit of Crisco or any other vegetable shortening before molding each nest. This will prevent the sticky mixture from clinging to your hands and make the shaping process a breeze.
Trust me, it's a game-changer!
Once your hands are properly greased up, press your thumbs gently into the center of each haystack to create a nest-like indentation.
Now, it's time for the grand finale. Place your favorite Easter egg-shaped candy into the cozy cavity of each nest, and voila!
You've got yourself a beautiful and delicious Easter Egg Nest.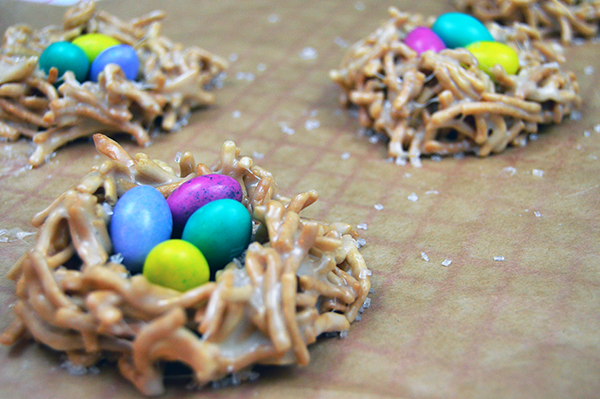 Now, sit back, admire your handiwork, and indulge in the sweet rewards of your labor. These nests are not only a treat for the taste buds but also a delightful addition to any Easter gathering or a fun activity to enjoy with kids.
Happy baking, hungry people!
Easter Egg Nests
Celebrate the Easter season with these adorable Easter Egg Nests, made with crispy chow mein noodles, gooey marshmallows, and colorful candy eggs nestled in the center, adding a festive touch to your holiday table.
Ingredients
2-4

cups

chow mein noodles

1 package

3

cups

mini marshmallows

8

tablespoons

butter

1

bag

egg shaped M&Ms, jelly beans or malt balls

1

teaspoon

vanilla

optional
Instructions
In a large double boiler or microwave (if you don't have a double boiler), melt together the marshmallows and butter until smooth. If desired, add the optional teaspoon of vanilla and stir to combine.

Slowly fold in the chow mein noodles, adding 1/4 cup at a time. Take care not to break too many noodles! If the mixture is too sticky, gradually add additional quarter cups of chow mein noodles until the desired consistency is achieved.

Using a greased spoon, plop spoonfuls of the chow mein noodle mixture onto a parchment-lined cookie sheet, forming piles or nests.

Allow the nests to cool for approximately 10 minutes. Optionally, grease your hands with vegetable shortening to prevent sticking, and round each nest by shaping them gently. Use your thumbs to press into the centers of the nests, creating a cavity.

Fill each nest with the egg-shaped M&Ms, jelly beans, or malt balls. Let the nests cool completely, then serve and enjoy a Happy Easter!