Magical Exploding Bonbons: A Harry Potter-Inspired Treat
The Starving Chef is supported by Hungry People like you. When you make a purchase through an affiliate link on my site, I may earn a little bit of cash on the side (at no extra cost to you) to help keep my kitchen running. Read our disclosures here.
What's Up, Hungry People!
Get your wands ready because today, we're conjuring up a treat that even Fred and George Weasley would be proud of: Exploding Bonbons. While they won't actually explode (we don't want a repeat of that infamous prank in Professor McGonagall's class), they will certainly give your taste buds a spellbinding experience!
Remember how Fred and George wreaked havoc across Hogwarts with their magical sweets? Yep, Exploding Bonbons were part of their Weasley's Wizard Wheezes collection. They may not send you flying off your broomstick, but they'll still surprise you!
I based my bonbons on my trusted no-bake cake ball recipe. This isn't any old Polyjuice Potion; it's a blend of your favorite cake, cookies, or brownies. Just crumble 'em up and mix them with cream cheese until you get a dough-like consistency. Once that's done, let the magic settle by cooling it until it's firm.
"Exploding bonbons are no longer permitted to explode. Hand in immediately to Ministry disposal unit." – Educational Decree Number Sixty-Seven
Here's What You Need
Chocolate Cake or Brownie Mix: This serves as the base of your bonbons, offering a convenient and quick way to get that chocolatey goodness.
Cream Cheese: Blended with your cake or brownie crumbs, it creates the doughy texture for your bonbons.
Pop Rocks: These give the bonbons their signature "explosion," delivering a fizzy surprise in each bite.
Candy Melts: These are used for coating the bonbons, adding both color and a sweet outer layer.
Vegetable Shortening: Mixed with the candy melts, it helps to smooth out the texture, making it easier to coat the bonbons.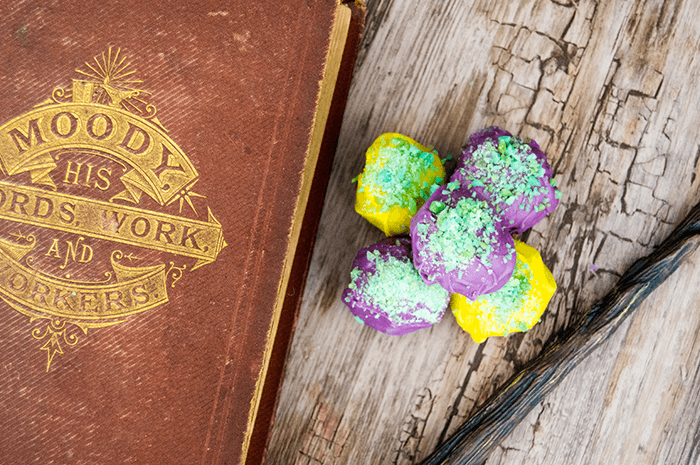 You'll need some colored candy melts to coat your bonbons. Melt 'em, dip your cake balls in, and voila! Oh, and don't forget the Pop Rocks. A sprinkle of these fizzy gems is what brings these bonbons to life. It's like casting a mini "Expelliarmus" on your senses!
Additional Tips and Troubleshooting
Candy Melts Seizing Up? If your candy melts start to harden or seize, you can add a little more vegetable shortening to make it more fluid again.
Choosing Pop Rocks Flavors: Match the Pop Rocks flavors with the color of your candy melts for a thematic look.
Freezer-Friendly? You can prepare the bonbons in advance and freeze them. Just add the Pop Rocks right before serving to maintain their pop.
Dough Too Soft? If your dough feels too soft to roll into balls, pop it back into the fridge for another 10-15 minutes.
Pop Rocks Not Popping? Avoid adding the Pop Rocks to the candy melts too early as they will lose their popping ability if they dissolve in the wet coating.
Themed Color Coordination: Consider using candy melts that match the house colors of Hogwarts for a truly magical Harry Potter party experience.
How Will You Celebrate?
So, how are you planning on celebrating the magical universe coming back to life? Maybe whipping up some Butterbeer or planning a full-on Harry Potter movie marathon? Drop your plans in the comments section below, and let's keep the magic alive together!
With these magical exploding bonbons, your next Harry Potter-themed gathering is sure to be a hit! Trust me, even the Sorting Hat will have trouble deciding which house deserves the most points for bringing these to the table. Whether you're excited for the return of the Wizarding World or just in the mood for a nostalgic treat, these bonbons will have you and your fellow Hungry People feeling like you've just snagged the Golden Snitch. Enjoy!
How to Make Exploding Bonbons: A Spellbinding Harry Potter Recipe
Get ready to surprise your taste buds with these exploding bonbons inspired by the magical world of Harry Potter.
Instructions
Prepare the cake, cookies, or brownies according to the ingredients and instructions on the box. Cook and cool completely before starting the bonbons. (From here on out, I will refer to brownies, since those were my base.)

Crumble the brownies in a food processor (or by hand) until the crumbs are fine and smaller than half an inch in size. Pour the crumbs into a bowl with the room temperature cream cheese and stir until a thick dough forms. Chill for ten minutes.

Use the palms of your hands to form the dough into quarter-sized balls. Arrange the brownie balls on a cookie sheet lined with parchment paper. Chill for thirty minutes to an hour.

Before taking the brownie balls out of the fridge, melt the candy melts. Add a tablespoon of vegetable shortening to each melted cup of candy melts.

Use a fork to roll the brownie balls through the candy melts until completely coated. Place them back onto the parchment-lined cookie sheet.

Sprinkle Pop Rocks onto the tops of each wet brownie ball. Pop them back into the fridge to chill for an additional ten minutes, or until the candy has hardened. Serve at your Harry Potter-themed party. Enjoy!