Exploding BonBons | Harry Potter Inspired Recipes
The Starving Chef is supported by Hungry People like you. When you make a purchase through an affiliate link on my site, I may earn a little bit of cash on the side (at no extra cost to you) to help keep my kitchen running. Read our disclosures here.
Throughout the Harry Potter books and movies, exploding bonbons have tricked students and teachers alike (no thanks to Fred and George, I'm sure). These bonbons might not actually explode, but they certainly will pack a punch!
I used my go-to no-bake cake ball recipe for my bonbons, which is simply my favorite cake, cookies or brownies crumbled up and mixed into cream cheese until a dough forms. Then just cool until firm, and cover with colored candy melts. Top with some Pop Rocks and serve at your next Harry Potter themed party!
"Exploding bonbons are no longer permitted to explode. Hand in immediately to Ministry disposal unit." – Educational Decree Number Sixty-Seven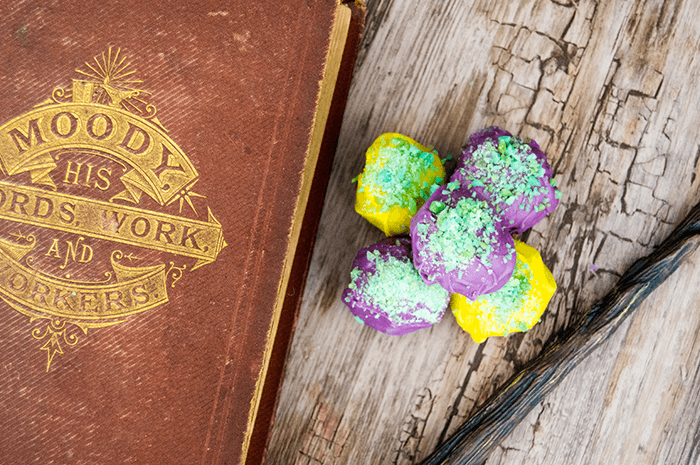 My copy of Harry Potter and the Cursed Child is on it's way – and I plan on locking myself in a cabinet under the stairs to read until I've completed it. How are you planning on celebrating the return to the Wizarding World? Let me know in the comments section below!
Exploding BonBons | Harry Potter Inspired Recipes
These bonbons might not actually explode, but they certainly will pack a punch!
Instructions
Prepare the cake, cookies or brownies according to the ingredients and instructions on the box. Cook and cool completely before starting the bonbons. (From here on out, I will refer to brownies, since those were my base.)

Crumble the brownies in a food processor (or by hand) until the crumbs are fine and smaller than a half inch in size. Pour the crumbs into a bowl with the room temperature cream cheese, and stir until a thick dough forms. Chill for ten minutes.

Use the palms of your hands to form the dough into quarter sized balls. Arrange the brownie balls on a cookie sheet lined with parchment paper. Chill for thirty minutes to an hour.

Before taking the brownie balls out of the fridge, melt the candy melts. Add a tablespoon of Crisco to each melted cup of candy melts.

Use a fork to roll the brownie balls through the candy melts until completely coated. Place back onto the parchment lined cookie sheet.

Sprinkle the Pop Rocks onto the tops of each wet brownie ball. Pop back into the fridge to chill for an additional ten minutes, or until the candy has hardened. Serve at your Harry Potter themed party. Enjoy!