Fancy AF Hot Dogs Recipes
The Starving Chef is supported by Hungry People like you. When you make a purchase through an affiliate link on my site, I may earn a little bit of cash on the side (at no extra cost to you) to help keep my kitchen running. Read our disclosures here.
Every so often you come across a super fancy version of a usually-pretty-cheap product. And sometimes, you are so overcome with curiosity that you buy that product because, why not? Why not see how the other half lives?
Well when my boyfriend sent me a link for Kobe beef hot dogs, I was instantly intrigued. A few days later, a large box filled with ice packets and a frozen solid package of "gourmet frankfurters" arrived on our front porch. Of course, for extra fancy dogs, you need some extra fancy toppings.
To start, I knew I wanted some kind of tangy creme fraiche on my hot dogs. I added some cranberries, shallots and a touch of sugar to a food processor and blended the berries until smooth.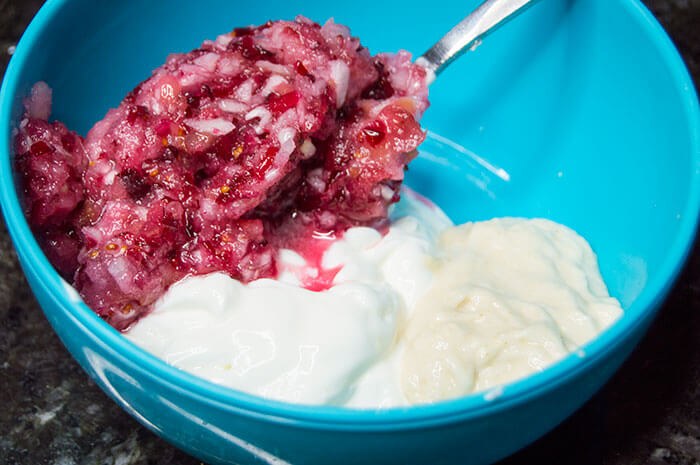 Honestly the cranberries were very tasty this way and I probably could have put them on our hot dogs as-is, but of course I had to go the extra step and stir the cranberry mixture into some plain Greek yogurt (as the cheaters way to make creme fraiche) along with some horseradish cream.
While the cranberry horseradish creme fraiche chilled in the fridge for a few minutes, I used a mandolin slicer to julienne some English cucumber. I made a super quick relish by soaking the cucumber in some white vinegar with a pinch of salt and sugar.
I wish I would have kept a couple of these hot dogs frozen to grill properly, outdoors. I started the hot dogs on a grill pan on my stove, while staring longingly outside at the snow falling, dreaming of warmer days ahead. After sufficiently grilling the hot dogs on all sides, I toasted the buns until they were crisscrossed with grill marks. For fancy final touch, I spread a tiny spoonful of whole grain mustard on top of the dogs to mimic the traditional style.
But of course, once topped with the cranberry horseradish creme fraiche and cucumber relish, these dogs are quite the mouthful. If you're wondering what a waygu beef hot dog tastes like on its own, imagine the taste of a cheap hot dog, then enhance the beefy flavor by ten. They are robust in their flavor and go along really well with sweet and tangy flavors – which is great, because I piled them on!