Faux Big Mac Recipe (with Plant-Based Meat!)
The Starving Chef is supported by Hungry People like you. When you make a purchase through an affiliate link on my site, I may earn a little bit of cash on the side (at no extra cost to you) to help keep my kitchen running. Read our disclosures here.
The future of meat is looking…plant-based.
Move over beef, there's a new "beef" in town. If you haven't tried Beyond Meat – or the "Impossible Burger" – then you are sorely missing out on what could very well be the real future of meat sustainability.
While I have not yet tried an "Impossible Burger" this Beyond Meat burger showed up in my local grocery store – so I knew I had to try it out ASAP. And what better way to vet some veggie beef than to transform it into the KING of beef: the Big Mac! (Yo, McD's! You need to get on this trend, like yesterday!)
At first glance the "meat" is a little unnerving, border-line daunting. I wasn't sure exactly how to cook it. I ended up using a flat cast iron grill for my burgers to get that essential sear. It cooks almost just like real beef; the first version I flattened out the patty a bit more and I think it worked better than leaving the patties at the prepackaged size. But of course, I fed that version to my fiance, so I ended up using the non-flattened patties for my pics – but I definitely recommend flattening the patties to be more like a half to a quarter inch thick to really cook the patties all the way through.
Mine sizzled just like real beef on the grill – and even "bled" a little bit, which apparently is just beet juice. It was a little weird flipping the burgers when the sides were still bright pink – the carnivore in me insisted I cook it longer. I did roll the edges to get an even coloring and the center came out 'medium-well' for the burger. But honestly, even if it was a tad overcooked – the final result was DELICIOUS!!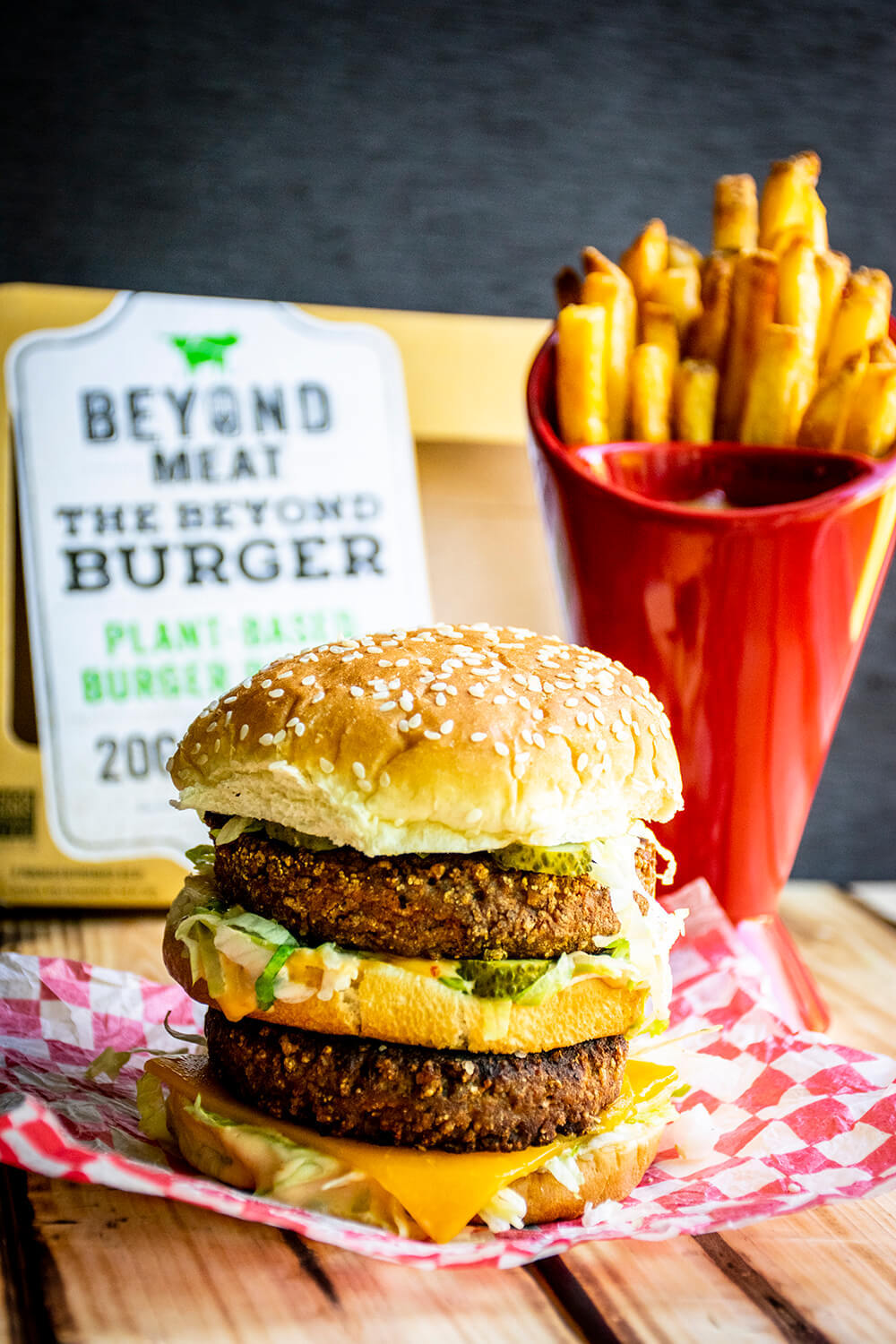 *I am NOT sponsored by either brand – I just honestly, truly, really, really loved this burger option! In fact, I've already bought Beyond Meat twice because it came out so delicious the first time, I've been craving it ever since. And I don't even adhere to a vegetarian diet. It's really THAT good.
Faux Big Mac Recipe (with Plant-Based Meat!)
A plant-based copycat recipe of the famous Big Mac!
Equipment
cast iron grill

beef spatula
Ingredients
4

plant based burger patties

Beyond Meat Beef was used in this recipe

1

cup

onion

finely diced

6

sesame seed buns

toasted

3

tablespoons

Thousand Island dressing

as desired on each burger

6

dill pickle slices

as desired on each burger

4

slices

American cheese

as desired on each burger

1

cup

shredded lettuce

as desired on each burger

salt & pepper

to taste
Instructions
Preheat the grill over medium high heat until smoking. Season the patties with salt and pepper on both sides. Add the patties to the grill and sear for 2-3 minutes per side. I recommend flattening the patties to 1/4-1/2 inch thick and rolling the patties on a flat grill to evenly brown the edges. The inside of the patty will be pink.

While the patties cook, toast the buns in the oven at 350F for about 5-10 minutes, until golden brown.

Prepare the sandwiches by removing the bottoms of two of the buns. These will be the middle bun layer for each sandwich. Assemble the sandwiches by arranging the lettuce, Thousand Island dressing, pickles, onions and cheese on the patties and buns, as desired. Serve warm with fresh cut french fries. Enjoy!