Fifteen Minute Instant Pot Shrimp Paella
The Starving Chef is supported by Hungry People like you. When you make a purchase through an affiliate link on my site, I may earn a little bit of cash on the side (at no extra cost to you) to help keep my kitchen running. Read our disclosures here.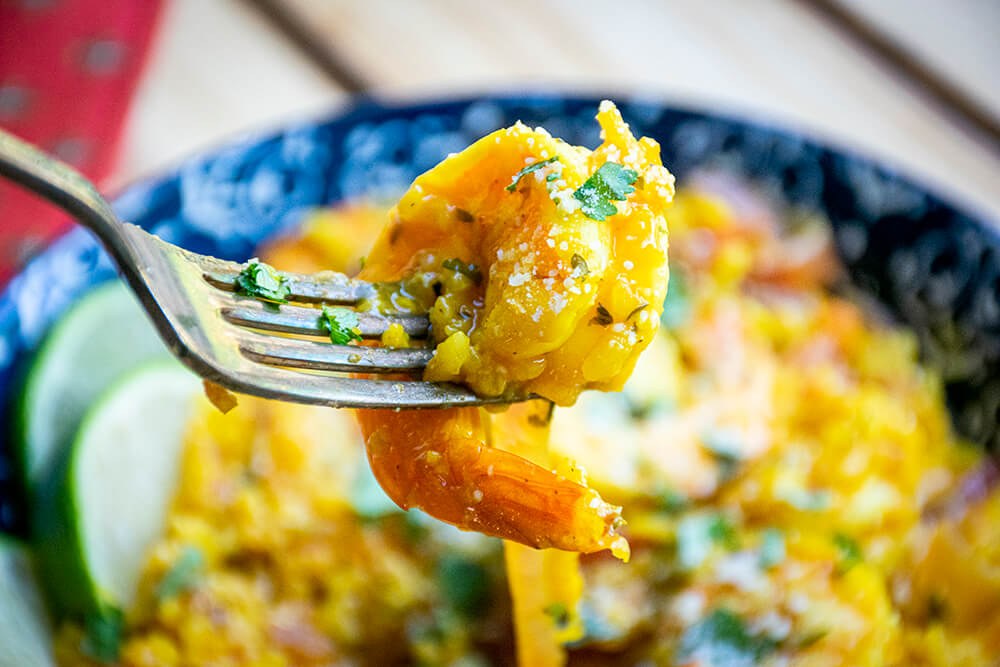 If you have a new Instant Pot or pressure cooker in your kitchen – or have an old one you are looking to start putting to use – this recipe just might be one to bookmark. Because not only is it insanely easy to make quickly, but it's impressively delicious for a dish that only takes 15 minutes to make!
My Instant Pot is a staple in my kitchen, but if you don't have a name brand machine, that's no issue. There are other competitor pressure cooker brands out there that can do the same things with different buttons – Instant Pot as the brand name has become synonymous with pressure cooking; but the cooking method and machines have been around for decades.
Whatever machine you end up using, this recipe will result in a tasty dish that's perfect for a busy weeknight.
What Kind of Rice Should I Use?
In order for your dish to be considered a paella you will need to use a short grain rice like aborrio. It's important that you use a short grain rice in order to keep the quick cooking time, but also to achieve the correct texture that is iconic to paella.
You can also sub in bomba or arroz rice, as is traditionally used in paella in Spanish countries. Any kind of rice that is used for risotto is well suited for paella – in fact, it's actually fun to see how differently rice can be cooked. The same rice that is used in creamy risotto can also be used in paella to achieve that 'sticky dry' and chewy texture.
Unlike rice dishes like risotto that need to, the rice in paella is not first washed to release the starches. Instead, the rice is first toasted – and then not stirred while soaking. Which is why the Instant Pot makes for a great vessel to make paella because not stirring is basically one of the many benefits there are to using one.
Traditionally, paella is cooked in a large skillet and slowly absorbs liquid over a long period of time. Dry spots are addressed when they form instead of evenly cooking everything at once. After a while, the rice should form a crispy edge around the bottom – not a burn, mind you, just a little bit of extra crunchy rice.
When I visited the Marche Bastille in Paris, we ate street paella from a market vendor and honestly, I've been chasing the perfect recipe ever since. This one comes close in flavor but definitely is not the same thing as cooking paella in the traditional method.
Essentials for the PERFECT Paella:
Here's what you need for the perfect Instant Pot paella
short grain rice like aborrio or bomba
authentic saffron – it's expensive but WORTH IT if you are a foodie like myself
turmeric
ghee – the high smoke point is perfect for toasting the rice
With these ingredients, you will be well on your way to making the best (and might I add, EASIEST) paella ever!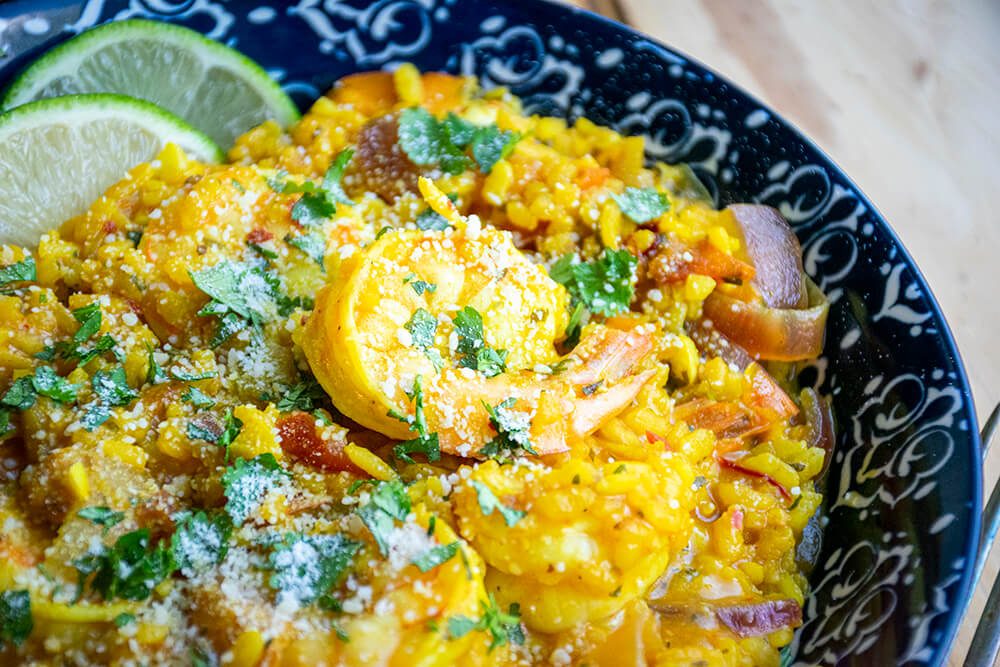 One of my very first recipes was a recipe for an oven baked version of paella. Of course, I unintentionally burnt the ever living sh*t out of my arm trying to take it out of the oven (I wasn't paying any attention to the fact that stainless steel is HOT when you bake it) and I vowed to stay away from paella from that point on.
But now that the burn has faded away and my love for paella was reignited during our trip to France, I can certainly say this Instant Pot method is just as good – and definitely safer!
From start to finish, you can make this recipe in under 30 minutes if you count any prep, including toasting the rice. However, the actual pressure cooking process only takes five minutes once the Instant Pot is pressurized.
While the Instant Pot pressurizes, perhaps make a simple salad or side dish to go with it!
Fifteen Minute Instant Pot Shrimp Paella
Making paella in the Instant Pot is not only possible – it's probably preferrable! This homemade paella recipe can be made in your pressure cooker or Instant Pot.
Ingredients
1

cup

arborio rice

2

tablespoons

ghee

½

cup

white wine

or sherry

1

cup

chicken broth

½

cup

tomato

diced

3

tablespoons

lime juice

3

tablespoons

lemon juice

4

cloves

garlic

minced

1

teaspoon

turmeric

1

teaspoon

smoked paprika

16

oz

shrimp

frozen – do not thaw

1

teaspoon

red pepper flakes

optional, to taste

1

lime

sliced, for topping
Instructions
Put the Instant Pot (IP) on saute mode on high. Add the ghee. When the ghee is melted, add the rice. Stir until the rice is starting to pop and brown, about 10 minutes.

Turn off the saute mode. Pour in the white wine to deglaze the bottom of the pot, then add the broth, bay leaves, tomatoes, lemon and lime juice, garlic, paprika, turmeric and red pepper flakes. Stir until well combined.

Add the frozen shrimp on top. Put the lid on the Instant Pot. Pressure cook on high for 5 minutes. Let the IP come to pressure and then the timer will start. When the timer goes off, let the IP depressurize naturally (about 15 minutes) or carefully perform a quick release and wait for the pin to drop to remove the lid of the IP.

Stir once to scrape up any browned bits stuck to the bottom. Sprinkle on the parsley for a pop of color. Serve with lime wedges spritzed on top. Enjoy!