Fleur Delacour's Bouillabaisse | Harry Potter Recipes
The Starving Chef is supported by Hungry People like you. When you make a purchase through an affiliate link on my site, I may earn a little bit of cash on the side (at no extra cost to you) to help keep my kitchen running. Read our disclosures here.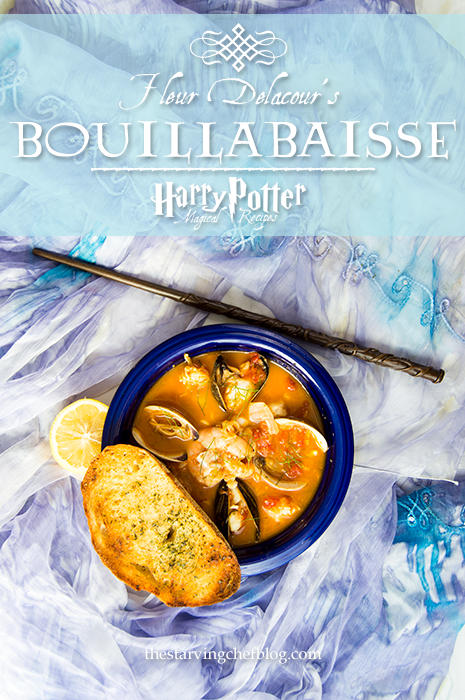 At that moment, a voice said, "Excuse me, are you wanting ze bouillabaisse?" It was the girl from Beauxbatons who had laughed during Dumbledore's speech. She had finally removed her muffler. A long sheet of silvery blonde hair fell almost to her waist. She had large, deep blue eyes, and very white, even teeth. Ron went purple. He stared up at her, opened his mouth to reply, but nothing came out except a faint gurgling noise.
"Yeah, have it," said Harry, pushing the dish towards the girl.
"You 'ave finished wiz it?"
"Yeah," Ron said breathlessly. "Yeah, it was excellent."
The girl picked up the dish and carried it carefully off to the Ravenclaw table. Ron was still goggling at the girl as though he had never seen one before. Harry started to laugh. The sound seemed to jog Ron back to his senses.
"She's a Veela!" he said hoarsely to Harry.
"Of course she isn't!" said Hermione tartly. "I don't see anyone else gaping at her like an idiot!"
– Extract from Harry Potter and the Goblet of Fire
As we prepare for the release of The Cursed Child and scurry to be sorted into our Ilvermorny houses before the premiere of Fantastic Beasts and Where to Find Them, let us not forget when we first learned there are other magical schools in the world, like the Beauxbatons Academy of Magic, home of Fleur Delacour; and Durmstrang Institute, home to Viktor Krum, that appear in Goblet of Fire for the Triwizard Tournament – what an exciting time that was!
I'm not entirely sure what I thought bouillabaisse was on my first read-through of the Harry Potter series (I honestly thought it was…pudding, maybe? I was like, twelve), but I certainly didn't expect it to be as delicious as it turned out to be off the pages.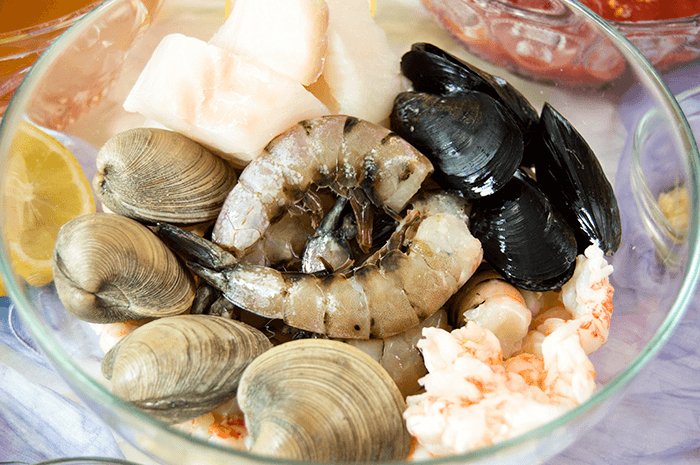 Bouillabaisse is just a fancy French word for fish soup; it's packed with white fish, lobster, clams, mussels, and shrimp, then stewed with fennel, tomatoes, and a pinch of saffron. I'd like to think Fleur made this bouillabaisse for Bill at their Shell Cottage on the beach.
First, saute the onions and fennel bulb in a dab of butter until just browning, then deglaze the pan with the wine. Stir in the tomatoes and cook until the onions are translucent and the fennel bulb is tender.I simmered mine over a medium heat for about twenty minutes before adding the fennel fronds, saffron, cayenne and garlic.
At this point, you can leave the stew chunky, or you can transfer the soup to a Muggle food processor and blend until the soup is smooth.
I left about a cup of the soup out of the blender so my soup would still have some chunks!
Pour the soup back into the pan and gently press each clam and mussel into the stew, followed by the lobster chunks, white fish, and finally the shrimp. Make sure any clams or mussels that don't open are discarded.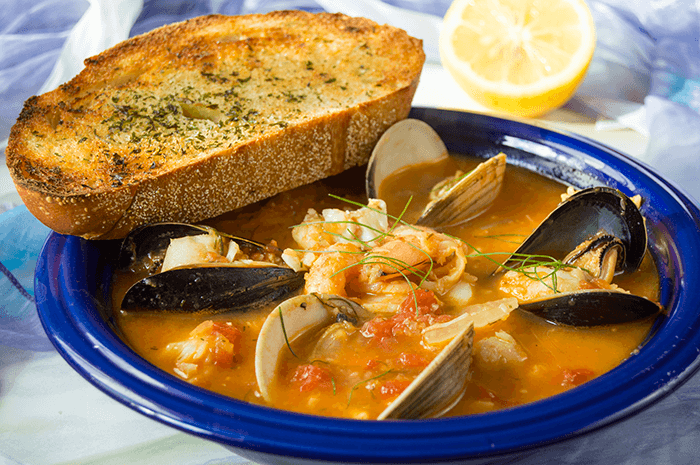 "What's that?" said Ron, pointing at a large dish of some sort of shellfish stew that stood beside a large steak-and-kidney pudding.
"Bouillabaisse," said Hermione.
"Bless you," said Ron.
"It's French," said Hermione.
This bouillabaisse is simply delicious. Even though Mrs. Weasley wasn't fond of Fleur at first, I know they likely formed a deep bond over cooking once the world was free of You-Know-Who. Hopefully we'll find out in the Cursed Child!
Fleur Delacour's Bouillabaisse | Harry Potter Recipes
Bouillabaisse is just a fancy French word for fish soup; it's packed with white fish, lobster, clams, mussels, and shrimp, then stewed with fennel, tomatoes, and a pinch of saffron.
Ingredients
16

oz

white fish

4

oz

lobster chunks

4

oz

shrimp

peeled

8-10

shortneck clams

8-10

mussels

2

cups

fish stock

2

cup

diced tomatoes

1

cup

onion

chopped

½

cup

fennel bulb

chopped

4

tablespoons

garlic

minced

¼

cup

white wine

¼

teaspoon

cayenne pepper

pinch

saffron

1

lemon

juiced

2

tablespoons

butter

salt & pepper

to taste
Instructions
Melt the butter in a soup pan over medium heat. Add the onions and fennel bulb and saute until just browning on the edges. Deglaze the pan with the white wine.

Add the diced tomatoes to the pan and stir to combine. Simmer for 10-20 minutes, until the juices have started to evaporate. Season with salt and pepper.

Pour the fish stock into the pan and stir. Add the garlic, cayenne pepper, and saffron. Simmer over medium heat for ten minutes.

While the soup simmer, wash the calms and mussels. Remove the shells from the shrimp and chop the fish into one inch sized pieces.

Starting with the mussels, press them into the soup, followed by the fish and lobster. Cook for 2-3 minutes before adding the shrimp. Gently press the shrimp into the soup and cook for 3-4 minutes or until the shrimp are pink.

Serve soup along with some crusty bread on a cool fall afternoon. Enjoy!