Discover the Magic: Fleur Delacour's Bouillabaisse from Harry Potter
The Starving Chef is supported by Hungry People like you. When you make a purchase through an affiliate link on my site, I may earn a little bit of cash on the side (at no extra cost to you) to help keep my kitchen running. Read our disclosures here.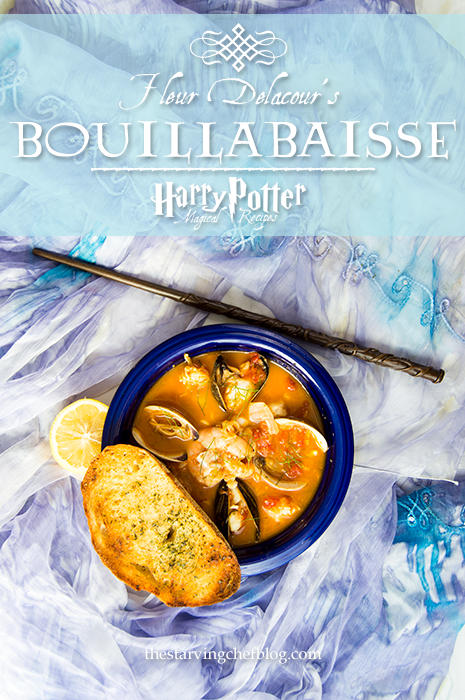 At that moment, a voice said, "Excuse me, are you wanting ze bouillabaisse?" It was the girl from Beauxbatons who had laughed during Dumbledore's speech. She had finally removed her muffler. A long sheet of silvery blonde hair fell almost to her waist. She had large, deep blue eyes, and very white, even teeth. Ron went purple. He stared up at her, opened his mouth to reply, but nothing came out except a faint gurgling noise.
"Yeah, have it," said Harry, pushing the dish towards the girl.
"You 'ave finished wiz it?"
"Yeah," Ron said breathlessly. "Yeah, it was excellent."
The girl picked up the dish and carried it carefully off to the Ravenclaw table. Ron was still goggling at the girl as though he had never seen one before. Harry started to laugh. The sound seemed to jog Ron back to his senses.
"She's a Veela!" he said hoarsely to Harry.
"Of course she isn't!" said Hermione tartly. "I don't see anyone else gaping at her like an idiot!"
– Extract from Harry Potter and the Goblet of Fire
What's Up, Hungry People?
Remember that scene in Harry Potter and the Goblet of Fire when Fleur Delacour offered Ron and Harry some good ol' bouillabaisse? It was an eye-opening moment for Ron, who was completely smitten by Fleur. But Hermione knew better: "Of course she isn't [a Veela]! I don't see anyone else gaping at her like an idiot!" Classic, right?
A Culinary Spell from Beauxbatons
As we eagerly await the release of The Cursed Child and make a mad dash to get sorted into our Ilvermorny houses before the premiere of Fantastic Beasts and Where to Find Them, let's travel back to a simpler time. Remember when we first found out there were other magical schools like Beauxbatons and Durmstrang? Ah, the excitement of the Triwizard Tournament was electric!
When I first read through the Harry Potter series, I had no clue what bouillabaisse was. In my twelve-year-old imagination, it was some kind of magical pudding. Boy, was I wrong! Turns out, this French classic is nothing short of spellbinding.
Here's What You Need
White fish: Forms the base protein of the soup, offering a mild flavor and flaky texture.
Lobster chunks: Adds a hint of luxury and sweetness to the stew.
Shrimp: Another layer of seafood flavor that cooks quickly and offers a different texture.
Shortneck clams: These little gems add brininess and chewiness to the mix.
Mussels: Like the clams, mussels offer brininess and also an attractive visual element.
Fish stock: Deepens the seafood flavor, serving as the liquid base of the soup.
Diced tomatoes: Adds tanginess and color while contributing to the broth's body.
Onion: Gives the base broth additional complexity and sweetness.
Fennel bulb: Adds a light, anise-like flavor that pairs well with seafood.
Garlic: Gives a punch of strong, aromatic flavor that complements the soup ingredients.
White wine: Used for deglazing and adding a fruity acidity.
Cayenne pepper: Offers a touch of heat without overwhelming the delicate seafood flavors.
Saffron: Provides an exotic aroma and a beautiful golden color.
Lemon juice: Brightens up the flavors with a hint of citrus.
Butter: For sautéing the veggies, it also enriches the soup's texture.
Salt & Pepper: The basics for seasoning; adjust to your liking.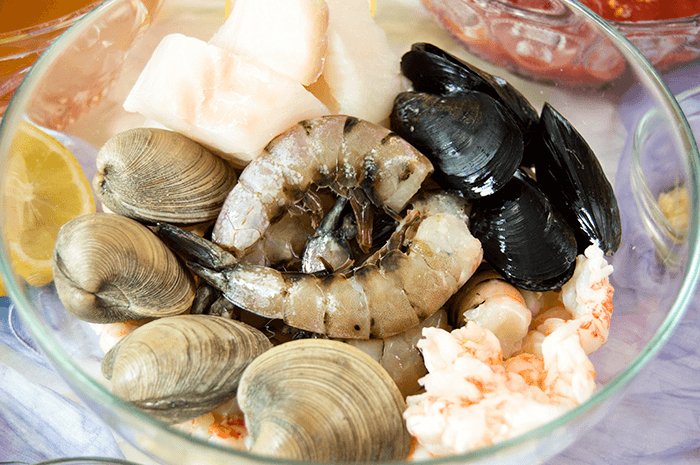 Bouillabaisse is a swanky French term for fish soup. But oh, what a soup it is! Brimming with white fish, lobster, clams, mussels, and shrimp, this potion-like brew also includes fennel, tomatoes, and a pinch of saffron for good measure. Imagine Fleur and Bill cooking this up at their cozy Shell Cottage.
Let's Cook!
Sauté the Base: Start by sautéing onions and a fennel bulb in a touch of butter. Wait until they're just on the brink of turning golden brown.
Deglaze & Simmer: Now's the time to deglaze your pan with wine. Toss in the tomatoes and stir the pot until the onions are see-through and the fennel is tender. I kept mine on medium heat for roughly 20 minutes. Then, add fennel fronds, saffron, cayenne, and garlic into the mix.
Blend or Not to Blend: You've got choices here, folks. Keep it chunky or get your Muggle food processor out to blend everything smooth.
I kept a cup of the mixture out so that my bouillabaisse had some chunks.
Pour the soup back into your cauldron—I mean, pan—and gently press in each clam and mussel. Add the lobster chunks, followed by white fish, and then the shrimp last. Important safety tip: Toss out any clams or mussels that refuse to open.
Magical Tricks and Troubleshoots for Your Bouillabaisse
Don't Overcook the Seafood: Seafood can turn rubbery if overcooked. Make sure to follow the recommended cooking times.
Saffron Substitution: If saffron is too pricey or not available, turmeric can be a good alternative for color, though not for flavor.
Fresh vs. Frozen Seafood: Fresh seafood is always preferable, but frozen can work if it's all you have. Just make sure to properly defrost it first.
Clam and Mussel Safety: Always discard any clams or mussels that haven't opened after cooking. They're likely bad and shouldn't be eaten.
Blending Options: Leaving some soup unblended will give a more rustic feel, while blending everything creates a smoother texture.
Soup Consistency: If the soup seems too thick, add a little more fish stock or water. Too thin? Simmer it a bit longer.
Wine Pairing: A dry white wine that complements the seafood flavors is recommended for those of drinking age.
Storing Leftovers: This soup stores well in the fridge for up to 2 days. However, the seafood may become a bit more rubbery upon reheating.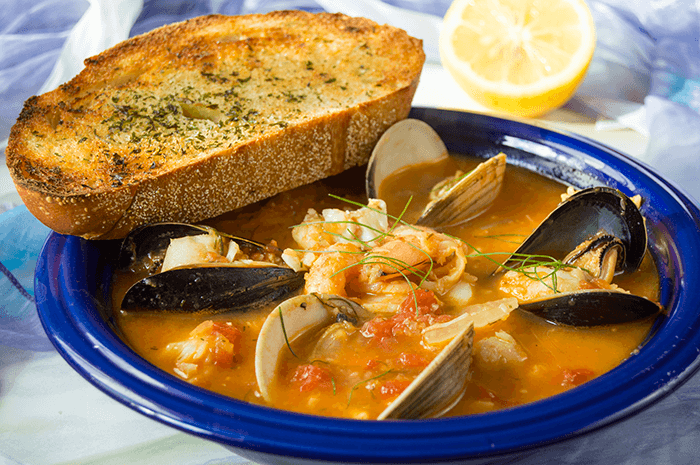 "What's that?" said Ron, pointing at a large dish of some sort of shellfish stew that stood beside a large steak-and-kidney pudding.
"Bouillabaisse," said Hermione.
"Bless you," said Ron.
"It's French," said Hermione.
As Ron might say after a hearty swig of pumpkin juice, this bouillabaisse is genuinely excellent! Whether you're a Weasley at heart or a proud Beauxbatons alumnus like Fleur, this dish will bring a dash of the wizarding world right to your muggle kitchen. Just imagine cozying up with a bowl of this magic-infused seafood goodness while catching up on the latest from "The Cursed Child." Here's hoping it brings you as much joy and comfort as a Gryffindor common room—Enjoy!
Fleur Delacour's Bouillabaisse | Harry Potter Inspired Recipes
Dive into a magical bowl of Fleur Delacour's Bouillabaisse, a rich French fish soup inspired by the world of Harry Potter.
Ingredients
16

oz

white fish

4

oz

lobster chunks

4

oz

shrimp

peeled

8-10

shortneck clams

8-10

mussels

2

cups

fish stock

2

cups

diced tomatoes

1

cup

onion

chopped

½

cup

fennel bulb

chopped

4

tablespoons

garlic

minced

¼

cup

white wine

¼

teaspoon

cayenne pepper

pinch

saffron

1

lemon

juiced

2

tablespoons

butter

salt & pepper

to taste
Instructions
Melt the butter in a soup pan over medium heat. Add the onions and fennel bulb, and sauté until they're just browning on the edges. Deglaze the pan with the white wine.

Add the diced tomatoes to the pan and stir to combine. Simmer for 10-20 minutes, until the juices start to evaporate. Season with salt and pepper.

Pour the fish stock into the pan and stir. Add the garlic, cayenne pepper, and saffron. Simmer over medium heat for 10 minutes.

While the soup simmers, wash the clams and mussels. Remove the shells from the shrimp and chop the white fish into one-inch-sized pieces.

Starting with the mussels, press them into the soup, followed by the white fish and lobster chunks. Cook for 2-3 minutes before adding the shrimp. Gently press the shrimp into the soup and cook for 3-4 minutes, or until the shrimp turn pink. Spritz the lemon juice over the soup and stir.

Serve the soup with some crusty bread on a cool fall afternoon. Enjoy!