Fondue Night at Home (For Two!)
The Starving Chef is supported by Hungry People like you. When you make a purchase through an affiliate link on my site, I may earn a little bit of cash on the side (at no extra cost to you) to help keep my kitchen running. Read our disclosures here.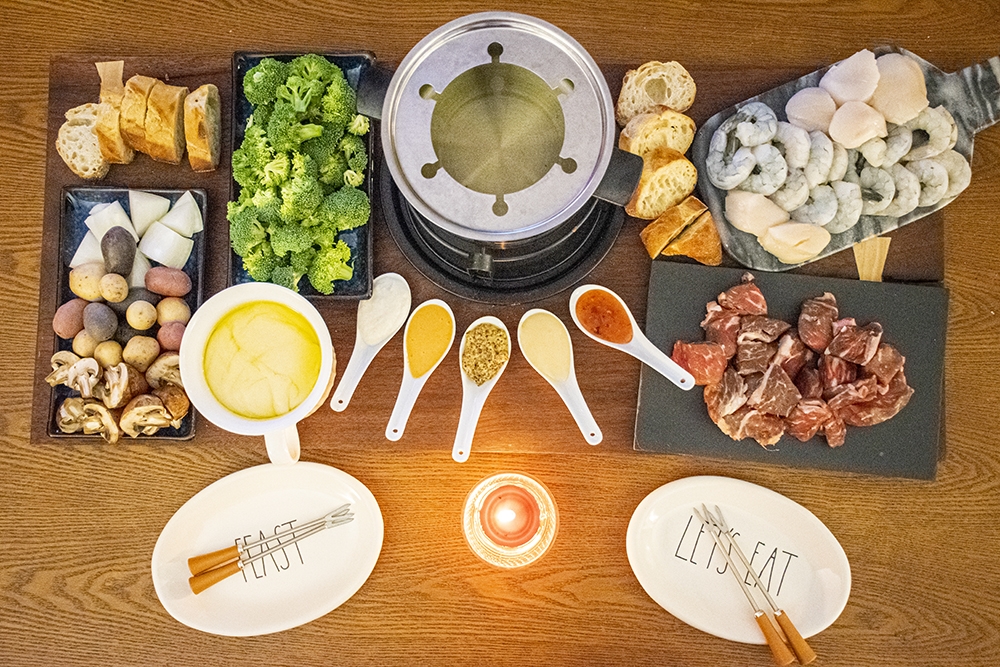 Fondue around Christmas and New Year's Eve has become somewhat of a tradition at my house. Every year, I put together a feast fit for a king – and then I make the king cook it all himself.
If fondue seems familiar, that's because I've shared my fondue line-ups in the past. One year, I even combined fondue with a charcuterie spread. But this year, I decided to keep it simple and focus on high quality ingredients rather than variety.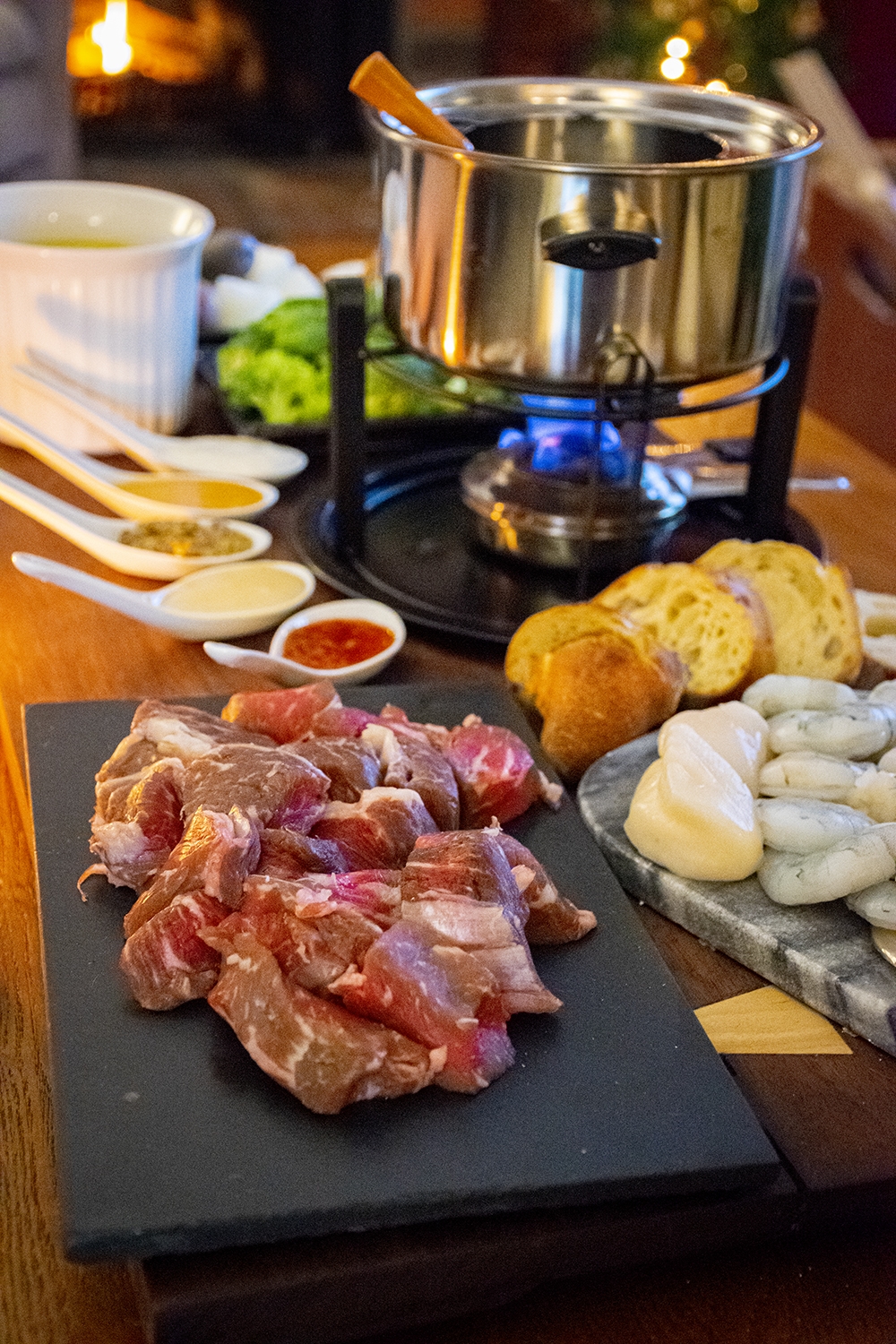 Where to get the BEST meats?
Until very recently, I didn't have a quality butcher nearby. Now, I am definitely spoiled by Keller Meats at the Exchange Market in Medina, Ohio. No – this isn't a sponsored post or anything, I just have to give a shout out to my favorite butcher and market for bringing in some of the highest quality meats I've ever been lucky enough to get my hands on locally.
Do some research on butchers and see what you can find around you. You might be surprised what you can find! Butchers are a great way to save TONS of money on meat and still get some of the highest quality meat you can find locally. Most grocery stores will have a lot of a small selection – butchers will have a small selection of A LOT more. Seriously, it is so worth it to have a good butcher in town – or worth a small drive to a nearby town for some of the good good.
If you can't find a butcher, no worries. Your average grocery store should still have reasonably high quality meats available but you will probably have to pay a bit more for the high end stuff.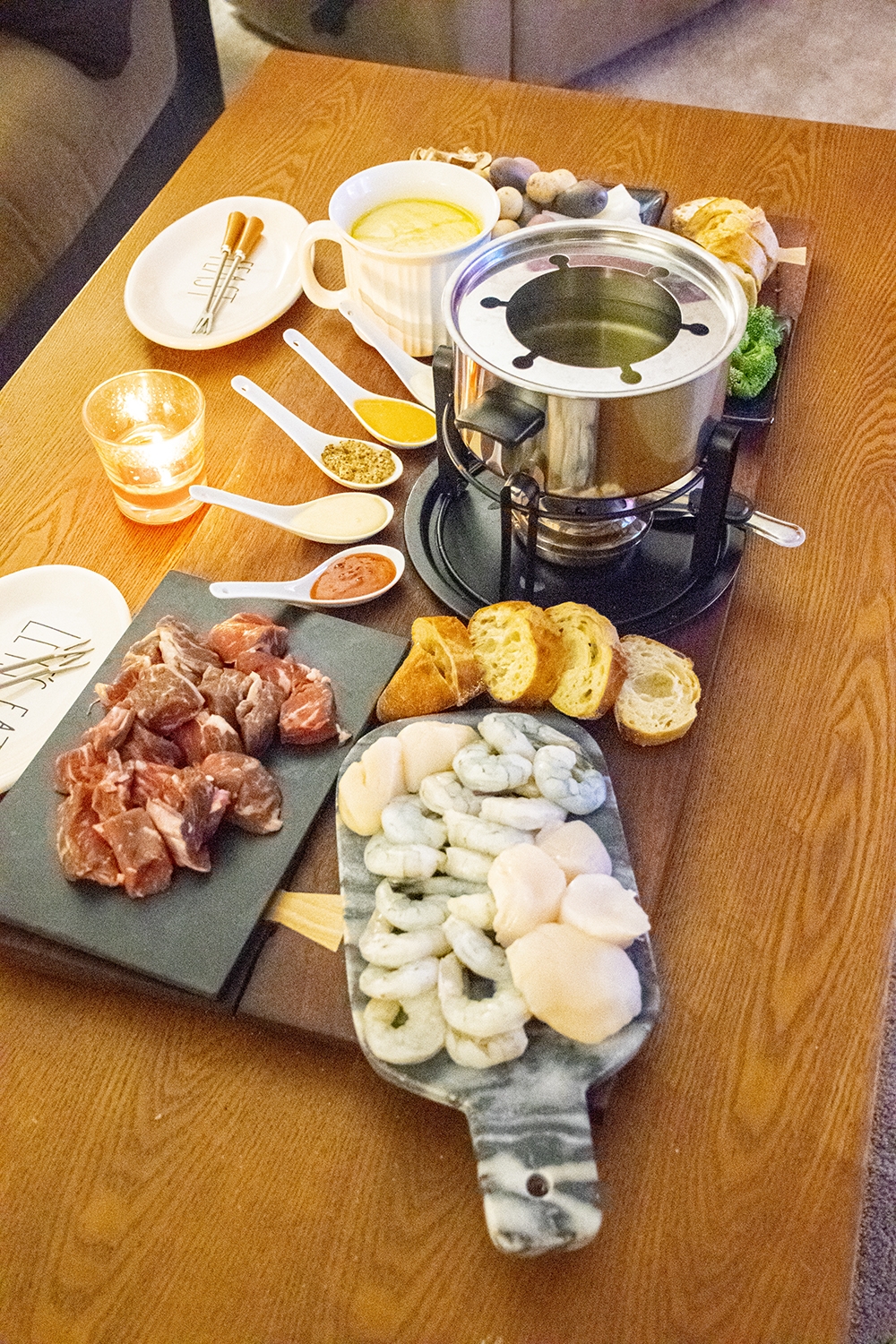 Fondue is sort of like raw charcuterie: a nice spread of ingredients that have a variety of tastes and textures. The difference is, you just have to cook everything before you eat it!
Here's what I included in my fondue spread:
prime rib steak
shrimp
scallops
roasting potatoes
onions
broccoli
crusty bread
In my spread I also included a crock of melted cheese – in most traditional fondue experiences, melty cheese is served first along with bread, crackers and sometimes small fruits like apples. For mine, I just offered the melted cheese (sans a fondue warmer) to dip in the crusty bread and raw broccoli – and it worked out perfectly as a mini appetizer while we waited for the oil to come to temp!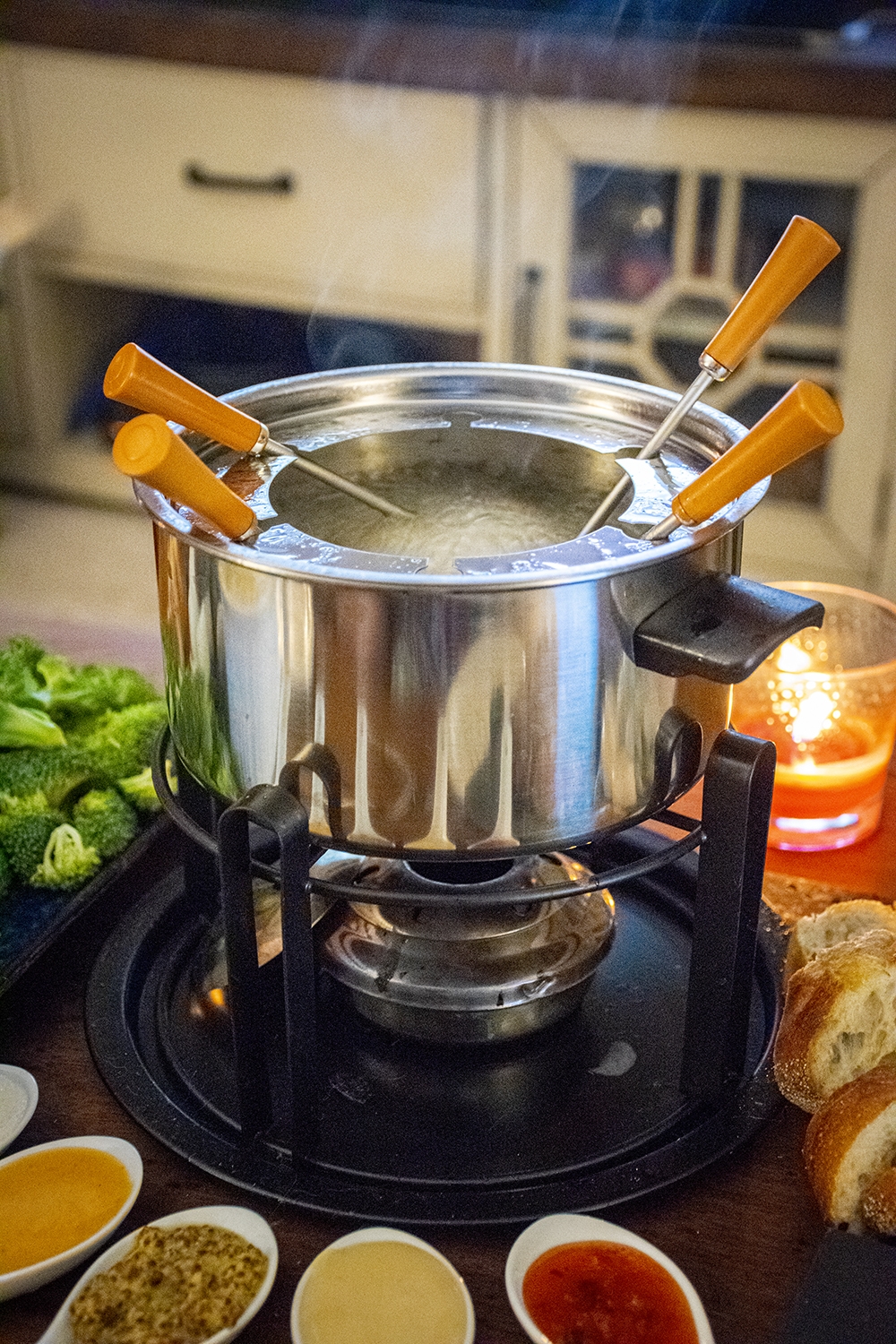 Fondue doesn't necessarily need to be a fancy event – though it does make for a pretty nice date night in. While current global climate (peek that 2020 post date) doesn't allow for group dining at shared dining experiences like fondue restaurants, having a fondue night in is actually much easier than you might think.
You can serve fondue on a weeknight – for yourself, for your date, for your family – as a simple dinner too!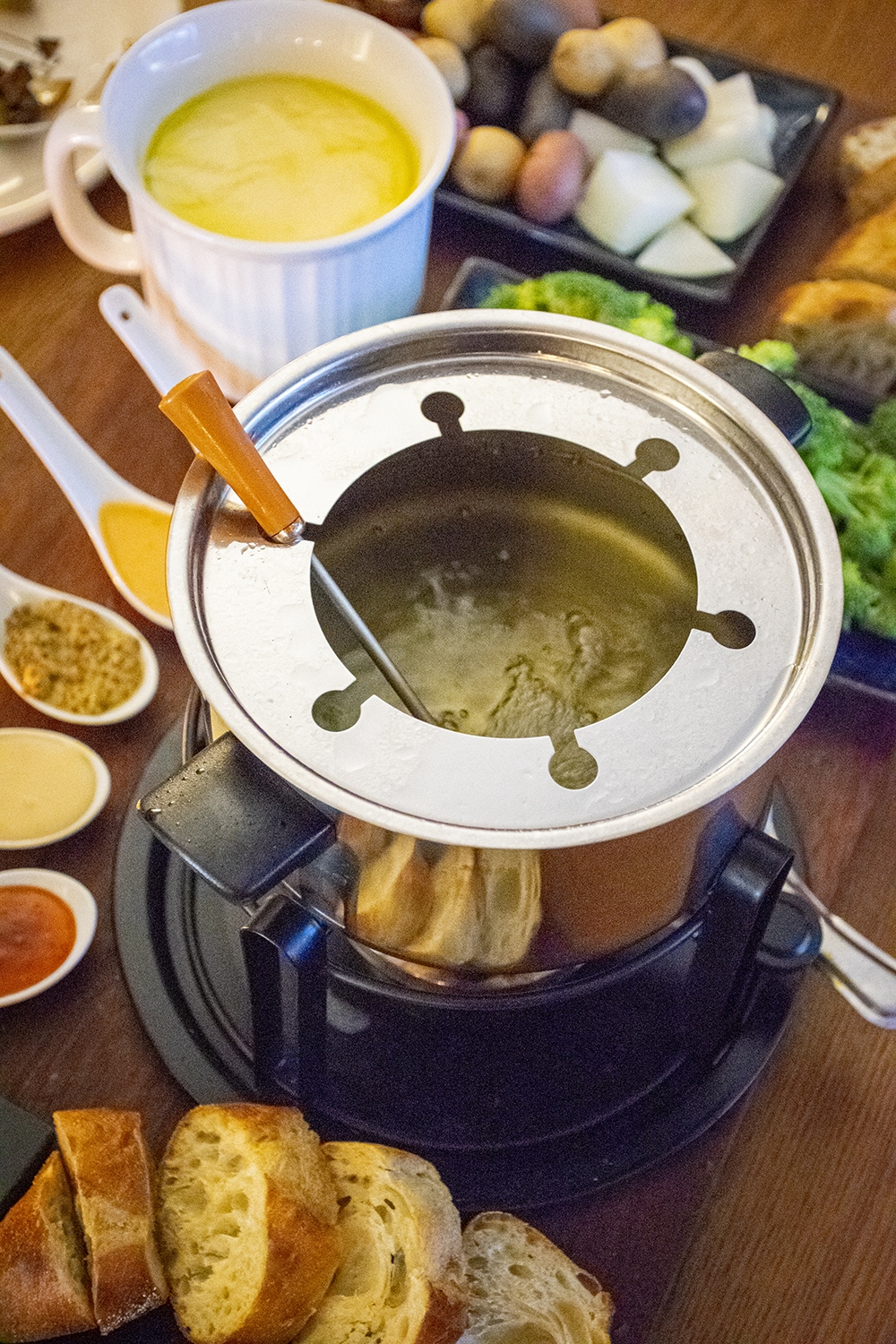 AVOID CROSS-CONTAMINATION
The most important thing to remember when having a fondue night: keep the raw food separate from the cooked food! And any food that can be eaten raw (even if it is intended to be cooked) should also be kept away from the raw meat.
It's also important to offer different utensils for eating versus cooking. I used mini fondue forks to skewer whatever was to be cooked and then once the food was cooked, transfered to a plate ONLY for eating off of with silverware that does not touch raw meat.
DO NOT MIX RAW AND COOKED INGREDIENTS ON ONE PLATE.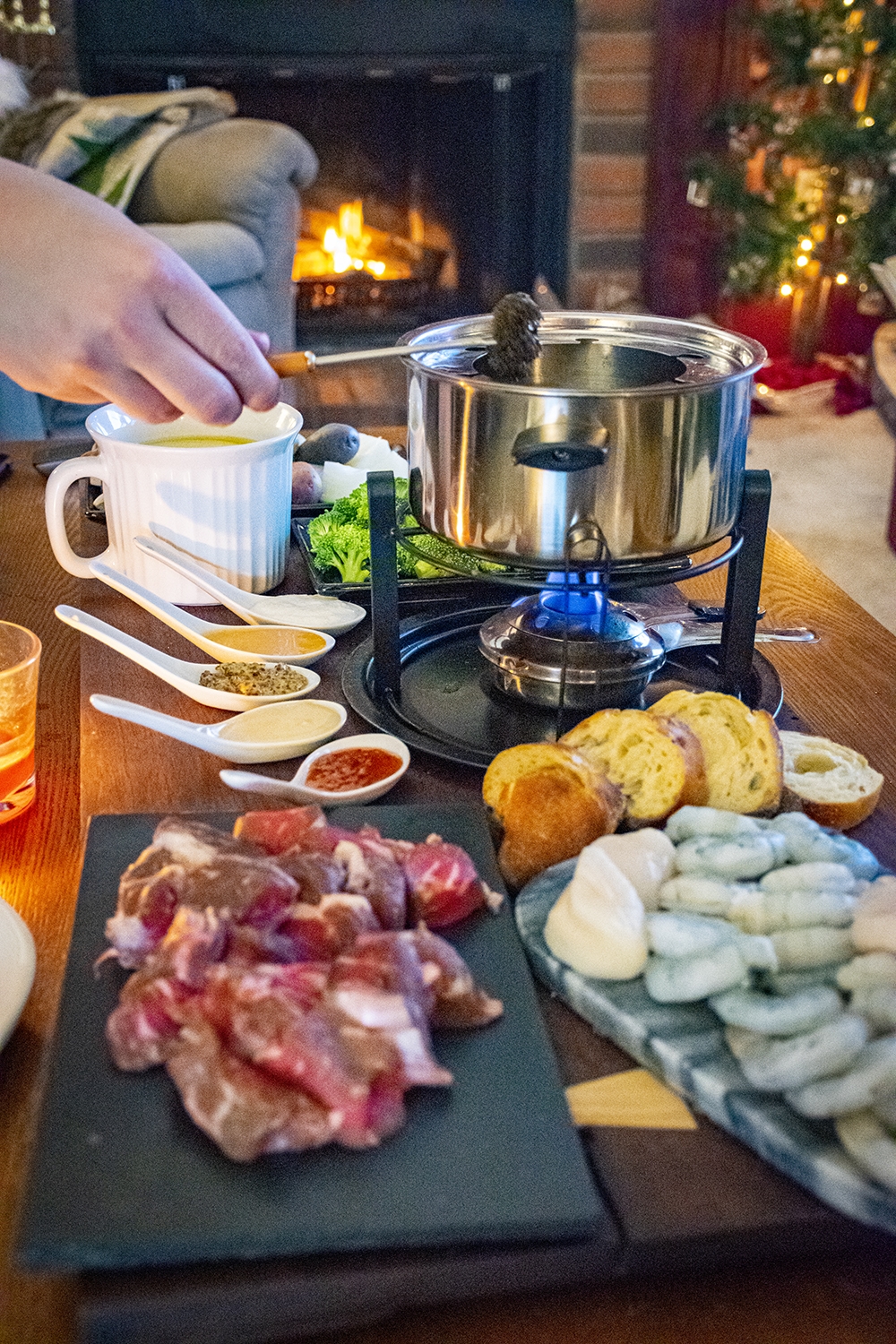 Sauces to Serve:
Fondue is typically served with a variety of sauces that will compliment both the meat and seafood.
sweet and spicy Thai ginger sauce – for the shrimp and broccoli
creamy horseradish sauce – for the steak
spicy brown mustard – for the broccoli, mushrooms and potatoes (and anything else!)
yum yum sauce – for everything!
honey butter – for the bread
But feel free to experiment with your own sauce combinations!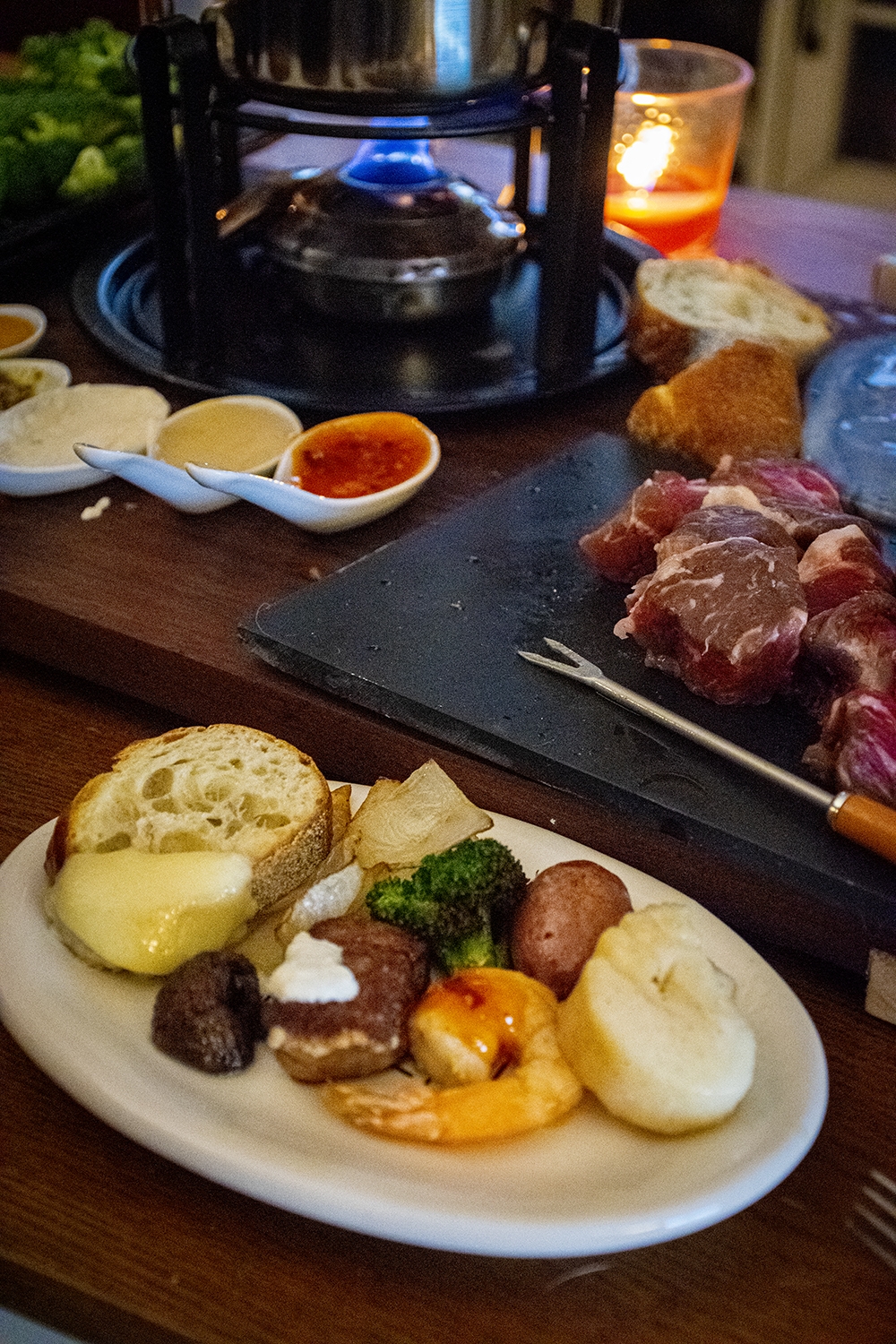 Cook Time Guide:
Here's a general guide on how long to cook each item to perfection.
Steak
Rare: 1-2 minutes
Medium Rare: 2-3 minutes
Medium: 3-4 minutes
Well Done: 4+ minutes
Shrimp
30-90 seconds for small shrimp
2-3 minutes for large shrimp
Scallops
3-4 minutes for large scallops
1-2 minutes for smaller scallops
Broccoli
Roasting Potatoes
Onions
Mushrooms
You can also include things like mini meatballs or chicken wings – whatever you can deep fry, you can fondue too!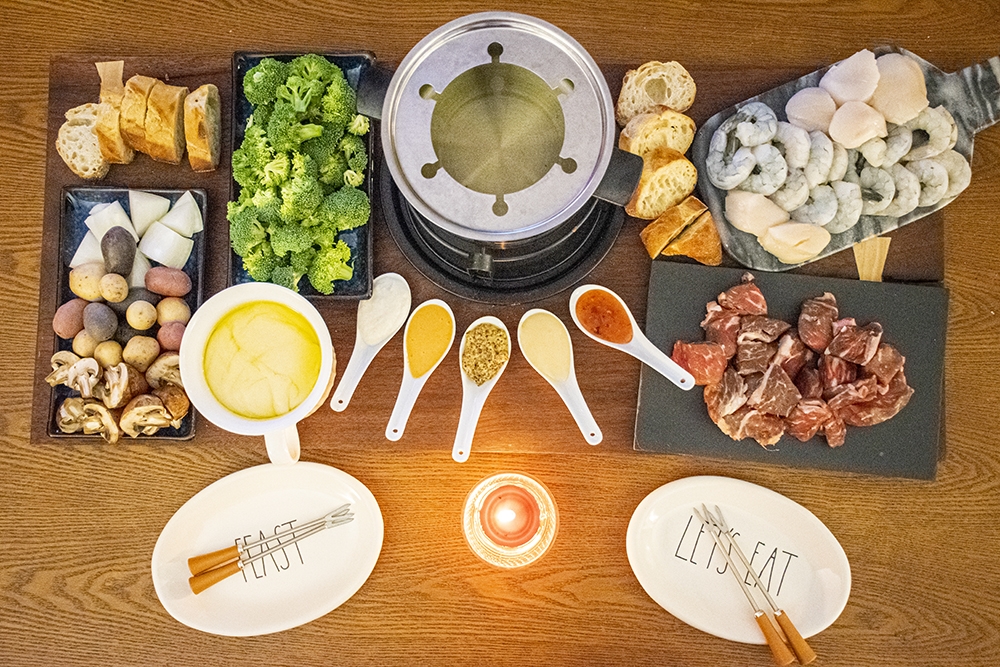 I don't know about you but I'm ready for fondue nights to be a tradition for a long, long time.
It's fun, romantic – AND DELICIOUS.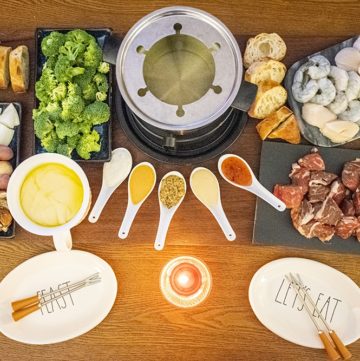 Fondue Night at Home (For Two!)
How to have a fondue night at home and what to serve with fondue! It's much easier than you might think!
Equipment
fondue forks

serving plates for raw food

serving plates for cooked food
Ingredients
16

oz

prime rib, filet mignon or ribeye

cut into 1×1 thick pieces

16

oz

raw shrimp

peeled & tail on

6

large scallops

16

oz

broccoli florets

8

oz

roasting potatoes

8

oz

onion

chopped

1

loaf

crusty bread

2

cups

cheese fondue

optional

2

tablespoons

creamy horseradish

2

tablespoons

whole grain mustard

2

tablespoons

honey butter

2

tablespoons

yum yum sauce

2

tablespoons

Thai ginger chili sauce

2

cup

vegetable oil
Instructions
Heat 2 cups of vegetable oil in a pan on the stove until shimmering hot (about 350/375 F). Carefully transfer hot oil to the fondue pot over a burner. Use the burner flame to adjust the temperature of the oil while cooking.

Cut the steak into bite size pieces; peel and devein the shrimp; wash the potatoes; etc. Prepare the raw ingredients on separate plates.

Serve ingredients around the oil fondue pot so that all of the items are within arms reach of the hot pot and the serving plates. Take care to keep cooking skewers away from eating utensils.

Serve with crusty bread, cheese fondue and other fresh vegetables that can be dipped in cheese. Enjoy!
RECOMMENDED COOK TIMES:
Steak: Rare: 1-2 minutes / Medium Rare: 2-3 minutes / Medium: 3-4 minutes / Well Done: 4+ minutes

Shrimp: 30-90 seconds for small shrimp / 2-3 minutes for large shrimp

Scallops: 3-4 minutes for large scallops / 1-2 minutes for smaller scallops

Broccoli: 30-60 seconds

Roasting Potatoes: 4-5 minutes

Onions: 2-3 minutes

Mushrooms: 1-2 minutes