French-Caribbean Garlic Toast
The Starving Chef is supported by Hungry People like you. When you make a purchase through an affiliate link on my site, I may earn a little bit of cash on the side (at no extra cost to you) to help keep my kitchen running. Read our disclosures here.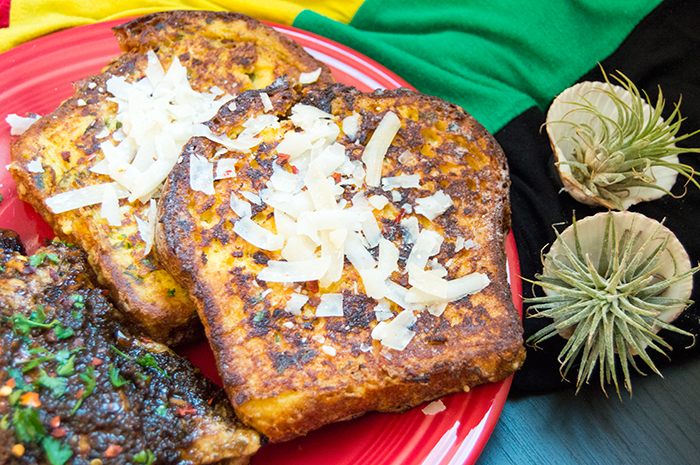 Last autumn, Nick, myself, and some of our friends decided to go on a Western Caribbean cruise that stopped in such places as Mexico, Honduras, and Belize. While in Belize, we traveled to a small island known to the locals as "Go Slow Island" seemingly in the middle of the ocean.
There we ate at a small restaurant where I'm sure they got all of their seafood fresh off the reef just off shore. I had a lobster kabob, fresh cole slaw, and this amazing garlic bread that I can describe only as "garlic French toast" – instead of being sweet and covered with syrup, this big slice of bread was soaked in garlic and butter instead. And it. was. amazing. (And this is the only picture of that I got – check the back right of the plate:)
Ever since this encounter, I have vowed to make it for myself someday. Well folks, it only took nine months, but I'm finally getting around to it. Using some ingredients I picked up from my local farmers market, I set upon making me some garlic French toast.
While the bread used on the island was likely not Brioche, but probably a similar soft bread instead, I used Brioche bcause it's traditionally the best bread to make French toast with. You can use whatever type of white bread you have on hand, even stale, day old bread is perfect to use for French toast too.
The bread should be at least an inch thick. Just whisk together the eggs, garlic, and parsley, then toss in the bread. The thicker the bread, the longer the bread should soak in the garlic and egg mixture – but I recommend letting the bread soak (flipping once to cover evenly) for at least 3-5 minutes. Then just slap it on a skillet over medium heat until golden brown on each side.
I served mine with some jerk chicken, because unfortunately, real lobster wasn't in the budget this week (or like, ever).
French-Caribbean Garlic Toast
A garlicky French-Caribbean toast recipe inspired by a trip to Belize.
Ingredients
4

slices

thick cut brioche OR French bread

3

eggs

½

cup

milk

3

tablespoons

garlic

minced

1

tablespoon

fresh parsley

Parmesan cheese

optional for topping
Instructions
Cut the bread into slices 1-2 inches thick. In a medium sized bowl, whisk together the eggs, milk, garlic, and parsley.

Place each slice of bread into the bowl and soak for 3-5 minutes, flipping at least once to ensure an even coating of egg and garlic.

Heat a skillet over medium heat and grease with oil or butter. Fry the bread for 2-3 minutes per side, or until golden brown and cooked through. The bread should be slightly soft and still springy in the center. Sprinkle on Parmesan cheese, as desired. Serve hot and enjoy!