French Inspired Charcuterie Board
The Starving Chef is supported by Hungry People like you. When you make a purchase through an affiliate link on my site, I may earn a little bit of cash on the side (at no extra cost to you) to help keep my kitchen running. Read our disclosures here.
Looking for an easy and romantic way to celebrate Valentine's day with your love? Charcuterie is super trendy right now, but not many people know the origins of charcuterie or what a platter absolutely *needs* to have to even be considered charcuterie.
Turns out, charcuterie is the most romantic meal you can make. I have had the pleasure of dining on charcuterie in Paris, France – which is where the word "charcuterie" comes from in the first place.
After getting engaged at the Louvre, my boyfriend-turned-fiance (now husband) and I took a lovely stroll along the Seine before stopping at a little restaurant for a little bit of a celebatory snack.
And as they say in France c'est la vie.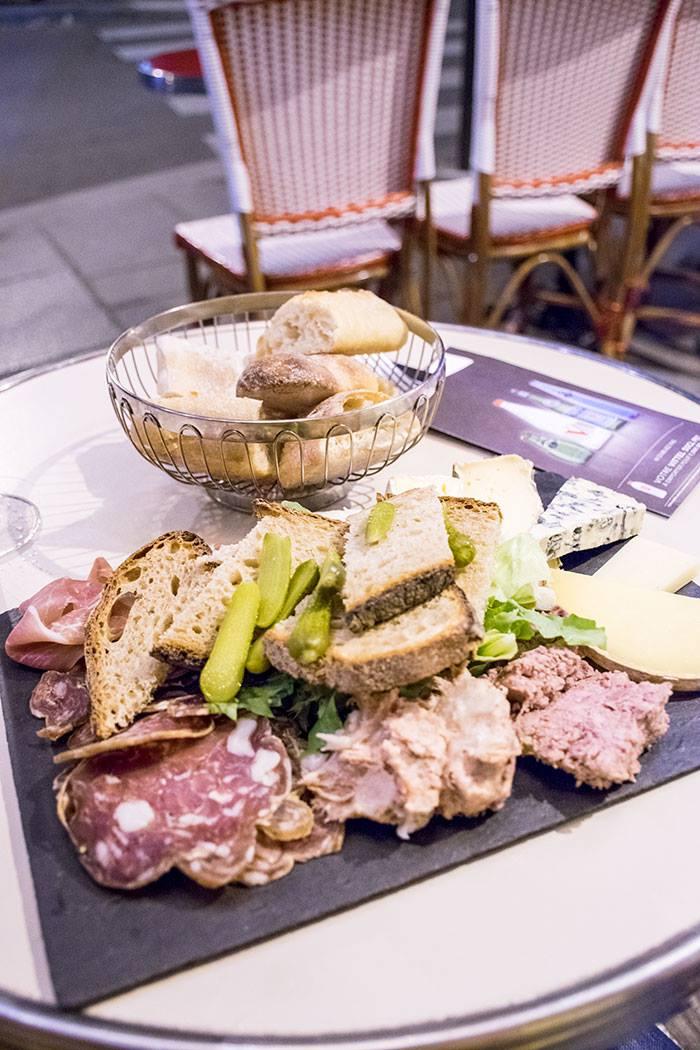 Our charcuterie spread came with fresh baguette and croustini as well as an assortment of sweet and funky cheeses; crazy tangy cornichons (aka gherkins – or little sweet/sour pickles); cured meats like prosciutto; and foie grois tarrine and tuna pâté to top it all off.
Tell me that isn't the most romantic meal you can have after getting proposed to by the love of your life – and then getting to dine with this view afterwards:
Paris is truly the city for lovers after all.
Since we've spent the last year trapped inside (thanks, 2020), I've really had the hankering to travel but we just… can't. So inspired by our love and adventures, I decided to bring Paris to us – in the form of an extra fancy charcuterie spread.
In France, escargot is everywhere. It's one of those weird things most Americans would turn their noses up at – eating SNAILS?!
But the French absolutely love their escargot. I was fortunate enough to find fresh escargot at my local grocer – it's not always an option, so I definitely got lucky. Ask your local stores or seafood markets about escargot. It's probably easier to find than you think.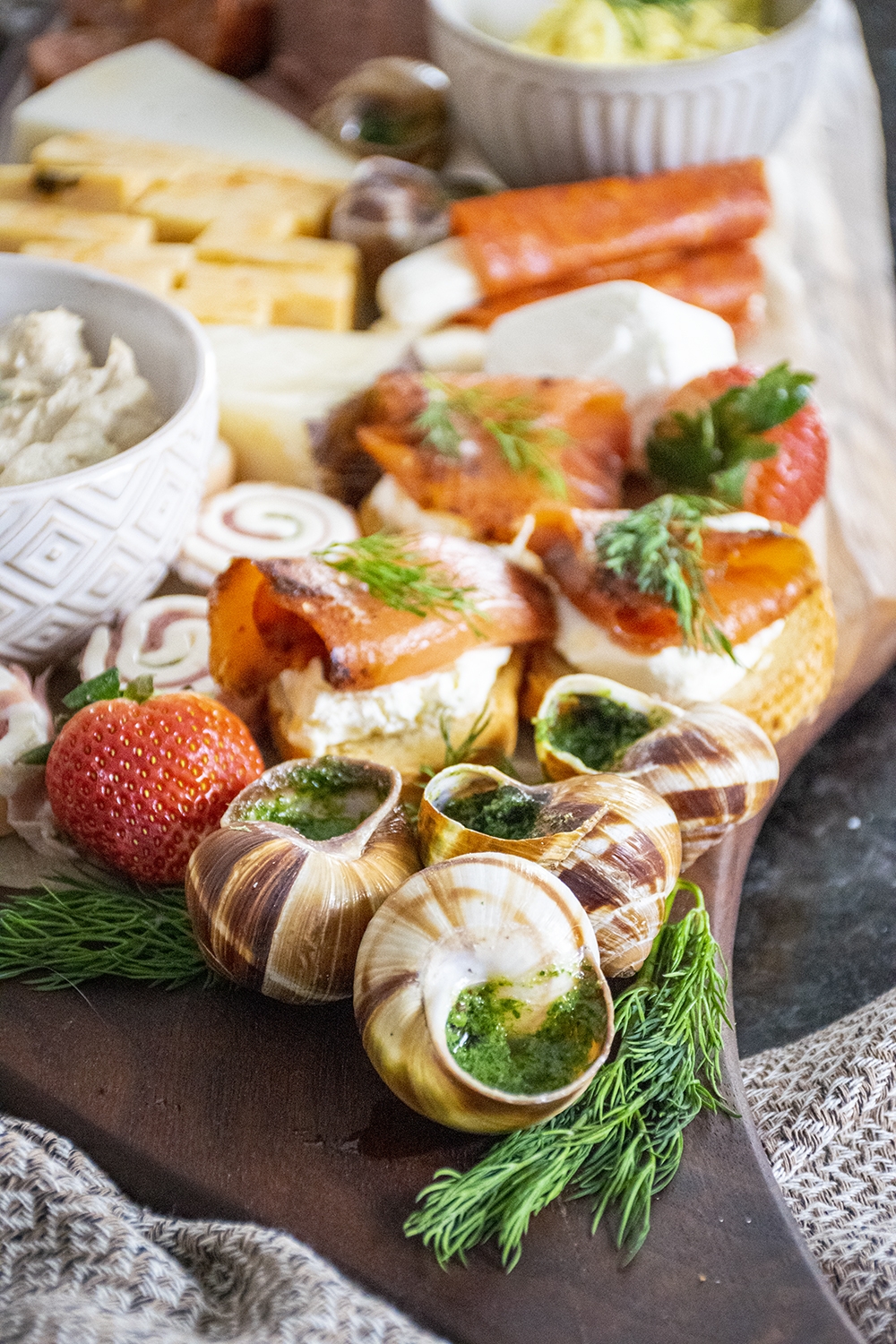 Escargot sort of tastes like a soft cooked mushroom (the texture of the snail itself) and is mostly umami; and the shells are usually packed with herbed butter and pesto which is where a majority of the flavor comes from.
Supposedly, snails are also a powerful aphrodisiac. Need I say more?
Since our board was meant to be extra fancy – and not a literal recreation of the charcuterie we had in Paris – I made sure to include a ton of extra samplers of other forms of Americanized "pâté."
The closest I can equate what we ate in Paris is a tuna salad rather than a pâté, so I also included chicken salad in our spread in addition to tuna salad.
I also added a little bowl of egg salad – because why not. And you can sometimes find salad samplers with all three: tuna salad, egg salad and chicken salad. Why those are a thing is beyond me…
I even managed to score a package of authentic goose pâté from my local store – I found it with the fancy meats and cheeses by the deli, which is a great place to find delicious and new things to try!
Other BITES On My Board:
pepperoni wrapped mozzarella
smoked salmon & cream cheese on coustini
rolled brie, prosciutto and basil bites
What kinds of cheese should you use?
Again, exploring the 'fancy cheese' section of your local grocery is a great place to start. You can find common cheeses like pepperjack and cheddar over by the shredded cheese and dairy; the whole point to the 'fancy cheese' section of the deli is to highligh artisan cheeses that are extra special.
Trying a range of 'softness' is one way to get a nice range of variety and flavors. So I grabbed a soft goat cheese, creamy brie, a spicy habanero cheese and a couple choices of firm Spanish manchego cheese.
Along with the cheese, I also included a few straberries – but slices of apple and other berries like raspberries are the *chef's kiss* to the perfect cheese spread.
What does my board need to OFFICIALLY be called charcuterie?
In the name of authenticity, in order for your board to actually be considered charcuterie you MUST HAVE cured meats of some kind. This can include anything from prosciutto to pepperonis.
But yes – if your spread doesn't include some sort of cured meat it can only be called a "cheese board" or a "meat and cheese board" if you have meats that aren't cured.
I'd argue…semantics. Especially when you are eating charcuterie in America. I've found that "cheese board" is interchangable with charcuterie at this phase. Sure, there are die hard cheese board enthusiasts out there who will choose this particular hill to die on – but I'm gonna go ahead and give everyone permission to use charcuterie to describe their cheese boards from here on out.
You heard it here first.
C'est la vie!
French Inspired Charcuterie Board
Charcuterie is a romantic form of finger food that originated in France. It's a super simple way to serve something impressive to your feature beaux.
Ingredients
IDEAS FOR A FRENCH CHARCUTERIE SPREAD:
French baguette, cut into thick slices

toasted croustinis

tuna pâté or tuna salad

goose pâté or foie gras terrine

pork terrine

chicken salad

egg salad

sweet gherkins

escargot

smoked salmon, cream cheese & croustini

brie

manchego

goat cheese

spicy habanero cheese

pepperoni wrapped mozzarella

prosciutto, basil & mozzarella bites

thick sliced pepperoni

prosciutto

cappicola

strawberries
Instructions
Arrange the items on a large wooden board or serving platter. Serve at room temperature with fresh baguette and croustini on the side. Bon appetit!