The Best Garlic-Lemon Shrimp Packet for Outdoor Cooking
The Starving Chef is supported by Hungry People like you. When you make a purchase through an affiliate link on my site, I may earn a little bit of cash on the side (at no extra cost to you) to help keep my kitchen running. Read our disclosures here.
What's Up, Hungry People!
Summer is quickly closing in on us, and you know what that means—I'm gathering up all my go-to campfire recipes for some cozy outdoor cooking in our new backyard!
The past few weeks—and let's be real, the next few—are hectic as all get-out. But hey, I managed to sneak away for some well-deserved R&R in my hometown. I couldn't resist using my parents' fire pit to whip up a backyard bonfire feast, a three-course extravaganza that knocked their socks off.
The Bonfire Bounty
So, what's on the menu, you ask? A bit of everything, to be honest! I loaded up the bonfire with a smorgasbord of flavors. Think chicken and veggies, succotash, potatoes, and yeah, some desserts because we're not savages. But the show-stealer was the appetizer—a foil packet loaded with shrimp, garlic cloves, freshly squeezed lemon juice, and a good ol' pat of butter.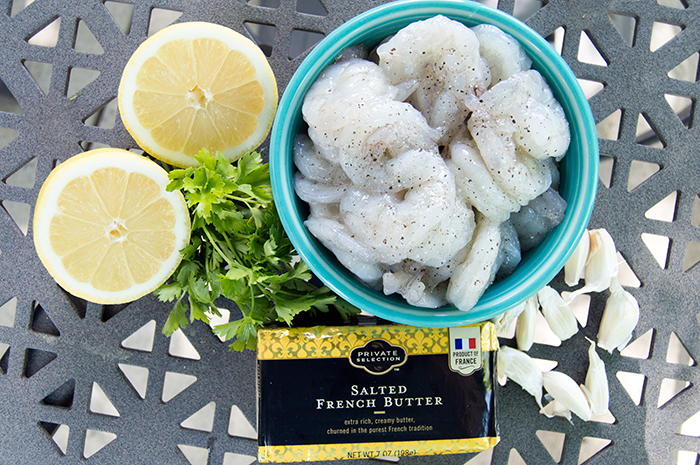 Here's What You Need
Shrimp: The star of the show, shrimp provide the main protein and flavor in this foil packet dish.
Garlic: Minced garlic adds a robust and aromatic punch, complementing the shrimp and other ingredients.
Lemon: Freshly squeezed lemon juice adds tanginess and brightness, cutting through the richness of the butter.
Salted Butter: The butter enhances the dish's texture and infuses the shrimp with a creamy, rich flavor.
Parsley: Freshly chopped parsley gives the dish a pop of color and a subtle herby flavor, balancing out the richness.
Salt & Pepper: These seasonings are essential for enhancing the flavors of all the other ingredients.
Prepping the Shrimp Packet
Creating the foil packet is simple, but there's an art to it. You want to flatten it out so that the shrimp are nearly in a single layer. This helps them cook evenly, and trust me, these bad boys cook fast.
Timing is Everything
You'll want to flip the packet just once, roughly about 5 to 10 minutes into the cooking process. After that flip, give it another 5 minutes and you're good to go. You're looking for that happy pink color, signaling that your shrimp is cooked to perfection. When it comes to cooking shrimp, especially over an open fire, timing really is everything. A minute too long, and you might as well be chewing on rubber.
Tips for Shrimp Packets on a Camp Fire
Choose the Right Shrimp: Opt for large or jumbo shrimp for a meatier bite and easier handling on the grill or coals.
Foil Matters: Use heavy-duty aluminum foil to prevent tearing and leakage of juices during cooking.
Temperature Check: If you have a food thermometer, shrimp should reach an internal temperature of 145°F for safe consumption.
Even Layering: Make sure the shrimp are in a single layer for even cooking. Overlapping could result in unevenly cooked shrimp.
Garlic Burn Alert: Keep an eye out to ensure that the garlic doesn't burn. Burnt garlic has a bitter taste that could ruin the dish.
Don't Overcook: Shrimp cook quickly, so keep tabs on the time to avoid rubbery shrimp.
Substitute Herbs: If you're out of parsley, consider using fresh cilantro or chives for a different flavor profile.
Butter Swap: In a pinch, olive oil can replace butter, though it will alter the taste slightly.
Peeling and Deveining: If you're new to preparing shrimp, there are many tutorials available online to guide you through peeling and deveining.
Test One First: If you're unsure of your cooking time, consider doing a test run with one or two shrimp before cooking the whole batch.
And just like that, you're all set to rock your next campfire or backyard grill session with this shrimp packet recipe. Armed with these tips and ingredient insights, you're more than ready to impress. Keep those fires burning and those bellies full, Hungry People! Enjoy!
Garlic Butter Shrimp Packet | Campfire Cooking
This sizzling summer shrimp packet is a fuss-free appetizer that brings together garlic, lemon, and buttery goodness, all cooked to perfection on an open fire or grill.
Ingredients
16

oz

raw shrimp

peeled & tails removed

10

cloves

garlic

minced

1

lemon

juiced

5

tablespoons

salted butter

⅓

cup

fresh parsley

chopped

salt & pepper

to taste
Instructions
Preheat an open fire for about two hours to achieve hot coals (or preheat a grill to the highest temperature). Peel and devein the shrimp. Remove all tails. Create a square 10×10 sheet of foil.

Arrange the shrimp on the foil in the center, spreading to an equal layer. Toss in the cloves of garlic, parsley, butter, and salt and pepper. Then wrap the shrimp tightly in foil.

Place the foil packet directly in the coals or onto a preheated grill. Flip after about five to ten minutes. Cook for another five minutes, or until the shrimp have all turned pink and have cooked through.

Serve alongside chicken packets, sm'nanas and other campfire delicacies. Enjoy!