Geode Cookies
The Starving Chef is supported by Hungry People like you. When you make a purchase through an affiliate link on my site, I may earn a little bit of cash on the side (at no extra cost to you) to help keep my kitchen running. Read our disclosures here.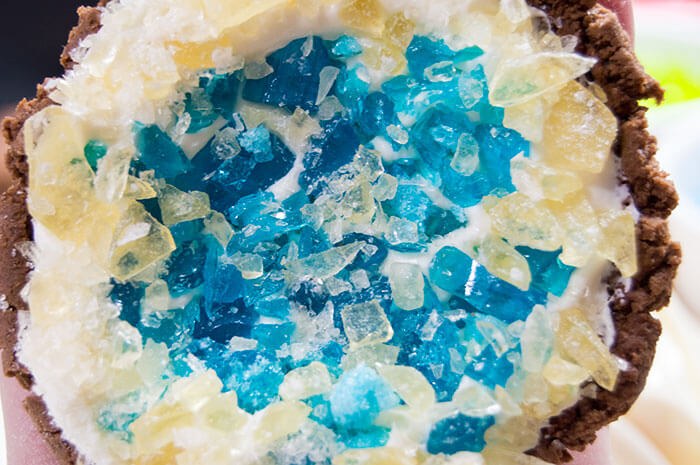 Geodes are nature's little treasure troves. Crack one open and you'll find it is lined with sparkling minerals and crystals. But when it comes to geode cookies, you're in store for a much sweeter surprise!
In my geodes, icing is used to keep the stone shaped cookied filled with crushed Jolly Ranchers and homemade caramel sugar.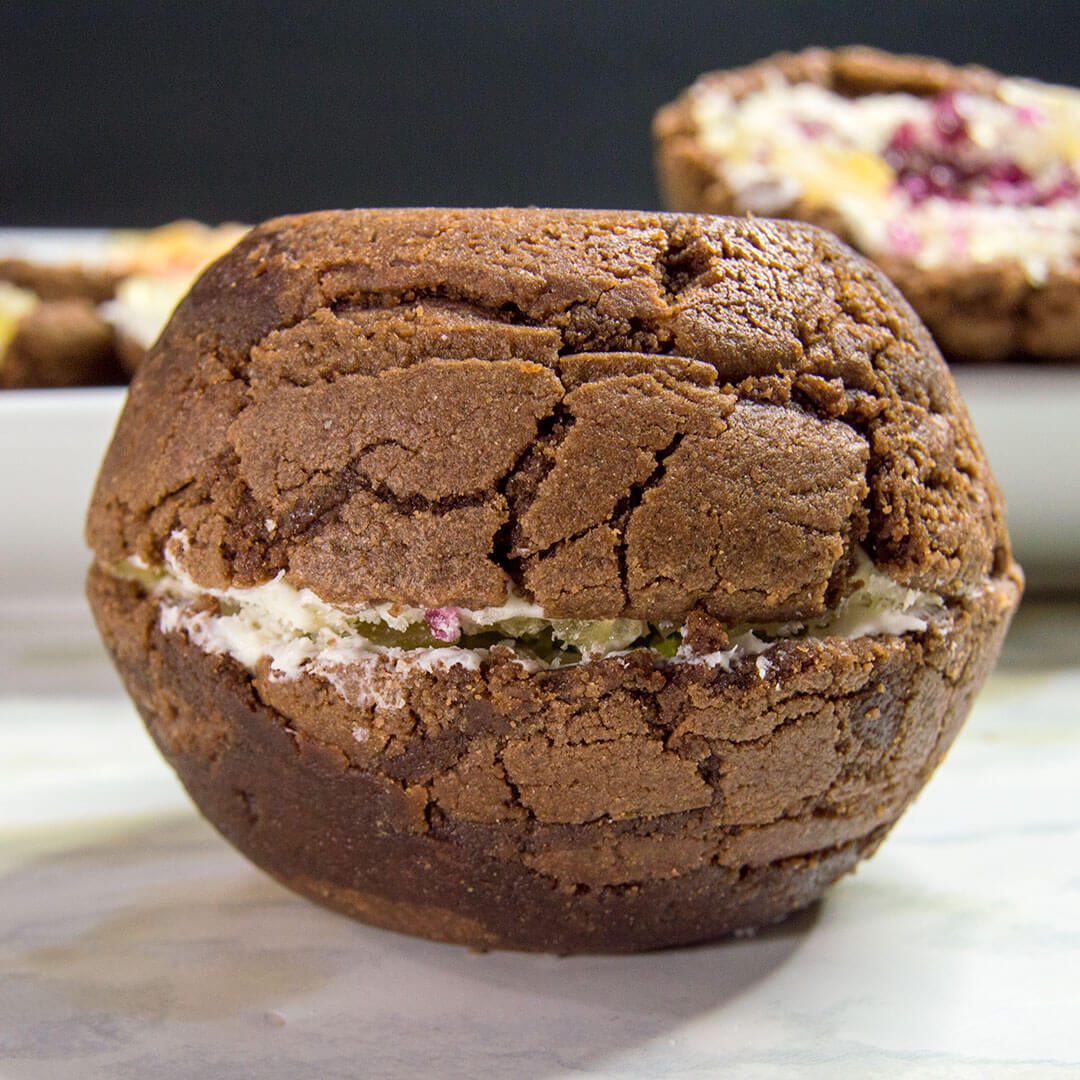 I used small custard cups to make the concave shape of the cookies – by cooling them inside and pressing into shape for a rocky-looking exterior.
To make the caramel sugar, I used a 2:1 sugar to water ratio and brought it to 300 F in a small pot then poured it onto a silicone mat on a cookie sheet and cooled it completely. If done correctly, the sugar will have barely a yellow-ish/caramel-ish color tint to it and be incredibly brittle.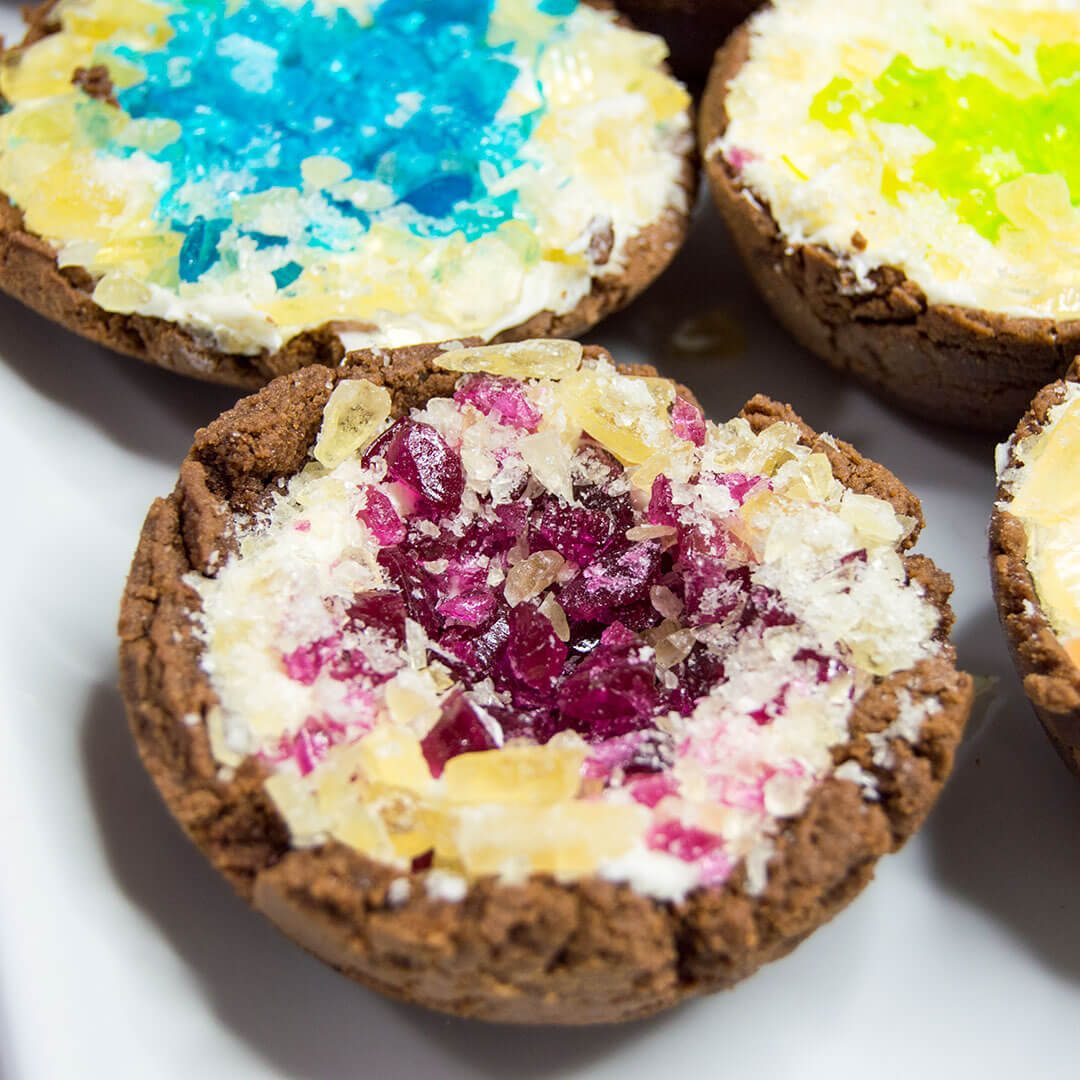 As with the Jolly Rancher, crush the caramel sugar into small shards. Use the colorful candies on the inside and line the outer edges with the clear crystal sugar. Like real geodes, the colors start in the middle and work their way out to a rocky edge – in these geodes' case, a delicious chocolaty cookie shell!
Geode Cookies
In my geodes, icing is used to keep the stone shaped cookied filled with crushed Jolly Ranchers and homemade caramel sugar.
Ingredients
FOR COOKIES:
2

cups

butter

room temperature

2

eggs

room temperature

2

cups

flour

1

cup

unsweetened cocoa powder

½

teaspoon

baking soda

1

teaspoon

salt

1

teaspoon

vanilla

2

bags

Jolly Ranchers

or hard candies, assorted color & flavors
Instructions
The night before making the cookies, bring two cups of sugar and one cup of water to a rapid boil. Do not stir. Once the sugar mixture has reached 300 F, quickly pour it onto a silicone mat in a thin, even layer. Let cool overnight. Break the solid sugar into shards then place in a plastic baggie. Use a meat mallet or the bottom of a pan to smash the sugar into small, pebbled sized pieces. Try not to over-crush – you want a small pebble to powder mix in size.

Preheat the oven to 350 F. In a large bowl, beat together the sugar, butter and eggs until smooth. Stir in the flour, baking soda, sea salt, vanilla and cocoa powder until a thick and sticky dough forms. Use an ice cream scoop to measure out 6-8 balls of dough per baking sheet. Bake for 10-12 minutes.

Remove the cookies from the oven. Let the cookies rest for about five minutes then transfer to rounded custard bowls or similar concave shapes. Gently press another bowl into the middle of the cookie to help evenly distribute the cookie while it finishes cooking. Let the hot cookie dough cool completely in the custard bowls. Use a knife along the edge to loosen the cookies from the bowls when cooled.

While the cookies cool, sort the Jolly Ranchers into individual colors and place inside plastic baggies. Use a meat mallet or pan to crush the candies into small shards. Make your favorite vanilla icing recipe or use premade vanilla icing – spoon into a piping bag.

Pipe the interiors of each cookie with a thin layer of icing. Press the crushed Jolly Ranchers in the center and the caramel sugar around the edges. Press until the candies are secured in the icing. Chill until ready to serve. Place color coordinated halves on top of the cookies, as desired for a "real" geode effect. Enjoy!
Video