Ginger Shrimp Spring Rolls
The Starving Chef is supported by Hungry People like you. When you make a purchase through an affiliate link on my site, I may earn a little bit of cash on the side (at no extra cost to you) to help keep my kitchen running. Read our disclosures here.
We've breezed right through spring here in Northeast Ohio. In less than three weeks we've gone from seven inches of snow to now almost ninety degrees outside. While my mind and body play catch up to the weather, I've been craving all the fresh flavors of the season – and what better way to celebrate the warmer weather than with some spring rolls?
Stuffed with tangy shrimp, crisp romaine lettuce, and fresh fruits and veggies, these spring rolls were deliciously light and filling at the same time. Perfect for an appetizer or an entire meal.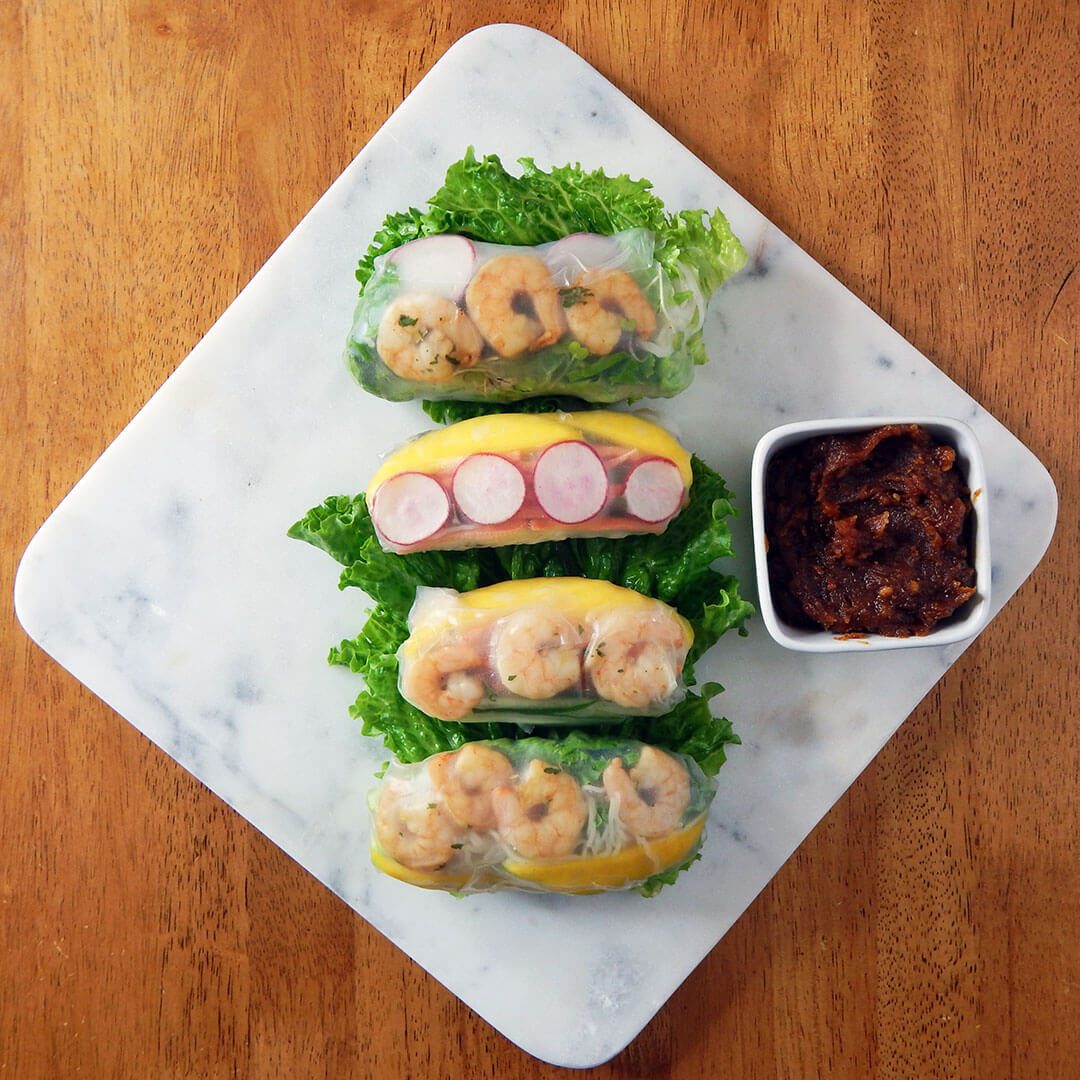 Nick has been obsessed with peanut sauce lately and requests it repeatedly – so to finally indulge his tastes, I made a spicy peanut butter chili sauce, which became an optimal counter flavor to the fresh and sweet spring rolls.
Quick tip: use a full leaf of lettuce to help contain the fillings before wrapping it in rice paper! It keeps the fillings nice and tight inside the roll and makes the entire thing easier to roll.
I got a little creative with the fillings of my spring rolls. From vermicelli rice noodles and microgreens to mangoes and cucumbers, fresh root veggies and more! You can customize the spring rolls any way you like – just chop up your favorite salad ingredients and serve with your favorite dipping sauce!
Ginger Shrimp Spring Rolls
Stuffed with tangy shrimp, crisp romaine lettuce, and fresh fruits and veggies, these spring rolls were deliciously light and filling at the same time.
Ingredients
10

spring roll wrappers

16

pz

shrimp

cooked & peeled

1

tablespoon

rice vinegar

2

tablespoons

ginger

finely minced

3

tablespoons

soy sauce

1

tablespoon

cilantro

1

cup

creamy peanut butter

2

tablespoons

garlic

minced

1

tablespoon

sriracha

1

tablespoon

sambal olek

(chili paste)

1

tablespoon

fish sauce

1

tablespoon

coconut oil

optional

2

cups

water

1

cup

English cucumber

julienned

1

cup

mango

sliced

½

cup

carrot

julienned

½

cup

spicy microgreens

optional

4

cups

verminecelli rice noodles

cooked & chilled

2

radishes

sliced thin

4

cups

romaine lettuce
Instructions
If starting with raw shrimp, boil the shrimp for 2-3 minutes or until pink and cooked through. Reserve the hot water. Add the vermicelli noodles to the hot water for 2-3 minutes or until softened. Remove and place in an ice bath until ready to use.

In a small bowl, whisk together the rice vinegar, soy sauce, cilantro and ginger. Season the cooked shrimp with salt and pepper. Pour the ginger sauce over the shrimp, chill and marinate for at least thirty minutes.

Using another small bowl, microwave the peanut butter for thirty seconds. Stir in the minced garlic, sriracha, sambal olek and soy sauce (and fish sauce, if using). Stir until creamy. If the sauce is too thick, add one tablespoon of coconut oil and heat until and restir the peanut sauce until smooth.

Fill a pie pan with water. Place a single sheet of rice paper into the pan for 3-5 seconds. The rice paper should feel slimy and still slightly hard. It will continue to soften as it sits. Transfer the wet rice paper to a plate.

Place the desired fillings, from cucumbers, mangoes, radishes and carrots in the center of the wrapper. Any "pretty" fillings you want visible should be on the bottom layer, touching the rice paper. Use individual leaves of romaine lettuce to wrap up the vermicelli noodles and other ingredients.

Fold over two sides of the rice paper wrapper so that it is almost touching in the center. Use the remaining side closest to you to wrap around the fillings in the center. Tuck the edge under the fillings and continue to roll until the all the fillings are wrapped up and it looks like a spring roll.

Chill until ready to serve or serve at room temperature alongside the spicy peanut sauce. Enjoy!
Video