Ginny Weasley's Paprikash | Harry Potter Inspired Recipes
The Starving Chef is supported by Hungry People like you. When you make a purchase through an affiliate link on my site, I may earn a little bit of cash on the side (at no extra cost to you) to help keep my kitchen running. Read our disclosures here.
"Yeah, size is no guarantee of power," said George. "Look at Ginny."
"What d' you mean?" said Harry.
You've never been on the receiving end of one of her Bat-Bogey Hexes, have you?"
– Order of the Phoenix
We continue Harry Potter week in the home of Harry Potter himself along with Ginny Weasley. If you aren't caught up on all the Harry Potter books/movies, be warned there may be mild spoilers in this post!
Harry and Ginny's relationship – while glossed over in the movies – is fleshed out further in the Cursed Child, which takes place nineteen years after the Battle for Hogwarts. Harry and Ginny seem to have a happy little family, even if one of their kids is named Albus Severus Potter (I mean, they basically set their child up to be uncool with a name like that).
I'd like to think that Ginny inherited her mother's cooking skills and would serve up hearty homestyle meals in true Weasley family fashion.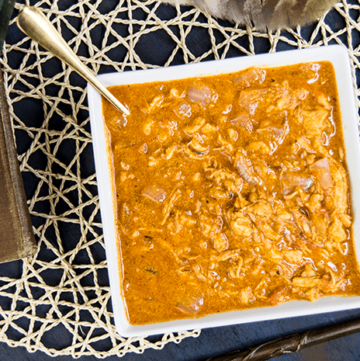 Ginny Weasley's Paprikash | Harry Potter Inspired Recipes
A paprikash recipe fit enough for a Weasley!
Instructions
Bring a large pot of water to a boil. Add the chicken breasts and boil until cooked through and most of the water has evaporated, about 25-30 minutes.

Place the boiled chicken breasts in a large bowl. Use a hand mixer to shred (or alternatively use two forks and hand shred). Season with salt, pepper and 3 tablespoons of paprika.

Pour out the water used to boil the chicken and return to the heat. Add two tablespoons of butter. When frothy, add the onions and stir until softened, about 3-4 minutes.

Add the tomatoes to the pot. Bring to a rolling simmer and cook until most of the liquid has evaporated. Stir in the flour to further absorb the liquid. Add the 1/3 cup of Hungarian paprika and stir until everything in the pot is covered.

Pour the broths into the pot. Bring a simmer for about ten minutes. Add the shredded chicken to the pot and heat through, about another 5-10 minutes. The soup should be bubbling.

Remove the soup from the heat and stir in the Greek yogurt until the soup is a light orange-red in color. Season with salt and pepper to taste and garnish with fresh parsley, as desired. Enjoy alongside your magical family as they prepare to return to Hogwarts.