Green Bean & Mushroom Casserole
The Starving Chef is supported by Hungry People like you. When you make a purchase through an affiliate link on my site, I may earn a little bit of cash on the side (at no extra cost to you) to help keep my kitchen running. Read our disclosures here.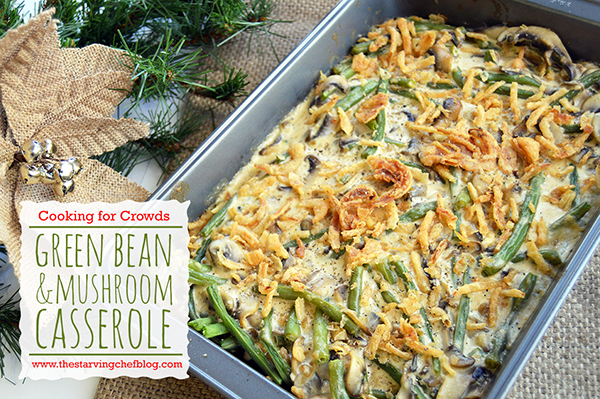 What's Up, Hungry People!
Tis the season for cozy gatherings with family and friends! If you're anything like me, you adore cooking, but when the holidays roll around, all you really want is to snuggle up in a blanket by the fire, reminiscing about holidays past. Well, fear not, my fellow food enthusiasts, because I've got a game-changer for you: the magic of casseroles!
Seriously, if you haven't hopped on the casserole train, now's the time! With minimal effort and a cooking time that won't keep you away from the festivities for too long, you can spread joy without having to shout from the kitchen.
Speaking of spreading joy, let's talk about casseroles as side dishes. They're your secret weapon, especially when you're feeding a hungry crowd that's devouring everything in sight, from rolls to cornbread stuffing and still wanting more. In my household, green beans are a true favorite, and they even make their way into our garden during the sunny summer months. Now, while I might not have developed the same affection for green beans as my family has, I'm absolutely willing to make an exception for this incredibly flavorful green bean & mushroom casserole.
Here's What You Need:
Fresh green beans: Main vegetable component, offers crunch and freshness.
White mushrooms: Adds earthy flavor and texture.
Chicken broth: Forms base of flavorful sauce.
Heavy whipping cream: Creates creamy, luscious sauce.
Flour: Thickens and helps bind the sauce.
Butter: Adds richness and enhances sautéed mushrooms.
Garlic, minced: Infuses aromatic depth into the sauce.
Spicy brown mustard: Provides zesty and tangy notes.
Paprika: Introduces smoky flavor and vibrant color.
Cayenne pepper: Offers a subtle, warming heat.
Salt & pepper: Balances and enhances overall taste.
Fried onions: Adds crispy texture and savory topping.
Let's Cook!
I've learned that making casseroles as side dishes can be particularly helpful too, especially if you are cooking for a crowd who will certainly scarf down all of the rolls and cornbread stuffing and still demand more food. My family is particularly fond of green beans and even grow them in their garden in the summer. While I may not have acquired the taste for green beans like they have, I'll definitely make an exception on my palette for this delicious green bean and mushroom casserole.
Let's start our culinary journey by preparing those vibrant green beans. Snap off the tips and break any long beans in half. To keep them delightfully crisp and avoid mushiness, blanch them briefly in boiling water and then transfer them to an ice bath.
Now, onto the mushrooms! In a spacious skillet, melt some butter and toss in those lovely slices of mushrooms. Allow them to release their moisture before introducing the dynamic trio of paprika, cayenne pepper, and garlic, followed by the zesty embrace of brown mustard.
You'll notice the mushroom mixture has a slightly liquid consistency at this stage. Don't fret! Let it simmer for a few minutes, and like magic, some of that excess moisture will take its leave.
Now comes the floury transformation. Give those mushrooms a good coat of flour until a crumbly mixture forms, and then pour in the chicken broth. Watch as it thickens into a luxurious sauce that's pure comfort in every bite.
The scent alone is enough to make your taste buds dance! If you're feeling adventurous, imagine this mushroomy elixir over pasta or perhaps as a splendid substitute for chicken marsala when you're running low on wine.
Once the sauce has reached a delightful thickness, let it simmer a tad longer before dialing down the heat. Time to introduce the heavy cream and sour cream into the mix. Stir away until the creams meld seamlessly into the sauce, creating a symphony of flavors that'll have you salivating!
Finally, the moment we've been waiting for! Grab your trusty casserole pan and pour in those perfectly blanched green beans. Now, generously pour that luscious mushroom sauce all over them, coating every nook and cranny. Pop the casserole into the oven and let it bake for 25-30 minutes, until the top transforms into a bubbling masterpiece, with just a hint of golden brown peeking through.
Feeling fancy? Add some satisfying crunch with crispy fried onions (the ones from the salad aisle are a winner) or even sprinkle on a bit of mozzarella cheese. Regardless of your topping choice, this green bean casserole is a true testament to simplicity meets delectable deliciousness!
Helpful Tips for Making Green Bean Casserole
Fresh Green Beans: Look for firm, vibrant beans with minimal blemishes for the best texture and flavor.
White Mushrooms: Cremini mushrooms are a great choice; they offer a deeper flavor compared to button mushrooms.
Chicken Broth: Opt for low-sodium broth to control the overall saltiness of the dish.
Flour: All-purpose flour works perfectly, helping thicken the sauce and bind the ingredients.
Additional Tips:
Blanching Green Beans: After blanching, pat the green beans dry to prevent excess moisture in the casserole.
Sautéing Mushrooms: Allow mushrooms to caramelize slightly for a richer flavor profile.
Seasoning: Taste and adjust the seasoning of the sauce before pouring it over the beans for the perfect balance.
Creamy Texture: Stirring the heavy whipping cream and sour cream ensures a smooth and velvety sauce.
Topping Variation: Try panko breadcrumbs or shredded Parmesan cheese for a unique topping twist.
Troubleshooting:
Sauce Too Thin: If the sauce isn't thickening, create a slurry with a bit of flour and water, then gradually add it to the sauce while stirring.
Overcooking Green Beans: If the green beans are too soft after baking, reduce the blanching time or skip blanching entirely.
Sauce Separation: If the sauce separates, blend it with an immersion blender or whisk vigorously to bring it back together.
Enjoy your culinary triumph, Hungry People, and share the love of good food with your nearest and dearest. Until next time, keep those taste buds tingling and the kitchen adventures rolling.
Green Bean & Mushroom Casserole
Enjoy a delightful blend of green beans and mushrooms in a creamy casserole, topped with a satisfying crunch.
Instructions
Bring a pot of water to a boil. Prepare a large bowl as an ice bath.

Add the trimmed green beans to the boiling water for 2-3 minutes (or until the water starts boiling again).

Remove the green beans and immediately transfer them to the ice bath to halt the cooking process.

Preheat the oven to 375°F (190°C). In a large skillet over medium-high heat, melt the butter and add the sliced mushrooms.

Saute the mushrooms for 4-5 minutes, or until they have started to lose their moisture.

Add the paprika, cayenne pepper, spicy brown mustard, and minced garlic to the skillet with the mushrooms.

Coat the mushrooms in the spices and let them simmer for 2-3 minutes, allowing the garlic to become fragrant. Season with salt and pepper.

Sprinkle the flour into the pan, ensuring the mushrooms are completely covered.

Pour in the chicken broth and bring the sauce to a simmer for 2-3 minutes.

Reduce the heat to low and add the sour cream and heavy whipping cream.

Stir until the creams are fully incorporated. Let the sauce stand and thicken for 3-4 minutes.

In a casserole pan, arrange the blanched green beans on the bottom, filling any open spaces.

Pour the mushroom sauce evenly over the green beans, creating a luscious layer.

Bake the casserole for 25-30 minutes or until the top is bubbling and just beginning to turn golden brown.

For an added touch, sprinkle fried onions or mozzarella cheese on top, if desired. Serve and enjoy!