Gregor Clegane's Smashed Potatoes | Game of Thrones Inspired Recipes
The Starving Chef is supported by Hungry People like you. When you make a purchase through an affiliate link on my site, I may earn a little bit of cash on the side (at no extra cost to you) to help keep my kitchen running. Read our disclosures here.
"The Mountain" – formerly known as Gregor Clegane; and the brother of "The Hound," Sandor Clegane – is arguably one of the most terrifying characters to ever appear in Westeros…and his reputation for smashing things preceeds him…
If you aren't caught up on the most recent season of Game of Thrones – BE WARNED!! There's gonna be BIG OL' SPOILERS IN THIS POST!
We were introduced to the Mountain a few seasons ago during the time which Tyrion Lannister was being tried for the murder of Joffery – a trial, by combat.
Cersei chose Gregor Clegane to represent her son in the combat and Oberyn Martell offered to stand in Tyrion's place…which as we all know, didn't quite work out for the Viper…
I can still hear Ellaria's screams… *shudders*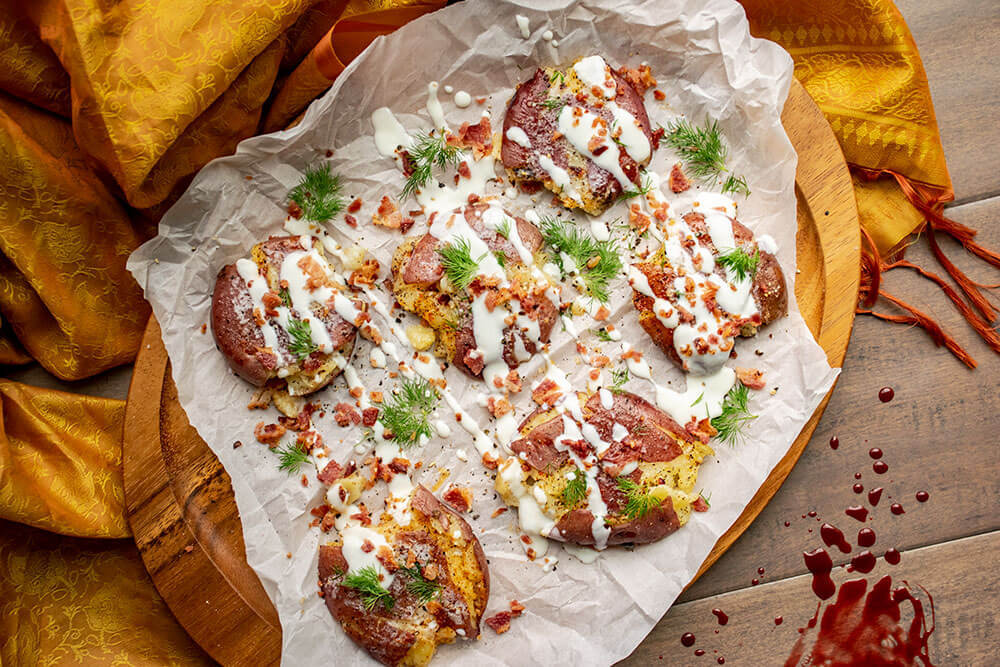 Now I know in Sandor Clegane's recipe for roasted hen that the Hound was the Clegane brother I would want to avoid at all costs; but after this past season, I am fully on #TeamHound for the inevitable CLEGANE BOWL. So get hyped – we'll undoubtedly see the brothers clash some time during the final season.
The reason I say "fomerly known as Gregor Clegane" is because, as far as I can tell, he's dead. He's walking around, but he's dead. But not like, undead, like how the Night King is undead. More like a "Zombie Mountain," if you will.
One might say that the Mountain is twice baked – just like these potatoes. And I suppose after the fall of Westeros, should that happen; if he doesn't join the army of the wights, then he could have a promising career smashing potatoes.
Whatever Qyburn did to the Mountain under the Red Keep is a mystery – Qyburn insists that the Moutain has taken a vow of silence, though personally I think it's more likely that Qyburn is involved in some less-than-savory methods of…magical presevation.
Gregor Clegane's Smashed Potatoes | Game of Thrones Inspired Recipes
One might say that the Mountain is twice baked – just like these potatoes.
Ingredients
12

red skinned potatoes

whole

1

teaspoon

smoked paprika

1

teaspoon

sea salt

1

teaspoon

cracked pepper

½

cup

butter

¼

cup

plain Greek yogurt

3

tablespoons

lime juice

3

strips

bacon

cooked & crumbled

fresh dill

for topping
Instructions
Wash the potatoes of all dirt and remove any eyes or black spots. Place the potatoes into a large pot and cover with water.

Bring the pot of water to a rolling boil. When the water hits a rapid simmer, cook for 20-30 minutes until the potatoes are fork tender.

Preheat the oven to 350 F. Remove the potatoes from the water and allow to air dry for about 5 minutes. Arrange the potatoes on a baking sheet lined with parchment paper or greased lightly.

Use the bottom of a mug or flat-bottomed dish to smash the potatoes flat. Place a pat of butter onto each potato and sprinkle each potato with smoked paprika. Season with the sea salt and cracked pepper, as desired. Bake the potatoes for another 15-20 minutes, until the potatoes are golden brown.

Meanwhile, cook the bacon until crisp. Remove from the skillet and dry on a paper towel lined plate, then crumble or chop finely. Set aside.

In a small bowl, whisk together the lime juice and Greek yogurt until combined. Chill until the potatoes have finished cooking.

Remove the potatoes from the oven and transfer to a serving dish. Sprinkle on the crumbled bacon and give a generous drizzle of the Greek yogurt sauce. Season with salt and pepper, to taste. Garnish with fresh dill for a pop of flavor and color. Enjoy with Qyburn in the Red Keep.