Guacamole Wontons: A Fusion of Flavors
The Starving Chef is supported by Hungry People like you. When you make a purchase through an affiliate link on my site, I may earn a little bit of cash on the side (at no extra cost to you) to help keep my kitchen running. Read our disclosures here.
Guacamole wontons. I'll just let that sink in for a minute. Yes, they are everything you can imagine – and more. In fact, out of the dozen or so I made, not a single one made it through the night.
You can use your favorite guacamole recipe to make these too! Just add some cream cheese and wonton wrappers, and you've got some food fusion happening in your kitchen. The combination of smooth, creamy guacamole with the crispy and delicate wonton wrappers is simply irresistible.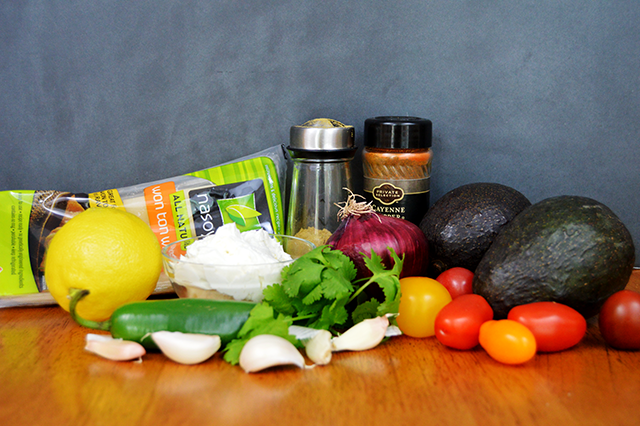 Here's What You Need:
Avocados: Provide a creamy and rich base for the guacamole filling.
Red onion: Adds a savory and slightly sweet flavor to the guacamole.
Cherry tomatoes: Add a burst of freshness and a subtle tang to the guacamole.
Jalapeno: Provides a spicy kick to the guacamole filling.
Garlic: Enhances the overall flavor profile of the guacamole with its aromatic properties.
Lemon: Adds a bright and tangy element to the guacamole while preventing oxidation.
Cream cheese: Creates a creamy texture in the guacamole and helps it set better after frying.
Cumin: Adds warmth and earthy flavors to the guacamole.
Cayenne: Adds a spicy heat to the guacamole, balancing the flavors.
Cilantro: Offers a fresh and herbaceous taste, complementing the other ingredients.
Vegetable oil: Used for frying the wontons, resulting in a crispy and golden brown exterior.
Let's Jump On Into It
To start off, you'll need to whip up a batch of guacamole. I prefer using a potato smasher to ensure a smooth texture, but feel free to use any method you like.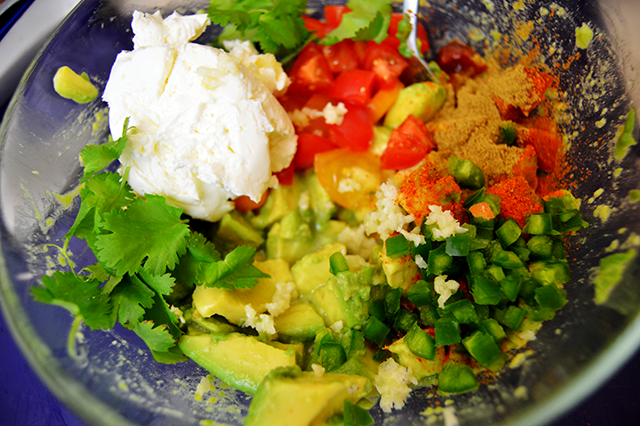 Once the guacamole is ready, it's time to add in the cream cheese. The cream cheese not only adds a touch of richness, but it also helps the guacamole set better after being fried.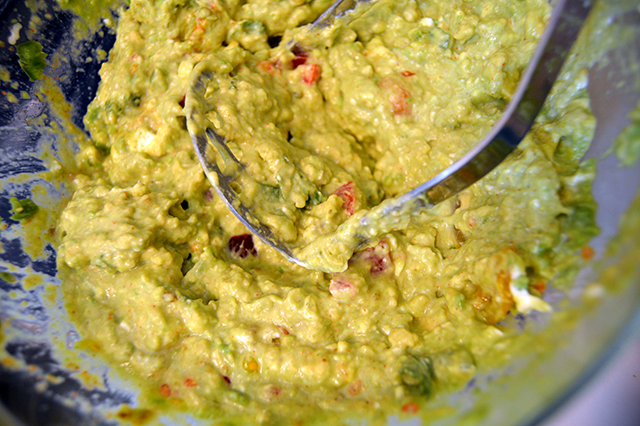 Now, let's assemble these delectable bites. Lay out a wonton wrapper and spoon approximately a half to a full tablespoon of the guacamole mixture onto the center of the wrapper. Be careful not to overfill, as it can make the folding process challenging.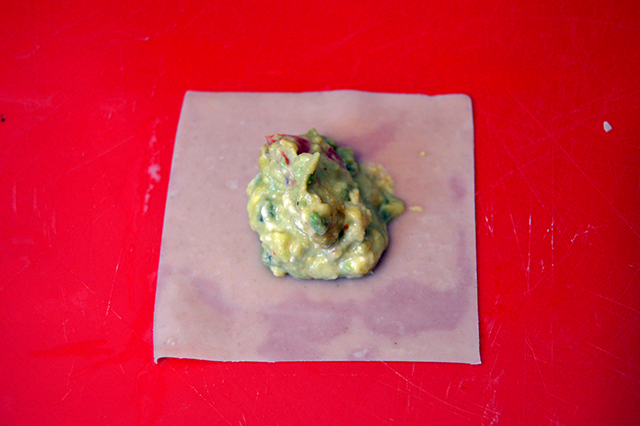 To seal the wontons, dip your fingertips in water and moisten the edges of the wrapper. This step is essential to create a good seal. Now, gently pull together the opposite corners of the wrapper and pinch them together to secure.
Next, bring in the other corners and press to seal the seams. The goal is to create a neatly folded wonton that won't come undone during frying.
When it comes to frying the wontons, you have a couple of options. If you have a deep fryer, that works perfectly. Alternatively, you can use a deep pan with about 1-2 inches of oil. Heat the oil to around 350°F (175°C), ensuring it's hot enough to create a crispy exterior while cooking the filling evenly.
I recommend frying the wontons in small batches, around 2-3 at a time, to prevent overcrowding the pan. As one batch is frying, you can start assembling the next one. It's best not to let the assembled wontons sit for too long before frying them, as the guacamole can make the wonton wrappers soggy if left out for an extended period.
Fry each batch of wontons for about 2-4 minutes, or until they turn a beautiful golden brown color. Keep a close eye on them to avoid burning. Once they're done, use a slotted spoon to carefully scoop them out of the oil and transfer them onto a plate lined with paper towels. The paper towels will help absorb any excess oil and keep the wontons crispy.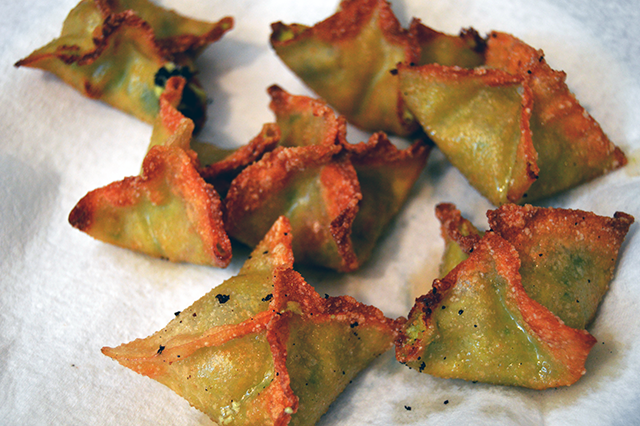 Now, here's a pro tip: serve these guacamole wontons while they're still warm and crispy. You can enjoy them as they are or pair them with your favorite dipping sauce, such as a tangy salsa or a cooling sour cream dip. The contrast of the creamy guacamole filling and the crunchy wonton wrapper is simply heavenly.
More Tips & Tricks
Choose ripe avocados: Ensure your avocados are ripe but not overly soft. They should yield slightly to gentle pressure when you squeeze them.
Adjust spiciness: If you prefer milder wontons, remove the seeds and membranes from the jalapeno before dicing. For extra heat, leave them in or add additional chili flakes.
Customize the filling: Feel free to get creative and add extra ingredients to the guacamole filling, such as diced bell peppers, corn, or black beans, to add more texture and flavors.
Properly seal the wontons: Ensure the edges of the wonton wrappers are moistened with water and sealed tightly to prevent any leakage during frying.
Maintain oil temperature: Keep an eye on the oil temperature while frying. If it's too hot, the wontons may brown too quickly on the outside while the filling remains undercooked. If it's not hot enough, the wontons may absorb excess oil.
Serve with complementary dips: Alongside the guacamole wontons, offer a variety of dipping sauces such as salsa, sour cream, or a tangy yogurt-based dip to add more flavor and variety.
Enjoy them fresh: Guacamole wontons are best enjoyed when they are freshly fried, as they have a crisp exterior and a warm, creamy filling. However, if you have leftovers, you can store them in an airtight container in the refrigerator and reheat them in the oven to regain some of their crispness.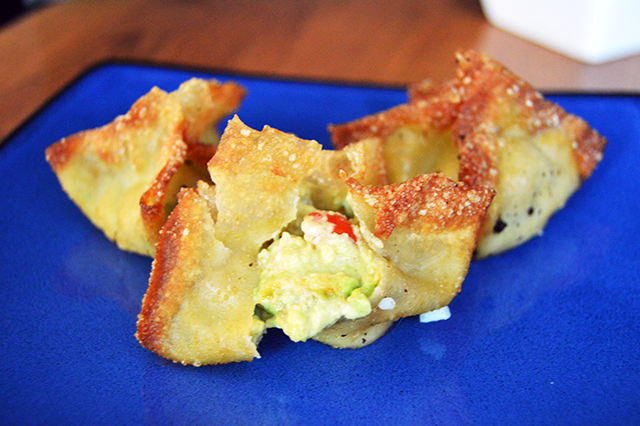 Remember, hungry people, these guacamole wontons are a true fusion of flavors.. Whether you're hosting a party or simply looking to indulge in a flavorful snack, they are guaranteed to disappear quickly.
Happy cooking!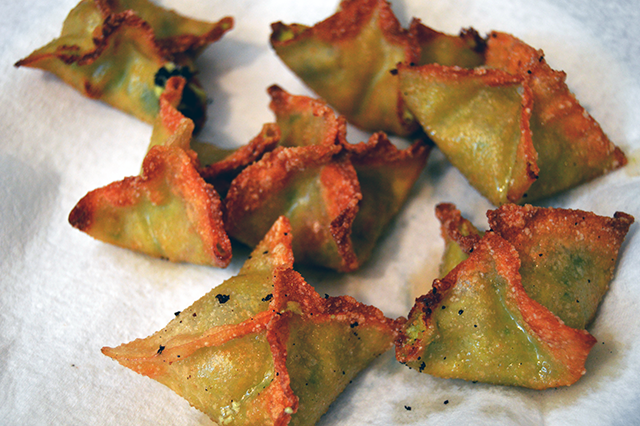 Guacamole Wontons
Crispy, flavorful wontons filled with creamy guacamole and fried to golden perfection.
Ingredients
2

avocados

pitted & cubed

½

red onion

chopped

5

cherry tomatoes

diced

1

jalapeno

diced

4

cloves

garlic

minced

1

lemon

juiced

4

oz

cream cheese

room temperature

2

tablespoons

cumin

1

tablespoon

cayenne

¼

cup

cilantro

1

cup

vegetable oil
Instructions
Pit and dice the avocados. Chop the remaining vegetables.

Add the avocado to a medium bowl and pour in the lemon juice. Stir in the other vegetables, cumin, cayenne and cilantro.

Using a potato masher, mix in the room temperature cream cheese.

Lay out a single wrapper and spoon about 1 tablespoon of the guacamole mix onto the center. Use your fingertips to brush water around the edges. Bring together each wonton's opposite corners and press to seal the seams.

Heat the fryer to 350°F and plop in the wontons 2-3 at a time. Cook until golden brown and crispy. Remove the wontons from the oil with a slotted spoon and let them dry on a paper towel. Serve hot or cold! Enjoy!