Halloween Cake Pop Monsters
The Starving Chef is supported by Hungry People like you. When you make a purchase through an affiliate link on my site, I may earn a little bit of cash on the side (at no extra cost to you) to help keep my kitchen running. Read our disclosures here.
Halloween is a mere few days away and I still have no idea what I'm going to dress as! But I do have this awesome recipe for cake pops, so I have that going for me, I guess.
I've made these no bake cake pops in the past, but this is the first time I've been able to properly document them. These no bake pops are so simple, you can change up the ingredients any way you'd like. Just use your favorite Oreo flavor and a block of cream cheese for the 'cake' center – and decorate however you like!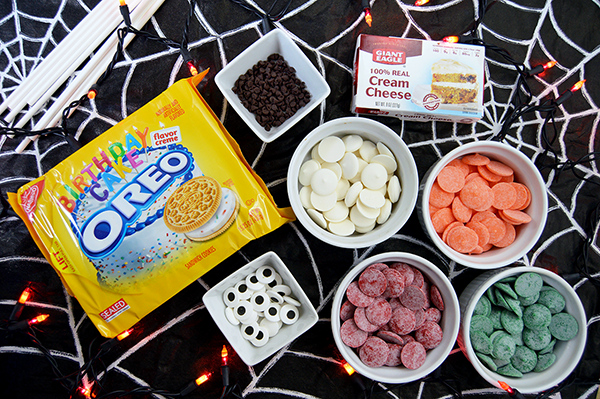 Break up the Oreos into the finest crumbs you can using a blender, food processor, or in my case, your hands and a kitchen mallet in a plastic baggy. My Magic Bullet wasn't up for the challenge…this time.
Now, just stir together the Oreo crumbs and cream cheese until a smooth dough ball forms. Refrigerate it until it's firm to the touch – or about 30 minutes.
A few minutes before you take the dough out of the fridge, prepare your candy melts by microwaving them in 30 second increments. PRO TIP: Add a tablespoon of Crisco to each bowl of candy to keep it from getting too stiff while rolling the cake pops in them (and a smoother finish)!
Dip the tip of each cake pop stick into the melted candy and insert into the center of each cake pop. Freeze again for about 10 minutes to harden the candy and strengthen the cake pop for rolling.
Then use roll the cake ball alongside the sides of the bowl until it's completely covered.
Arrange the cake pops on a parchment lined pan and refrigerate until the candy has hardened.
Then decorate!
I had grand plans of creating scary little monsters and ghosts, and then realized making a messy was A LOT SCARIER (for my boyfriend to clean up…muwahahahha).
To add toppings like chocolate chips or candy eyes, just dip the top of the cake pops (or truffles, such as these) into the melted candy and press into the sprinkles, chocolate chips, or even chopped nuts.
I dabbed a little melted green and red candy onto the backs of the eyes and secured them onto the pops – the drips make it look like it's bleeding!
The final pop should have the sticky consistency of a cake pop – with double the awesome flavor!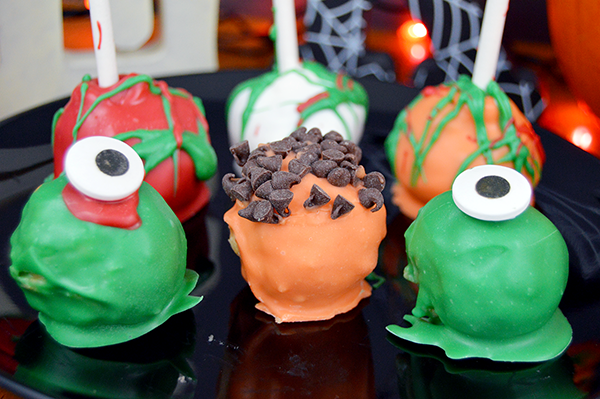 Halloween Cake Pop Monsters
Spooky Halloween themed cake pops that are extremely easy to make from start to finish.
Ingredients
1

package

Oreo cookies

your favorite flavor variety

8

oz

cream cheese

room temperature

4

cups

candy melts

assorted colors for seasonal decorating

1

tablespoon

shortening

per 1/2 cup candy melts
Instructions
Crush the Oreos with a blender or food processor. If you don't have either, fill a plastic baggie with Oreos and crush with hands or a kitchen mallet into fine crumbs.

Use a hand mixer to combine the room temperature cream cheese with the Oreo crumbs. Blend until a smooth and sticky 'dough' forms and form into a ball shape. Refrigerate 30 minutes, or until firm.

Roll the dough into 1 inch round balls. Arrange on a cookie sheet lined with parchment paper. If the dough gets too sticky to work with, just pop it back into the refrigerator for 10 minutes to firm up again. When all the dough is formed into balls, refrigerate the balls for 15 minutes

Use about 1/2 cup of candy melts, in each color of your choice, and melt with 1 tablespoon of shortening to thin out the melts. Dip the end of a cake pop stick into each color and push into the center of each dough ball. Refrigerate for 5 minutes to harden the candy and secure the dough ball.

Roll each dough ball on a stick in individual candy colors until they are completely coated. Arrange back on the parchment lined cookie sheet and refrigerate 5 minutes or until the candy has hardened.

Decorate the cake balls for what ever holiday you happen to be celebrating! Refrigerate up to 1 week and enjoy!
Video