Hanky Panky Party Bread
The Starving Chef is supported by Hungry People like you. When you make a purchase through an affiliate link on my site, I may earn a little bit of cash on the side (at no extra cost to you) to help keep my kitchen running. Read our disclosures here.
As football season ends (or begins, depending on when you are reading this), you need to be sure your tailgating and finger food game is on point. And who doesn't love a good hanky panky?
Also known as "Polish mistakes" in some places, hanky pankies are a popular appetizer made from ground beef, sausage and cheddar cheese on a slice of dark rye or Jewish rye 'party bread' which is then toasted until the bread is nice and crispy.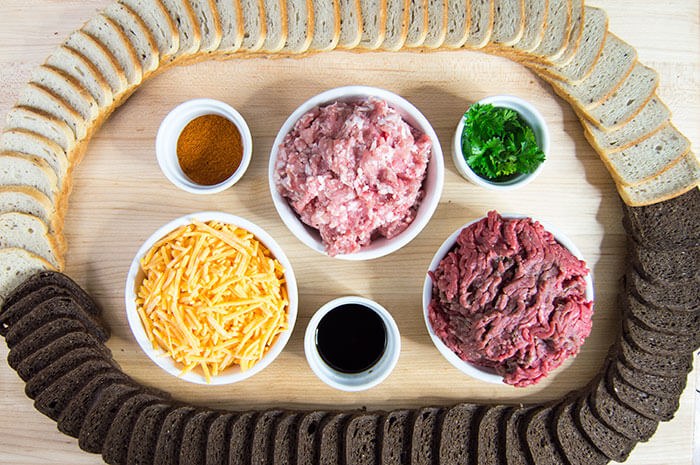 The ground beef/sausage and cheese combo makes for a good dip too, so no worries if you can't find party bread! In fact, I'm not a huge fan of rye bread myself, so I particularity enjoyed it served this way. However, my boyfriend and the rest of our guests are huge fans of hanky panky (going as far to request it specifically), so the rye bread was absolutely required for them. But with only six-ish ingredients, not including the bread, they are pretty hard to resist making anyways!
Begin by cooking the sausage and beef in a pan until brown and crumbled. I quickly rinsed mine off since I didn't buy extra lean ground beef (on accident – lean beef is recommended), then returned the meat to the pan and added the salt, pepper, Worcestershire & cayenne pepper.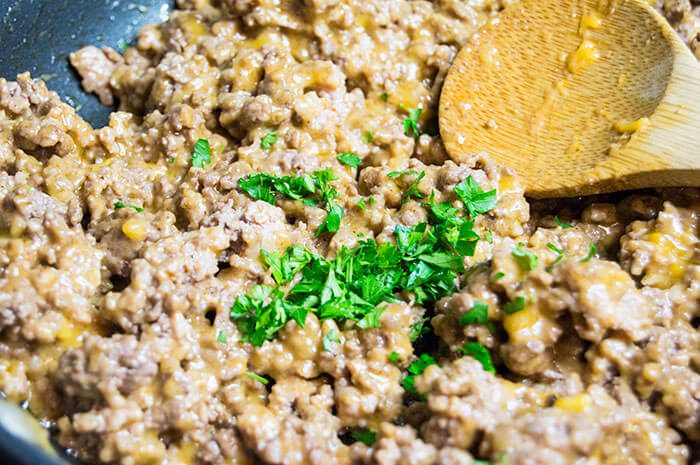 Next, stir in the cheddar cheese until melted and toss in a small handful of parsley, for color.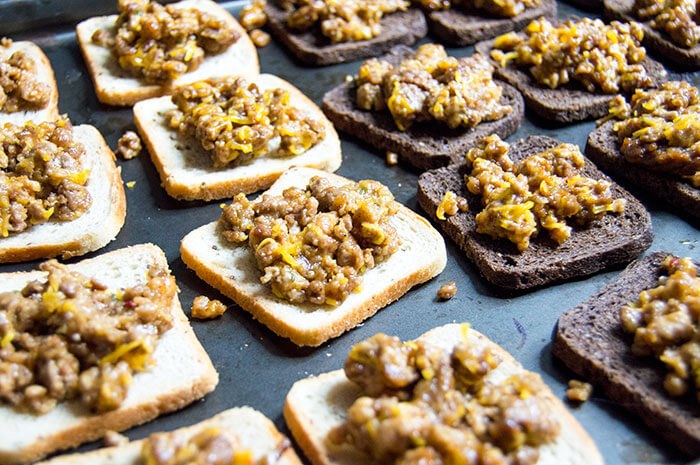 Let the beefy mix cool for a few minutes while you arrange the party breads on a baking sheet. I measured out about a tablespoon and a half of mix for each bread.
Then just pop the breads into the oven and bake until crispy and the cheese has melted the beef mixture sort of 'into' the bread. For optimal flavor – the hanky pankies are best devoured at room temperature or just above. It's ideal to let the hanky panky cool for a bit before serving, but honestly, our party ate them essentially right out of the oven.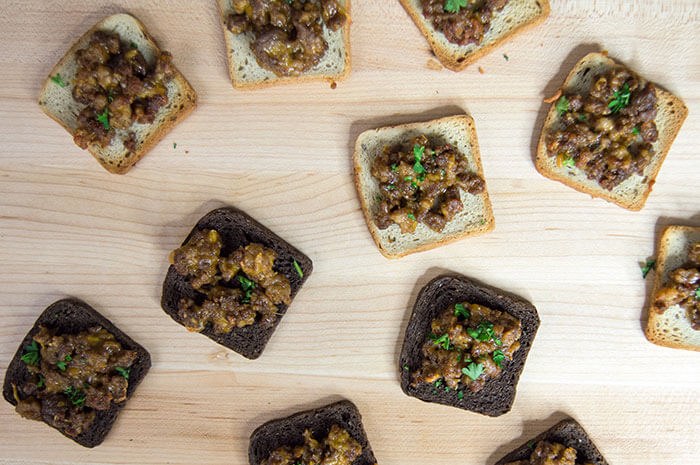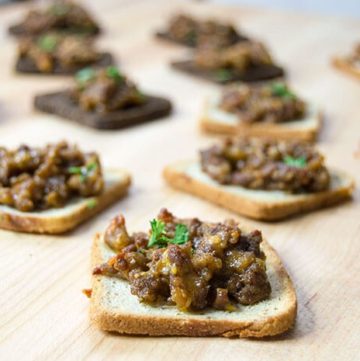 Hanky Panky Party Bread
Also known as "Polish mistakes" in some places, hanky pankies are a popular appetizer made from ground beef, sausage and cheddar cheese on a slice 'party bread'
Ingredients
16

oz

lean ground beef

16

oz

chorizo

or hot Italian sausage

1

package

party rye bread

2

tablespoons

Worcestershire

2

tablespoons

cayenne pepper

2

cups

sharp cheddar cheese

shredded

¼

cup

fresh parsley

chopped

salt & pepper

to taste
Instructions
In a large skillet over high heat, cook the sausage and beef together until browned and crumbed. Drain any excess fat. Season with salt and pepper to taste. Stir in the cayenne pepper and Worcestershire sauce.

Remove the cooked meat mixture from the heat and stir in the shredded cheddar cheese until melted. Stir in fresh parsley, as desired. Let cool for a few minutes.

Preheat the oven to 350 F. Arrange the party breads onto a baking sheet in a single layer. Place about 1-2 tablespoons of the cheesy beef mix onto each slice of bread.

Bake for 10-15 minutes, or until the party breads are crispy and the cheese is melted the meat onto the bread. Cool for a few minutes prior to serving, or serve room temperature. Enjoy!
Video