Hibiscus, Rose and Lime Cupcakes with Candied Violas
The Starving Chef is supported by Hungry People like you. When you make a purchase through an affiliate link on my site, I may earn a little bit of cash on the side (at no extra cost to you) to help keep my kitchen running. Read our disclosures here.
Alright, alright, I know. I've been really bad about keeping up with recipes this last week. Fortunately, I have a pretty good excuse – the Kentucky Derby! A large group of our closest friends gathered in Louisville to go to Churchill Downs for our second annual derby trip. We had an incredible time, but it took a lot out of us! I spent the last week recovering from the awesomeness that is the most exciting 2 minutes in sports…
Luckily, despite my week-long hangover, I still had plenty of time to plan what I wanted to create for this week's flowery challenge – and I decided upon hibiscus, rose, and lime cupcakes. But of course, no one actually knows there are flowers in the recipe if they can't see the flowers, so I decided to candy up some of my edible violas from my freshly planted garden, for a sweet and fancy decoration.
Here's What You Need
Flour: Provides structure and texture to the cupcakes.
Sugar: Adds sweetness and helps with moisture retention.
Butter: Adds richness and contributes to the texture and flavor.
Eggs: Bind the ingredients together and add moisture.
Lime Juice: Adds tanginess and enhances the flavor profile.
Milk: Adds moisture and helps with the overall texture.
Baking Soda: Acts as a leavening agent to make the cupcakes rise.
Rose Tea Leaves: Infuse the cupcakes with a delicate floral flavor.
Hibiscus Lime Tea Leaves: Add a tangy and floral note to the cupcakes.
Wildflower Honey: Adds natural sweetness and enhances flavor complexity.
Edible flowers: provided from your local nursery or you can pick up a pre-boxed variety at most groceries.
Let's Get Started
First, check with your local nursery to ensure the flowers you are about to consume are pesticide-free! Mine were grown organically.
I've been super anxious to get my garden started, and when there was a surprise snow shower at the end of April that killed all my flowers, it was pertinent that I got more flowers to decorate my balcony!
And since I was planning ahead for the challenge anyway, I decided upon some yummy violets and violas that would make the perfect candying candidates.
You'll want to thoroughly wash and dry the flowers, whatever kind you use. The stems aren't edible either, but I leave mine attached so it's easier to paint on the egg whites.
Use a pastry brush or a super clean, regular soft-bristled paintbrush to brush on the egg whites. Be sure to cover the front, back, and between the petals.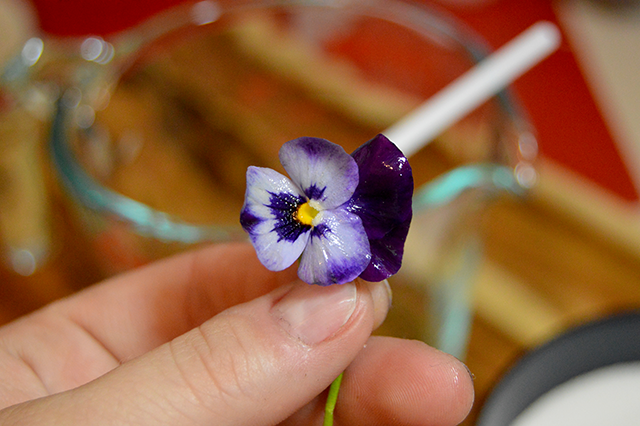 Then place the flower face down in the sugar and cover while you finish painting the rest of your flowers with egg whites.
Remove the flowers from the sugar after a few minutes and tap off any excess sugar.
I think the violets came out especially good-looking.
Place each sugar-coated flower face down on a cutting board, pop off the stems, and let dry for at least 12-24 hours.
While you're waiting for your flowers to dry…
Make the Tea-Infused Cupcakes!
Begin by creaming together the sugar, butter, and eggs (beat in the eggs one at a time).
While you are mixing the butter and sugar, bring the cup of milk to a slight boil on the stove, then remove it to a measuring cup. Steep the hibiscus, lime, and rose teas in the hot milk for at least 10 minutes. The rose tea might cause the milk to turn slightly pink!
DIY Buttermilk
Did you know that you can essentially make your own buttermilk at home by combining lemon and milk? You can do the same thing with lime juice!
Buttermilk adds a tangy flavor to cupcakes, and while not always necessary to use, it does make for a fluffier, melt-in-your-mouth kind of cupcake.
Next, you'll add a few tablespoons of wildflower honey into the batter. This honey is just about as local as it gets, without making my own hive.
Always use local honey if you can – it won't just help with your allergies, but it'll taste so much better than its fructose bear-shaped counterparts!
Alternating with milk and flour, slowly mix together the remaining ingredients. Pop into the oven at 375°F for 20-25 minutes or until a toothpick comes out clean.
Top with your favorite icing recipe – and add a splash of lime juice for a tangy twist!
Tips & Tricks
Room Temperature Ingredients: Bringing the eggs to room temperature before adding them to the batter helps with better incorporation and smoother texture.
Steeping Tea: Make sure to steep the tea leaves in hot milk for at least ten minutes to infuse the flavors properly. This step adds depth and complexity to the cupcakes.
Candying Violas: When candying the violas, ensure that you thoroughly dry them after dipping in sugar. This helps to achieve a crisp and beautiful texture.
Buttercream Frosting: Feel free to experiment with different flavors of buttercream frosting to complement the floral and tangy flavors of the cupcakes. Consider a hint of lime zest or rosewater for an extra touch.
Presentation: Arrange the candied violas on top of the cupcakes just before serving to maintain their vibrant appearance. It adds a stunning visual element to the cupcakes.
Storage: If you have leftover cupcakes, store them in an airtight container at room temperature for up to two days. However, it's best to enjoy them fresh for the best taste and texture.
Get Creative: Feel free to personalize your cupcakes by adding additional garnishes or experimenting with different edible flowers. Let your creativity shine!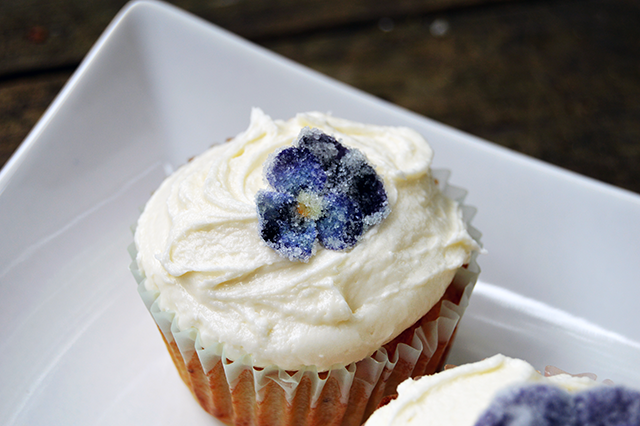 There you have it, hungry people!
Hibiscus, rose, and lime cupcakes with candied violas. These cupcakes are not only delicious, but they're also a feast for the eyes with those beautiful candied flowers on top. Remember to plan ahead and candy your violas in advance, allowing enough time for them to dry. And don't forget, using organic and pesticide-free flowers is essential for your culinary adventures.
Enjoy the delightful combination of flavors and impress your friends with these floral treats! Until next time, happy baking!
Hibiscus, Rose and Lime Cupcakes with Candied Violas
Delight your taste buds with these floral-infused hibiscus, rose, and lime cupcakes, topped with candied violas for a sweet and stunning treat.
Instructions
Preheat the oven to 375°F (190°C). In a small pan, heat the cup of milk until just boiling, then remove it to a bowl and steep the tea leaves for at least ten minutes.

While the tea is steeping, in a stand mixer cream together the butter, sugar, baking soda, and salt. Beat in the eggs one at a time. Add the honey, one tablespoon at a time.

Juice one lime and slowly add the juice to the milk and tea mixture. Let it sit for about 5 minutes or until the milk has become thick.

Alternating between the milk mixture and flour, slowly combine them with the creamed butter, sugar, and eggs until blended and smooth.

Spoon the cupcake batter into a lined cupcake tin, filling each about 2/3 of the way full. Bake for 20-25 minutes or until a toothpick inserted into the center of each cupcake comes out clean.

Let the cupcakes cool in the pan for a few minutes, then flip them out onto a wire rack to cool completely.

Pick enough flowers to top the number of cupcakes you want to make.

Use a pastry brush or a clean, soft-bristled paintbrush to brush on the egg whites on the fronts, backs, and between the petals of each flower.

Place each flower face down in the sugar and cover completely while you prepare the rest of the flowers.

Tap off any excess sugar and gently remove each stem from the flowers. Lay them face down on a cutting board or a dry surface and let them dry completely, about 24 hours.

Spread your favorite buttercream icing on the cupcakes and top each one with a candied viola. Enjoy!