Horseradish Roast Beef Roll Ups
The Starving Chef is supported by Hungry People like you. When you make a purchase through an affiliate link on my site, I may earn a little bit of cash on the side (at no extra cost to you) to help keep my kitchen running. Read our disclosures here.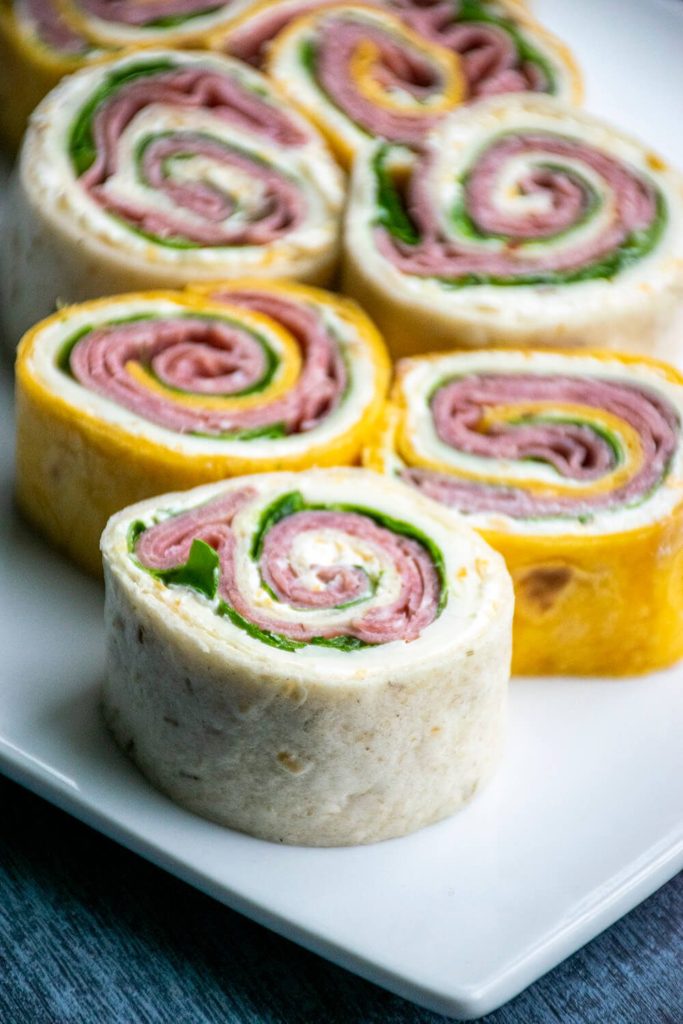 With the summer winding down, it's time to gear up for the holiday season. While 2020's holiday season might look a little different from year's past, that doesn't mean that you can't still make easy appetizers to enjoy together virtually.
Just share this recipe with your friends and family and schedule a date night in to make these roast beef roll-ups from a distance!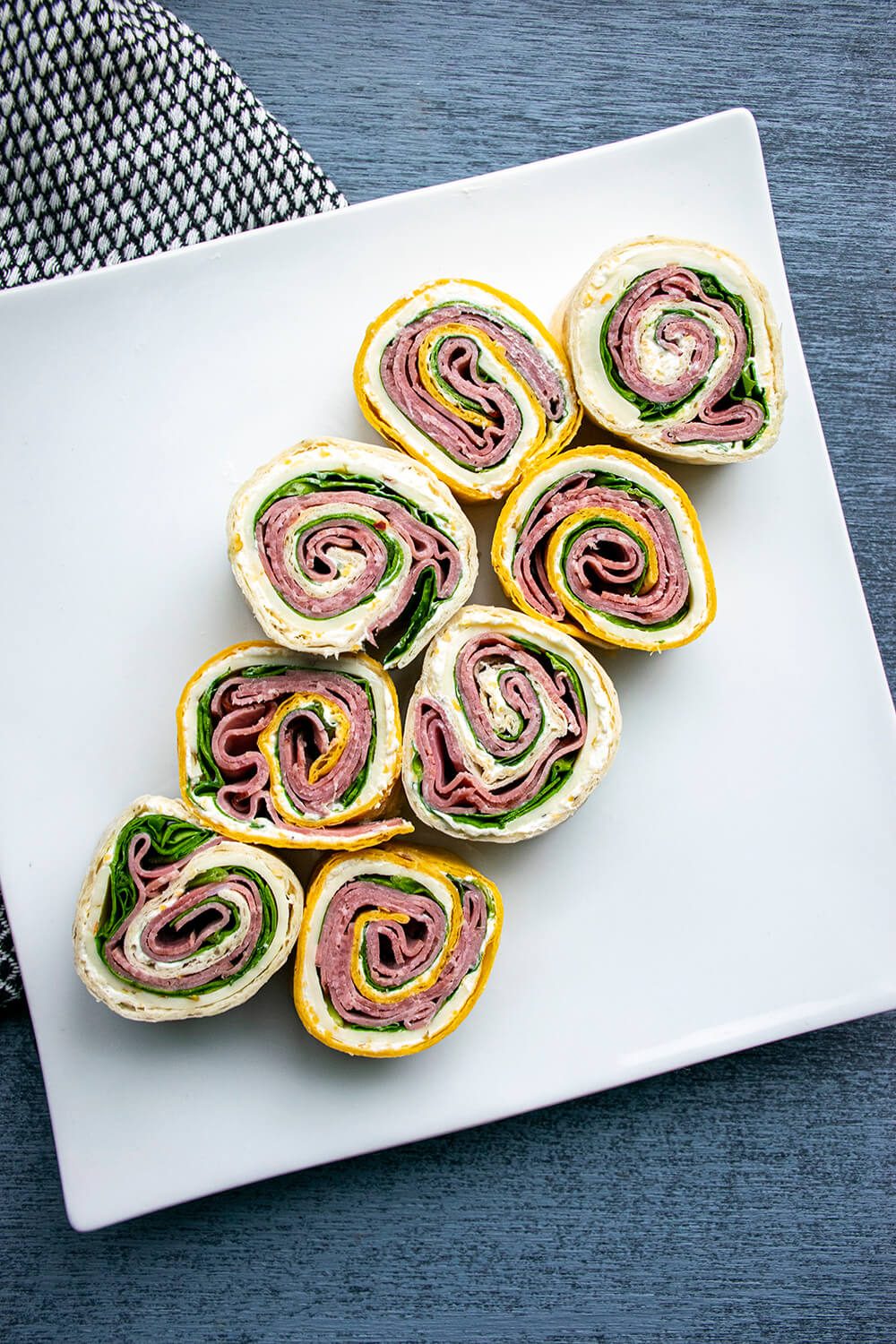 These roast beef roll ups are insanely easy to make and are a great addition to charcuterie boards, tailgating events or even just a late night snack attack.
What might be the best part about these rollie bois is that they can be made pretty exclusively from stuff you can grab in any grocery deli. With a spicy, cheesy cream base and a combination of salami and roast beef make these bite sized bits a tasty treat for any event.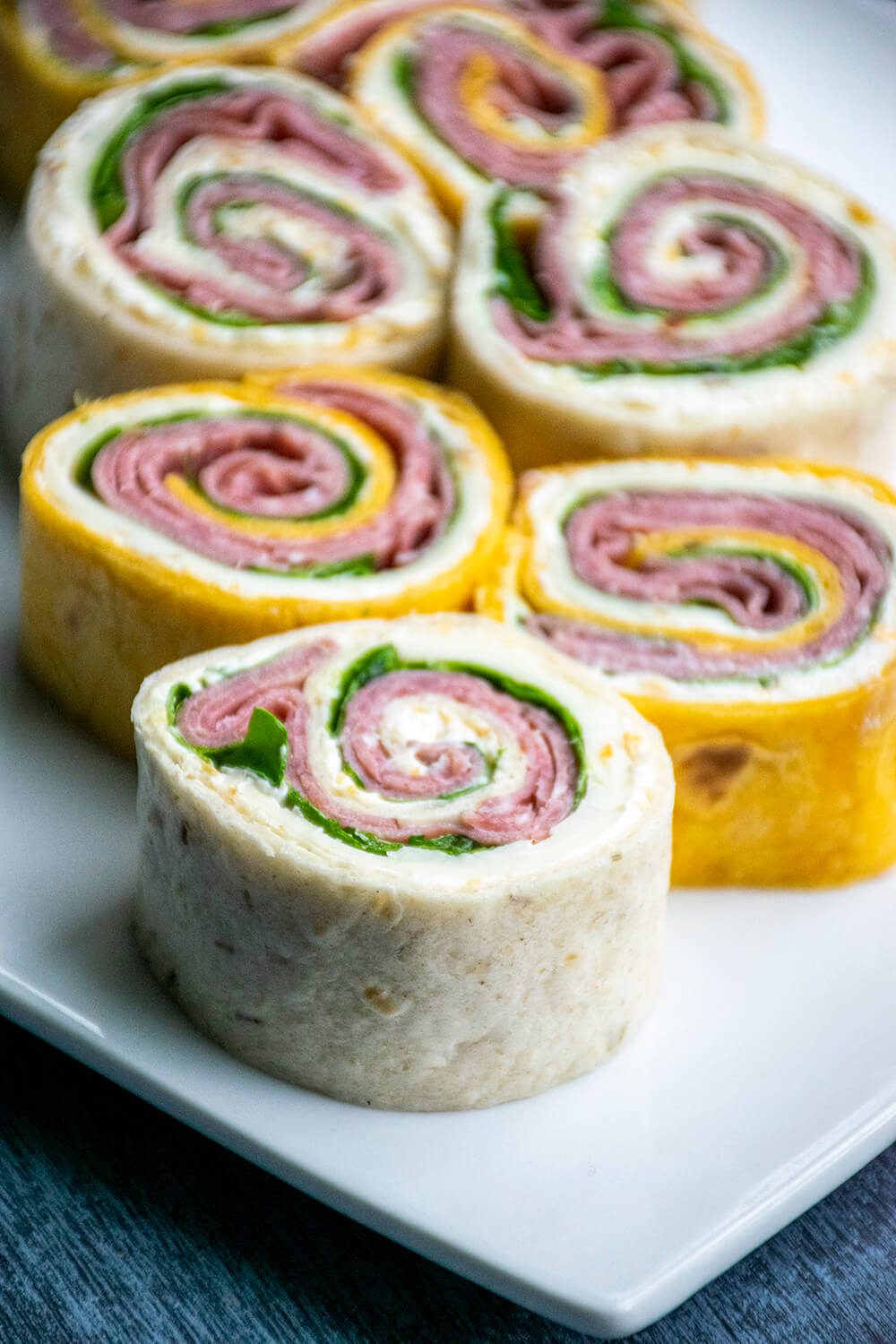 What kind of tortillas should I use?
I used 12-inch wide tortillas with various flavors. You can totally just use plain/flour tortilla – or use whatever crazy flavors your grocery store has in stock! I used two different kinds of tortillas, one rosemary olive oil and one jalapeno cheddar.
I like using colorful wraps like the jalapeno cheddar that are orange – and I've seen green, yellow and red wraps too! Using a colorful tortilla takes these wraps to the next level, visually speaking. Use whatever flavor floats your boat!
I recommend using a thicker quality tortilla – and not ones that say they are "extra soft" as these seem to get soggy quickly.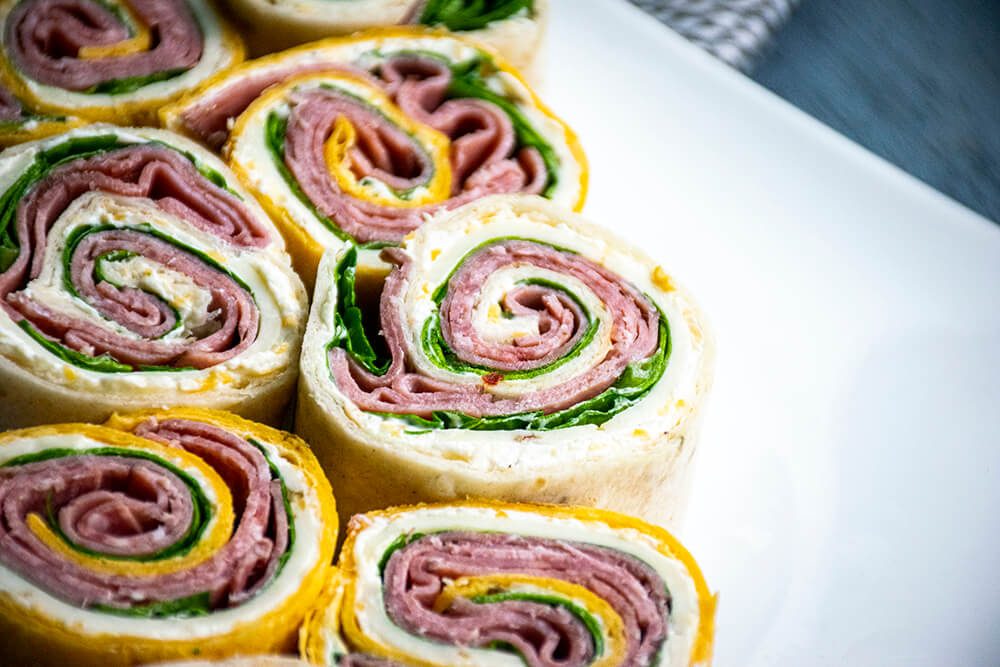 Can these roast beef roll-ups be made ahead of time?
These roll-ups will start to get soggy quickly, so it's best to time making them so that they will be fresh and ready to eat. I tried storing these in my fridge overnight but by the morning, they were pretty soggy. I'm not sure if this has anything to do with the specific brand of tortillas I chose, but keep that in mind if you are in a party mood, these appetizers should be made last for the best quality results.

Aside from the initial chill time, I wouldn't keep these in the fridge for more than 4-8 hours ahead of enjoying them. Personally, I think they taste best at room temperature too.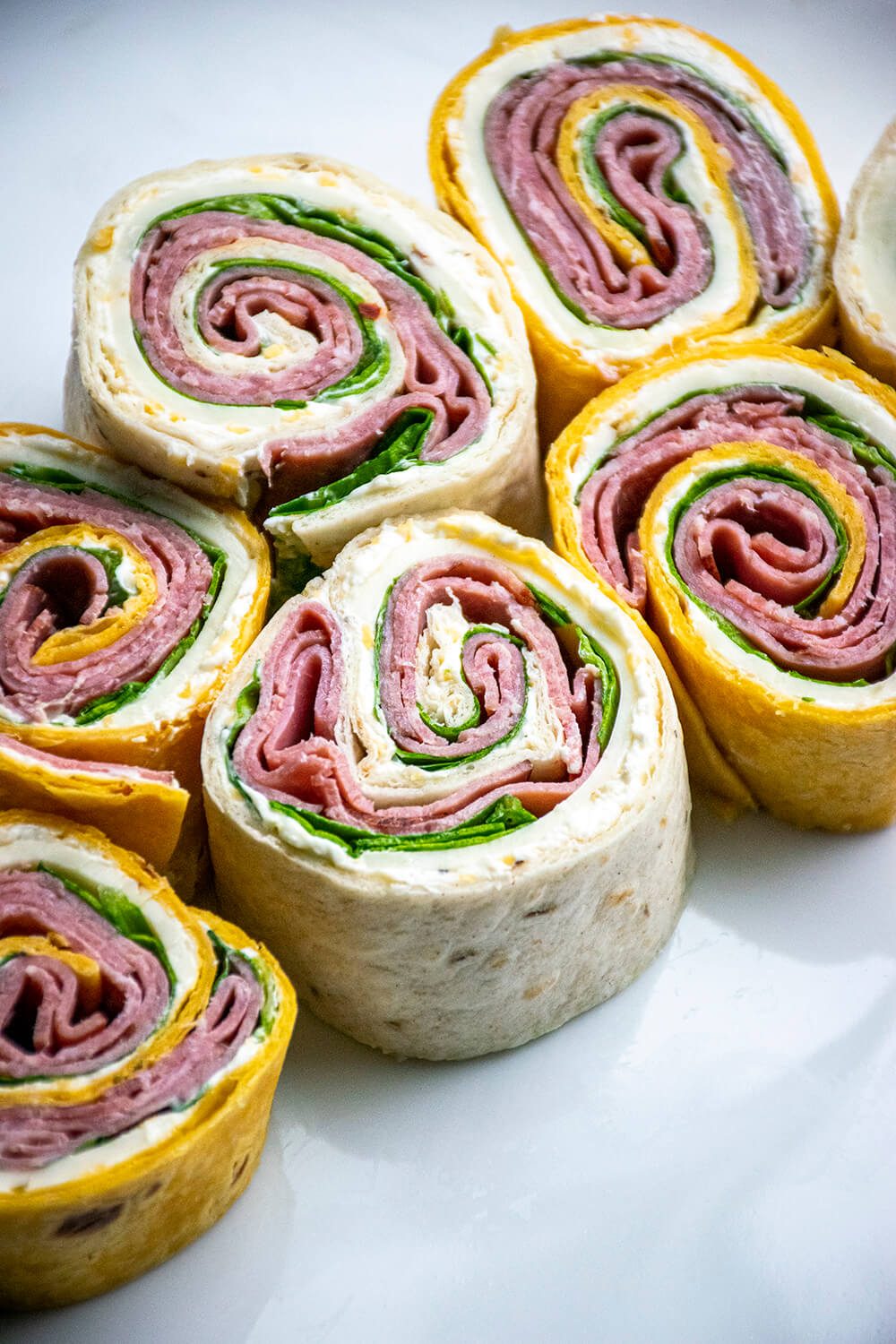 You can get practically everything you need for these roll-ups from your deli and produce sections of the grocery store. And what you can't find in the deli can be found in the dry goods at nearly any US grocery store due to the common ingredients. Feel free to use your favorite brands!
Here's what you'll need:
sliced roast beef
sliced salami
pepperjack cheese
room temp cream cheese
shredded cheddar cheese
grated horseradish
mayonnaise
spinach
Feel free to add other deli meats like pepperoni or turkey to really change it up!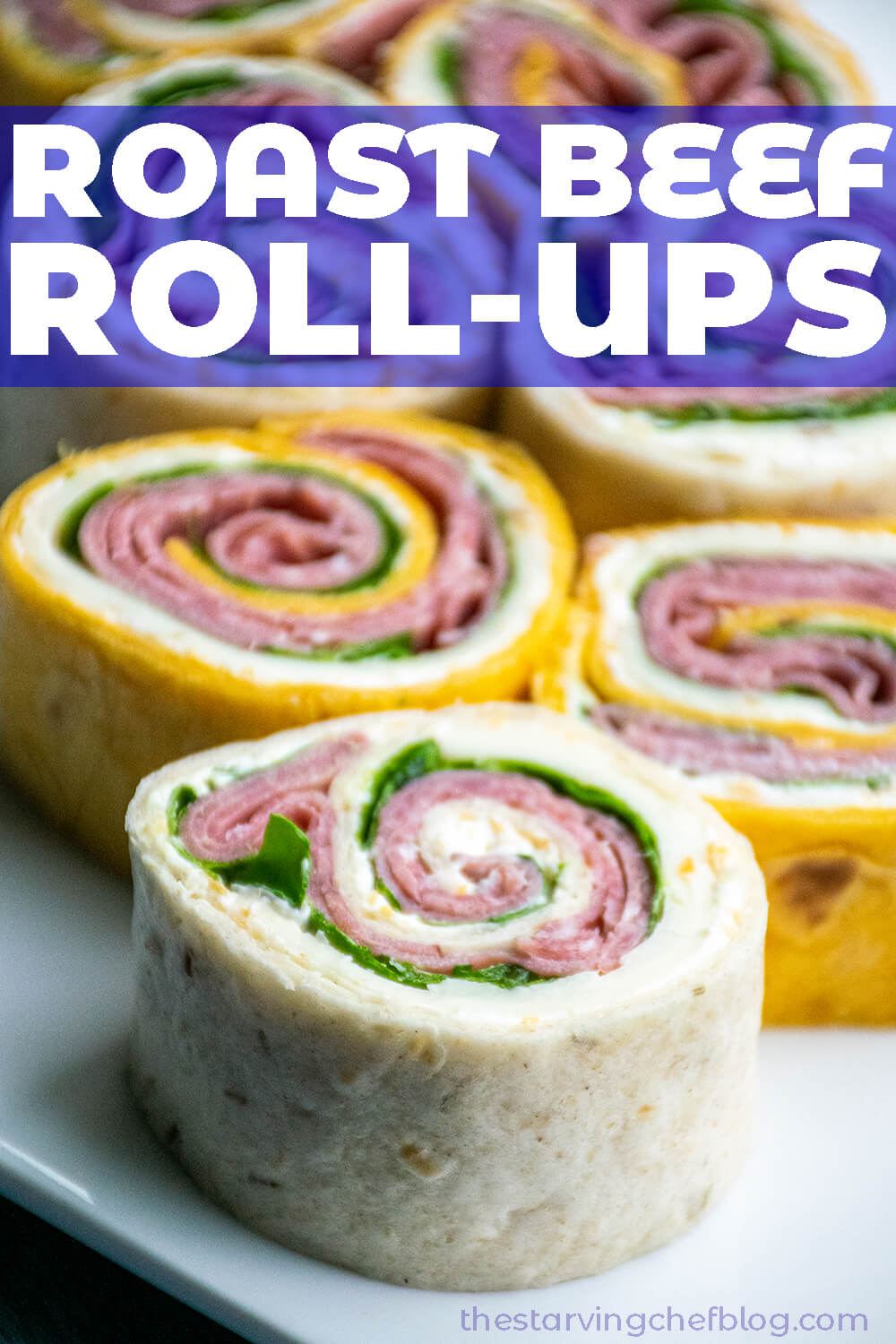 Both quick and simple, these roast beef roll ups are a great way to get the party started – whether that's in person or virtually. They are simple enough for even those who claim they don't know how to cook.
The real secret is that there's no cooking involved and you still end up with something delicious!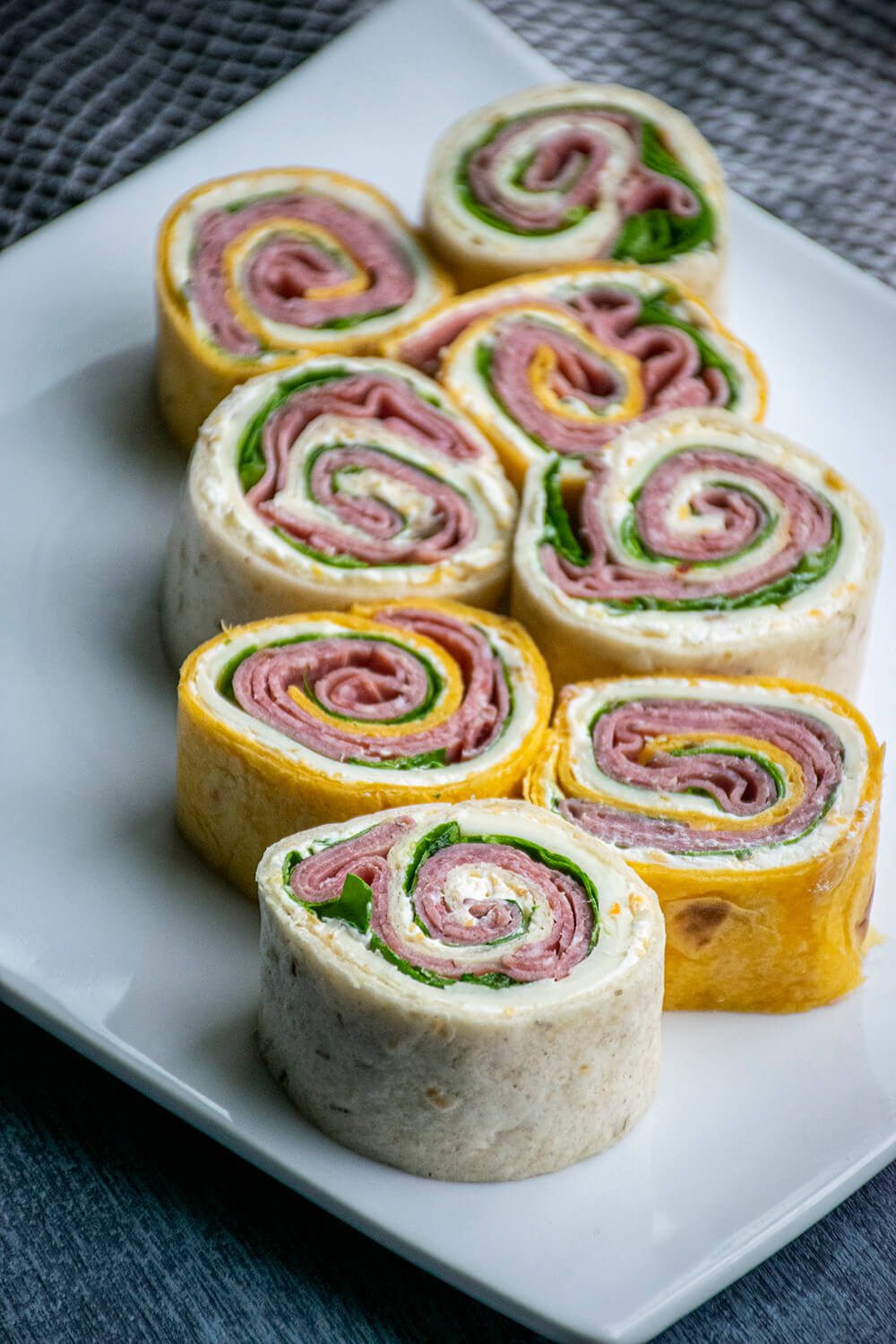 Horseradish Roast Beef Roll Ups
These roast beef roll-ups are made with a spicy horseradish cream cheese base and rolled tightly in tortillas to make for a perfect snack or appetizer.
Ingredients
4

oz

cream cheese

room temperature

½

cup

cheddar cheese

shredded

½

teaspoon

grated horseradish

¼

teaspoon

pepper

2

tablespoon

mayonnaise

2

rosemary olive oil tortillas

2

jalapeno cheddar tortillas

or tortilla flavors of choice

1

cup

spinach

10

slices

salami

8

oz

roast beef

sliced

5

slices

pepperjack cheese
Instructions
With the cream cheese at room temperature, in a large bowl, stir together the cream cheese, cheddar, horseradish, pepper and mayonnaise until smooth. Chill until thickened, about 30 minutes to an hour.

Choose your tortillas. Spread the cheese mixture across in an even layer, leaving about a quarter inch of edge.

Arrange the spinach, pepperjack, salami and roast beef slices over the tortillas. Starting at the edge, tightly roll the meat and cheese into the tortilla. Chill until the cheese mixture has firmed up, about an hour.

Once chilled, slice the tortillas into bite size pieces about a half inch thick. Serve right away. Enjoy!