Cozy Hot Cocoa Cookies with Fluffy Frosting
The Starving Chef is supported by Hungry People like you. When you make a purchase through an affiliate link on my site, I may earn a little bit of cash on the side (at no extra cost to you) to help keep my kitchen running. Read our disclosures here.
What's Up, Hungry People!
Living in Northern Ohio has been quite the ride. Originally hailing from Southern Ohio, I was accustomed to a lighter sprinkling of snow. But my years in Akron have shown me what real winter is like! This year, however, El Nino's decided to play nice, giving us a relatively mild winter compared to last year's snowpocalypse. And just when you start thinking maybe winter's taking a year off—boom! Old Man Winter makes his grand entrance. No worries though, I'm armed with the perfect remedy: this recipe for hot cocoa cookies!
Any hot cocoa mix is fair game for this recipe. I had a caramel cocoa mix on hand, but I've also had great results with tried-and-true mixes like Swiss Miss. For the frosting, it's all about the marshmallow fluff. Because let's be real—the marshmallows are hands-down the best part of any cup of hot cocoa.
Now, I did a little experimentation with adding mini marshmallows straight into the cookie dough. I tried it with half the batch, and they mostly just melted into obscurity. So, if you're thinking about adding actual marshmallows, consider them optional.
Here's What You Need

Cookies
Flour: Provides the structure for the cookies, giving them their shape and texture.
Butter: Adds moisture and fat, essential for flavor and a soft crumb.
Sugar: Sweetens the cookies and aids in browning.
Brown Sugar: Adds sweetness and moisture, contributing to a chewy texture.
Eggs: Act as a binding agent, helping the dough stay together.
Hot Cocoa Powder: Adds the signature hot cocoa flavor and color to the cookies.
Baking Soda: Leavening agent that helps the cookies rise and spread.
Baking Powder: Additional leavening agent that adds lift and lightness.
Mini Semi-Sweet Chocolate Chips: Introduce little bursts of chocolatey goodness.
Mini Marshmallows: Optional, but they add a chewy, gooey contrast to the cookies.
Salt: Enhances flavor and balances the sweetness.
Frosting
Marshmallow Fluff: Forms the base of the frosting, bringing that marshmallow taste.
Vanilla Extract: Adds depth and aroma to the frosting.
Confectioners' Sugar: Sweetens and thickens the frosting.
Heavy Cream: Optional, used to adjust the frosting's consistency.
Let's Cook!
Like most cookie endeavors, kick things off by creaming together the sugars, butter, and eggs until you've got a smooth batter. Then bring in the cocoa powder for a richer mix. Follow that up with the flour, salt, and baking soda.
I couldn't resist adding mini marshmallows and chocolate chips to my dough, but I also whipped up a second batch without them.
Trust me, these cookies are a win either way.
Shape and Bake
Flatten your cookie dough balls to about a half-inch thick using the bottom of a glass or a flat-bottomed cup. I used a custard cup for mine.
Pro Tip: The oven should be set to the right temperature, usually around 350°F, for best results.
Preheat your oven and bake those cookies until they turn golden and start showing some cracks on top. Let them cool on the baking sheet for a bit before moving them to a wire rack to cool off completely.
Frosting Finale
While you're waiting for those cookies to cool down, let's focus on that marshmallow fluff frosting. Melt some butter and stir it into your fluff. Then gradually add powdered sugar until a thick but spreadable frosting takes shape. If it gets too stiff, a dash of heavy cream will loosen things up. Aim for a consistency that's a tad thicker than toothpaste and holds its shape when you lift the spoon—it should form nice, thick peaks.
Frost and Serve
Grab a spoon or a piping bag and spread that delicious frosting over the tops of your cooled cookies.
Tips for Perfect Hot Cocoa Cookies
Choosing Cocoa Powder: If you're wondering which hot cocoa mix to use, go for one without too many added flavors to keep the hot cocoa essence pure.
Room Temperature Ingredients: Make sure your butter and eggs are at room temperature for easier mixing and a smoother dough.
Marshmallow Meltdown: If you opt to use mini marshmallows, know they might dissolve into the dough. If you want them to be visible, you might want to add them halfway through baking.
Check Your Leavening Agents: Ensure that your baking soda and baking powder are fresh for optimal lift and texture.
Dough Consistency: If your dough feels too sticky, you can refrigerate it for about 15-20 minutes to make it easier to handle.
Flat Cookies: If your cookies are coming out too flat, try adding a touch more flour to give them a bit more structure.
Frosting Thickness: If your frosting becomes too thick, add a small amount of heavy cream to thin it. Too thin? Add more confectioners' sugar.
Cool Completely: Make sure the cookies are fully cooled before frosting, or the frosting will melt.
Storage: These cookies are best enjoyed fresh but can be stored in an airtight container. Separate layers with parchment paper to prevent sticking.
Freezing Dough: You can freeze the cookie dough balls for later use. Just add a couple extra minutes to the baking time if baking from frozen.
Glass Bottom Trick: To get uniform cookies, use the bottom of a glass to flatten your cookie dough balls. Just be sure the glass is clean and dry to prevent sticking.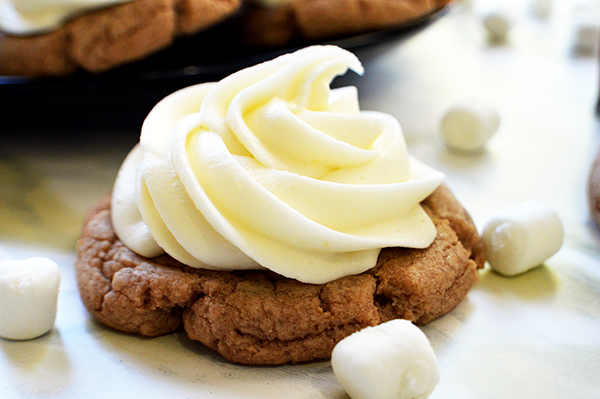 Alright, Hungry People, we've tackled every angle of these hot cocoa cookies with marshmallow fluff frosting. Whether it's snowing like there's no tomorrow or you've got that rare mild winter day, these cookies are a surefire way to bring that cozy cocoa magic straight into your kitchen.
Grab a real cup of hot cocoa, sit back, and dig into these cookies as if winter has nothing on you! Enjoy!
Hot Cocoa Cookies with Marshmallow Fluff Frosting
Bring the cozy vibes of a hot cup of cocoa into cookie form, complete with a marshmallow fluff frosting for that extra touch of yum.
Instructions
Preheat the oven to 350°F. In the bowl of a stand mixer, beat together the sugars, butter, and eggs until smooth.

In a separate bowl, stir together the flour, salt, baking soda, baking powder, and hot cocoa powder.

Slowly add the dry ingredients to the bowl on the stand mixer, about ½ cup at a time, until a thick dough has formed. Add the mini semi-sweet chocolate chips and mini marshmallows (if using) and stir until combined. The cookie dough shouldn't be very sticky.

Roll the dough into one-inch round circles, arrange on a baking sheet lined with parchment paper, then use the bottom of a glass to flatten the dough to about ¼ to ½ inch thick.

Bake the cookies for 8-10 minutes or until the cookies have started to crack across the top. Let the cookies cool completely.

While the cookies cool, use a hand mixer to whip together the marshmallow fluff, vanilla extract, and confectioners' sugar. Add heavy cream if the frosting is too dry, and more confectioners' sugar if it's too thin. Aim for a toothpaste-like consistency.

Pipe or spread the tops of the cooled cookies with the marshmallow frosting. Serve on a cold day and enjoy!