House Elf Beef & Dumpling Stew | Harry Potter Inspired Recipes
The Starving Chef is supported by Hungry People like you. When you make a purchase through an affiliate link on my site, I may earn a little bit of cash on the side (at no extra cost to you) to help keep my kitchen running. Read our disclosures here.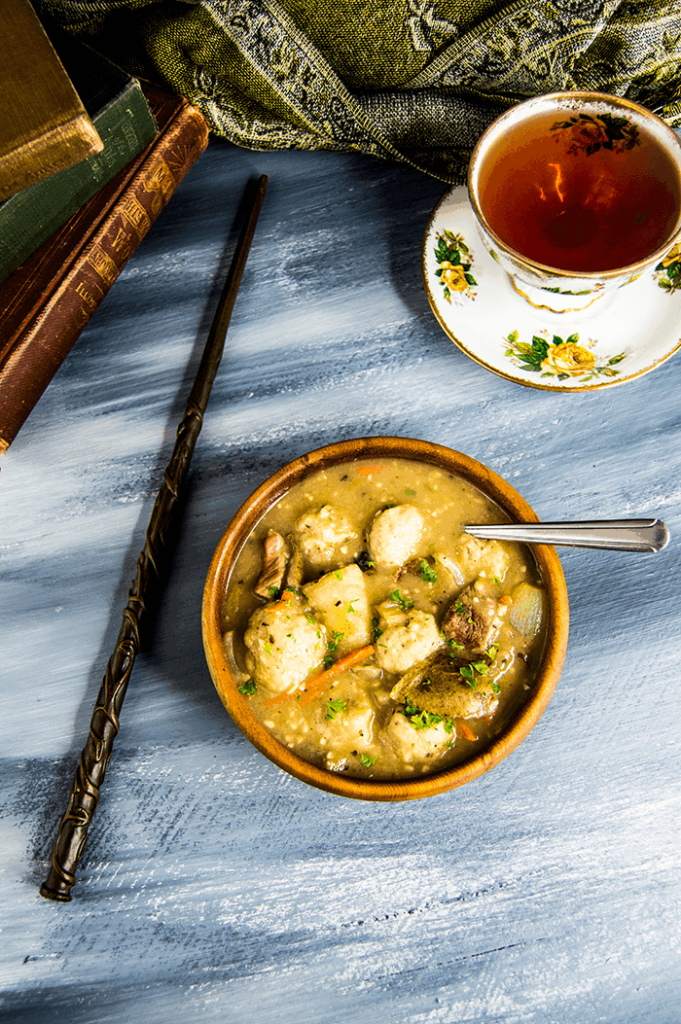 "Dobby has no master. Dobby is a free elf, and Dobby has come to save Harry Potter and his friends!"
– Dobby, Harry Potter and the Deathly Hallows
Tonight we apparate back to England to stay at Twelve Grimmauld place – previous home to Sirius Black's family and headquarters for the Order of the Phoenix. If you aren't caught up on the Harry Potter series (and let's be honest, it's been twenty years, so you should be), there may be mild spoilers in this post!
Out of all the House Elves we meet in the wizarding world, Kreacher is possibly the most miserable of them. Winky might come in as a close second, even though she was drunk on butterbeer most of the time. Even Dobby, who lived with the Malfoys, remained positive despite his role.
However Kreacher does eventually show his soft side, mostly to Harry, by cooking him simple but heartwarming dishes. One of those times happens to be right after Harry has accidentally slipped into Voldemort's mind. And even though Harry wasn't hungry enough to eat the stew, he still appreciated Kreacher's efforts.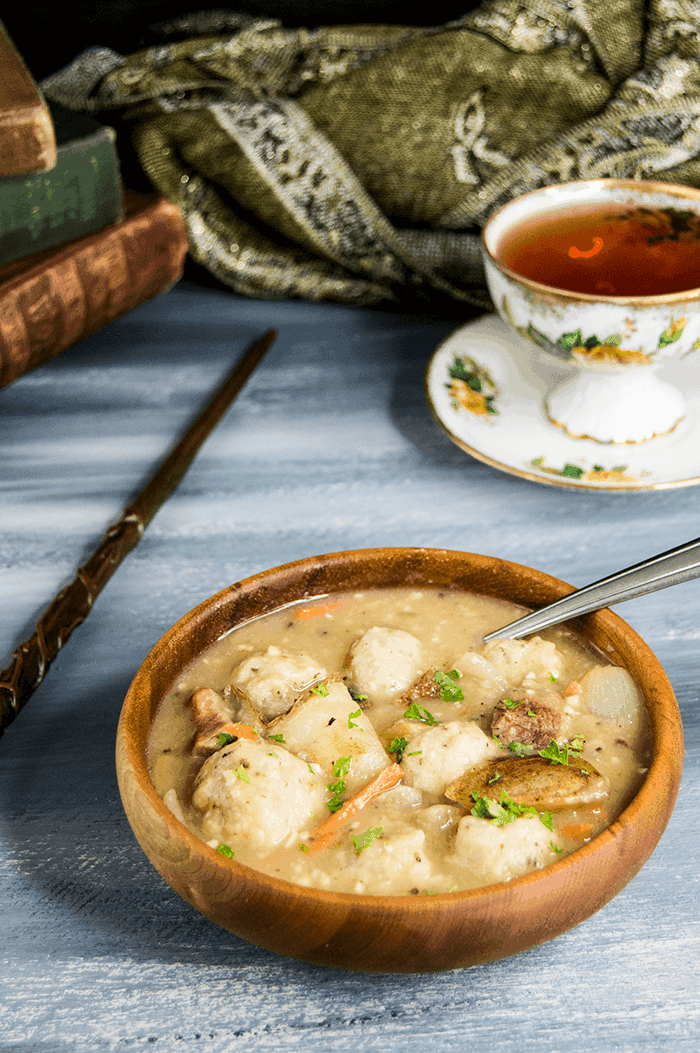 Kreacher, out of all the House Elves, probably made the best soups and stews – one of his favorites being French onion soup, which he made for Harry after Harry gifted him Regulus' locket. I'd like to think that once the wizarding war ended, Hermione restarted S.P.E.W. and mended soured relationships between house elves and wizards, with Kreacher at her side as a helpful ambassador.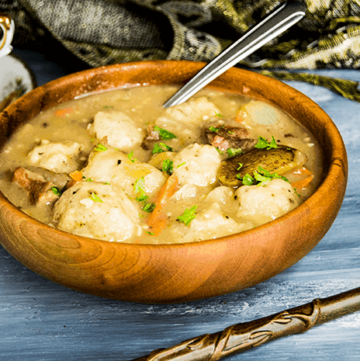 House Elf Beef & Dumpling Stew | Harry Potter Inspired Recipes
This house elf beef and dumpling stew is inspired by both Kreacher's love of cooking and Dobby's love of cooking in the kitchens at Hogwarts.
Ingredients
16

oz

beef ribeye

cut into chunks

2

cups

chicken broth

1

cup

beef broth

¼

cup

garlic broth

1

onion

chopped

½

cup

carrots

chopped

½

cup

celery

chopped

2

russet potatoes

chopped

2

tablespoons

garlic

minced

3

tablespoons

vegetable oil

1

tablespoon

flour
salt & pepper

to taste
Instructions
In a large pot over medium high, heat the vegetable oil until shimmering. Toss in the chunks of beef and cook until just browned on the outsides, about 2-3 minutes. Remove from the pot and set aside.

Add the chopped potatoes, stirring occasionally, until they begin to lightly brown. Then add the onions and cook until softened, about 4-5 minutes.

Add the carrots and celery to the pot. Cook until the celery brightens in color, about 1-2 minutes, then add the garlic, salt and pepper. Sprinkle the flour across the vegetables and stir until everything is coated in flour.

Pour the chicken, beef, and garlic broth (if using) into the pot and bring to a rolling boil. Reduce the heat to a simmer, cover, and let stew about 20-25 minutes.

While the stew cooks, start making the dumplings. Whisk together the flour, salt, pepper, baking powder and the herbs. In a separate bowl, stir together the milk and egg.

Roughly chop the chilled butter into small pieces (or use a food processor). Add the butter to the dry mix and stir until the mixture is crumbly – rub larger pieces of butter between your fingers, as needed, to achieve this.

Slowly pour the milk mix into the dry mix. Stir together until a thick batter-like dough forms. You should be able to pull off individual pieces without it sticking to your fingers. Pull off 1-2 tablespoon sized chunks of dough and roll between your palms to create a dough ball. Let the dough rest for about five minutes.

When the stew has about ten minutes remaining, return the meat to the stew then begin adding the dough balls to the pot. The dough should form an even layer on the top of the stew.

Cover the pot and let cook for about 10-15 minutes, until the dough is cooked though and puffed up. Serve the stew to S.P.E.W. supporters, friendly wizards and of course, the boy who lived. Enjoy!