How to Build the Perfect Charcuterie Board
The Starving Chef is supported by Hungry People like you. When you make a purchase through an affiliate link on my site, I may earn a little bit of cash on the side (at no extra cost to you) to help keep my kitchen running. Read our disclosures here.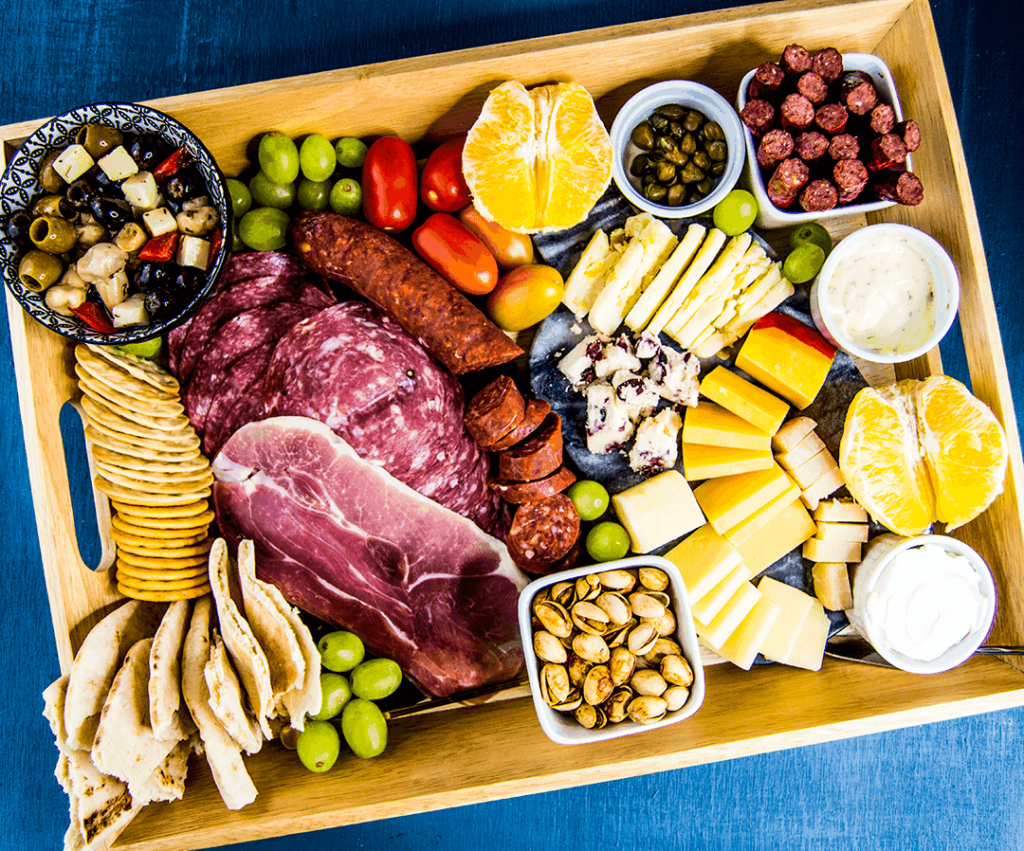 Party season is encroaching. Between the sporting events and holidays, there's always a reason to bust out an awesome charcuterie board.
The key to a great charcuterie board is not only variety, but quantity too. I love to have as many options available to try as many flavor combos as I can sink my teeth into.
Starting with the cheeses – I love to offer an array of cheese from sharp to mellow, soft to hard. For this particular charcuterie board, I chose cheeses with fruit infusions like cranberry Stilton and mango goat cheese. And of course, the classics like gouda and cheddar are required. I got all my cheeses from the 'sampler' section of the cheese deli at my local store – there you can get small amounts of incredible cheeses without breaking the bank. I think in total, I only spent about $10 on all my cheese.
Next are your meat options. From jerky to prosciutto, salami and pepperoni, the more cured meats available, the better. Most grocers I've seen offer variety packs of meats, but I always find it fun to pursue strange meat options like kangaroo jerky if they are available.
I also like to have some sweet choices on the board paired with extra soft cheese like brie or even something basic like cream cheese. Along with oranges and grapes, apples, figs, and dried fruits are always welcome on my table.
Then come the toppings – on my board, I chose random ingredients from my fridge door that I knew would compliment both pita and crackers. Again, I'm all about the sweet and savory options – I even snuck a little heat onto my board in the form of red pepper jelly. Classic toppings include hummus and orange fig jam, but I included some Thai peanut sauce for a fun little twist. Options like capers and olives are always fun too, and even 'snacky' stuff like pistachios or grape tomatoes can help round out the board.
Finally, the best charcuterie boards not only sport a variety of things to choose from, but presentation can go a long way too. Since we eat with our eyes first, I like to make sure my charcuterie board is full to the top and every inch is covered in something delicious.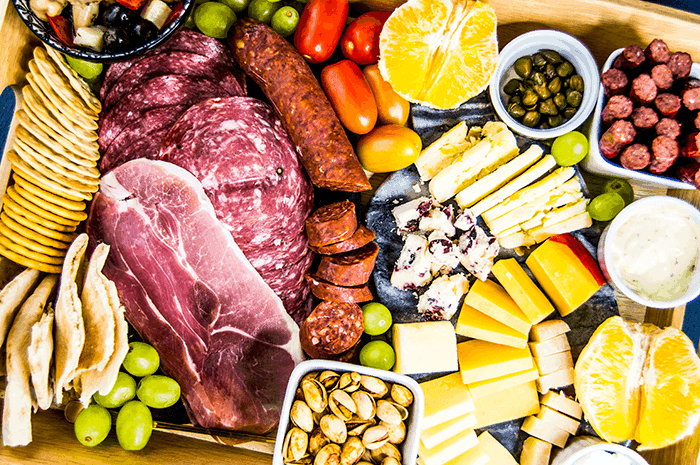 How to Build the Perfect Charcuterie Board
Between the sporting events and holidays, there's always a reason to bust out an awesome charcuterie board.
Ingredients
INSPIRATION FOR YOUR BOARD INGREDIENTS:
variety pack crackers

pita bread

jerky

prosciutto

salami

pepperoni sticks

creme de brie

mango harvarti

cranberry stilton

sharp cheddar

aged gouda

green grapes

orange slices

pistacchios

orange fig jam

spicy pepper jelly

Thai peanut sauce

hummus

antipasta

olives

cherry tomatoes

capers
Instructions
Arrange all the meats and cheeses on a single serving board and surround with assorted crackers, fruits, jams, jellies, sauces, and dips. Include a 'sweet corner' of the board for the oranges, grapes or other fruit items. Enjoy with soft pitas and fresh toppings like capers. Serve chilled or room temperature. Enjoy!