How to Honeymoon During a Pandemic
The Starving Chef is supported by Hungry People like you. When you make a purchase through an affiliate link on my site, I may earn a little bit of cash on the side (at no extra cost to you) to help keep my kitchen running. Read our disclosures here.
This time last year, I was picking out my wedding dress without a care in the world. I was supposed to get married on June 6, 2020. I was supposed to have a bachelorette party and bridal shower. Instead, in March I found myself in quarantine. In April, we canceled the bachelorette and bridal shower. In May, we postponed our wedding eight weeks in the hopes things would be "better" by August. The honeymoon never even had a chance to be planned at all.
To say that 2020 turned everything on its head is an understatement. Everyone has been impacted by COVID-19. And no one really has the "right" answer on how to do…literally anything. We fought with our decision to postpone our wedding for weeks. It wasn't easy – and my heart goes out to other brides who are in this position.
For a normal wedding, you can expect about 20% of your guest list to RVSP "no." In our case, it was closer to 60%. Between having to replan the entire wedding for a new date, COVID cases spiking, family members and friends backing out at the literal last minute, mask mandates, extended quarantines and all the fun that comes with this additional stress, I'm not going to lie: it's impossible to feel "good" about your wedding in the weeks leading up to the big day when there's a pandemic going on.

But what I will say, if you are a bride in this position: DO IT. Just do it. Even if it's just you and your fiance standing six feet apart and your officiant is in a hazmat suit. It's worth it in the end. People are going to make the choice to come or not come. And that's fine, that is their decision to make themselves – and you can't be mad at people for prioritizing their health. At the end of the day, the only two people who matter are you and your future spouse. I kept repeating that to myself – only halfway believing it as more and more people dropped off our guest list – but the thing is, it's true. Whatever you feel about the people who aren't going to be there (it's valid to feel upset, no matter the reason), on our wedding day, I didn't even spare a passing thought about the people who weren't there. I could barely focus on the people who were there; because all I paid attention to on my wedding day was my happiness and my handsome husband.
We practiced all guidelines provided by the state and then some; people mingled or social distanced as desired, used individual hand sanitizers that we provided along with hand sanitizing stations throughout our venue, and wore masks at their own comfort – and not a single person got sick. And to top it all off, we had a fairy tale wedding that was absolutely perfect.
So what's all this mushy-gushy wedding stuff doing on my food blog you ask? "I'm here for the recipes!!" you might be thinking. Or if you were sucked in by my title, you might be asking how this has anything to do with honeymooning during a pandemic at all.
Don't you fret – this post may be different from my normal routine – but it will have a little bit of everything for COVID-Brides to have a perfect mini-moon in the comfort of your own home… er… yard.
Let's Go on a Backyard "Mini-Moon"
Our original honeymoon plans included two weeks spread out between Thailand and Japan. But as things started shutting down it became more and more apparent that leaving the country wasn't going to be the best idea. So we tabled all discussions about the honeymoon until next year or whenever a safe way to travel abroad is found.
We tossed around the idea of traveling somewhere domestically – but with most places still closed or operating under decreased hours, it seemed pointless to travel somewhere to 'explore' when our ability to do anything other than hang out in the Airbnb was extremely limited. Plus the whole not wanting to contribute to the spread of the coronavirus and all…
We definitely will still plan to do a big honeymoon trip in the future. But it still felt sort of lame to have our wedding on a Saturday and then basically…just go back to work on Monday. So instead, we decided to take the week off to de-stress (I desperately needed about 48 hours of uninterrupted sleep, that's for sure).
But to make it feel like we were actually able to "get away" for a few days, I thought it would be fun to pitch a tent in the backyard and effectively have a backyard honeymoon!
Fortunately, I married the right man and he loves to indulge my ideas whether or not he thinks it's going to be fun for him or not. And to be honest, we only slept outside for one night (because I care about his comfort too, this is marriage after all). However, we did have three fires and used the tent every evening for lounging, laughing and watching our favorite shows under the stars.
It was nice to have a simple pop-up space that was somewhere other than our deck or living room to retreat to. And even my husband had to admit, it was pretty romantic for an old tent in the backyard.
We've had this tent for years but have never actually used it. It fits several people so it was quite roomy for the two of us. To make things a little more comfortable (and romantic), I brought out our air matress and some cozy spare pillows and blankets from our guest room.
A couple cheap tiki torches helped keep the bugs away – and cast a wonderful glow around the tent after the sun went down. I even ran an extention cord from the house to the tent so we could plug in a fan, keep our phones charged and refill the matress if we needed to.
The best part about this DIY honeymoon is that I was able to reuse many of our wedding decorations to make it whimiscal and charming, just like our wedding was. We spent all the money for the materials and decor – might as well get to use it again!
I was even able to use our handmade cake stands (we picked up a few new hobbies over quarantine) and decorated them with some tea lights, flameless candles and a few of our floral centerpieces for extra romantic 'candlelit' mini bedside tables.
The dogs wanted in on all the action – naturally they had to be involved in every aspect of our backyard honeymoon. I mean, they even got their own comfy beds right next to ours in the tent.
Which speaking of the dogs, they definitely thought the tent was for them and them alone. Theo quickly staked a claim on the comfiest part of the bed. They both spent their own time in the tent without myself or my husband throughout all the days that the tent was out in the yard. Silly dogs.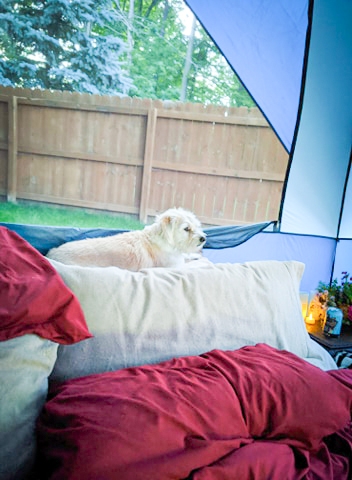 What's For Dinner?
For our inaugural night in the tent, I wanted to have a low key picnic-style dinner. Something that was easy and we could pick at throughout the evening. So I made us a honeymoon charcuterie board with all of our favorite snacks, dips, cheeses and jams.

I've found the easiest way to make an impressive charcuterie board is to mix between homemade and storebought ingredients. For example, the chicken and tuna salads, jalapeno cheese dip and French onion dip are all store bought.
The mango salsa and tomato salsa are homemade – the tomatoes and ghost peppers I grew myself!
The next key to an incredible charcuterie board is to offer as many dipping and/or sandwiching combinations as possible. For me, that means soft pretzels, croustinis and fresh baked French bread alongside butter crackers and Wheat Thins.
And a sweet cracker flavored with apricot and dates can make the perfect carrier for a sharp cheddar or spicy habanero cheese.
I also had a bunch of different cheeses to try – and the true secret to getting as many different cheese flavors for the cheapest price possible is to seek out sampler baskets in your deli. Most delis I've been to (at least here in Northeast Ohio) have tiny pieces of cheese for sale, usually the little end pieces that can't be sold for full price per pound.
I've found some incredible cheeses by perusing these baskets. Plus, nothing makes you feel extra fancy like some exotic cheese.
I've been lucky the last few times I've gone to the deli and finding jelly and jam samplers being available for a dollar each. With flavors like blueberry lemon, raspberry pepper and pearch bourbon cardamom the flavor combinations are endless.
I also like to mix in a variety of cured meats like summer sausage and salami mozzarella rolls. Little bits and bobs like pistacchios and olives can help fill in empty spaces. I served my board with sweet and savory dips like chipotle honey and gochujang for some exotic flair.
For dessert, I wanted a board with a lighter fare – especially after consuming an entire board of cheese. Don't mind the dog hair. When you live with two dogs that just spent the day playing on the very bed you planned to serve dinner on, you just have to learn to roll with it.
To play on the camping aspect of our dessert, I used a combination of fresh fruits and graham crackers paired with marshmallows and popcorn. Each dip has a touch of summer flair – marshmallow, fudge, lemon curd and sweet cream yogurt.
Dinner was a hit for both of us – and even the dogs tried to snag a taste here and there.
For after dinner and dessert, I even left us a little stash of snacks for later in the evening – and of course, I didn't forget the wine and seltzers on ice for the remainder of the evening.
We've been on our wedding diets for nearly two years, I felt we deserved a much needed night of munching on our favorites without thinking about our waistlines for once.

You can find a list of what ingredients I used to make my charcuterie boards at the bottom of this post!
The Whimsy Outdoor Decor!
After our wedding, we had dozens of flower arragements leftover which were perfectly repurposed to decorate the outside of the tent. I had considered donating the flower to a retirement home or hospital, but since these flowers were used as the centerpieces or carried as bouquets throughout the evening, I felt the safer choice was to keep them at home (despite the fact that there's no studies on whether or not coronaviruses enjoy flowers like butterflies).
We had plenty of fake candles and tea lights at our disposal – which made for the perfect romantic lighting once the sun went down.
It was romantic AF.
It was so nice to be able to walk out into our own backyard and have this gorgeous escape waiting for us every night.
A little bit of advice for everyone…
To the guests – please try to understand the position brides are in right now. Whether or not they decide to move forward with their wedding or postpone, we don't need your thoughts and opinions on the current situation the world is in. As much as it sucks to say, we just need your decision. We don't need texts with "did you see hear this" or "did you see this" regarding weddings. We are stressed enough. And if you don't think we aren't following the minute-by-minute updates ourselves, you would be very wrong. We already know. Some of us have put down thousands and thousands of non-refundable deposits. Some can't afford to lose out on that money and still have their dream wedding a year later. While normally a bride is thinking about her last minute details in the days leading up to the big day, pandemic brides are struggling with "am I providing enough hand sanitizer? Should I be buying everyone masks?" – things that weren't planned for or even considered during initial wedding planning before the world went to shit. And please don't think that just because you RSVP "no" (but would have come otherwise) that you shouldn't send a card or at least a text saying something to the couple. Even if we don't respond, we appreciate a little bit of empathy.
To all the COVID Brides out there dealing with an unprecedented pandemic, I feel your pain. I lived it for nearly six months. The stress is terrible. Everything IS awful. You can't plan, everything changes just when you think you have everything figured out. Guests don't know what to do either. There is no right answer. You have to make the decision yourself on how you want to have your wedding day during these strange times. I hope for all of us in this unfortunate position that we all get our dream days – safely.
The relief of the wedding being over feels almost as nice as the wedding day itself. I've never slept better than the days after my wedding when everything was said and done and I could cuddle up to my now-husband without the thought of wedding planning in the back of my mind.
Whatever day you choose to have for your wedding – Congratulations 2020 Brides! We will have the most unique and memorable weddings because of this! Who else can say they got married while the world was ending?
And one thing is for sure: no one will forget the time they went to a wedding in the middle of a pandemic.
Honeymoon Charcuterie Ideas
A simple and romantic honeymoon charcuterie board.
Ingredients
IDEAS FOR BREADS:
large soft pretzels

croustini

Wheat Thins

sesame, butter, etc party crackers
IDEAS FOR MEATS:
summer sausage

chorizo

pepperoni

salami mozzarella roll ups

tuna salad

chicken salad
IDEAS FOR THE CHEESES:
brie with orange fig jam on top

sharp cheddar

habanero cheddar

stilton

honey goat cheese

cream cheese

dill cheese curds
FOR THE DIPS:
variety of jams or jellies: pepper jelly, peach cardamom, blueberry lemon, etc

French onion dip

jalapeno cheddar dip

gochujang

chipotle honey
FOR THE "FILLER" SPOTS:
sweet or dill mini gherkins

stuffed olives

pistacchios

mango salsa

ghost pepper salsa
FOR DESSERT BOARD:
apple slices

popcorn

strawberries

chocolate fudge sauce

marshmallow sauce

lemon curd

sweet cream fruit dip
Instructions
Assemble the boards so that all the space is filled – starting with the harder meats and cheeses and fill in with breads, jams and dips. Enjoy!