Jack Johnson's Banana Pancakes Recipe
The Starving Chef is supported by Hungry People like you. When you make a purchase through an affiliate link on my site, I may earn a little bit of cash on the side (at no extra cost to you) to help keep my kitchen running. Read our disclosures here.
If you have Jack Johnson music stuck in your head, the only cure is to make banana pancakes and pretend that it's the weekend.
And that is precisely the position I found myself in the other night. So in the morning, in order to cure my earwig, I made banana pancakes and smothered them with peanut butter and honey – and let me tell you…it worked! Well, sorta. Because now I just can't stop thinking about banana pancakes in general.
While my banana pancakes are just a flavorful extension of the good ol' classic flapjack recipe, I opted to make mine "silver dollar style" which basically means you get triple the number of pancakes at a quarter of the size. I'm not good at math, but I'm pretty sure it's something like that.
Either way, I ended up with a few dozen silver dollar sized pancakes that were perfectly poppable and strikingly stackable.
I also figured out a trick or two to getting the perfect golden pancake on both sides. First is maintaining a relatively low temp. I used to cook my pancakes on a medium high temperature and would either burn them or end up with a batter-y center. It's best to cook pancakes on a medium temperature, and the reason for the low temp has less to do with burn prevention and more to do with how the pan is greased.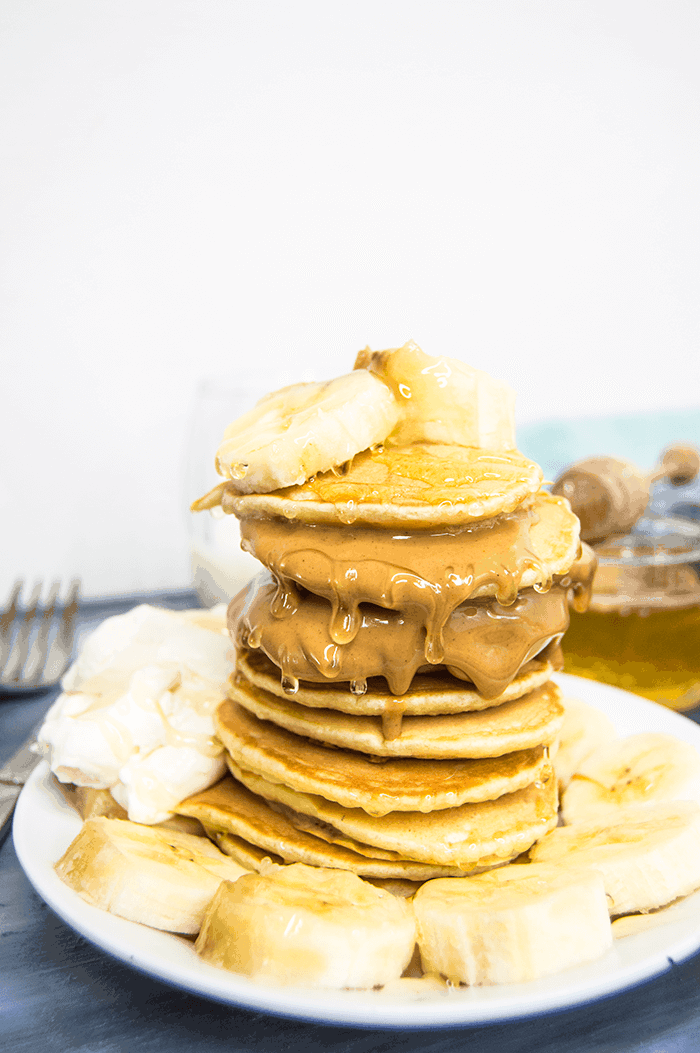 The second trick I learned is to not grease the pan with excess. Just barely a mist of cooking spray does the trick. Even better if you are using a non-stick pan or griddle. And this is where the medium cooking temp comes in – if the pan is too hot, the butter or oil will bubble and create an uneven cooking surface and result in unevenly browned pancakes.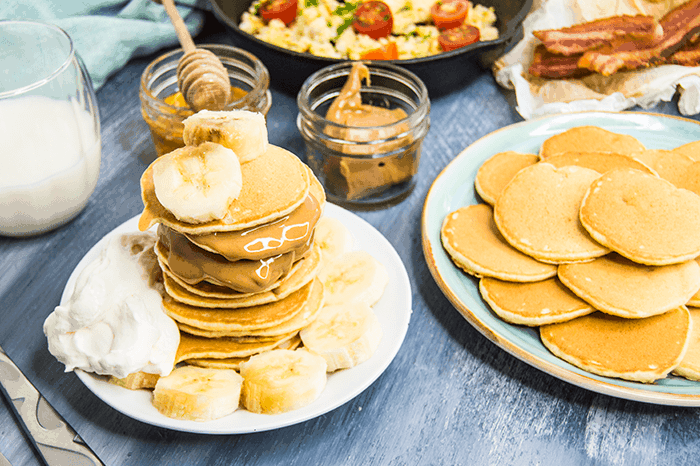 And when it comes to toppings for the banana pancakes, of course more banana is the #1 option, even over maple syrup. I spread a thick layer of creamy peanut butter on some of my pancakes and let it ooze onto the pancakes below it in the stack. I also drizzled some honey over the whole thing instead of maple syrup. Plus add a little bit of homemade whipped cream to the mix, and you're bound to have a breakfast that makes you forget every song you've ever had stuck in your head.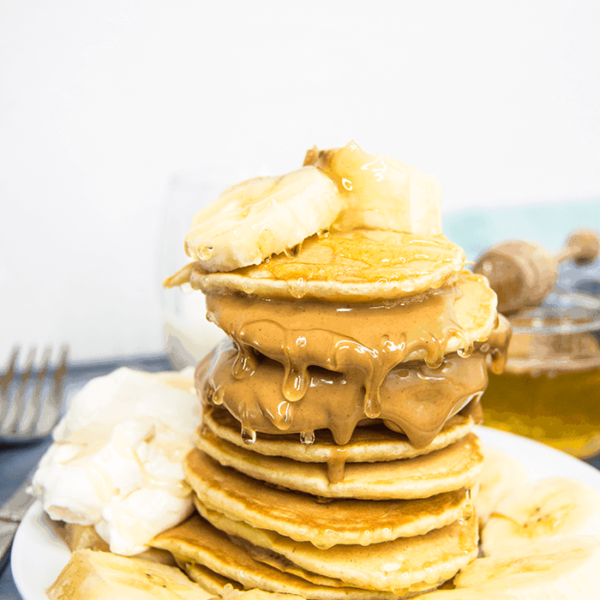 Jack Johnson's Banana Pancakes Recipe
I made banana pancakes and smothered them with peanut butter and honey
Instructions
Preheat a pan or pancake griddle over medium heat. Lightly spray with cooking oil – take care not to "over grease" the pan. Mash the bananas in a bowl.

In a small bowl, whisk together the flour, baking powder, sugar and salt. Stir in the vegetable oil until a crumbly dough forms. Add the egg and slowly pour in the milk while stirring. The batter should be thick and smooth. Stir in the mashed bananas.

Test out a teaspoon of the batter in the preheated pan. If it cooks too quickly or burns, reduce the heat. When the pan is properly heated, spoon 2 tablespoons of the batter into the pan in a circular motion. Cook for 2-3 minutes per side, until the pancake is golden brown on both sides. Work in batches for 3-5 pancakes, letting the pan reheat between sets.

If using, whip the heavy cream for 5-10 minutes until smooth and it holds its shape on a spoon. Prior to serving, to keep the pancakes warm, preheat the oven to 160 F and use a ceramic plate or aluminum baking sheet to hold the pancakes until ready to serve. Serve the pancakes with creamy peanut butter and a side of local honey, plus some fresh bananas for topping as well! Enjoy!