Jamaican Jerk Shrimp Pasta
The Starving Chef is supported by Hungry People like you. When you make a purchase through an affiliate link on my site, I may earn a little bit of cash on the side (at no extra cost to you) to help keep my kitchen running. Read our disclosures here.
Another week of playing "what's in my fridge door" to clear out old ingredients to make way for the new! This week: Jamaican jerk shrimp pasta!

My fiance recently had to travel to Jamaica for work and brought me back a ton of authentic Jamaican jerk spices to play with. While I certainly miss him while he travels, I always get so excited to see what exotic foods and spices he brings home for me to try. He's been to Jamaica a few times now – and his last trip he brought home so. many. spices. I barely knew what to do with them all!
And that's how this recipe came about. It uses authentic spices straight from the source. Don't worry if you can't take a quick trip to Jamaica for your spices – you can usually find premade blends in the spice aisle! Just check out the origin of the brand and read the spice mix ingredients on the side to make sure you're getting the best stuff.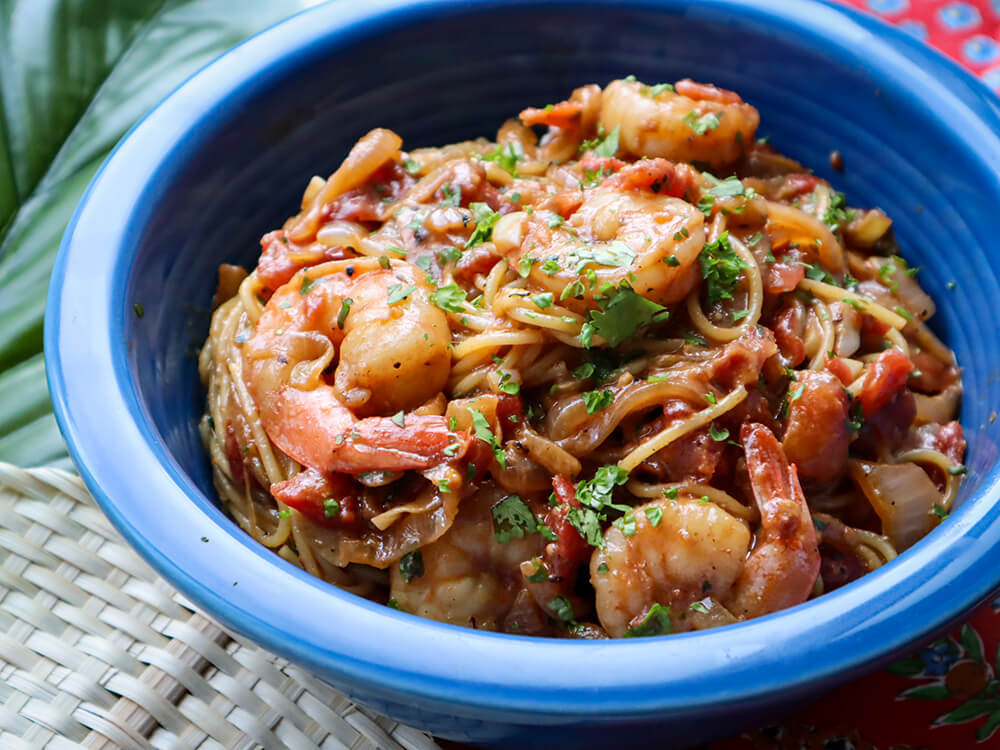 This easy pasta dish comes together in just minutes and is packed with Jamaican heat. The best kind of Jamaican herb blends include plenty of allspice and – Jamaica's specialty – scotch bonnet peppers.
If you're lucky, you might be able to find fresh or dried scotch bonnets at your local grocery. But be warned, if you want to use the real deal in your dish, scotch bonnets are incredibly spicy! But that's what really defines Jamaican food – the HEAT!
Inspired by dishes my fiance ate during his travels – and then attempted to describe to me to recreate – this dish is hands down one of the best dishes I've made yet!
My fiance essentially described a dish that he had tried in Jamaica as best he could. He's not as experienced in the kitchen as I am, so translating his 'lay man' cooking terms and techinques was the most challenging part about this recipe.
But according to him, this dish was better than anything he had ate while he was in Jamaica – but he may have been saying that because he just missed my cooking. What can I say, he's spoiled.
I threw together my shrimp pasta by digging around in my fridge and finding similar ingredients to what my fiance described from his Jamaican food experiences. Lots of peppers, lemons, limes and coconut oil! He brought me a lemon-infused coconut oil which has been hands down my favorite cooking item he's brought home to me. I've never seen anything like it in American stores – so next time he goes, I'm making a special request for him to bring me more! If you know where to find lemon-infused coconut oil, I NEED to know!
I can't wait to travel to Jamaica myself one day so I can really get a taste of some authentic cuisine. While it's fun to recreate exotic dishes at home, I'm sure they will always fall short of the real deal. Regardless, this shrimp dish is hella delicious and I'm definitely adding it to my ever growing list of weeknight meals because it comes together so quickly!
What are some of your favorite Jamaican inspired dishes? Let me know in the comments!
Jamaican Jerk Shrimp Pasta
This easy pasta dish comes together in just minutes and is packed with Jamaican heat.
Ingredients
16

oz

shrimp

peeled

6

cloves

garlic

minced

½

cup

sweet onion

sliced

2

tablespoons

lemon infused coconut oil

or plain coconut oil

1

lemon

juiced

4

tablespoons

Jamaican jerk seasoning

14

oz

diced tomatoes

4

servings

angel hair pasta

cooked

½

cup

butter

½

cup

Parmesan cheese

fresh parsley

for topping
Instructions
Bring a pot of water to a rolling boil. Cook the angel hair pasta according to the instructions on the box. Reserve one cup of the pasta water and drain the rest.

In a large skillet over medium high heat, melt the coconut oil. Add the onion and saute until tender, about 5 minutes. Add the diced tomatoes and simmer until most of the liquid has evaporated – about 10 minutes.

Stir in the garlic, Jamaican jerk seasoning, lemon juice and butter. Stir until the butter has melted and a sauce begins to form. Add the shrimp to the skillet and cook for 2-3 minutes then add the angel hair pasta. Cook until the shrimp are pink and plump and the pasta is heated through.

Garnish with fresh parsley and a sprinkling of parmesan cheese, to taste. Enjoy!