Judy's Hot Chocolate from The Santa Clause
The Starving Chef is supported by Hungry People like you. When you make a purchase through an affiliate link on my site, I may earn a little bit of cash on the side (at no extra cost to you) to help keep my kitchen running. Read our disclosures here.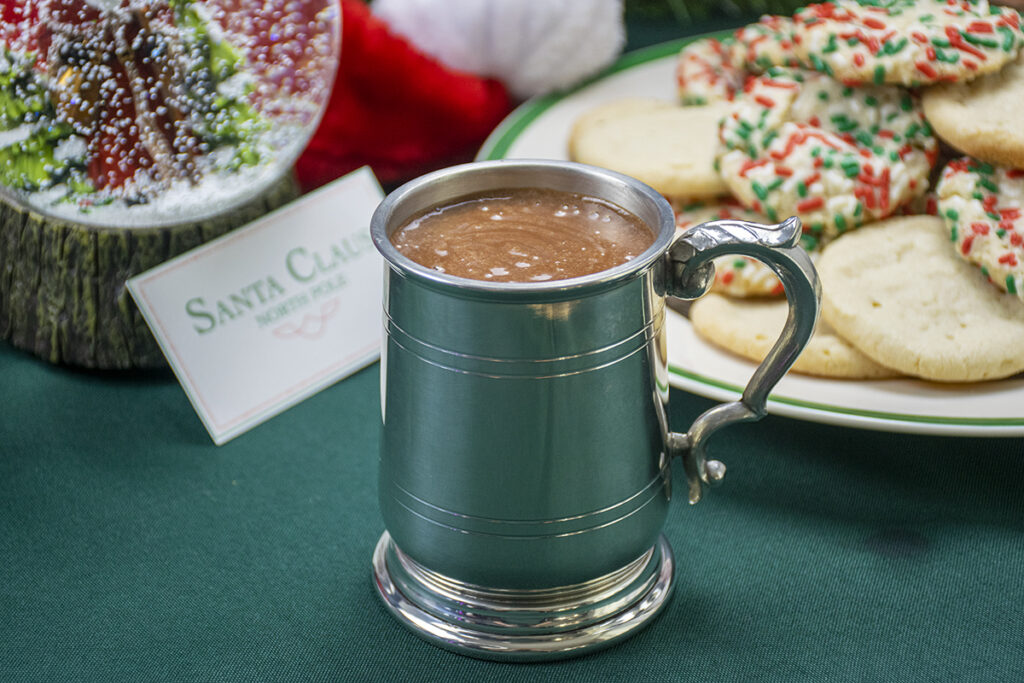 Tis the season for Christmas movie marathons!
One of my favorite Christmas movies is Tim Allen's 1994 classic The Santa Clause – and if you haven't seen this cinematic masterpiece that is a peak 1990s family-friendly comedy, do yourself a favorite and watch it this Christmas.
I remember being very concerned as a four-year-old that we didn't have a fireplace – and how would Santa enter our home without one? Well, The Santa Clause made sure to answer this question for my childhood-self in a satisfactory manner that solidified my belief in Santa for many years.
In the movie, Scott Calvin (Tim Allen) enjoys a cup of pefect hot cocoa from the elf, Judy, who says she's been practicing making the recipe for 1200 years. I cannot begin to describe how badly I wanted to taste this hot chocolate as a kid – and I would endlessly try to recreate it every time I was given the chance to make cocoa.
My method was to sneak in as many marshmallows as I could and stir until they melted – and then I would pretend I didn't get any marshmallows so I could add more on top. This would result in a creamy, fluffy hot chocolate that soothed my little four-year-old soul.
Making Judy's Hot Chocolate
This hot chocolate recipe relies heavily own my own childhood nostalgia for hot cocoa.
milk – whole milk is best because its fat content will hold on to the most chocolatey flavor
evaporated milk – this addition will make the hot chocolate silky smooth
heavy cream – when shaken, adds air and fluffiness
semi-sweet chocolate chips – I recommend semi-sweet over dark chocolate for this recipe; it will be very rich chocolate (but feel free to adjust the amount of chocolate to your personal preference)
hot fudge sundae topping – for the "extra chocolate" in the cold foam
marshmallows – not going on top, but whisked in to this recipe to make a fluffy-textured hot chocolate
"Not too hot, not too cold. Extra chocolate."
The secret to the perfecr hot chocolate isn't necessarily the cream or cocoa. In fact, getting the temperature just right is the key to the highest amount of enjoyment.
This recipe has two chocolatey phases – the first is heating the milk, evaporated milk and marshmallows together with the chocolate chips to make a thick but smooth chocolate sauce. You want this chocolate to be steaming hot, but as soon as it starts to bubble, remove it from the heat so it doesn't start to cook and burn.
The second phase is to make a cold chocolate cream to mix into the chocolate sauce to make the perfect hot chocolate – in both temperature and taste.
"Shaken, not stirred."
WARNING – IMPORTANT – DO NOT SHAKE HOT LIQUIDS!
Now please understand this is a fictional movie with fictional characters and apparently fictional physics. I cannot stress enough – DO NOT SHAKE HOT LIQUIDS IN ENCLOSED CONTAINERS – IT WILL EXPLODE.
I'm not sure what Judy was on when she said shaking the drink was part of the process. Unfortunately for Judy, this is not possible.
Instead, make a cold chocolate cream that can be shaken into a foam in a cocktail shaker or mason jar. You want to shake until foamy and slightly thickened (but don't over shake into a chocolate butter, as good as that sounds).
Then pour this cold chocolate foam into the steaming hot chocolate sauce and stir until it is just combined into a consistent color. The hot chocolate will mix with the cold cream to make the perfect temperature hot chocolate.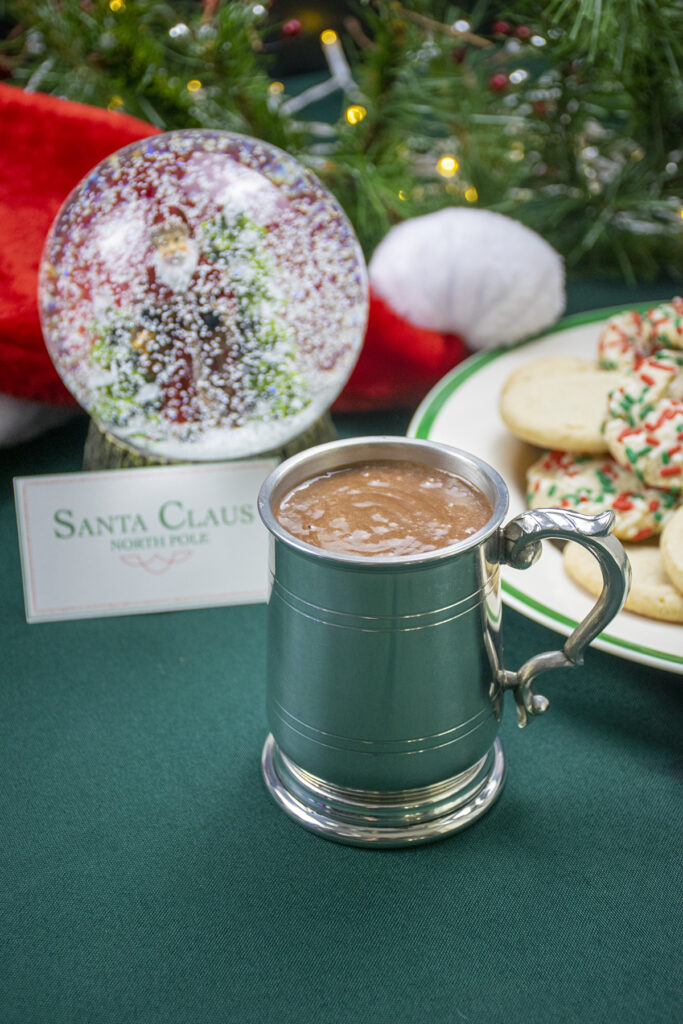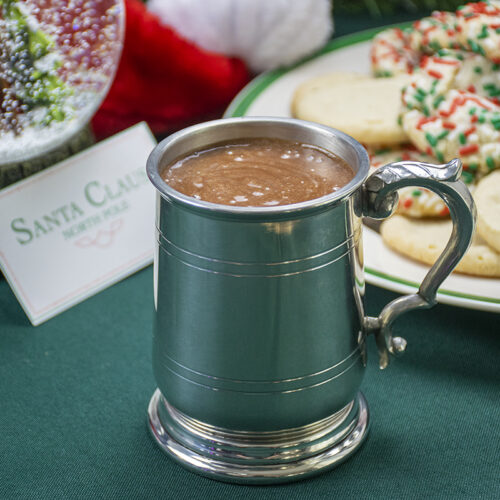 Judy's Hot Chocolate from the Santa Clause
Judy's hot cocoa from The Santa Clause is an iconic Christmas drink that few people get to taste. This recipe combines the best of fluffy marshmallows and cold chocolate cream to make the perfect hot chocolate recipe.
Equipment
mason jars

for shaking cream (or can use cocktail shaker to mix)
Ingredients
FOR CHOCOLATE CREAM
1

cup

heavy cream

cold

¼

cup

whole milk

cold

2

tablespoons

hot fudge sundae topping

warmed until pourable
Instructions
In a large pot over medium heat, whisk together the whole milk, evaporated milk and marshmallows. Stir until the marshmallows are just beginning to melt.

Stir in the chocolate chips. Stir continuously, scraping the bottom of the pot as you go to make sure the chocolate isn't sticking and melting on the bottom. Continue to stir until the marshmallows are completely melted and there is no chocolate on the bottom of the pot. The liquid should be soupy but not thickened. When it begins to steam and bubble, remove it from the heat.

Meanwhile, in a mason jar or cocktail shaker, combine the heavy cream, milk and hot fudge. Shake vigorously until well combined and foamy – about 5 minutes.

Carefully transfer the hot chocolate sauce to a serving pitcher. Pour the cold cream on top then use a long spoon to stir the hot chocolate until it reaches a consistent color throughout. Serve right away to the future Santa – enjoy!
ALTERNATIVE SERVING INSTRUCTIONS
Use a ladle to fill individual serving cups about 1/2 way full with the steaming hot chocolate sauce . Then pour the cold chocolate cream on top until the cups are about 3/4 full. Stir each serving until a consistent temp and color can be seen throughout, then serve warm. Happy Holidays!
REHEATING INSTRUCTIONS
After mixing the hot chocolate sauce and cold cream, as the liquid cools it will firm up to about pudding consistency. Reheat the hot chocolate in 30 second interverals in the microwave, stirring between each heating, until the hot chocoalte returns to a warm drinkable, consistency. Enjoy!