KNOW YOUR: Apples (with homemade apple cider recipe!)
The Starving Chef is supported by Hungry People like you. When you make a purchase through an affiliate link on my site, I may earn a little bit of cash on the side (at no extra cost to you) to help keep my kitchen running. Read our disclosures here.
Apple picking season is right around the corner. I'm ready to get out and get to pickin' – but first, I want to get to know as many different types of apples as I can get my hands on.
At my local store, I was able to pick up a dozen different kinds of apples. And of course, I took the labels off for pictures and confused which pics went with which apple, but at least I wrote down the different kinds of apples I purchased:
Golden Delicious
Granny Smith
Macintosh
Red Delicious
Honeycrisp
Pink Lady
Gala
Jonagold
Ambrosia
Jazz
Kanzi
Braeburn
In the USA alone, there are over 2,500 different kinds of apple types – and over 7,500 worldwide. However, out of all of those apples, only about 100 are commercially available in the United States.
Of course, what to do with two dozen different kinds of apples? Watch the video to find out which apples are best for your favorite apple recipes.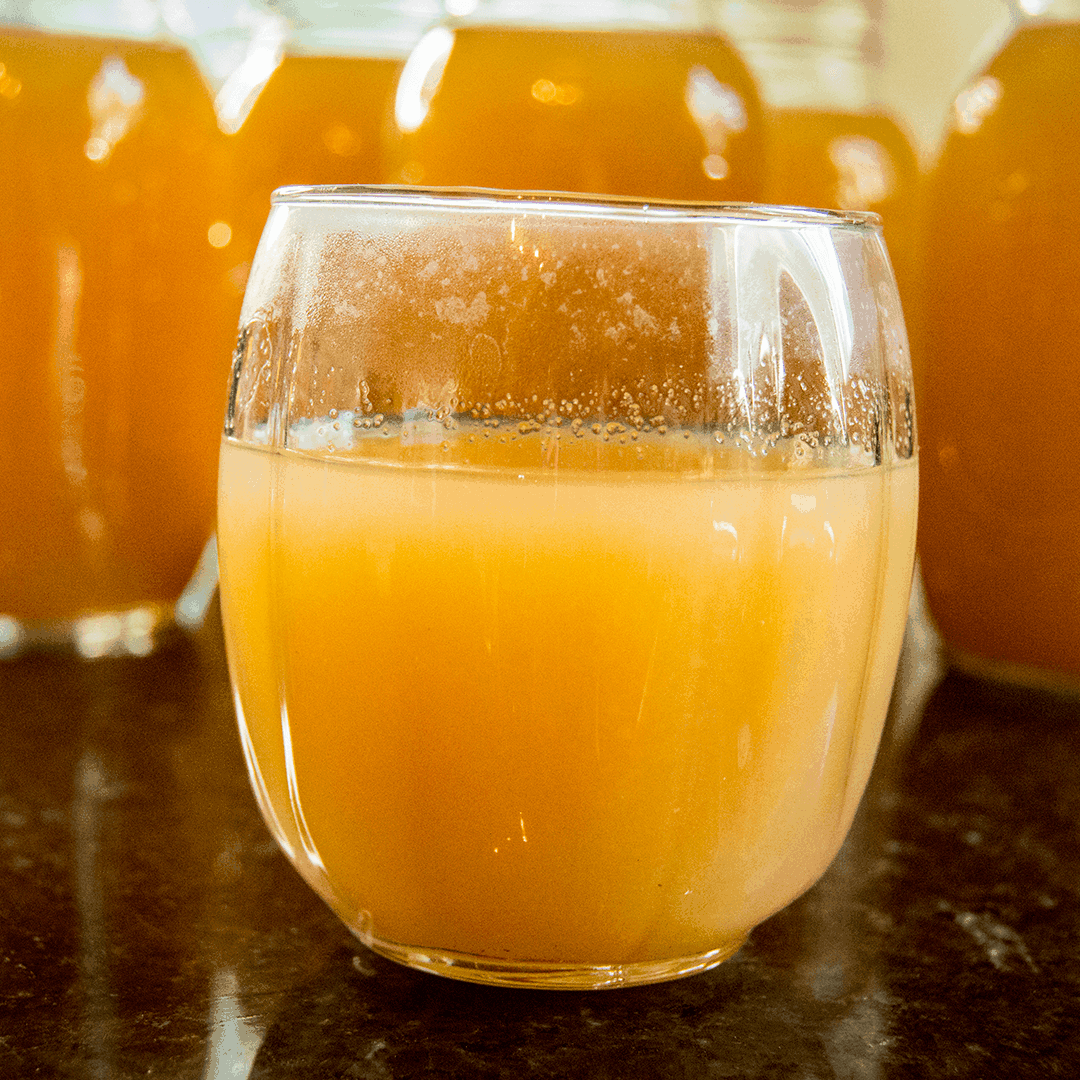 I decided to turn my apple collection into the ULTIMATE apple cider. Sweetened with oranges and spiced up with cinnamon sticks, allspice and cloves – it's time for pumpkin spice to move over. There's a new fall favorite flavor in town: APPLE SPICE!
KNOW YOUR: Apples (with homemade apple cider recipe!)
Sweet and tangy apple cider made from 12 different kinds of apples!
Ingredients
Instructions
Peel, core and finely slice the apples. Leave a few apples with the skin attached for a bitter bite to the cider (I left on about 3-4 apple skins). Quarter the oranges and throw the oranges into the pot.

Place the apples into a large soup pot – the pot needs to be big enough to cover the apples and oranges almost entirely with water. Fill the pot until the apples and oranges will stay submerged when pressed on with a spoon (cover with about 1/4 inch of water, the apples and oranges will peak out of the water as they float).

Use a coffee filter and make a makeshift pouch. Place a cinnamon stick, allspice, and cloves into the pouch and secure it to the side of the pot.

Heat the pot over high heat, stirring occasionally, until the water comes to a rapid simmer. Then cover the pot and reduce the heat to medium low. Simmer for 2-3 hours, until the water is amber in color and fragrant.

Strain the apples and liquid though a fine mesh sieve over a large bowl to remove as much of the apple pulp as possible. Discard the pulp. Pour the collected cider into large mason jar and seal. Place the jars into the fridge to chill completely and let the flavors develop further.

The apple cider can be enjoyed reheated to a warm temperture, though I prefer my apple cider chilled for the best results. Enjoy!
Video