Kronk's Spinach Puffs from The Emperor's New Groove
The Starving Chef is supported by Hungry People like you. When you make a purchase through an affiliate link on my site, I may earn a little bit of cash on the side (at no extra cost to you) to help keep my kitchen running. Read our disclosures here.
Packed with cheesy spinach and wrapped in a flaky puff pastry – these puffs may not turn you into a llama but they will certainly help you find your groove.
One of my favorite childhood movies, The Emperor's New Groove (2000) was an instant hit with me and my other ten-year-old friends and quotes from it remain in my vernacular even two decades later.
While at the time it didn't recieve much critical acclaim at the time, it went on to be a cult classic for animated-movie Disney nerds and comedy-buffs alike.
One of the most iconic scenes in the movie happens when Kronk and Yzma attempt to poison Kuzco – however unsuccessfully. Kronk is interrupted from the poisoning process when his spinach puffs start burning, causing him to run off and then forget which drink he had already poisoned.
Yzma : So, is everything ready for tonight?

Kronk : Oh, yeah. I thought we'd start off with soup and a light salad, and then see how we feel after that.

Yzma : Not the dinner. You know…

Kronk : Oh, right. The poison. The poison for Kuzco, the poison chosen especially to kill Kuzco, Kuzco's poison. That poison?

Yzma : Yes! That poison.

Kronk : Got you covered.

Yzma : Excellent. A few drops in his drink, and then I'll propose a toast, and he will be dead before dessert.

Kronk : Which is a real shame, because it's gonna be delicious.

The Emperor's New Groove (2000)
Making Kronk's Spinach Puffs
You only need a few simple ingredients to make these delicious spinach puffs.
spinach – fresh spinach works better than frozen spinach for both taste and texture
neufchatel – lower in fat and has a smoother texture than cream cheese (but regular cream cheese can be used in a pinch!)
ricotta – adds a mild nutty flavor and more cheese
feta cheese – crumbles add pops of salty flavor throughout the filling
water chestnuts – add crunch and texture
green chiles – canned are best as they are already chopped, roasted and tend to be milder in heat
onion – add a sweet undertone of flavor
dill – enhances the sweet flavor while adding herby taste
puff pastry – to wrap it all together in a crispy, golden pastry
After the puffs are assembled, bake them until they are golden brown and puffed up. If some of the filling slips out, use the back of a spoon to gently press the filling back in to the pastry shell while they are still hot.
The puffs can be served (a la 'Kronk-style'), room temp or even chilled!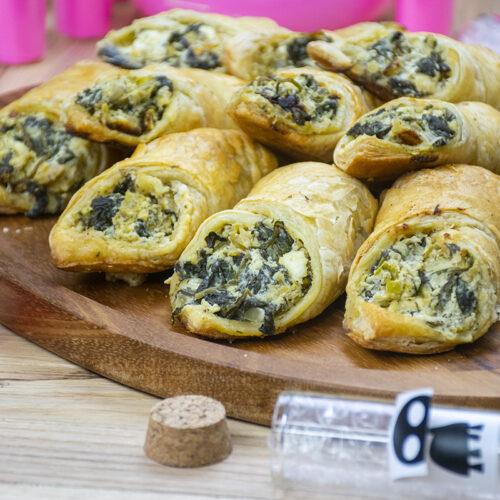 Kronk's Spinach Puffs from The Emperor's New Groove
Making a copycat recipe inspired by Kronk's spinach puffs in The Emperor's New Groove. Packed with cheesy, spinachy flavor and wrapped in a flaky puff pastry, it's no wonder these are Kronk's favorite puffs.
Ingredients
2

tablespoons

butter

½

cup

onion

chopped

4.5

oz

diced green chiles

canned

1

tablespoon

garlic

1

tablespoon

dill

8

oz

fresh spinach

4

oz

neufchatel

room temperature

¼

cup

ricotta

¼

cup

feta

crumbled

½

cup

water chestnuts

chopped

2

sheets

puff pastry

1

tablespoon

water

1

egg

whisked
Instructions
Preheat the oven to 350°F. Open the puff pastry and begin to thaw. When the pastry is pilable, unfold and cut into six even rectangles.

On the stovetop, melt the butter until frothy then add the onion and diced green chiles. Saute for 3-5 minutes.

Stir in the minced garlic and dill. Continue to cook until the dill is just fragrant and the onions have softened, about another 5-8 minutes. Transfer to a mixing bowl.

While the spinach mixture is still hot, stir in the ricotta, feta and neufchatel cheese. Don't overstir, leave some of the mixture clumpy – just mix enough to cover the spinach in a consistent coating of the cheeses.

Arrange the puff pastry on a baking sheet lined with parchment or a silicone baking mat. In a small bowl, whisk together the egg and water to make an eggwash.

Use a spoon to measure about 2-3 tablespoons of the spinach mixture into the center of each rectangle. Pull the left corner edge to stretch and pull it over the center of the filling. Then pull up the bottom corner to cover the center. Finally wrap the right corner edge over the center and tuck under the filling so that it wrapped up in the center. Leave the last corner open so the filling is exposed.

Brush the eggwash generously over the pastries. Bake in the preheated oven for 30-35 minutes or until the puff pastry is golden brown and cooked through.

Serve the spinach puffs hot – or allow to cool and serve room temperature; or chill and serve later. Enjoy while attempting to poison the Emperor. Boom BABAY!
Notes
If any of the filling is spilling out, use the back of a spoon to lightly press the filling back into the center of the puffs while they are still hot.