Last Minute Christmas Cookies for Santa Claus
The Starving Chef is supported by Hungry People like you. When you make a purchase through an affiliate link on my site, I may earn a little bit of cash on the side (at no extra cost to you) to help keep my kitchen running. Read our disclosures here.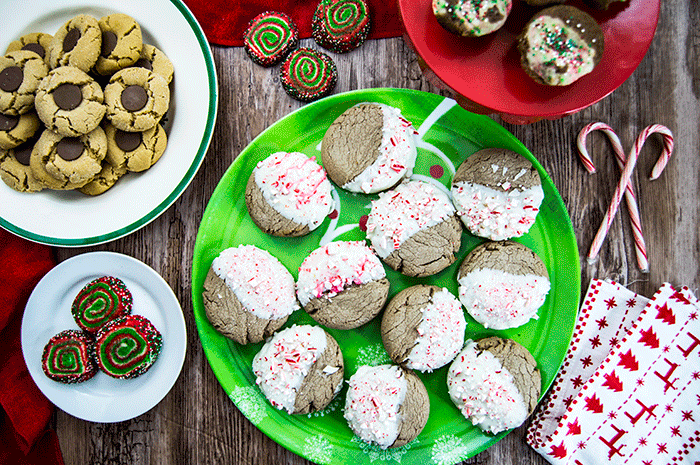 Christmas means COOKIES! As well an abundance of other sweet and treats – and who doesn't love stuffing their face with cookies like Santa Claus on Christmas Eve? Cookie trays are a staple of the holiday season too. While everyone else gifts boxes of chocolate, just spend an afternoon baking and you'll have enough cookies to gift to all your friends and family.
---
Peanut Butter Blossoms
Possibly the most classic Christmas cookie, aside from Gingerbread men and decorated sugar cookies, is the peanut butter blossom. This is my modified version of it – turns out if you don't have Hershey kisses, you can totally still make them! I was halfway through making the cookies before I realized I forgot to buy chocolate kisses.
I just so happened to have chocolate buttons, also known as chocolate melts, in my pantry that worked out just as well. And even though they don't look particularly traditional, they tasted just the same. I kind of look the 'sleek' look of an old favorite.
---
Christmas Pinwheel Cookies
Another fun twist on a classic cookie: sugar cookie pinwheels! Colored sugar cookie dough is rolled thin and then layered to create this crazy effect. For some extra fun, the cookies can also be rolled in sprinkles.
The best part about these pinwheel cookies is that they only look complicated to make!
---
Chocolate Cheesecake Muffins
Cookies may be the champions of Christmas, but muffins are certainly a welcome addition to any cookie platter in my opinion. These chocolate muffins have a cheesecake filling that's colored with red, green and white sprinkles to add some holiday cheer.
Plus, I made my muffins mini so they are easy to sneak into your mouth in a single bite. And trust me when I say, these things are straight addictive!
---
Hot Cocoa Candy Cane Cookies
It's hard to celebrate Christmas and not find at least one candy cane in your house. These cookies use hot cocoa powder for their chocolaty taste and crushed candy canes for a burst of pepperminty goodness.
It's like the holiday season all wrapped up into one cookie.
---
HAPPY HOLIDAYS
I'll be back next week with more delicious recipes!