Leche Flan | Filipino Inspired Dessert
The Starving Chef is supported by Hungry People like you. When you make a purchase through an affiliate link on my site, I may earn a little bit of cash on the side (at no extra cost to you) to help keep my kitchen running. Read our disclosures here.
This week we are traveling across the world to get a taste of the famous Filipino leche flan – it's smooth and creamy and strongly reminds me of a creme brulee or creme caramel. Maybe it's a combo of both? Whatever it is, it is AMAZING.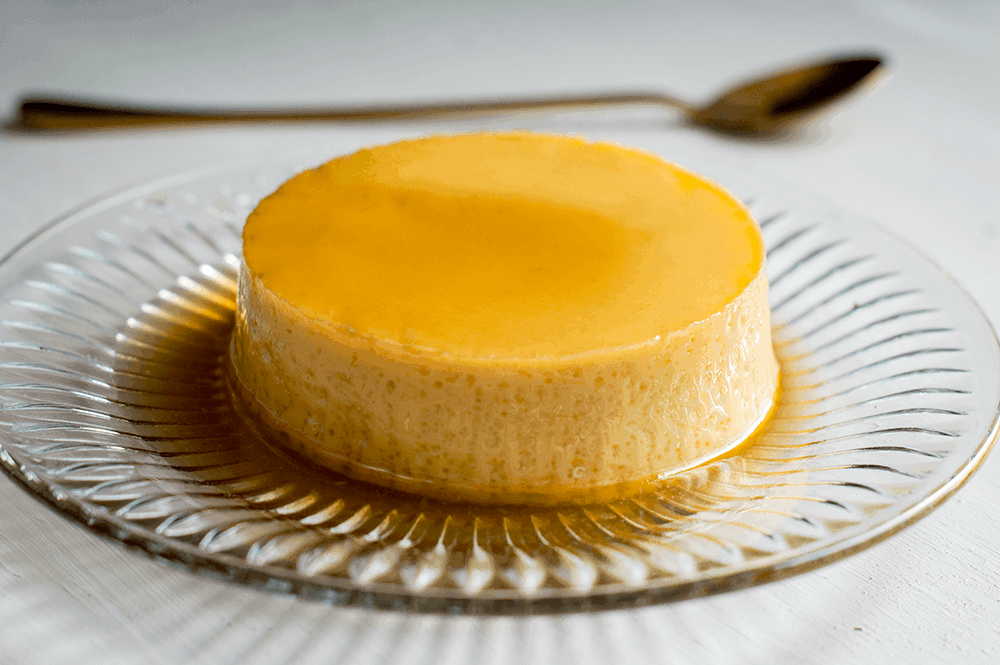 And the best part? It's totally super easy to make. I whipped some up one night on a whim because I had a can of sweetened condensed milk AND a can of evaporated milk that I had no idea how to use up – turns out, leche flan is the perfect way to use both!
It's basically a super sweet custard with a caramel-like sauce drizzled on top.
One could almost equate leche flan to an upsidedown version of creme brulee – many similar flavors, without having to light anything on fire! If there's one thing for sure, I'll definitely be craving this for the rest of my life. Seriously. It's SO good!
Leche Flan | Filipino Inspired Dessert
Filipino leche flan – it's like a combo of creme brulee and creme caramel!
Instructions
Melt the sugar in a small skillet over medium high heat until it is thick and caramelized. Spoon about 3 tablespoons of the caramel into the bottom of each ramekin and let harden.

Preheat the oven to 375 F. In a medium sized bowl, use a hand mixer to whip together the yolks, evaporated milk and sweetened condensed milk. Pour the liquid mix through a strainer to remove any form or lumps. Pour the strained liquid into each ramekin, so that they are about 1/2 to 3/4 of the way full.

Place the filled ramekins into a shallow pan (should have high walls) and fill with water so that the water reaches about halfway up the side of each ramekin. Bake for 50 minutes to an hour, or until the custard is set and a toothpick inserted in the center comes out clean. Use a knife to loosen the custard from the sides of the ramekins.

Let the custard cool until completely set, then chill until ready to serve. Place the serving plate on top of the ramekin and flip so that the caramel sauce is on top of the custard. Jiggle the ramekin gently to release the custard. Spoon any residual caramel over the top of the flan leche. Enjoy!