Savory Bacon-Infused Waffles with Chicken and Hollandaise
The Starving Chef is supported by Hungry People like you. When you make a purchase through an affiliate link on my site, I may earn a little bit of cash on the side (at no extra cost to you) to help keep my kitchen running. Read our disclosures here.
What's Up, Hungry People
I could eat chicken and waffles every night of the week, and you know what? It's not just about the deliciousness; it's also incredibly simple and perfect for a quick weeknight dinner, clocking in at just fifteen minutes!
The best part?
You can customize your chicken waffle experience in countless ways. I've ventured into the realms of maple sriracha aioli and chorizo before – talk about flavor explosions!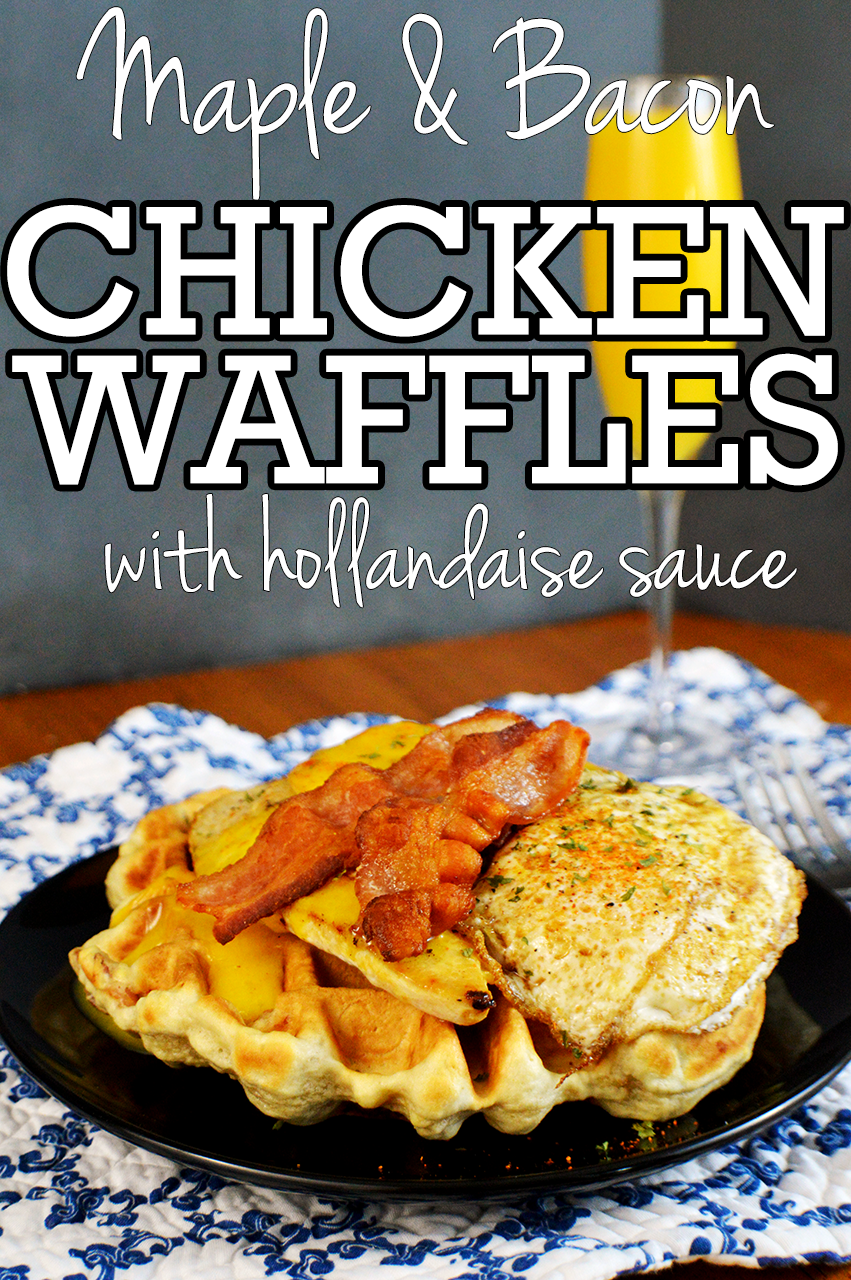 Elevating the Classic
This time, though, I wanted to take things up a notch by infusing a savory twist into the waffle itself. I introduced maple syrup and bacon into the waffle batter, creating an enticing combination that's both sweet and savory. And the pièce de résistance? A generous slathering of hollandaise sauce on top, crowned with a perfectly fried egg.
The result is a culinary creation so versatile that it leaves you pondering, "Is it breakfast, lunch, or dinner?" Personally, I believe it conquers all three mealtimes! The only thing missing from this feast is a spicy bloody mary.
All you need for this recipe is your favorite waffle recipe, some chicken, bacon, and eggs. First, fry the bacon in a skillet, then leave the grease in the pan and fry up the chicken. I used extra thin chicken breasts. Whisk together the waffle batter while the chicken is cooking, and start making the waffles. Finally, make the holladaise sauce and throw everything together!
Here's What You Need
For Waffles:
Flour: Provides the main structure and texture to the waffle batter.
Maple Syrup: Adds sweetness and a subtle maple flavor to the waffles.
Bacon (cooked & crumbled): Infuses a savory, smoky flavor and crispy texture into the waffle batter.
Baking Soda: Acts as a leavening agent to help the waffles rise.
Half & Half: Adds creaminess and moisture to the waffle batter.
Egg: Provides structure and richness to the waffles.
Butter (melted): Enhances flavor and contributes to the waffle's tenderness.
Salt: Balances the sweetness and enhances overall flavor.
For Chicken:
Chicken Breasts (pounded or sliced thin): The main protein source, cooked with seasoning for a savory topping.
For Hollandaise:
Egg Yolks: Form the base of the rich hollandaise sauce.
Butter: Adds creamy richness and flavor to the hollandaise.
Cayenne Pepper: Provides a hint of heat and depth of flavor.
Lemon Juice: Adds acidity for balance and a touch of brightness.
Salt: Enhances overall seasoning and taste of the hollandaise sauce.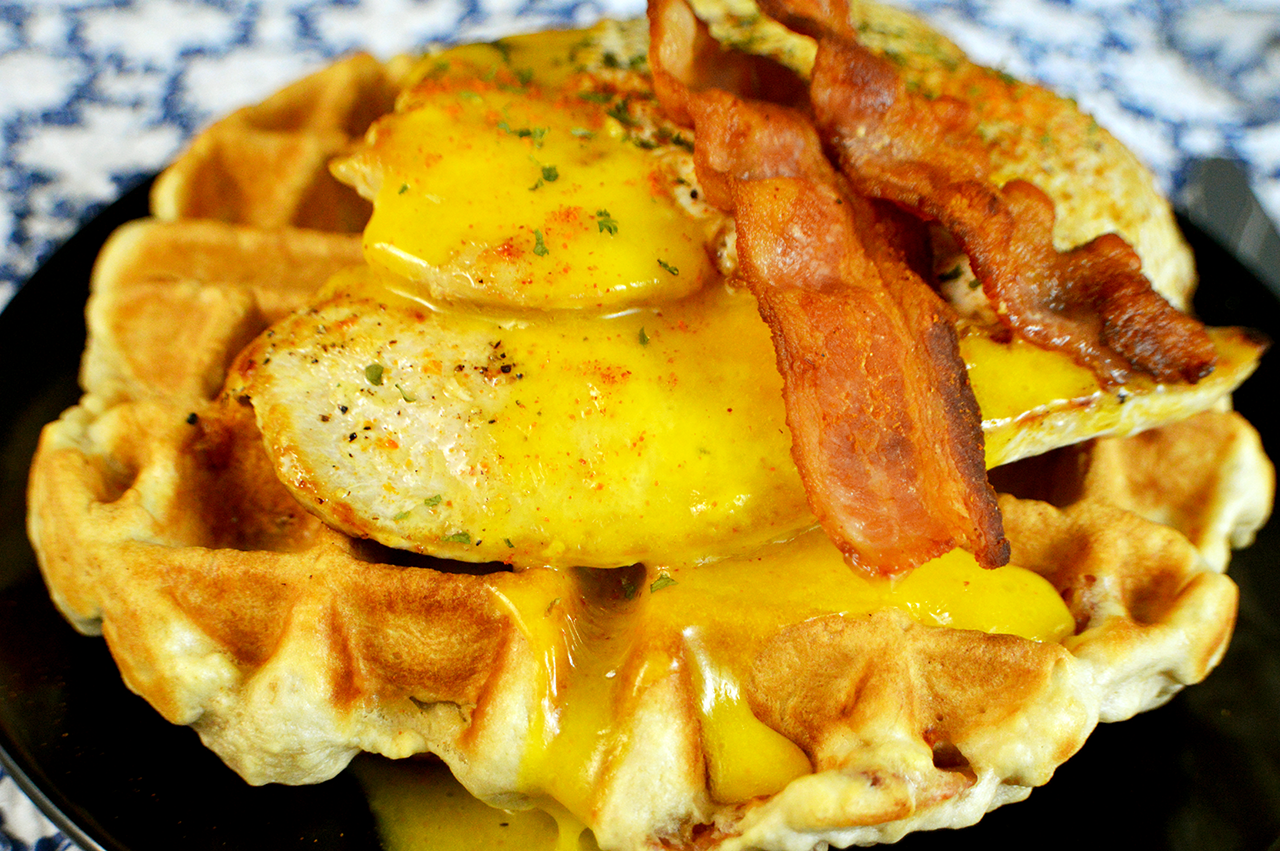 Tips & Tricks
For Waffles:
Bacon Selection: Use high-quality bacon for the best flavor. You can also experiment with different bacon flavors, like maple or applewood-smoked.
Batter Thickness: Adjust the batter thickness by adding more or less half & half to achieve your preferred waffle texture.
Waffle Iron Temperature: Make sure your waffle iron is properly preheated and set to the desired browning level before pouring in the batter.
Non-Stick Spray: If your waffle iron tends to stick, consider using a non-stick spray or brushing it with melted butter before cooking.
For Chicken:
Uniform Thickness: Pound or slice the chicken breasts to ensure they have a uniform thickness, which helps with even cooking.
Doneness: To check for doneness, use a meat thermometer. Chicken should reach an internal temperature of 165°F (74°C).
For Hollandaise:
Butter Emulsion: Slowly drizzle the melted butter into the egg yolks while whisking vigorously to create a stable emulsion.
Consistency: If the hollandaise sauce is too thick, you can thin it out with a little warm water or lemon juice.
Avoid Curdling: To prevent the sauce from curdling, cook it over low heat and avoid overheating or letting it boil.
General Tips:
Timing: Coordinate the cooking of your waffles, chicken, and hollandaise sauce so that they are all ready at the same time for a hot and delicious meal.
Customize: Feel free to add extras like herbs, cheese, or spices to the waffle batter for a unique twist.
Presentation: For an Instagram-worthy dish, consider garnishing with fresh herbs, chives, or a sprinkle of paprika on the hollandaise sauce.
Keep Warm: If you need to wait before serving, keep the waffles and chicken warm in a low oven until you're ready to assemble.
Leftovers: If you have leftover hollandaise sauce, store it in an airtight container in the refrigerator and gently reheat it when needed.
So, that's the story of our mouthwatering chicken and bacon-infused waffles, drenched in velvety hollandaise. Whip up this delicious dish, whether it's for breakfast, brunch, or a satisfying dinner, and share the joy of good food with your loved ones.
Happy cooking, Hungry People – may your kitchen always be filled with delightful aromas and memorable flavors!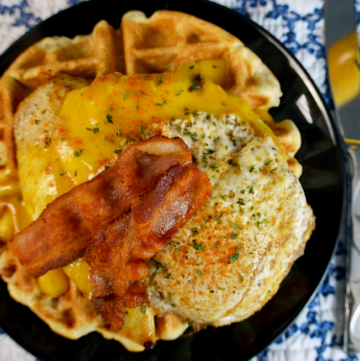 Maple Bacon Chicken Waffles with Hollandaise Sauce
Indulge in a mouthwatering delight with crispy bacon-infused waffles, tender chicken, and rich hollandaise sauce – a perfect balance of sweet and savory.
Ingredients
FOR WAFFLES:
½

cup

flour

¼

cup

maple syrup

3

strips

bacon

cooked & crumbled

¼

cup

baking soda

½

cup

half & half

1

egg

½

cup

butter

melted

pinch

salt
FOR HOLLANDAISE:
4

egg yolks

4

tablespoons

butter

1

teaspoon

cayenne pepper

1

teaspoon

lemon juice

salt

to taste
Instructions
In a skillet over high heat, fry the bacon until crisp, then remove from the pan. Reserve the grease. Crumble the bacon when cooled.

Season the thinly sliced chicken breasts with salt and pepper. Using the remaining bacon grease, cook the chicken until no longer pink in the center – about 3-4 minutes per side.

While the chicken cooks, whisk together the flour, baking soda, and salt, then slowly add the creamer, egg, melted butter, and maple syrup until a thick batter forms. In a preheated waffle iron, pour 3/4 cups of the batter, then close the iron and cook 2-4 minutes, or until golden brown and cooked through.

As the waffles cook, melt the butter in a skillet over low heat. Whisk the egg yolks in a small bowl and, while whisking constantly, pour the yolks into the butter. Sprinkle with cayenne pepper and season with salt.

Assemble the waffle by placing the chicken breast on top, cover it with hollandaise sauce (and a fried egg if you so desire). Serve hot and enjoy!