Mini Beef Pot Pies | What's In My Fridge Door?
The Starving Chef is supported by Hungry People like you. When you make a purchase through an affiliate link on my site, I may earn a little bit of cash on the side (at no extra cost to you) to help keep my kitchen running. Read our disclosures here.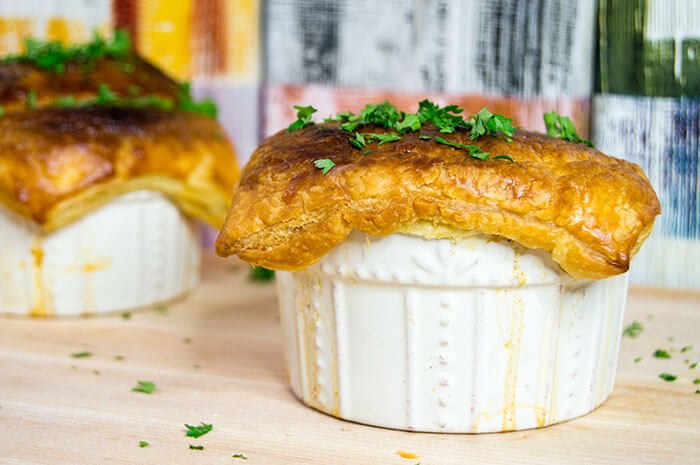 I like to play a game while I clean out my fridge and freezer. In my never ending quest for an organized refrigerator, I'm constantly trying to make sure I'm using all the ingredients I have in my arsenal before they go bad. Same goes for the freezer – I always buy meats on sale to freeze for later days, but if I get into a themed week or holiday season, sometimes that frozen meat can add up quickly. This month I dug out puffed pastry, frozen mixed veggies and beef chunks that had been sitting around for a couple months – might as well get some use out of them (and gain more freezer space)!
One of my favorite "freezer dump" recipes is a variation of an easy, single serving pot pie. In the past I've made it with chicken or put a St. Patrick's day spin on it. Pot pies are really fun because you can put practically anything you have on hand in it: I used a spare GLBC beer from my fridge door, some slightly-limp celery and wrinkly peppers from my crisper and then turned to raiding the cabinets for stray onions and lemons. What little actually-fresh ingredients I used included eggs and herbs. I'm sure you'll find some of your own ingredients to toss in while you raid your own cupboards, too.
To start, I seared the beef cubes until they were golden brown but still pretty raw in the center. You don't want your beef stew to be filled with chewy steak!
Using the leftover oil and grease from the beef, saute the onions until softened and then add the frozen veggies. The veggies will significantly lower the temp of the pot, so now is also the ideal time to add the minced garlic, sweet peppers and chopped celery. I used a splash of white wine vinegar to partially deglaze the pot before pouring in the beer, Worcestershire sauce and a squirt of sriracha.
Once you add the beef broth and seasonings, the beef stew is essentially ready to eat as-is, after simmering for another twenty or so minutes. Add the seared beef about five minutes before you are ready to serve. But to really up the single serving meal, we portioned out our stew into ramekins.
Start with the beef (or meat of choice, really) as the base so every ramekin gets an equal serving of meat.
Then use a ladle to pour the soup over the meat until the ramekin is mostly filled. It's easiest to use thawed puff pastry, but you'll have to work rather quickly to make sure the pastry doesn't get too soggy before starting to cook.
For a classy "I-totally-made-this-pastry-from-scratch" look, brush the tops of the pastries with a 50/50 mix of water and whisked egg. Bake the individual pot pies until the pastries are puffed and golden – these make the "pie crusts" to the pot pies.
Regardless of what you put in your pot pies, you're sure to have a delicious result! My favorite part to these pot pies is that you can dress them up or down; make them healthy or homestyle; eat from a bowl or a pie tin – the pot pie sky is the limit!
Mini Beef Pot Pies | What's In My Fridge Door?
An easy weeknight dump dinner made with beef and other things I dug out of my freezer.
Ingredients
16

oz

stewing beef

12

oz

dark beer

2

cups

beef broth

2

sheets

puff pastry

mostly thawed

1

cup

frozen peas, carrots and bean medley

1

cup

onion

chopped

¼

cup

garlic

minced

½

cup

red bell pepper

chopped

½

cup

lemon

juiced

3

tablespoons

paprika

1

tablespoon

sriracha

1

tablespoon

brown sugar

1

tablespoon

Worcestershire

1

tablespoon

white wine vinegar

2

tablespoons

fresh thyme

2

tablespoon

fresh parsley

1

egg + 3 tablespoons water

whisked

3

tablespoons

olive oil
salt & pepper

to taste
Instructions
In a large soup pot, heat the olive oil until shimmering then add the beef cubes. Sear on all sides until golden brown, about 1-2 minutes. Do not cook the beef through – only sear it. Remove from the pot and set aside.

Using the oil and grease in the pan, saute the onions until tender then add the frozen vegetables. Stir in the veggies until mostly thawed then added the celery, peppers and garlic. Pour in the beer, sriracha and Worcestershire sauce and simmer until the liquid has reduced by half – about ten minutes. Season with salt and pepper.

Pour in the beef broth, lemon juice, paprika and brown sugar. Stir until combined and boiling, then reduce the heat and simmer for another ten minutes.

Preheat the oven to 375 F while the soup simmers. In a small bowl, whisk together the egg with some water. Arrange the seared beef into individual ramekins. Use a ladle to spoon the stew over the meat until the ramekins are filled.

Quickly cover each ramekin with a quarter of the puff pastry. Brush with the eggwash. Pop into the oven and bake for 10-15 minutes, until the pastry is puffed and golden. Let cool for 10-20 minutes prior to serving as the ramekins will be HOT. Enjoy!