Mini Crab Cakes in Mango Habanero Aïoli
The Starving Chef is supported by Hungry People like you. When you make a purchase through an affiliate link on my site, I may earn a little bit of cash on the side (at no extra cost to you) to help keep my kitchen running. Read our disclosures here.
These crab cakes may be fun-sized, but trust me, they are bursting with flavor. And the best part? You don't need a ton of ingredients to create these amazing bites of deliciousness. It's a win-win!
Here's What You Need
Lump crab meat: The star ingredient, it provides the delicious seafood flavor and texture.
Red bell pepper: Adds a pop of color and sweetness to the crab cakes.
Mayonnaise: Provides creaminess and helps bind the ingredients together.
Dijon mustard: Adds a tangy and slightly spicy flavor to the crab cakes.
Worcestershire sauce: Enhances the savory umami taste of the crab cakes.
Fresh parsley: Adds freshness and herbaceous notes to the crab mixture.
Green onion: Provides a mild onion flavor and adds a pop of color.
Panko breadcrumbs: Adds texture and helps bind the crab cakes together.
Vegetable oil: Used for frying the crab cakes, creating a crispy exterior.
Let's talk about the star of the show: the crab.
When it comes to the crab meat, I highly recommend using the real deal. Fresh crab is fantastic if you can get your hands on it, but if not, opt for good quality canned crab. Just make sure to avoid the imitation stuff. Believe me, using real crab will take these mini crab cakes to a whole new level of amazingness. It's totally worth that extra buck!
Let's Get Started
To get started, grab a large bowl and combine the crab meat with some mayonnaise, red peppers, Dijon mustard, lemon juice, Worcestershire sauce, green onions, and parsley. Give it a good mix, using a fork to break up any larger bits of crab. You want the mixture to be chunky yet smooth in texture.
Once the wet ingredients are well combined, add in the panko breadcrumbs and stir until everything is nicely incorporated. The panko will help bind the mixture together and give the crab cakes a delightful crunch.
Now, it's time to shape our mini crab cakes. Take some of the crab mixture in your hands and form it into bite-sized balls. Easy peasy! We're almost there.
Next up, it's frying time. Heat up a frying pan and add a bit of oil. Fry the crab cakes until they develop a beautiful golden-brown crust on both sides.
Alternative Cooking Method
Preheat your oven to 350°F (175°C) and line a baking sheet with parchment paper. Transfer the crab cakes onto a baking sheet and pop them in the oven for about 10 minutes. This will ensure that the crab cakes are perfectly cooked and heated through.
Now, let's talk about the sauce
You can choose any kind of spicy aïoli that tickles your taste buds. For a little shortcut, I personally used Stonewall Kitchen Mango Habanero Aïoli (no, they are not sponsoring me!). Trust me, it's some of the best aïoli you can get your hands on.
But hey, if you want to get creative and keep it budget-friendly, you can make your own spicy "aioli" by mixing mayo and sriracha. It's a simple and affordable alternative that still brings the heat!
Once you have your aïoli of choice ready, take a small serving spoon and add a dollop of it onto your plate. Gently press a crab cake into the aïoli, allowing the flavors to mingle and create a heavenly combination.
For an extra touch of freshness and visual appeal, sprinkle some chopped green onions on top. And voila! Your mini crab cakes in mango habanero aïoli are ready to be devoured.
Additional Tips & Tricks
Use fresh and high-quality crab meat: Whether you choose fresh or canned crab, make sure it's of good quality for the best flavor and texture.
Handle the mixture gently: When combining the ingredients, avoid overmixing to prevent the crab meat from breaking down too much. You want the crab cakes to have some texture.
Chill the mixture if needed: If the crab mixture seems too soft or sticky, you can refrigerate it for 15-30 minutes. This will make it easier to shape the crab cakes.
Don't overcrowd the pan: When frying the crab cakes, make sure to leave enough space between them in the pan. Overcrowding can lead to uneven cooking and a less crispy crust.
Adjust the cooking time: Cooking times may vary depending on the size and thickness of your crab cakes. Keep an eye on them while frying and baking to ensure they are cooked through but not overdone.
Test the oil temperature: Before frying the crab cakes, make sure the oil is hot enough (around 350°F or 175°C). If the oil is not hot enough, the crab cakes may become greasy.
Drain excess oil: After frying the crab cakes, place them on a paper towel-lined plate to remove any excess oil and keep them crispy.
Experiment with flavors: Feel free to customize the recipe by adding your favorite seasonings or spices to the crab mixture. Just remember to balance the flavors and not overpower the delicate taste of the crab.
Serve with a squeeze of lemon: A spritz of fresh lemon juice on top of the crab cakes can brighten up the flavors and complement the seafood.
Make-ahead option: If you want to prepare ahead of time, you can shape the crab cakes and refrigerate them until ready to fry and bake. This way, you can enjoy freshly cooked crab cakes when you need them.
These delightful bites make for an impressive appetizer or even a main course if you're feeling indulgent. They are perfect for any gathering or when you simply want to treat yourself to something special.
So, go ahead and whip up a batch of these mini crab cakes. Your hungry people will thank you for it!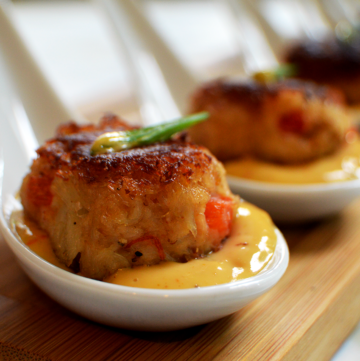 Mini Crab Cakes in Mango Habanero Aïoli
Flavorful and crispy bite-sized crab cakes made with real crab meat, served with a spicy mango habanero aioli.
Instructions
In a large bowl, mix together the crab meat, mayonnaise, Dijon mustard, Worcestershire sauce, red bell pepper, parsley, and green onion. Sprinkle in salt and pepper to taste. Once combined, stir in the panko breadcrumbs until fully incorporated.

Heat the vegetable oil in a frying pan over medium-high heat.

Roll the crab mixture into approximately 1-inch round semi-flattened balls.

Sear the crab cakes in the hot oil, cooking each side until golden brown, which takes about 2 minutes per side.

Serve the mini crab cakes on single spoons, accompanied by a tablespoon of aioli of your choice. Garnish with green onion or bell pepper, and enjoy!
ALTERNATIVE COOKING METHOD:
Preheat the oven to 350°F (175°C). Arrange the crab cakes on a baking sheet lined with parchment paper. Place the baking sheet in the preheated oven and bake for 10 minutes, or until the crab cakes are cooked through.
Video