Mini Crab Cakes in Mango Habanero Aïoli
The Starving Chef is supported by Hungry People like you. When you make a purchase through an affiliate link on my site, I may earn a little bit of cash on the side (at no extra cost to you) to help keep my kitchen running. Read our disclosures here.
These crab cakes may be fun sized but they are definitely full of flavor.
And you really don't need many ingredients to create these amazing bites of deliciousness.
Whether you use fresh or canned crab, at least be sure to use REAL crab, not the imitation stuff, for maximum amazingness. It's definitely worth the extra buck!
In a large bowl, mix the crab, mayonnaise, red peppers, Dijon mustard, lemon juice, Worcestershire sauce, green onions, and parsley. Blend it all together and be sure to break up any larger bits with a fork. It should be chunky, but also smooth, in texture. Once the wet ingredients are combined, add in the panko and stir well until it is incorporated completely. Then use your hands to create bite size balls of crab.
Just fry the crab enough to get a nice crunchy crust on both sides. You'll finish the cakes off in the oven, so there's very little standing time on this dish. Line up the cakes on a lined baking sheet and pop into the oven at 350*F for 10 minutes.
You can make any kind of spicy aïoli you like. I cheated a little and used some Stonewall Kitchen Mango Habanero Aïoli (not a sponsor!) which is by far some of the best aïoli around. You can cheat a little and make your own spicy 'aioli' with mayo and sriracha for a simple (and cheap) replacement!
Put a little bit of your aïoli of choice into a small serving spoon and press the crab cake into it. Top with some green onion for a beautiful finishing touch.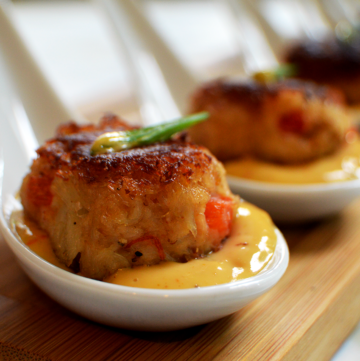 Mini Crab Cakes in Mango Habanero Aïoli
These crab cakes may be fun sized but they are definitely full of flavor.
Instructions
Preheat the oven to 350*F. In a large bowl, mix together the crab, mayonnaise, Djion mustard, Worcestershire sauce, bell pepper, parsley, and green onion. Sprinkle in salt and pepper. Once combined, stir in panko completely.

Heat the oil over medium high heat. Roll the crab meat into ~1 inch round semi-flattened balls. Sear on each side, until golden brown, or about 2 minutes per side.

Arrange browned crab cakes on a parchment lined baking sheet and place into the oven for 10 minutes, or until cooked through.

Serve in single spoons with a tablespoon of aioli of choice. Garnish with green pepper, serve, and enjoy!
Video