Mini Poke Bowls
The Starving Chef is supported by Hungry People like you. When you make a purchase through an affiliate link on my site, I may earn a little bit of cash on the side (at no extra cost to you) to help keep my kitchen running. Read our disclosures here.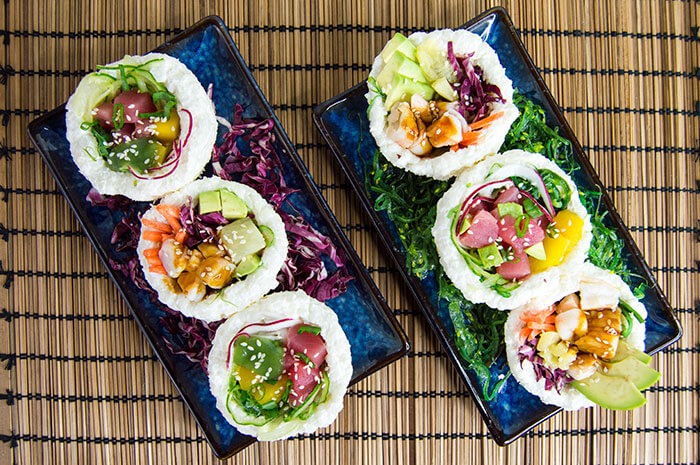 I'm obsessed with sushi, so when I learned about poke (pronounced "poh-kay"), I was instantly hooked. While traditional poke bowls contain raw fish like tuna or salmon, they are just as delicious with cooked seafood like shrimp or scallops.
Real Hawaiian poke contains a combination of chopped raw ahi tuna and can be served over rice, noodles, vegetables or greens – but I like to think of it as "unassembled" sushi in a way.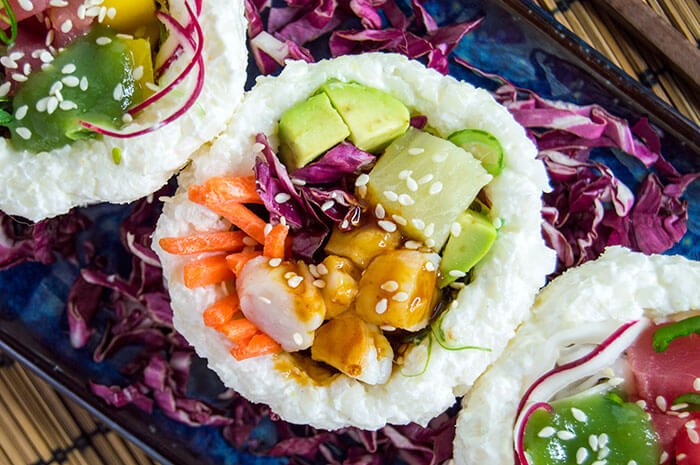 I filled my rice bowls with fresh vegetables and tropical fruits – but feel free to customize your poke bowls to your specific tastes or make every bowl different for a chance to try every tasty combination.
I decided to make mini rice bowls to carry my poke to my mouth so I used a sticky sushi rice combined with a little cream cheese to encourage them to hold their shape longer.
First, bring the cream cheese to room temperature while you make the rice. The key is to stir in the cream cheese while the rice is still warm, once it has finished cooking.
After that, use a cupcake tin to mold the rice into bowl shapes. It's important to line the tins with plastic or parchment (or use a silicone mold, if you have one). And it's easiest to form the bowls if you wet your hands while you work – if you don't the rice will certainly stick to your hands.
Let the rice bowls chill for a bit so that they retain their shape. I used that time to chop up my fruits and veggies. I used a combination of chopping and spiralizing my ingredient to make for a range of textures (not to mention it looks cool!). Of course, to soothe my sushi itch, I added seaweed salad to most of my bowls, effectively making a poke-sushi fusion.
I mean, just look how gorgeously delicious:
One of my favorite recipes that was almost too pretty to eat!
Mini Poke Bowls
While traditional poke bowls contain raw fish like tuna or salmon, they are just as delicious with cooked seafood like shrimp or scallops.
Ingredients
4

cups

sushi rice

cooked

4

oz

cream cheese

room temperature

8

oz

sushi grade Ahi tuna

¼

cup

carrots

juilenned

¼

cup

radicchio

finely chopped

¼

cup

pineapple

finely chopped

1

avocado

sliced thin

½

cup

seaweed salad

3

tablespoons

green onion

chopped for topping

3

tablespoons

sesame seeds

for topping

soy sauce

for serving

poke sauce (ponzu)

for serving
Instructions
Cook the sushi rice according to the instructions on the package. Once cooked, stir in the cream cheese, then let rice cool to room temperature.

Line a cupcake tin with plastic wrap. Press the rice mixture into each hole, creating an open center to form small bowl shapes. Chill for about one hour.

While the rice bowls chill, cook the shrimp and chop your desired toppings. Keep tuna chilled until ready to assemble bowls.

Carefully remove the individual rice bowls from the cupcake tin. Peel off the plastic and arrange on a serving plate.

Fill each rice bowl with a tablespoon of seaweed salad. Split the cooked shrimp and chopped raw tuna into individual bowls. Add a teaspoon or two of each ingredient, as desired, to each rice bowl.

Garnish with sesame seeds, green onions, and soy sauce or poke sauce. Serve chilled or room temperature.